Get an in-depth summary of MyCouponsmart ads virus issue on Mac and explore the cleaning tips to remove this infection from a contaminated system and browser.
Update: January 2020
The popularity of solutions that bring the best deals and limited time discount offers to one's fingertips is as clear as day. People take advantage of this information to bridge the gap between themselves and the optimal price tag for goods and services they are looking for. Just like any other in-demand service, this environment is in the spotlight of unscrupulous e-marketers and cybercrooks because they are lured by the potentially large user audiences. MyCouponsmart is an application that falls into the shady category. While its main claim comes down to helping a Mac user "become a smart online shopper", the actual activity contradicts this promise big time. When inside a computer, it literally enslaves Safari, Chrome, or Firefox to serve advertisements in quantities that disrupt the normal browsing. On top of that, the app may hide its components to prevent the victim from easily uninstalling it.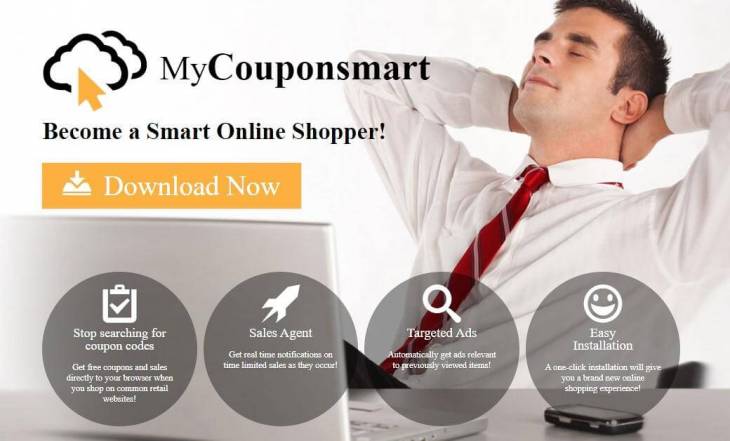 Ads by MyCouponsmart come in various forms and shapes. Some of them are in-text links laced with keywords on visited sites. When the user is scrolling up and down on a web page, the mouse cursor is very likely to hover over these hyperlinks off and on, only to pop up the associated ad content. Another type of the adverts spans sections with coupons and price comparisons that appear on top of the original website materials. Additionally, popups and pop-unders, as well as full-page transitional ads will be triggered nearly all the time. The latter are highly obnoxious because multiple browser windows being opened simultaneously tend to crank up the CPU and thereby slow down the Mac or even make the browser crash once in a while.
One more symptom of MyCouponsmart attack is haphazard redirect activity that keeps resolving low-quality web stores, fake search engines, and sites launching harmful drive-by downloads. It's noteworthy that many victims also encounter popup dialogs asking for more privileges in the browser. These requests say, "MyCouponsmart wants access to control Safari". The browser name on the popups varies, depending on which one has been hit.
Special Offer
MyCouponsmart may re-infect your Mac multiple times unless you delete all of its fragments, including hidden ones. Therefore, it is recommended to download Combo Cleaner and scan your system for these stubborn files. This way, you may reduce the cleanup time from hours to minutes. Download Now Learn how ComboCleaner works. If the utility spots malicious code, you will need to buy a license to get rid of it.
Yet another characteristic on the minus side of MyCouponsmart app is that it doesn't get along with proper privacy practices, to put it mildly. The dubious software is constantly on the lookout for personally identifiable information that speaks volumes about the user's lifestyle, interests, and sensitive credentials. It keeps track of the visited websites, bookmarked pages, web search requests, and instances of authentication with various personal Internet accounts. What's even worse, the dodgy browser extension may record the victim's keystrokes, which means it can snoop on their private conversations on social media. It's also quite possible that MyCouponsmart is capable of capturing the screen at random. All of these adverse traits may lead to privacy violations and identity theft.
This potentially unwanted application is distributed in a sneaky fashion. Similarly to its numerous clones, including MyShopBot, Easy Shopper, MyWebEnhancer, and MyShopCoupon, the adware in question comes in bundles of several free programs. The trick is that the respective installers contain no indication of extra software being pushed as part of the main process. As a result, Mac users think they are about to install a nifty free application or an Adobe Flash Player update package, but they have no idea that the item has got company. It means the authors of MyCouponsmart prefer a tailgating tactic rather than focusing on product improvements and ethical promotion based on benefits of their service. Therefore, to avoid the threat, be sure to stick with official and reputable software sites and never download new applications from unfamiliar places. Also, always select the custom setup option rather than keep the default installation mode enabled. This approach reveals the complete structure of the bundle, if that's the case.
MyCouponsmart adware is often installed on Mac computers along with one or several more threats. An example of the accompanying infection is a browser hijacker that redirects the victim's web searches to SearchMine.net, a rogue service that returns Bing.com results while throwing the intercepted traffic through several ad networks en route to the destination point. It's also noteworthy that the fake Adobe Flash Player update scam has been a major source of MyCouponsmart distribution since around January 2020. Users stumble upon these bogus popup alerts when visiting hacked or malicious sites. By downloading the "update", though, the would-be victims unwittingly permit MyCouponsmart to infiltrate their systems instead.
MyCouponsmart virus removal from Mac isn't as simple as dragging its icon from the Applications screen to the Trash. It may add a fake user profile that will be reinstalling the culprit every time such an attempt is made. To add insult to injury, much of the cleanup is a browser-borne thing and therefore the problem won't vanish until the infection is eradicated and the associated extension is deleted in Safari or whatever browser is acting up. The part below will shed light on the entirety of methods to remedy an infected Mac.
MyCouponsmart virus manual removal for Mac
The steps listed below will walk you through the removal of this malicious application. Be sure to follow the instructions in the order specified.
Open up the Utilities folder as shown below

Locate the Activity Monitor icon on the screen and double-click on it

Under Activity Monitor, find a process named MyCouponsmart or similar, select it and click Quit Process
A dialog should pop up, asking if you are sure you would like to quit the troublemaking process. Select the Force Quit option
Click the Go button again, but this time select Applications on the list. Find the MyCouponsmart on the interface, right-click on it and select Move to Trash. If user password is required, go ahead and enter it

Now go to Apple Menu and pick the System Preferences option

Select Accounts and click the Login Items button. The system will come up with the list of the items that launch when the computer is started up. Locate MyCouponsmart or other potentially unwanted app there and click on the "-" button
Get rid of MyCouponsmart ads in web browser on Mac
To begin with, settings for the web browser that got hit by this virus should be restored to their default values. The overview of steps for this procedure is as follows:
1. Reset Safari
• Open the browser and go to Safari menu. Select Preferences in the drop-down list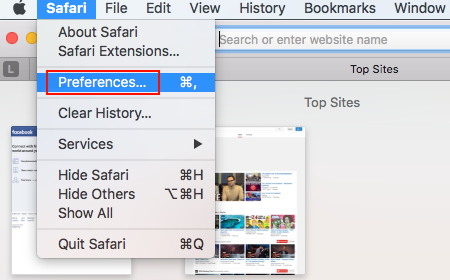 • Once the Preferences screen appears, hit the Privacy tab at the top. Find the option that says Remove All Website Data and click on it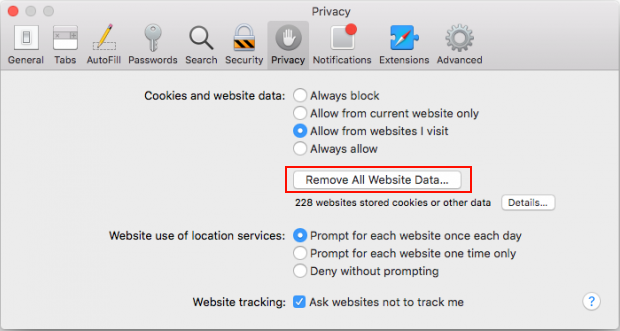 • The system will display a confirmation dialog that also includes a brief description of what the reset does. Specifically, you may be logged out of some services and encounter other changes of website behavior after the procedure. If you're okay with that, go ahead and click the Remove Now button

• In order to selectively clear data generated by certain websites only, not all of them, hit the Details button under the Privacy section of Safari Preferences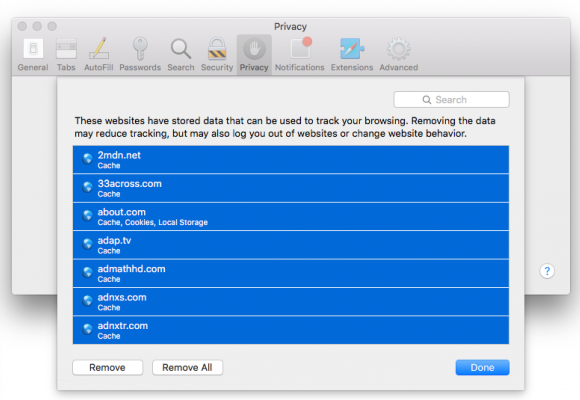 • This feature will list all websites that have stored potentially sensitive data, including cache and cookies. Select the one, or ones, that might be causing trouble and click the appropriate button at the bottom (Remove or Remove All). Click the Done button to exit.
2. Reset Google Chrome
• Open Chrome and click the Customize and Control Google Chrome menu icon
• Select Options for a new window to appear
• Select Under the Hood tab, then click Reset to defaults button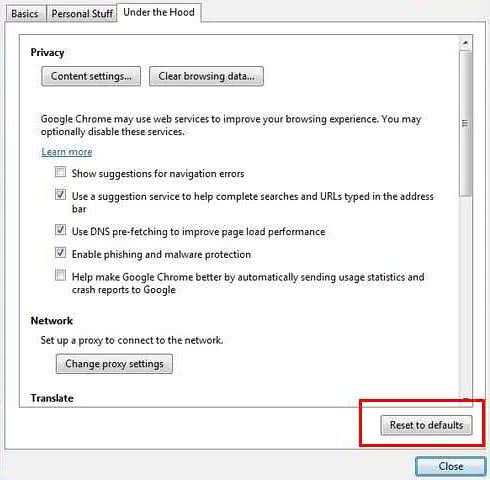 3. Reset Mozilla Firefox
• Open Firefox and select Help – Troubleshooting Information
• On the page that opened, click the Reset Firefox button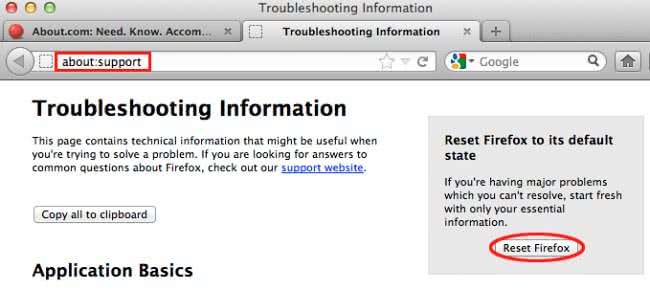 Get rid of MyCouponsmart virus using Combo Cleaner removal tool
The Mac maintenance and security app called Combo Cleaner is a one-stop tool to detect and remove MyCouponsmart virus. This technique has substantial benefits over manual cleanup, because the utility gets hourly virus definition updates and can accurately spot even the newest Mac infections.
Furthermore, the automatic solution will find the core files of the malware deep down the system structure, which might otherwise be a challenge to locate. Here's a walkthrough to sort out the MyCouponsmart issue using Combo Cleaner:
Download Combo Cleaner installer. When done, double-click the combocleaner.dmg file and follow the prompts to install the tool onto your Mac.

By downloading any applications recommended on this website you agree to our Terms and Conditions and Privacy Policy. The free scanner checks whether your Mac is infected. To get rid of malware, you need to purchase the Premium version of Combo Cleaner.

Open the app from your Launchpad and let it run an update of the malware signature database to make sure it can identify the latest threats.
Click the Start Combo Scan button to check your Mac for malicious activity as well as performance issues.

Examine the scan results. If the report says "No Threats", then you are on the right track with the manual cleaning and can safely proceed to tidy up the web browser that may continue to act up due to the after-effects of the malware attack (see instructions above).

In case Combo Cleaner has detected malicious code, click the Remove Selected Items button and have the utility remove MyCouponsmart threat along with any other viruses, PUPs (potentially unwanted programs), or junk files that don't belong on your Mac.

Once you have made doubly sure that the malicious app is uninstalled, the browser-level troubleshooting might still be on your to-do list. If your preferred browser is affected, resort to the previous section of this tutorial to revert to hassle-free web surfing.