Learn how to get rid of browser redirect activity on a Mac that repeatedly resolves warning pages like apple.com-scan.live to push rogue system utilities.
Although browser redirect viruses aren't even close to being the most harmful Mac threats out there, they zero in on the very heart of one's computing experience, namely its web surfing component. By making a mess of the victim's online routine, these crafty culprits can either outwit the target or evoke disgust combined with an irresistible desire to remove the infection. One way or another, the user becomes an object of brainwashing aimed at promoting some junk or outright dangerous application.
The redirect hoax referred to as apple.com-scan.live fits the mold of a browser hijacker in the above scheme. When a Mac user's web traffic is forwarded to that domain, the resulting page titled "Virus Found" turns out to be a warning that says, "Your system is infected with 3 viruses!" This is quite a frightening scenario that may pressure most people into doing whatever it takes to fix the alleged system infestation with malware, and it fully aligns with the cybercriminals' wicked plan.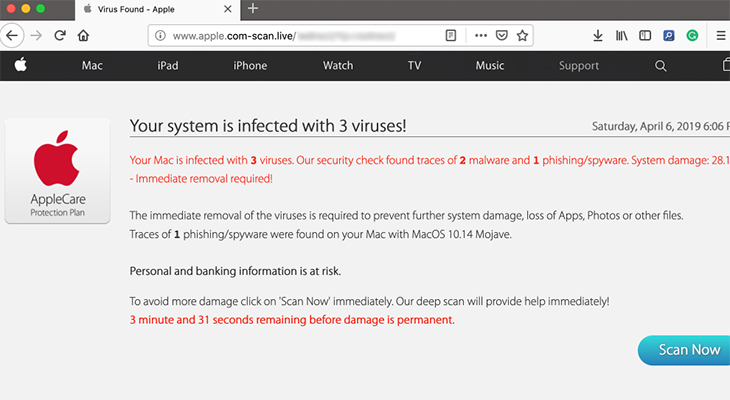 As a matter of fact, this kind of trick is nothing new. Websites displaying the exact same message have been used to push different rogue Mac optimizers for several years. The deceptive alert is designed as if it were an element of the AppleCare Protection Plan. For a greater persuasiveness, it shows the current date and includes details on the victim's operating system version, whether it's a Mac OS X build or one of the newer macOS iterations. While this seems like a nifty feature, it's based on a few simple site scripts that instantly fetch those details about the visiting computer. The scare facet additionally involves several clichés, such as "Your Mac is infected with 3 viruses. Our security check found traces of 2 malware and 1 phishing/spyware. System damage 28.1% - Immediate removal required!" and "Personal and banking information is at risk".
Aside from apple.com-scan.live, there are quite a few other domains that exhibit similar or identical behavior. Furthermore, this fast-flux malvertising network is constantly expanding as new addresses are being added to the mix. Here's a list of known domains that pull off the virus detection trick to dupe victims into installing a program that don't need:
apple.com-repair-os.live
apple.com-clean-os.live
apple.com-fix-protections.live
apple.com-clean-systems.live
apple.com-cleaner-systems.live
apple.com-cleaning-systems.live
apple.com-fast-systems.live
apple.com-faster-systems.live
apple.com-fastest-systems.live
apple.com-fasting-systems.live
apple.com-fixing.live
apple.com-scan-systems.live
apple.com-scan.live
apple.com-scaner-systems.live
apple.com-scaning-systems.live
apple.com-speed-macos.live
apple.com-care-macbook.live
apple.com-clean-system-macbook.live
apple.com-clean-up-macbook.services
apple.com-fast-macbook.live
apple.com-fast-macos.live
apple.com-macbook-fast-system.live
apple.com-macbook-speed-system.live
apple.com-repair-macbook.live
apple.com-repairing-macbook.live
apple.com-safety-macbook-care.live
apple.com-safety-macbook-clean-system.live
apple.com-scan-macbook.live
apple.com-scan-macbooks.live
apple.com-speed-macbook.live
apple.com-speed-system-macbook.live
Notice the URL structure that may instill a false sense of Apple-style authenticity. However, a closer look reveals that these aren't .com domains as it may appear at first sight. So, users should be on the lookout for such giveaways to avoid getting on the hook. Anyway, the ultimate goal of this whole intimidation is to convince the victim to click the "Scan Now" button, which fires up an imitation of a quick Mac checkup for malicious objects.
Special Offer
Apple.com-scan.live may re-infect your Mac multiple times unless you delete all of its fragments, including hidden ones. Therefore, it is recommended to download Combo Cleaner and scan your system for these stubborn files. This way, you may reduce the cleanup time from hours to minutes. Download Now Learn how ComboCleaner works. If the utility spots malicious code, you will need to buy a license to get rid of it.
At that point, the true intensions of the malefactors behind apple.com-scan.live redirect virus and its multiple clones start taking shape. When the phony scan hosted right on the misleading web page is over, it returns another alert reporting specific threats that were purportedly found. These pseudo viruses include Tapsnake, CronDNS, and Dubfishicv. This time, a button that says "Remove Viruses Now" is the one the user is coerced to click. By falling for this final stage of the stratagem, the victim unwittingly installs a fake system booster, such as Cleanup My Mac or MacKeeper. Instead of taking the Mac's performance to new heights as promised, the affiliated scareware will carry on with the manipulation by displaying counterfeit scan results and obnoxious popup alerts about hundreds of system issues that were supposedly detected. Obviously, the objective is to get the victim paying for the dodgy app's license and thereby unlock its full cleaning functionality that's just a dummy.
So much for the ongoing multi-pronged Mac malware proliferation technique. An important thing to keep in mind is that recurrent redirects to apple.com-scan.live and suchlike pages are an outcome of shenanigans of a browser hijacker. The good news is, being forwarded to the spoof alert site doesn't necessarily mean that the harmful second-stage payload has already infiltrated the system. As stated above, the latter event requires specific action of the user. However, the presence of the virus, even if it's isolated to the browser, is a strong reason to remove the baddie right away and break the noxious redirect loop.
Apple.com-scan.live hijacker manual removal
The steps listed below will walk you through the removal of this potentially unwanted application. Be sure to follow the instructions in the order specified.
Open up the Utilities folder as shown below

Locate the Activity Monitor icon on the screen and double-click on it

Under Activity Monitor, find the entry for Cleanup My Mac or Cleanup-My Mac, select it and click Quit Process

- A dialog should pop up, asking if you are sure you would like to quit the Cleanup My Mac executable. Select the Force Quit option
Expand the Go menu in Apple Finder and select Go to Folder
Type or paste the following string in the folder search dialog: /Library/LaunchAgents

Once the LaunchAgentsdirectory opens up, find the following entries in it and move them to Trash:

com.CleanupMyMac.agent.plist
com.CMM.agent.plist
com.CleanupMyMac.cmmhlpr
com.CMM.cmmhlpr

Use the Go to Folder lookup feature again to navigate to the folder named ~/Library/LaunchAgents. When this path opens, look for the same entries (see above) and send them to Trash
Similarly, go to the ~Library/Application Support folder. Locate and move the following entries to Trash:

CleanupMyMac
helpercmm
hlprcmm
hlprcleanupmymac

Click the Go button again, but this time select Applications on the list. Find the entry for Cleanup My Mac or Cleanup-My Mac on the interface, right-click on it and select Move to Trash. If user password is required, go ahead and enter it

Now go to Apple Menu and pick the System Preferences option

Select Accounts and click the Login Items button. Mac OS will come up with the list of the items that launch when the box is started up. Locate Cleanup My Mac, Cleanup-My Mac, or Mac Cleanup Pro there and click on the "-" button
Get rid of apple.com-scan.live redirects in web browser on Mac
To begin with, settings for the web browser that got hit by apple.com-scan.live virus should be restored to their default values. The overview of steps for this procedure is as follows:
Reset Safari

Open the browser and go to Safari menu. Select Preferences in the drop-down list

Once the Preferences screen appears, hit the Privacy tab at the top. Find the option that says Remove All Website Data and click on it

The system will display a confirmation dialog that also includes a brief description of what the reset does. Specifically, you may be logged out of some services and encounter other changes of website behavior after the procedure. If you're okay with that, go ahead and click the Remove Now button

In order to selectively clear data generated by certain websites only, not all of them, hit the Details button under the Privacy section of Safari Preferences

This feature will list all websites that have stored potentially sensitive data, including cache and cookies. Select the one, or ones, that might be causing trouble and click the appropriate button at the bottom (Remove or Remove All). Click the Done button to exit.

Reset Google Chrome

Open Chrome, click the More (⁝) icon in the top right-hand part of the window, and select Settings in the drop-down
When on the Settings pane, select Advanced
Scroll down to the Reset settings section. Under the Restore settings to their original defaults option, click the Reset settings button

Confirm the Chrome reset on a dialog that will pop up. When the procedure is completed, relaunch the browser and check it for malware activity.

Reset Mozilla Firefox

Open Firefox and select Help – Troubleshooting Information
On the page that opened, click the Reset Firefox button
Use automatic tool to remove apple.com-scan.live virus from your Mac
The Mac maintenance and security app called Combo Cleaner is a one-stop tool to detect and remove Apple.com-scan.live virus. This technique has substantial benefits over manual cleanup, because the utility gets hourly virus definition updates and can accurately spot even the newest Mac infections.
Furthermore, the automatic solution will find the core files of the malware deep down the system structure, which might otherwise be a challenge to locate. Here's a walkthrough to sort out the Apple.com-scan.live issue using Combo Cleaner:
Download Combo Cleaner installer. When done, double-click the combocleaner.dmg file and follow the prompts to install the tool onto your Mac.

By downloading any applications recommended on this website you agree to our Terms and Conditions and Privacy Policy. The free scanner checks whether your Mac is infected. To get rid of malware, you need to purchase the Premium version of Combo Cleaner.

Open the app from your Launchpad and let it run an update of the malware signature database to make sure it can identify the latest threats.
Click the Start Combo Scan button to check your Mac for malicious activity as well as performance issues.

Examine the scan results. If the report says "No Threats", then you are on the right track with the manual cleaning and can safely proceed to tidy up the web browser that may continue to act up due to the after-effects of the malware attack (see instructions above).

In case Combo Cleaner has detected malicious code, click the Remove Selected Items button and have the utility remove Apple.com-scan.live threat along with any other viruses, PUPs (potentially unwanted programs), or junk files that don't belong on your Mac.

Once you have made doubly sure that the malicious app is uninstalled, the browser-level troubleshooting might still be on your to-do list. If your preferred browser is affected, resort to the previous section of this tutorial to revert to hassle-free web surfing.