The article contains an extensive description of MacCost ads virus based on thorough analysis thereof, and provides easy-to-follow steps to remove it from Mac.
Benefits of ecommerce software are versatile, ranging from helping the customer stay on top of the freshest product offers, all the way to powering the cost-efficiency component of shopping online. In theory, therefore, these tools are helpful, unobtrusive and safe to use. The MacCost app, however, does not comply with any of the above criteria. It emerges on one's Mac box out of the blue, and the users are mostly astonished to discover a new browser plugin that messes things up. Obscurity of the setup process can be explained by the fact that this adware makes use of software wrapping, which is a technique where an arbitrary application gets inconspicuously installed along with a different utility. Free multimedia tools, spoof updates to important software, file download solutions and many other types of popular entities that do not require paid registration can get you infected with MacCost so that you won't even notice the bundle. What happens immediately after the contamination is the onset of a new extension or plugin in Safari, as well as Chrome and Firefox if these are installed on the machine.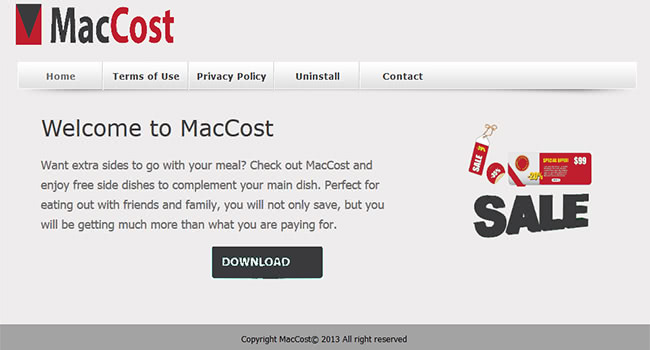 The user's web surfing henceforth turns into an intrusive advertising frenzy. The newly added browser extension plugs tons of ads into pages that are visited. A yet greater frustration occurs when a popup starts appearing every time a site is being opened, and you cannot navigate to the page unless the ad gets clicked. The obviously redundant commercial content also includes underlined words that are automatically turned into links, promotional banners, coupons occupying large sections of the page space, pop-unders, and interstitial adverts. Since these items, labeled "Ads by MacCost" or "brought by MacCost", are not intended by the webmasters to be displayed on their websites, even the fanciest page design gets contorted by the heaps of offers and freebies.

How about privacy? Interestingly, pretty much all associated issues are highlighted in the app's Privacy Policy, which states that the software collects the user's clicks, search terms, impressions and other personally identifiable stuff like data from social media sites you visit. To top it off, according to the vendor, this information may be shared with third parties. That's no good, especially considering that this application appeared on your machine without your authorization. The section below will walk you through MacCost adware removal, which is the most judicious thing to do in this situation.
MacCost manual removal for Mac
To begin with, settings for the web browser that got hit by the MacCost adware should be restored to their default values. The overview of steps for this procedure is as follows:
1. Reset Safari
• Open the browser and go to Safari menu. Select Reset Safari in the drop-down list
• Make sure all the boxes are ticked on the interface and hit Reset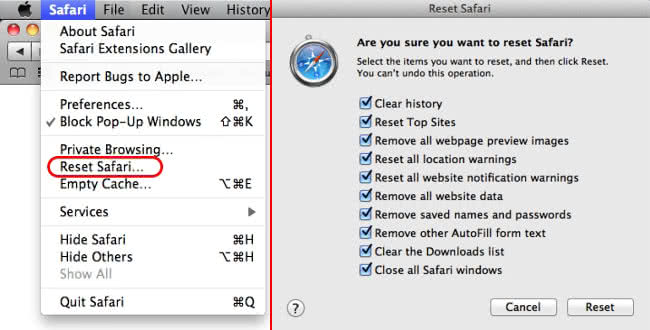 2. Reset Google Chrome
• Open Chrome and click the Customize and Control Google Chrome menu icon
• Select Options for a new window to appear
• Select Under the Hood tab, then click Reset to defaults button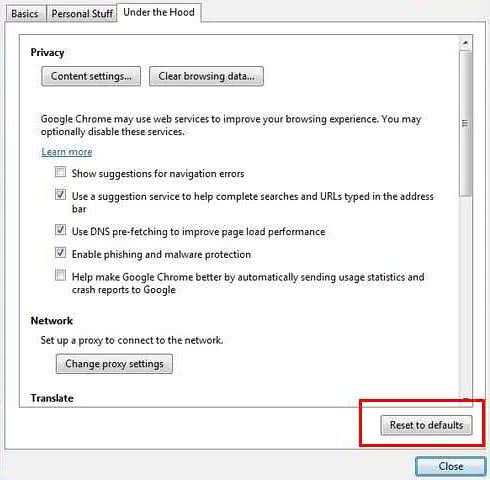 3. Reset Mozilla Firefox
• Open Firefox and select Help – Troubleshooting Information
• On the page that opened, click the Reset Firefox button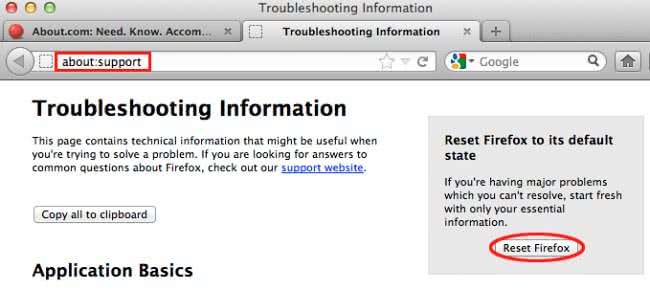 Get rid of MacCost virus using Combo Cleaner automatic removal tool
The Mac maintenance and security app called Combo Cleaner is a one-stop tool to detect and remove MacCost ads (Mac Cost popup) virus. This technique has substantial benefits over manual cleanup, because the utility gets hourly virus definition updates and can accurately spot even the newest Mac infections.
Furthermore, the automatic solution will find the core files of the malware deep down the system structure, which might otherwise be a challenge to locate. Here's a walkthrough to sort out the MacCost ads (Mac Cost popup) issue using Combo Cleaner:
Download Combo Cleaner installer. When done, double-click the combocleaner.dmg file and follow the prompts to install the tool onto your Mac.

By downloading any applications recommended on this website you agree to our Terms and Conditions and Privacy Policy. The free scanner checks whether your Mac is infected. To get rid of malware, you need to purchase the Premium version of Combo Cleaner.

Open the app from your Launchpad and let it run an update of the malware signature database to make sure it can identify the latest threats.
Click the Start Combo Scan button to check your Mac for malicious activity as well as performance issues.

Examine the scan results. If the report says "No Threats", then you are on the right track with the manual cleaning and can safely proceed to tidy up the web browser that may continue to act up due to the after-effects of the malware attack (see instructions above).

In case Combo Cleaner has detected malicious code, click the Remove Selected Items button and have the utility remove MacCost ads (Mac Cost popup) threat along with any other viruses, PUPs (potentially unwanted programs), or junk files that don't belong on your Mac.

Once you have made doubly sure that the malicious app is uninstalled, the browser-level troubleshooting might still be on your to-do list. If your preferred browser is affected, resort to the previous section of this tutorial to revert to hassle-free web surfing.