Information covered in this tutorial is of particular relevance to the Mac users who got infected with FlashMall adware and seek assistance in removing it.
We are all used to ads when surfing the web, and this sort of ecommerce usually doesn't cause user experience issues. To a large extent, the contemporary Internet relies on an implicit "social contract", where end users opt into viewing advertisements that the owners of web services have on their websites. This scheme tends to work flawlessly, helping keep valuable online resources free of charge. That's the ideal state of things, though. In reality, nasty little programs called adware can unbalance this pattern on any given computer.
One of the recent examples of this misdemeanor is the activity of FlashMall, an application whose operational model has hardly anything to do with user approval. It targets Mac machines and badly afflicts the web browsers in the first place. Various deals that say "brought by FlashMall", coupons, freebies, interstitial ads and wrongfully embedded in-text links are going to flood the web pages the victim visits. Worst of all, the appearance of these despicably intrusive items all over the place isn't preceded by a permission request. The virus gets the installation job done without interacting with the user, being wrapped up into some contagious freeware setup.

The amount of adverts by FlashMall is hard to call moderate. They seem ubiquitous, not only popping up on shopping sites and search engines, but also appearing inside the content of blogs, social networks and other pages users go to. There are several problems that this activity calls forth. First of all, they modify the look and feel of websites, giving the visitors a hard time reading the text and seeing the images originally provided by the webmasters. Secondly, the ads are highly relevant, accurately hitting the mark of your interests – this simply means that the adware does quite a bit of tracking and it knows what you searched for and which sites you visited. The infected Mac user's privacy, therefore, is at risk; hopefully the harvested data isn't further handed over to third parties.
The most important things when dealing with FlashMall adware are to quickly identify it, which is easy due to defiant symptoms; and remove it from the Mac with delay. This guide is meant to help you address both of these challenges.
FlashMall popups manual removal for Mac
To begin with, settings for the web browser that got hit by FlashMall virus should be restored to their default values. The overview of steps for this procedure is as follows:
1. Reset Safari
• Open the browser and go to Safari menu. Select Reset Safari in the drop-down list
• Make sure all the boxes are ticked on the interface and hit Reset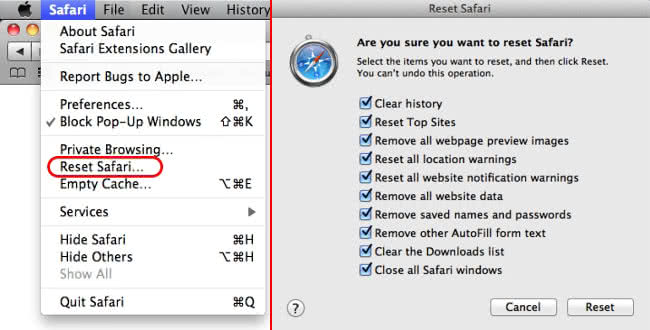 2. Reset Google Chrome
• Open Chrome and click the Customize and Control Google Chrome menu icon
• Select Options for a new window to appear
• Select Under the Hood tab, then click Reset to defaults button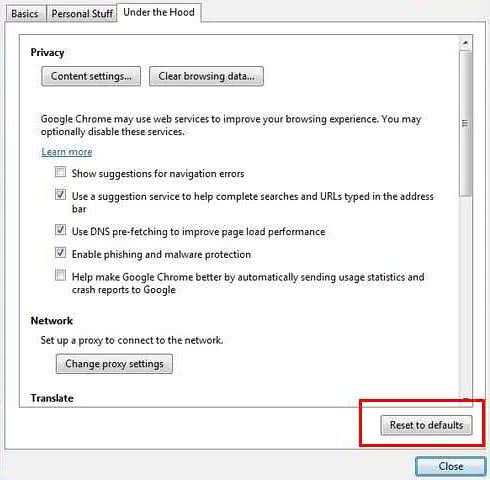 3. Reset Mozilla Firefox
• Open Firefox and select Help – Troubleshooting Information
• On the page that opened, click the Reset Firefox button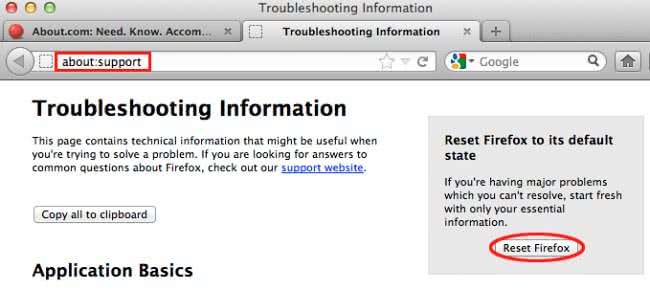 Get rid of FlashMall popup virus using Combo Cleaner automatic removal tool
The Mac maintenance and security app called Combo Cleaner is a one-stop tool to detect and remove FlashMall ads virus virus. This technique has substantial benefits over manual cleanup, because the utility gets hourly virus definition updates and can accurately spot even the newest Mac infections.
Furthermore, the automatic solution will find the core files of the malware deep down the system structure, which might otherwise be a challenge to locate. Here's a walkthrough to sort out the FlashMall ads virus issue using Combo Cleaner:
Download Combo Cleaner installer. When done, double-click the combocleaner.dmg file and follow the prompts to install the tool onto your Mac.

By downloading any applications recommended on this website you agree to our Terms and Conditions and Privacy Policy. The free scanner checks whether your Mac is infected. To get rid of malware, you need to purchase the Premium version of Combo Cleaner.

Open the app from your Launchpad and let it run an update of the malware signature database to make sure it can identify the latest threats.
Click the Start Combo Scan button to check your Mac for malicious activity as well as performance issues.

Examine the scan results. If the report says "No Threats", then you are on the right track with the manual cleaning and can safely proceed to tidy up the web browser that may continue to act up due to the after-effects of the malware attack (see instructions above).

In case Combo Cleaner has detected malicious code, click the Remove Selected Items button and have the utility remove FlashMall ads virus threat along with any other viruses, PUPs (potentially unwanted programs), or junk files that don't belong on your Mac.

Once you have made doubly sure that the malicious app is uninstalled, the browser-level troubleshooting might still be on your to-do list. If your preferred browser is affected, resort to the previous section of this tutorial to revert to hassle-free web surfing.