Apple has lifted the curtain on macOS 13 Ventura, the next version of its operating system that brings new features and enhancements to the Mac.
As expected, this year's Apple Worldwide Developers Conference (WWDC 2022) cast the light, among other things, on the much-anticipated upcoming macOS release. Sticking with the well-known naming convention of the past years, the Cupertino tech giant has once again picked a place to dub the thirteenth version of its platform. It's called macOS Ventura.
While this iteration isn't as much of a revolutionary overhaul as, say, Big Sur was, it does incorporate a handful of new perks along with a bunch of tweaks to existing features that will be visible to the naked eye and take the user experience to the next level. Without further ado, let's take a dive into what's new, cover device compatibility, and learn when this shiny new release will roll out to supported devices.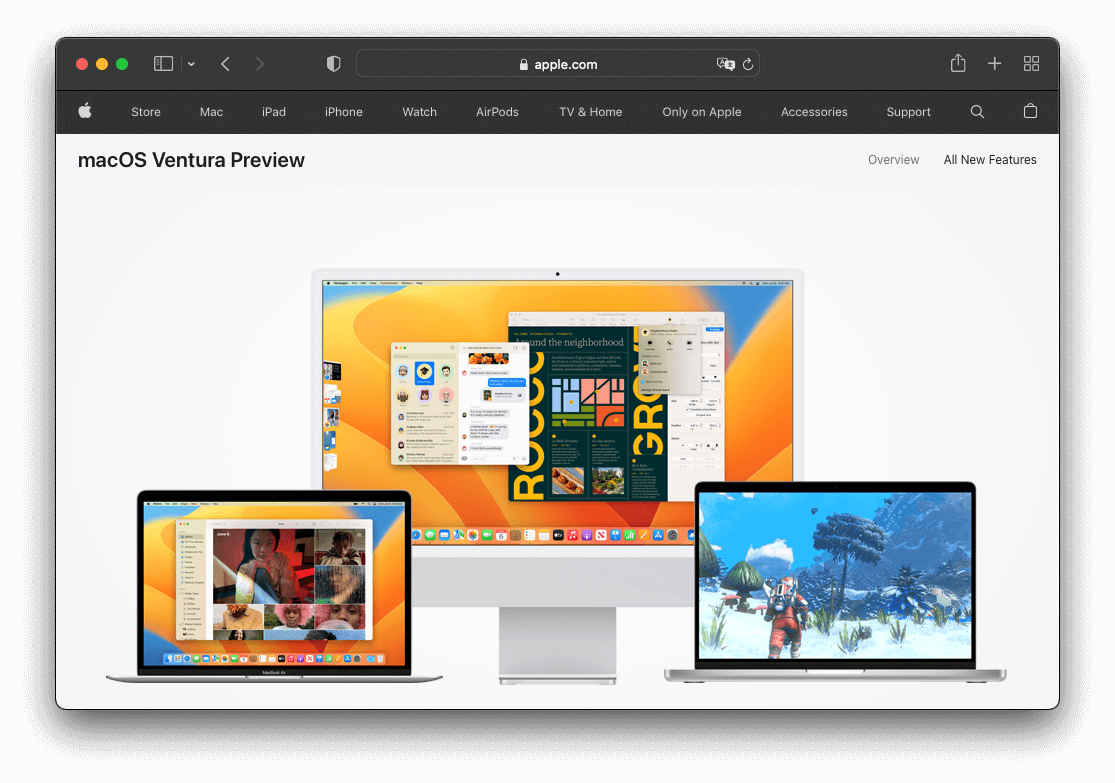 Prominent features and changes brought by macOS Ventura
In addition to redesigning a few current system components, including System Preferences and Spotlight, Apple continues the trend of bringing its computer and mobile ecosystems closer. Plus, it has introduced some interesting stuff to help users stay focused on important things and get more done with ease. The update will also fortify privacy in Safari while making security hinge less on regular software updates. The following highlights will give you a better idea why macOS Ventura is worth its salt.
• Stage Manager. This all-new feature tidies up the work space while making it easier to multitask. The principle is as follows: the app you are currently using is displayed with an optimal window size front and center, and the others are laid out on the left side of the screen so that you can open any of them in a click. This way, windows don't overlap one another. You can group apps together for greater convenience. Technically, Stage Manager is an opt-out mode, and you can revert to traditional layout at any time.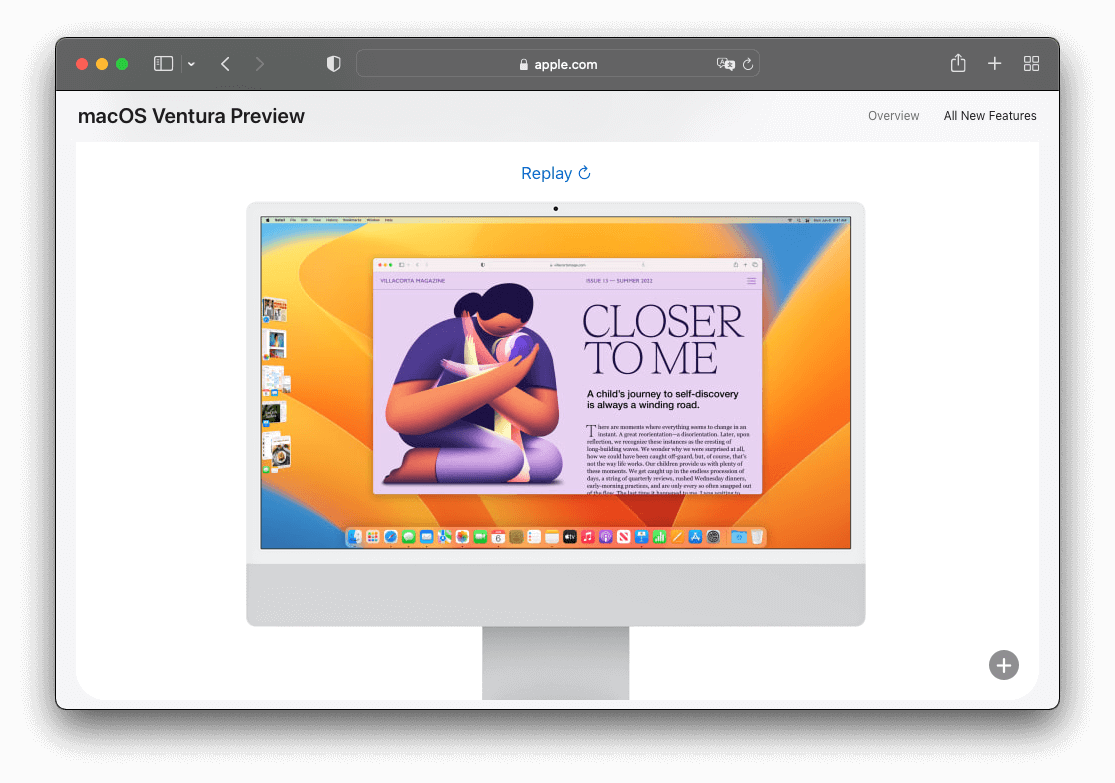 • Weather and Clock apps are now on board. Previously available on Apple's mobile devices only, these will add up to an iOS-like experience on Mac. You'll be able to add corresponding widgets to the home screen and enjoy the already-familiar cool animations in the Weather app along with flexible alarm-setting in Clocks.
• Continuity Camera. Your iPhone's camera is almost certainly better than the one your Mac comes with. With that in mind, you can combine things by using your iPhone as the webcam. Whilst the set-up feels kind of awkward (the mobile device needs to be attached on top of the Mac's screen), the result is a better video call experience. Additionally, this feature lets you "borrow" your iPhone's microphone in a similar way and accommodates portrait, studio light, center stage, and desk view modes.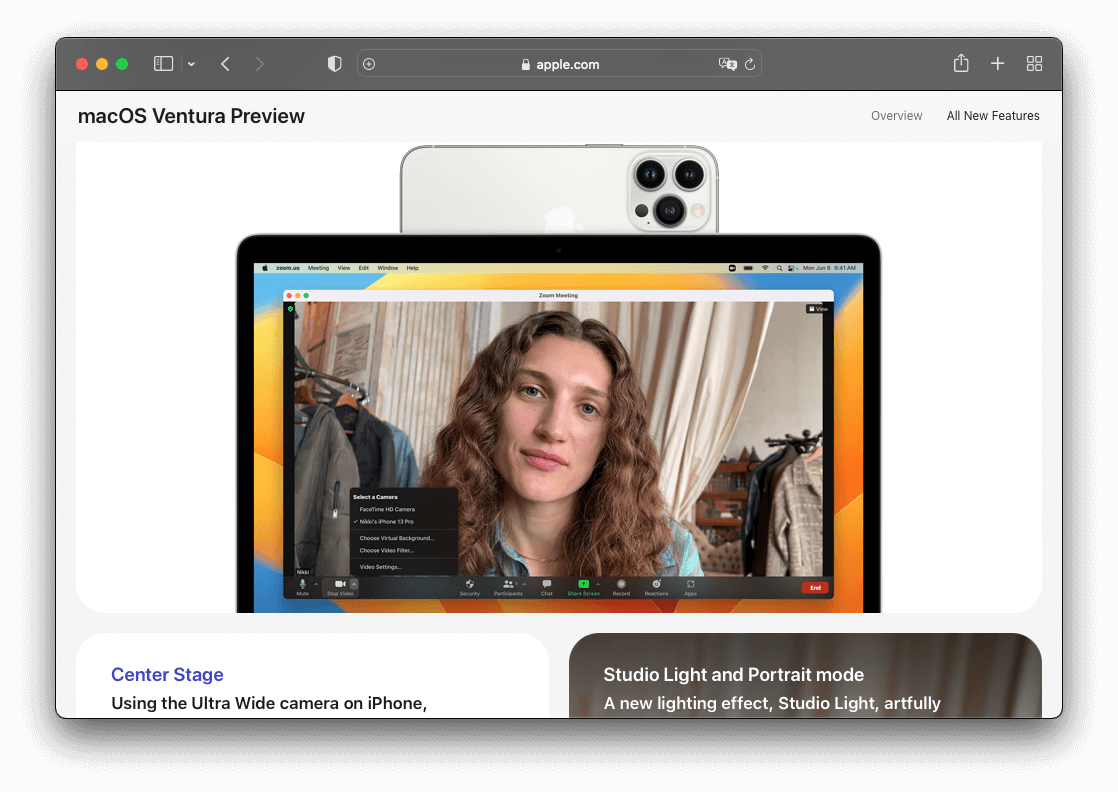 • Fluid transferring of FaceTime calls between devices. You can use Handoff to switch between your Mac, IPhone, and iPad in a frictionless way without having to end a FaceTime call.
• Collaboration with Freeform. The new Freeform app provides a digital "canvas" for effective brainstorming, project diagramming, and other types of real-time team collaboration via FaceTime. What's more, it combines a spectrum of devices under the same hood – Macs, IPhones, and iPads. Speaking of the latter, Apple Pencil is supported.
• Spotlight gets a revamp. Algorithmic enhancements make search results more accurate and comprehensive. Another great thing is the ability to preview files so that you can make informed decisions whether or not to open them. You can also search images by scenes, locations, or text detected in them.
• System Preferences – renamed and reimagined. In macOS Ventura, the long-standing configuration pane undergoes a change both visually and conceptually. Now called System Settings, it gets a new design where main controls are arranged by category in the sidebar. This structure should facilitate navigation across the interface, especially when you need to dig into settings further than one step deep.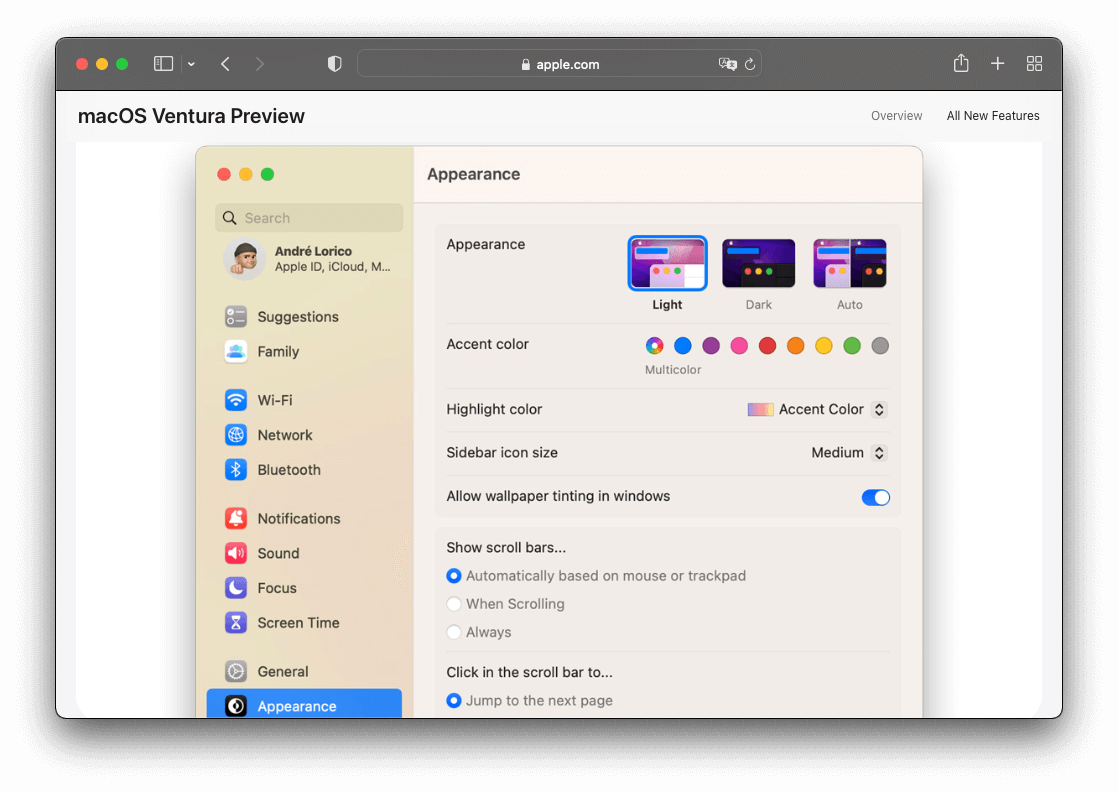 • Useful extras for the Mail app. One of the most conspicuous tweaks here is the ability to unsend a message before it arrives to the recipient. Furthermore, search suggestions and corrections will make it easier to find the content you need. The option of scheduling the event of sending a message is also going to complement the feature set. By the way, the unsend functionality will be available in the Messages app, too (there's a 15-minute gap for that).
• Privacy enhancement, aka Passkeys. The game-changing thing in this context is what's called Passkeys. Backed by Touch ID or Face ID biometric verification, the use of these end-to-end encrypted authentication details is a bold move toward abandoning traditional passwords to sign into your accounts, whether in Safari or system-wide. This mechanism ensures that no sensitive data (first and foremost your credentials) is stored on a web server. It's also a rock-solid barrier protecting you from phishing attacks.
Supported devices
As was the case with previous releases, the macOS Ventura update will leave quite a few awesome models behind. Mac Pro and Mac mini machines will bear the biggest brunt of aging eligibility-wise, with six-year and four-year gaps, respectively, compared to Monterey support. The only device that's in the same good place as before is iMac Pro.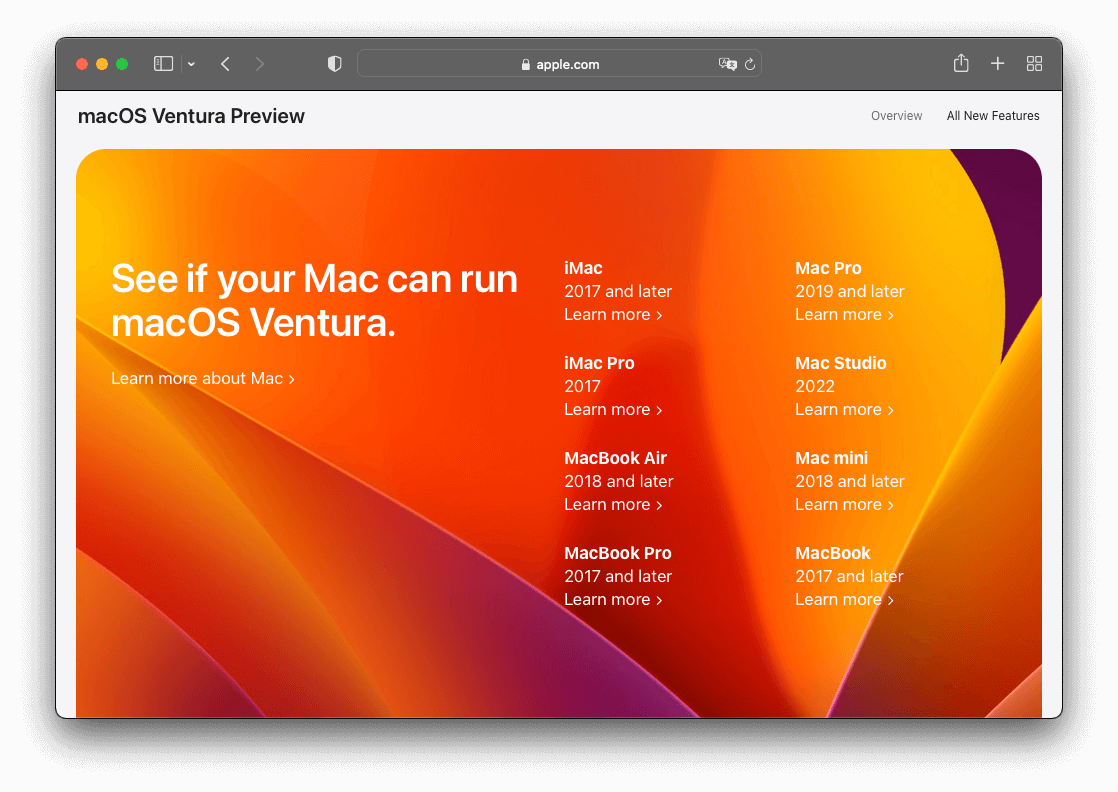 That being said, here is a list of Apple's desktops and laptops that will qualify for the newsmaking upgrade later this year:
iMac 2017 and newer
iMac Pro 2017 and newer
MacBook Air 2018 and newer
MacBook Pro 2017 and newer
Mac Pro 2019 and newer
Mac Studio 2022
Mac mini 2018 and newer
MacBook 2017 and newer.
macOS Ventura release date
There's not much to say in this regard, except that the final build will be released to the public in late 2022, probably in fall. Expecting an exact date at this point is wishful thinking, really. Before the platform becomes available to your average layman, it has to go through several stages of beta testing. Speaking of which, the first developer version is now live, having been launched on June 6, 2022.
How to download macOS 13 Ventura beta
If you are currently an active member of the Apple Developer Program (it's worth $99 per year) and your machine is enrolled, there is no obstacle to trying the already-available macOS Ventura dev beta immediately. All it takes is opening the Software Update pane from "About This Mac" screen or System Preferences and going through the prompts to get the job done.
Otherwise, you'll need to enroll as an individual or an organization via the Apple Developer Program web page. This will require that you provide some basic personal details during the registration, such as your real name and address. When done, install a developer profile on your compatible Mac, then download and install macOS 13 Ventura beta if you are sure.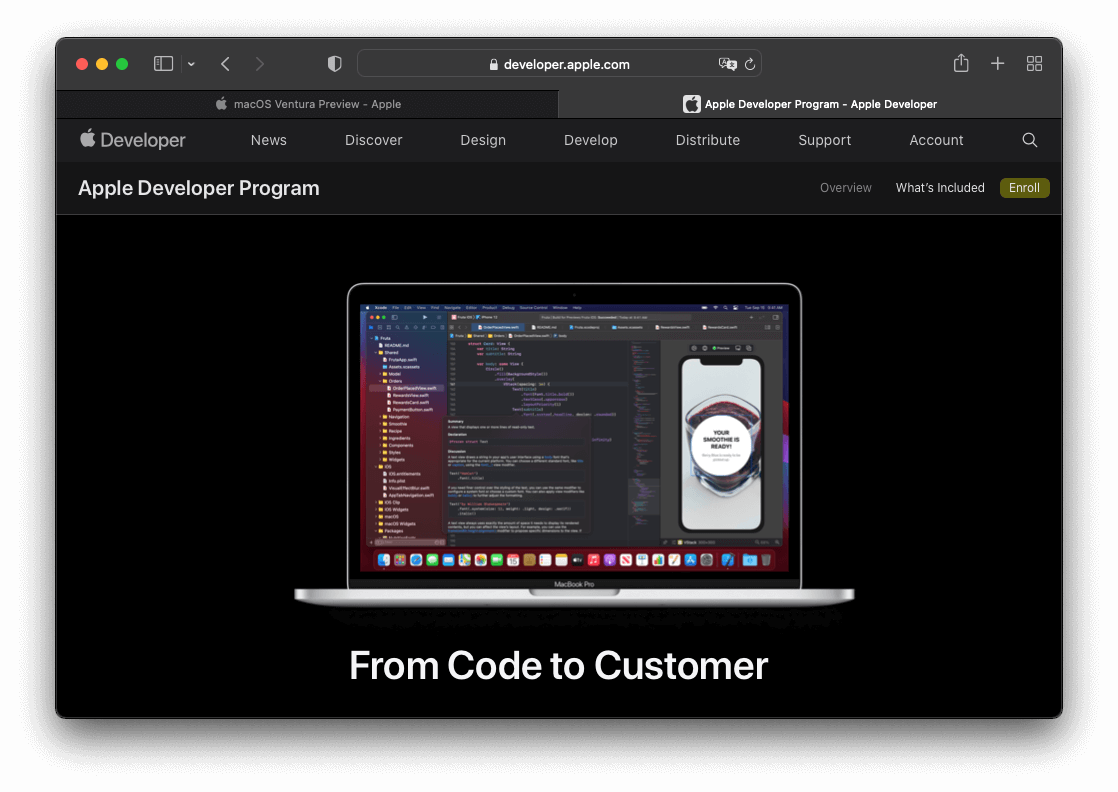 Be advised that the first public beta of the operating system has yet to be released. It will surface sometime in July 2022. If the wait is no big deal for you, go ahead and create a tester account using your Apple ID on the Apple Beta Software Program page. Put the finishing touch on the process by enrolling your supported Mac as prompted.
Here's a caveat to remember, though: avoid installing these betas on a Mac that's critical for your work. Since some system components may act finicky at the early stages, erring on the side of caution won't go amiss.
Download macOS 13 Ventura wallpaper
Even if you are neither a developer nor a wannabe beta tester, there is a way to give your Mac a Ventura-style look and feel right now by downloading and setting the future operating system's stock wallpaper. On a side note, this has been a good, long-running tradition among Mac fans. The original high-resolution wallpaper images for both light and dark mode are already available through the first developer beta.
If you can't wait to sense a bit of the upcoming macOS Ventura release, here is the light mode wallpaper download:
Download 6016x6016 WEBP - macOS Ventura Light Mode Wallpaper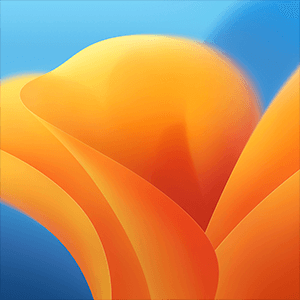 Those of you who are dark mode lovers might prefer the following wallpaper:
Download 6016x6016 WEBP - macOS Ventura Dark Mode Wallpaper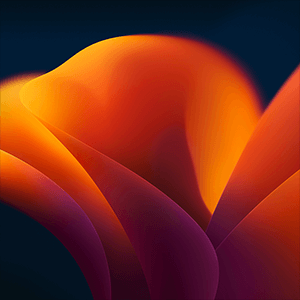 Now all that's left to do is open up the System Preferences app, select "Desktop & Screen Saver", and use the sidebar to pick and set the previously downloaded macOS Ventura wallpaper image of your choice. It's pretty refreshing, isn't it?
Summary
From where I stand, macOS 13 Ventura appears to be promising in quite a few ways. It continues to blur the lines between Apple's computers and mobile devices, with the Continuity Camera feature as well as the Clock and Weather apps now splashing onto the Mac scene. Stage Manager will undoubtedly contribute to multitasking and give every user a productivity boost. With Passkeys, passwordless authentication is just about to become the norm, fending off most phishing scams in a snap.
Since MacSecurity.net is largely about all things malware protection and cyberattack prevention, the system module called Rapid Security Response ended up in our team's limelight as the juiciest addition to macOS defenses against harmful code. It delivers security improvements literally on the go, that is to say, in between normal software updates to eliminate periods when your computer is vulnerable due to missing patches that are on their way but not deployed just yet.
Although macOS Ventura might not live up to the status of a game-changer overall, the novelty it does introduce is enough to make it a worthwhile update. With months of beta testing ahead, let's hope this version will be further polished to become a decent macOS Monterey successor that works in greater concert with Apple's mobile devices and makes the user experience reach new heights.