Apple announced the next version of its desktop platform called macOS Monterey – here is what you need to know and how to give it a go before public release.
The opening keynote at the 2021 Apple Worldwide Developers Conference (WWDC), which started on June 7 and will last through June 11, has lifted the curtain behind the next major version of the tech giant's desktop operating system. This fall, macOS 11 Big Sur will be superseded by macOS 12 Monterey. Although the upcoming iteration doesn't appear to live up to its predecessor's status of the biggest platform overhaul in a decade, it will introduce a handful of bells and whistles that are already warmly received by the global community of Apple fans.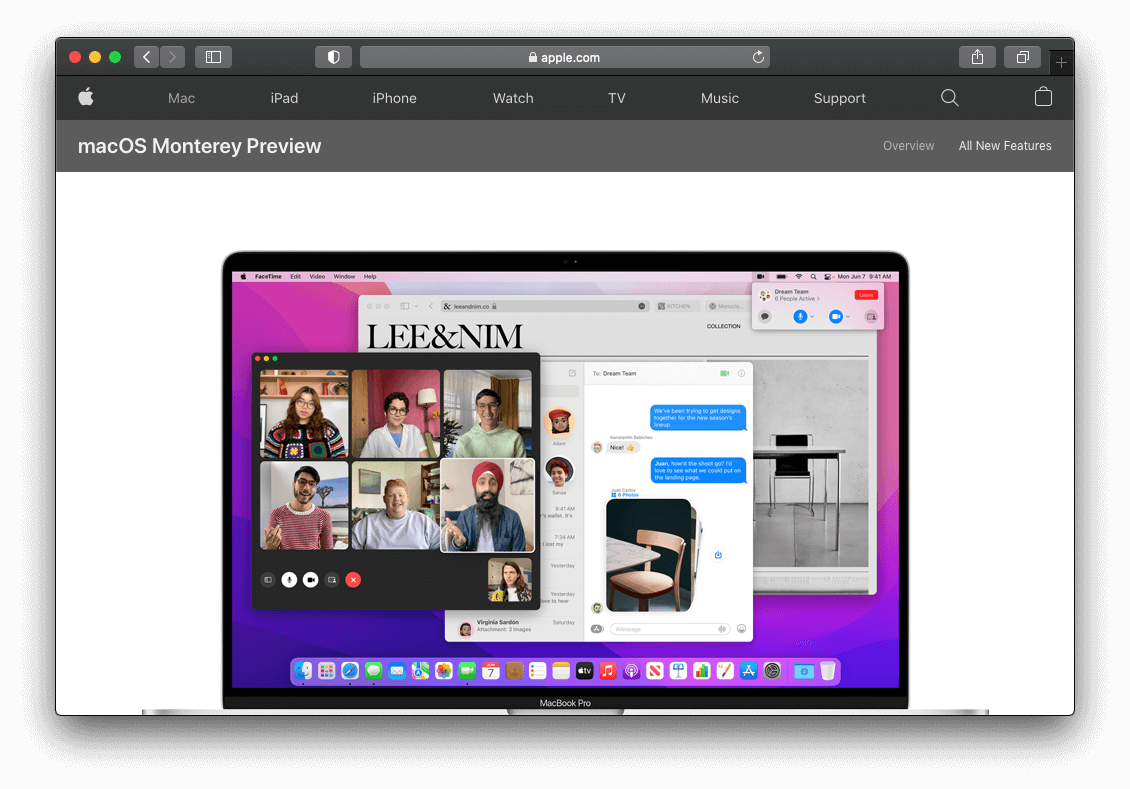 macOS Monterey – what's under the hood?
The release will bring, among other things, better interoperability between Apple's desktop and mobile devices, a redesigned Safari browser, the Shortcuts app, more streamlined Maps, stronger privacy controls, and more. Here is a closer zoom into some of macOS 12 changes that will make a difference:
Universal Control. The Mac and iPad ecosystems will continue to overlap, with the interaction between these devices becoming more frictionless and absolutely setup-free. Users will be able to move the cursor between multiple Apple devices, use their Mac's keyboard to type text on a nearby gadget, or quickly share files using a drag-and-drop logic.
Safari facelift. The browser will get an all-new, more compact tab bar that reflects the color style of the site you are currently visiting. Safari's "floating tabs" will look much like buttons. Plus, you can create tab groups based on your interests and easily sync these categories across devices.
Shortcuts. This feature is a game-changer, allowing you to cut the time it takes to launch your most-used apps, services, and actions. macOS Monterey provides a vast choice of modes to run shortcuts, from using the Dock or menu bar to leveraging the Finder, Spotlight, or Siri. The system will include a gallery with turnkey shortcuts. Alternatively, you can use a dedicated editor to create custom ones.
Quick Note. When using a supported app, you can reflect whatever relevant jumps to mind via the new Quick Note function. Just bring up the feature, type your ideas, and use a thumbnail to easily find the note later on.
Focus. This one will take your time management to the next level by delivering awesome tweaks to the self-organization controls. Specify notifications using flexible menus, or choose from suggested options, and get important things done without being distracted. Your status info will be automatically synced between devices and appear in the Messages app to let contacts know about your current activity.
Release date
There is nothing unexpected here: macOS 12 Monterey will be rolled out this fall. The exact date is unknown so far, and it's unlikely to be revealed until a series of extensive beta testing stages are completed. Speaking of which, the developer beta is already available to the participants of Apple Developer Program. The public beta will surface in July 2021. If you can't wait until the official stable build is released, keep reading to find out how to try the beta version now.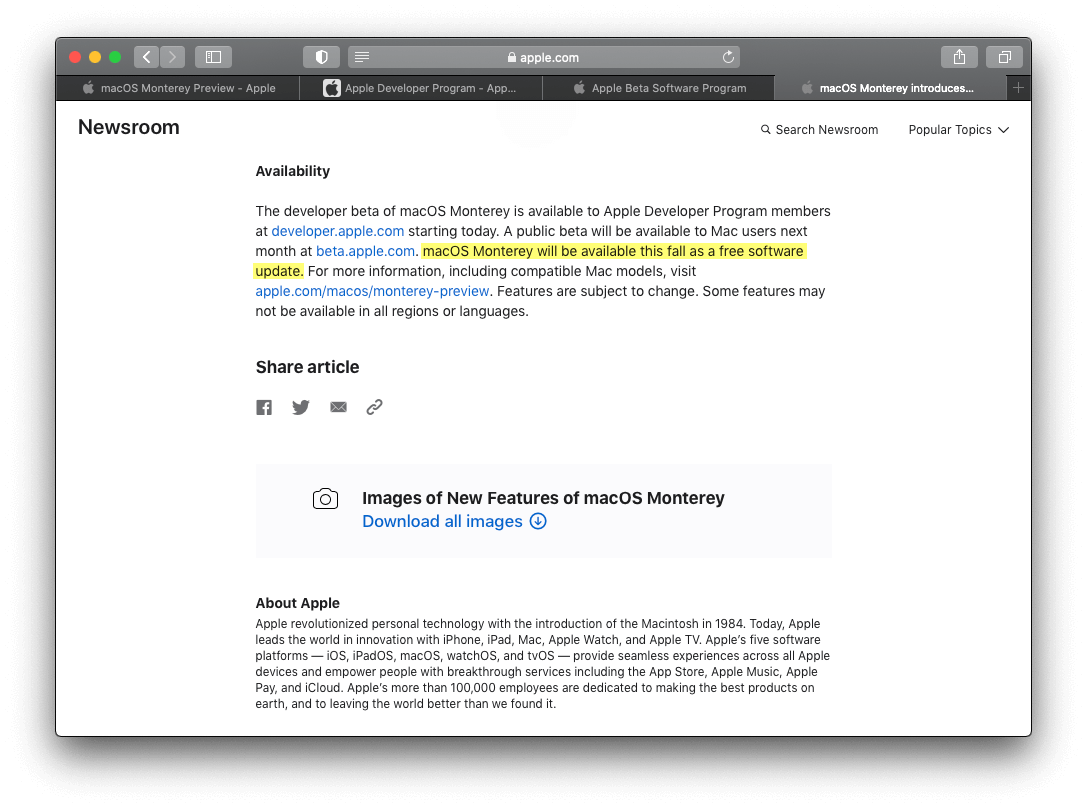 Device compatibility
Predictably, and sadly enough, some machines that natively support macOS Big Sur won't get macOS Monterey. The threshold has been raised for different models to a somewhat different extent. For instance, the compatibility gap is fairly dramatic for MacBook Pro: it's late 2013 and newer (for macOS 11) vs early 2015 and newer (for macOS 12). MacBook Air laptops are pretty much in the same boat.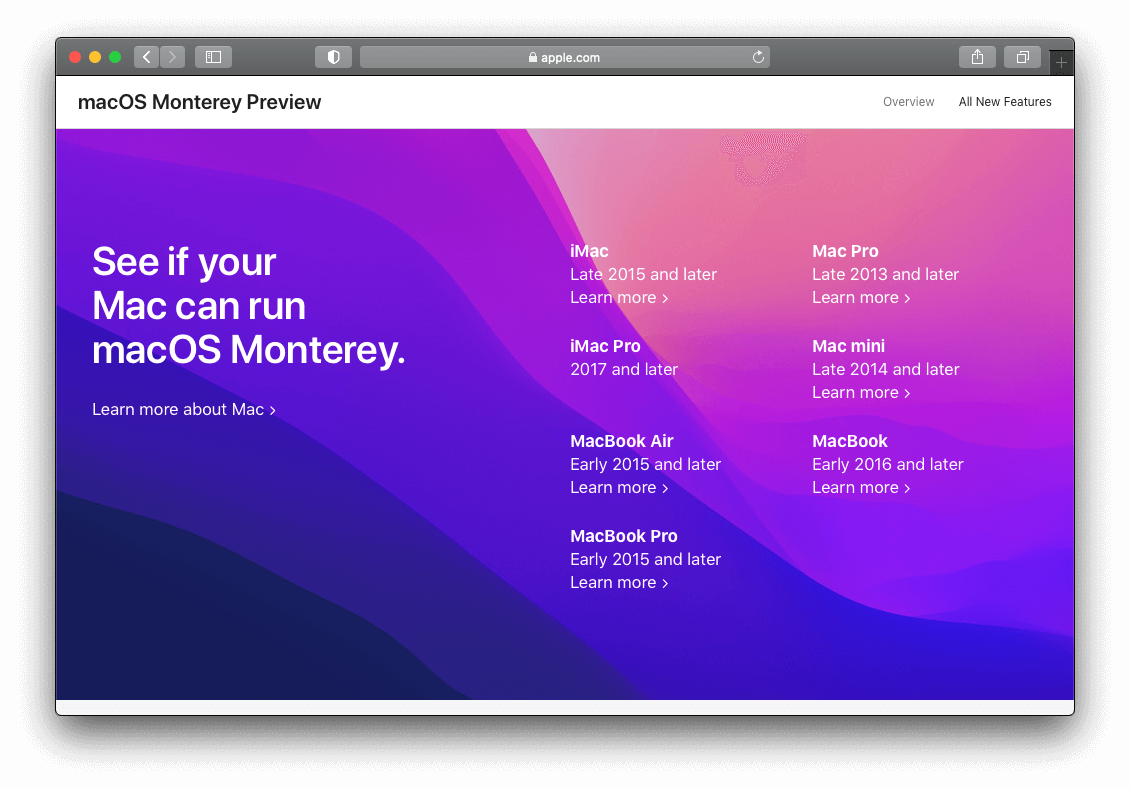 Anyway, if you own one of the following devices, you will get the coveted update notification in System Preferences sometime this fall:
iMac late 2015 and newer
iMac Pro 2017 and newer
MacBook Air / MacBook Pro early 2015 and newer
Mac Pro late 2013 and newer
Mac mini late 2014 and newer
MacBook early 2016 and newer.
How to download macOS 12 Monterey beta
As we mentioned above, macOS Monterey developer beta is available at the time of this writing. Being a registered coder is a prerequisite for downloading it without having to wait until the consumer beta release. Be advised that there is an annual fee of $99 to enjoy the privilege.
If you meet this criterion and your Mac is enrolled with the Developer Program, click the Apple logo in the menu bar, select "About This Mac", and head to "Software Update" to get your copy of macOS 12 Monterey beta. If you aren't a registered developer but want to give the new operating system a shot right now, go to Apple's Developer portal, click "Enroll", and follow on-screen instructions to get the required status.
An extra step is to install a developer profile on your supported Mac – thankfully, this process is very intuitive regardless of your tech skills. Download and install macOS 12 Beta once you are ready to take the leap. The process will take quite some time, given that the file is about 12GB large and the installation isn't a blink-of-an-eye type of thing.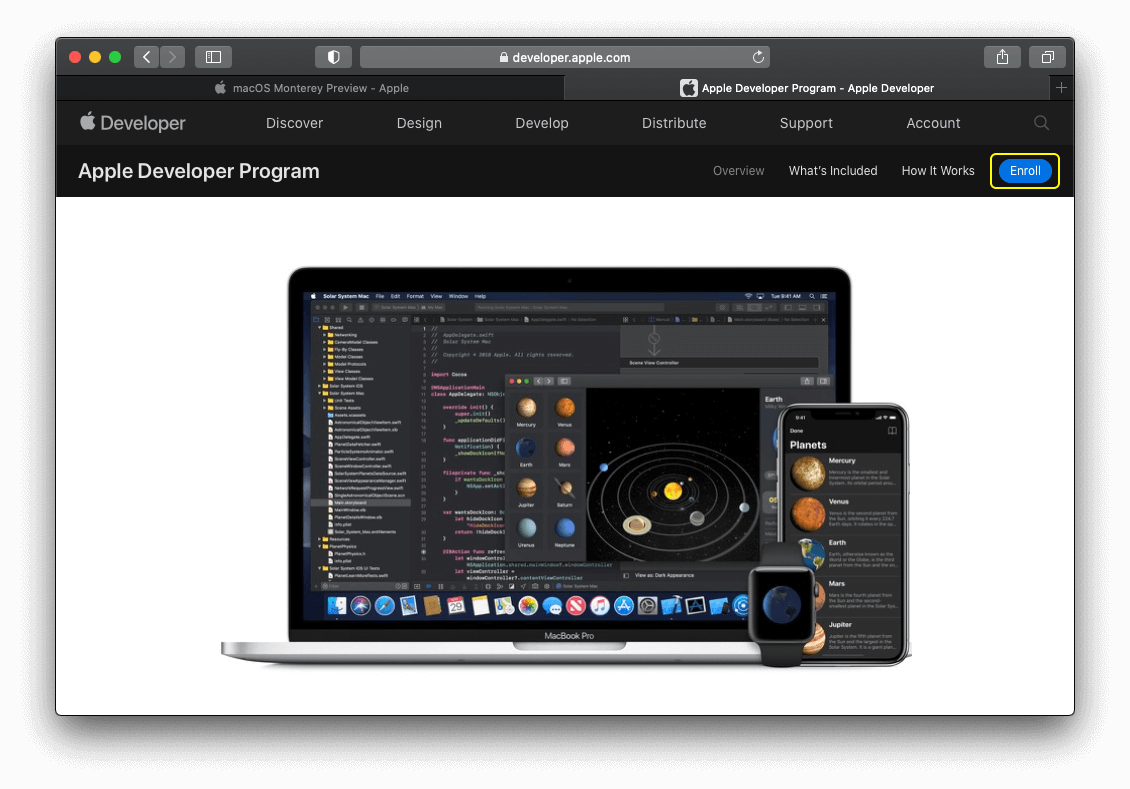 If you are okay with waiting till next month's public beta, visit Apple Beta Software Program site and click "Sign Up" to create a tester account using your Apple ID. You will also need to enroll your Mac to get macOS 12 Beta once it goes live to the general public.
Keep in mind, though, that pre-release versions might be unstable, and you run the risk of bumping into errors or even losing your data. Therefore, installing the beta on your daily driver is a slippery slope. If you have a spare machine to experiment with, then go ahead and try the perks.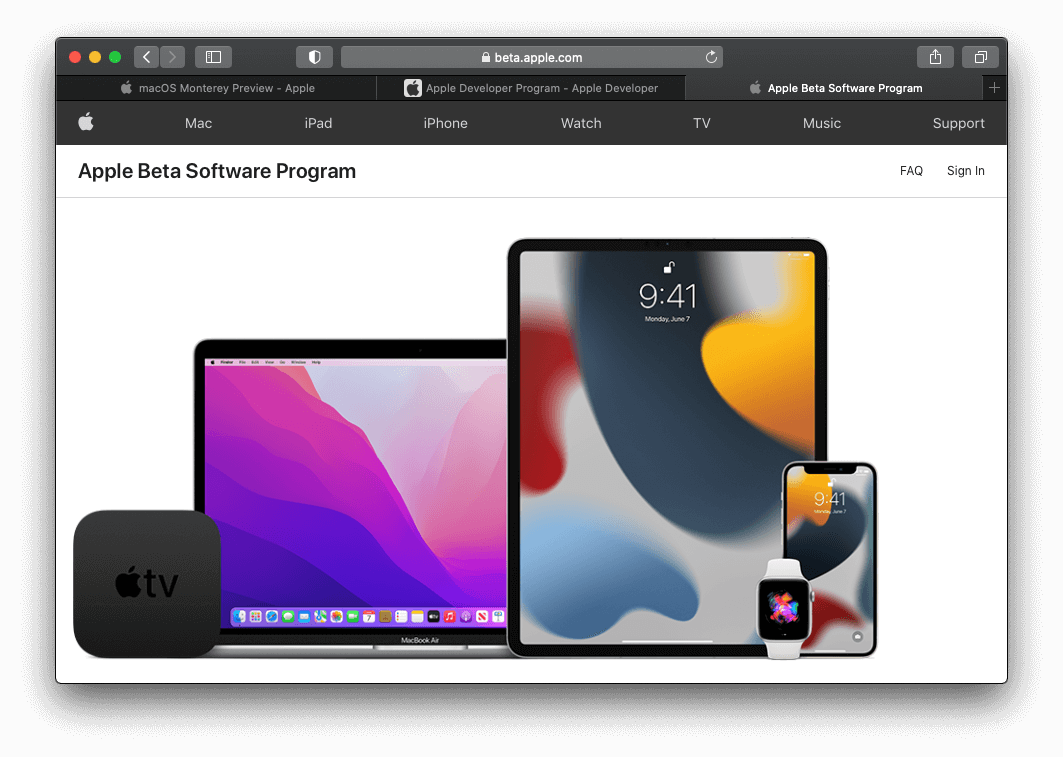 Download macOS 12 wallpaper
Every macOS release arrives with a default wallpaper or a set of them, and so does macOS Monterey. At this point, there are two images available – one in light and the other in dark mode. Unsurprisingly, these are creating a good deal of hype among Mac lovers and have already turned into a must-have for many.
You can get both wallpaper samples below. They were downloaded from macOS 12 Developer Beta to ensure maximum resolution and quality. Enjoy the new look!
Here is the stock macOS Monterey wallpaper in light mode: Download 6016x6016 JPEG - macOS 12 Monterey Light Mode Wallpaper

And here is macOS 12 wallpaper in dark mode: Download 6016x6016 JPEG - macOS 12 Monterey Dark Mode Wallpaper

Wrapping it up
Visually, the most conspicuous tweak in macOS Monterey is all about Safari. Functionally, the Universal Control feature eclipses the rest of the additions and changes, further eliminating the boundaries between desktop and mobile. The emergence of Shortcuts in the Mac universe is quite a breakthrough, too. Hopefully, Apple will also stay committed to ensuring the security of their platform and the privacy of the average user.