Soap2Day, a service that supposedly provides unlimited access to a huge catalogue of streaming videos, may pose risks Mac users should beware of.
Update: December 2023
What is Soap2Day?
Imagine a hypothetical dilemma whether to watch video content online or download it onto a device. Obviously, the former is going to be most users' choice. It's a much easier and user-friendlier option, isn't it? Yup. The only downside is that tons of ads will be interrupting each session as long as a free streaming service is picked. Buying a premium subscription could eliminate this nuisance, but some people would rather go with the flow and refrain from paying those fees. In some cases, users are required to create an account by entering their personally identifiable information to get access to such materials. Contrary to these scenarios, a portal called Soap2Day claims to allow users to watch multimedia with no strings attached. However, those interested should keep in mind that there is no such thing as a free lunch.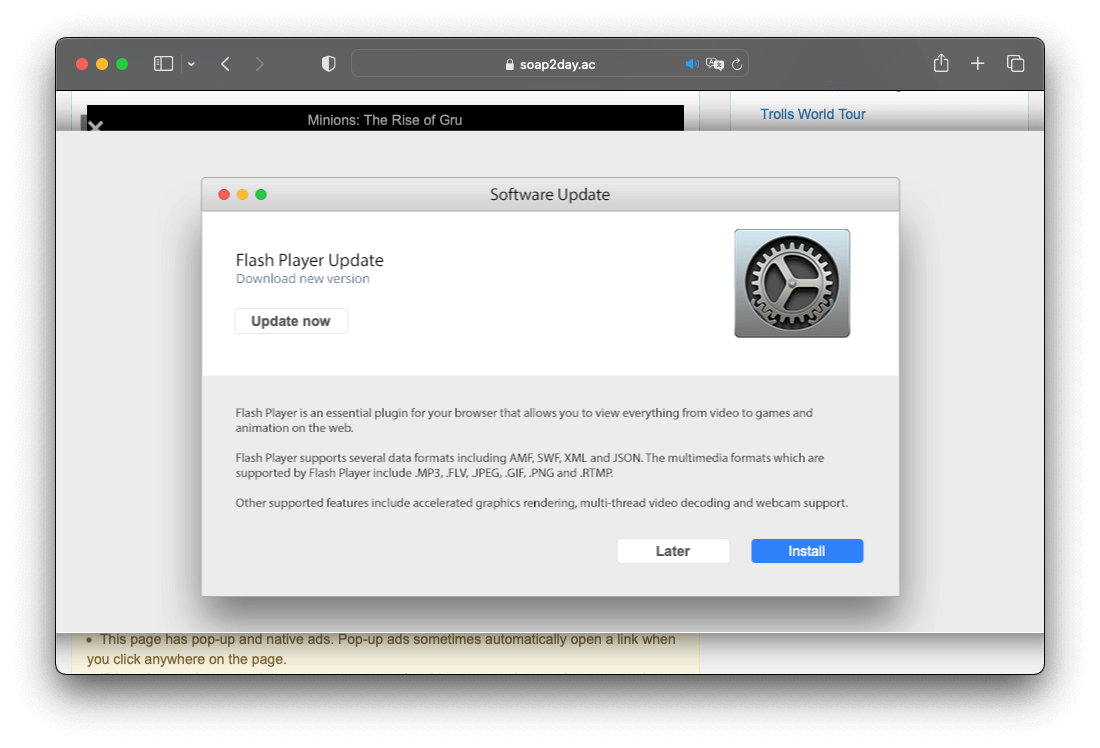 In addition to the best-known domain soap2day.to, this service is additionally using three sites whose URLs end in *.ac, *.sh, *.mx, *.cc, *.de, *.is, and *.nl. They are identical both in terms of design and the materials available. The main marketing mantra mentioned on these pages is that visitors can watch all videos without signing up. To a vigilant user, this looks like a red flag. Nevertheless, most people couldn't care less when it comes to watching a much-anticipated or favorite movie without further ado. This could be a trap, though. With the growing popularity of Soap2Day, Mac fans have once again ended up in the focus of unscrupulous third parties. When watching content there, users are shown pop-ups whose purpose goes beyond advertising. In some situations, these ads can be clearly dangerous.
Special Offer
Soap2Day may re-infect your Mac multiple times unless you delete all of its fragments, including hidden ones. Therefore, it is recommended to download Combo Cleaner and scan your system for these stubborn files. This way, you may reduce the cleanup time from hours to minutes. Download Now Learn how ComboCleaner works. If the utility spots malicious code, you will need to buy a license to get rid of it.
One of the dubious campaigns hinging on Soap2Day is the notorious fake Adobe Flash Player update scam. Here's how it works: when a streaming video session is underway, a pop-up appears telling that the user's current version of the Flash Player is obsolete and the latest one should be installed. If the unsuspecting person can't wait to continue watching a movie and agrees to apply the update, the installation package will promote extra apps that may harm the Mac. The common payloads include scareware and browser hijackers. Either infection is obnoxious to pretty much the same extent. A rogue optimizer will be driving the victim nuts with fake problem detection reports while insisting on paid "cleanup". Adware, in its turn, takes over the default web browser and repeatedly reroutes it to unwanted sites without allowing the user to specify correct preferences.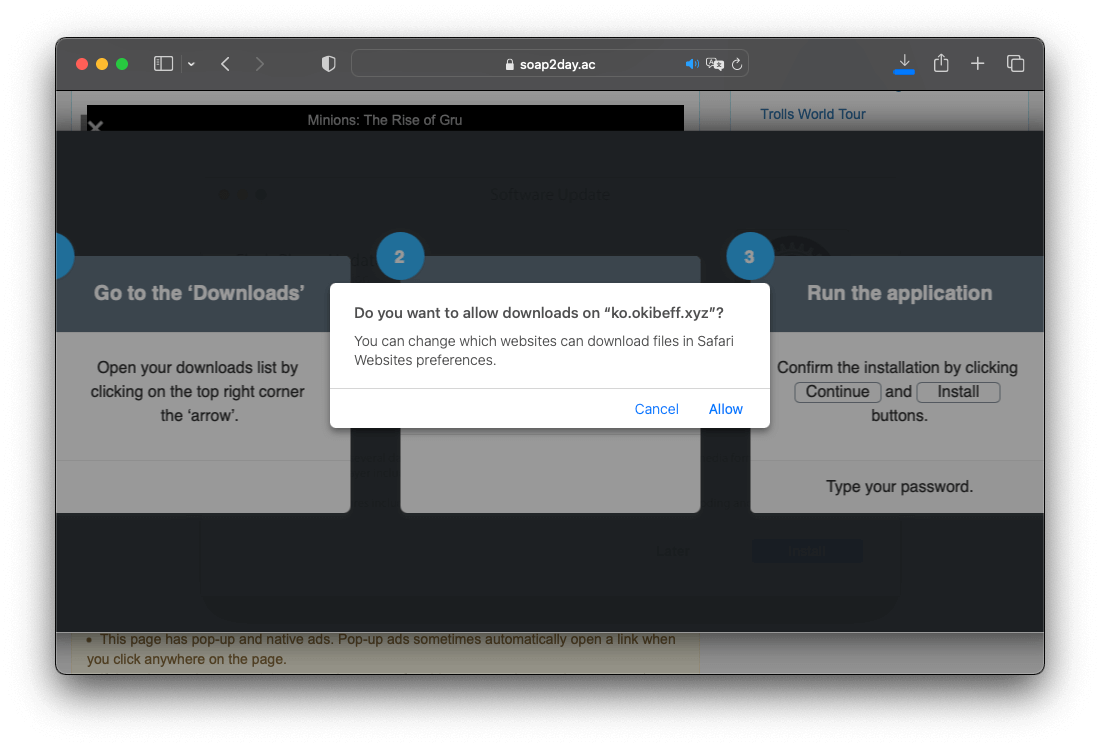 Web push notifications are another drag that may start manifesting itself once a Mac user clicks on a fraudulent permission request on Soap2Day. Unlike regular ads, these items are particularly pesky because they appear on the computer's desktop no matter if a browser is currently opened or not. Furthermore, closing them is a short-term relief as more of them will re-emerge. An extra concern is that these push notifications reflect the victim's interests, which suggests that they keep track of the web surfing history and search engine queries without asking for consent to do so.
Yet another frequently reported pitfall about Soap2Day is that Mac users may start encountering Calendar Events spam after accidentally clicking on a pop-up on the controversial website in question. By the way, the issue often starts with a rogue splash warning on soap2day.to or its replica stating that viruses were detected on the device and recommending a fix. Instead of helping rectify the problem, though, the ad triggers an embedded sketchy script that creates a new Calendar subscription without approval. It's worth emphasizing that the follow-up spammy entries in the Calendar app mostly alert the user to some malware threats or privacy risks and promote junk software that will purportedly address the issues.
They say if something looks too good to be true, it probably is. This phrase makes a whole lot of sense in the Soap2Day context. The service isn't a virus per se, but it promotes potentially unwanted applications (PUAs) and floods the user experience with too many ads to tolerate. Therefore, Mac users should treat this multimedia platform with caution. If a security issue has taken root after soap2day.to was visited, it's best to check the system for malicious code and eradicate it if spotted.
Soap2Day virus manual removal for Mac
The steps listed below will walk you through the removal of this malicious application. Be sure to follow the instructions in the specified order.
Expand the Go menu in your Mac's Finder bar and select Utilities as shown below.

Locate the Activity Monitor icon on the Utilities screen and double-click on it.

In the Activity Monitor app, look for a process that appears suspicious. To narrow down your search, focus on unfamiliar resource-intensive entries on the list. Keep in mind that its name isn't necessarily related to the way the threat is manifesting itself, so you'll need to trust your own judgement. If you pinpoint the culprit, select it and click on the Stop icon in the upper left-hand corner of the screen.

When a follow-up dialog pops up asking if you are sure you want to quit the troublemaking process, select the Force Quit option.


Click on the Go menu icon in the Finder again and select Go to Folder. You can as well use the Command-Shift-G keyboard shortcut.


Type /Library/LaunchAgents in the folder search dialog and click on the Go button.


Examine the contents of the LaunchAgents folder for dubious-looking items. Be advised that the names of files spawned by malware may give no clear clues that they are malicious, so you should look for recently added entities that appear to deviate from the norm.

As an illustration, here are several examples of LaunchAgents related to mainstream Mac infections: com.pcv.hlpramc.plist, com.updater.mcy.plist, com.avickUpd.plist, and com.msp.agent.plist. If you spot files that don't belong on the list, go ahead and drag them to the Trash.

Use the Go to Folder lookup feature again to navigate to the folder named ~/Library/Application Support (note the tilde symbol prepended to the path).


When the Application Support directory is opened, identify recently generated suspicious folders in it and send them to the Trash. A quick tip is to look for items whose names have nothing to do with Apple products or apps you knowingly installed. A few examples of known-malicious folder names are Quick Mac Booster, IdeaShared, and ProgressMatch.

Enter ~/Library/LaunchAgents string (don't forget to include the tilde character) in the Go to Folder search area.


The system will display LaunchAgents residing in the current user's Home directory. Look for dodgy items related to Soap2Day virus (see logic highlighted in subsections above) and drag the suspects to the Trash.

Type /Library/LaunchDaemons in the Go to Folder search field.


In the LaunchDaemons path, try to pinpoint the files the malware is using for persistence. Several examples of such items cropped by Mac infections are com.pplauncher.plist, com.startup.plist, and com.ExpertModuleSearchDaemon.plist. Delete the sketchy files immediately.


Click on the Go menu icon in your Mac's Finder and select Applications on the list.


Find the entry for an app that clearly doesn't belong there and move it to the Trash. If this action requires your admin password for confirmation, go ahead and enter it.

Expand the Apple menu and select System Preferences.

Proceed to Users & Groups and click on the Login Items tab.

The system will display the list of items launched when the computer is starting up. Locate the potentially unwanted app there and click on the "-" (minus) button.

Now select Profiles under System Preferences. Look for a malicious item in the left-hand sidebar. Several examples of configuration profiles created by Mac adware include TechSignalSearch, MainSearchPlatform, AdminPrefs, and Chrome Settings. Select the offending entity and click on the minus sign at the bottom to eliminate it.


If your Mac has been infiltrated by adware, the infection will most likely continue to hold sway over your default web browser even after you remove the underlying application along with its components sprinkled around the system. Use the browser cleanup instructions below to address the remaining consequences of this attack.
Get rid of Soap2Day virus in web browser on Mac
To begin with, the web browser settings taken over by the Soap2Day virus should be restored to their default values. Although this will clear most of your customizations, web surfing history, and all temporary data stored by websites, the malicious interference should be terminated likewise. The overview of the steps for completing this procedure is as follows:
Remove Soap2Day virus from Safari

Open the browser and go to Safari menu. Select Preferences in the drop-down list.

Once the Preferences screen appears, click on the Advanced tab and enable the option saying "Show Develop menu in menu bar".

Now that the Develop entry has been added to the Safari menu, expand it and click on Empty Caches.

Now select History in the Safari menu and click on Clear History in the drop-down list.

Safari will display a dialog asking you to specify the period of time this action will apply to. Select all history to ensure a maximum effect. Click on the Clear History button to confirm and exit.

Go back to the Safari Preferences and hit the Privacy tab at the top. Find the option that says Manage Website Data and click on it.

The browser will display a follow-up screen listing the websites that have stored data about your Internet activities. This dialog additionally includes a brief description of what the removal does: you may be logged out of some services and encounter other changes of website behavior after the procedure. If you're okay with that, go ahead and click on the Remove All button.

Restart Safari

Remove Soap2Day in Google Chrome

Open Chrome, click the Customize and control Google Chrome (⁝) icon in the top right-hand part of the window, and select Settings in the drop-down

When on the Settings pane, select Advanced
Scroll down to the Reset settings section.

Confirm the Chrome reset on a dialog that will pop up. When the procedure is completed, relaunch the browser and check it for malware activity.

Remove Soap2Day from Mozilla Firefox

Open Firefox and go to Help – Troubleshooting Information (or type about:support in the URL bar and press Enter).

When on the Troubleshooting Information screen, click on the Refresh Firefox button.

Confirm the intended changes and restart Firefox.
Get rid of Soap2Day virus using Combo Cleaner removal tool
The Mac maintenance and security app called Combo Cleaner is a one-stop tool to detect and remove Soap2Day virus. This technique has substantial benefits over manual cleanup, because the utility gets hourly virus definition updates and can accurately spot even the newest Mac infections.
Furthermore, the automatic solution will find the core files of the malware deep down the system structure, which might otherwise be a challenge to locate. Here's a walkthrough to sort out the Soap2Day issue using Combo Cleaner:
Download Combo Cleaner installer. When done, double-click the combocleaner.dmg file and follow the prompts to install the tool onto your Mac.

By downloading any applications recommended on this website you agree to our Terms and Conditions and Privacy Policy. The free scanner checks whether your Mac is infected. To get rid of malware, you need to purchase the Premium version of Combo Cleaner.

Open the app from your Launchpad and let it run an update of the malware signature database to make sure it can identify the latest threats.
Click the Start Combo Scan button to check your Mac for malicious activity as well as performance issues.

Examine the scan results. If the report says "No Threats", then you are on the right track with the manual cleaning and can safely proceed to tidy up the web browser that may continue to act up due to the after-effects of the malware attack (see instructions above).

In case Combo Cleaner has detected malicious code, click the Remove Selected Items button and have the utility remove Soap2Day threat along with any other viruses, PUPs (potentially unwanted programs), or junk files that don't belong on your Mac.

Once you have made doubly sure that the malicious app is uninstalled, the browser-level troubleshooting might still be on your to-do list. If your preferred browser is affected, resort to the previous section of this tutorial to revert to hassle-free web surfing.
FAQ
Let's put it this way: visiting Soap2Day is a slippery slope. The website itself isn't likely to infect your Mac by unleashing a sneaky exploit or setting a similarly surreptitious zero-click contamination scenario in motion. So much for the good news. The problem with this resource is that it hosts a cesspool of drive-by downloads and clickbait schemes aiming to trick you into giving the affiliated sketchy web services excessive permissions on your system or installing adware that pretends to be something benign.
The risky gist of Soap2Day becomes obvious from the get-go. Whenever you try to load a movie of choice, an interstitial page will quietly open in a new browser tab. The advertising content of that site is aligned with your Mac's locale and your interests based on previous searches and Internet surfing history. The same pop-up trick happens randomly as you pause a video. Sometimes the landing page is going to automatically download an installer for adware disguised as the latest Flash Player version or a missing multimedia codec. You'd be better off avoiding any interaction with these pages; otherwise, security issues are imminent.
As mentioned previously, Soap2Day is full of pitfalls as it promotes dodgy services and junk applications. The only situation where you can use it safely is if you refrain from clicking anything on the pop-up ads, splash screens, and permission requests this site may spawn. The human factor is what makes a difference here. If you are vigilant enough, then you might steer clear of these traps – they'll still annoy you, though. In case you accidentally click something you shouldn't, tedious system cleaning will end up on your to-do list. For instance, let's go over one of the common hoaxes you'll encounter on that resource (see the screenshot below).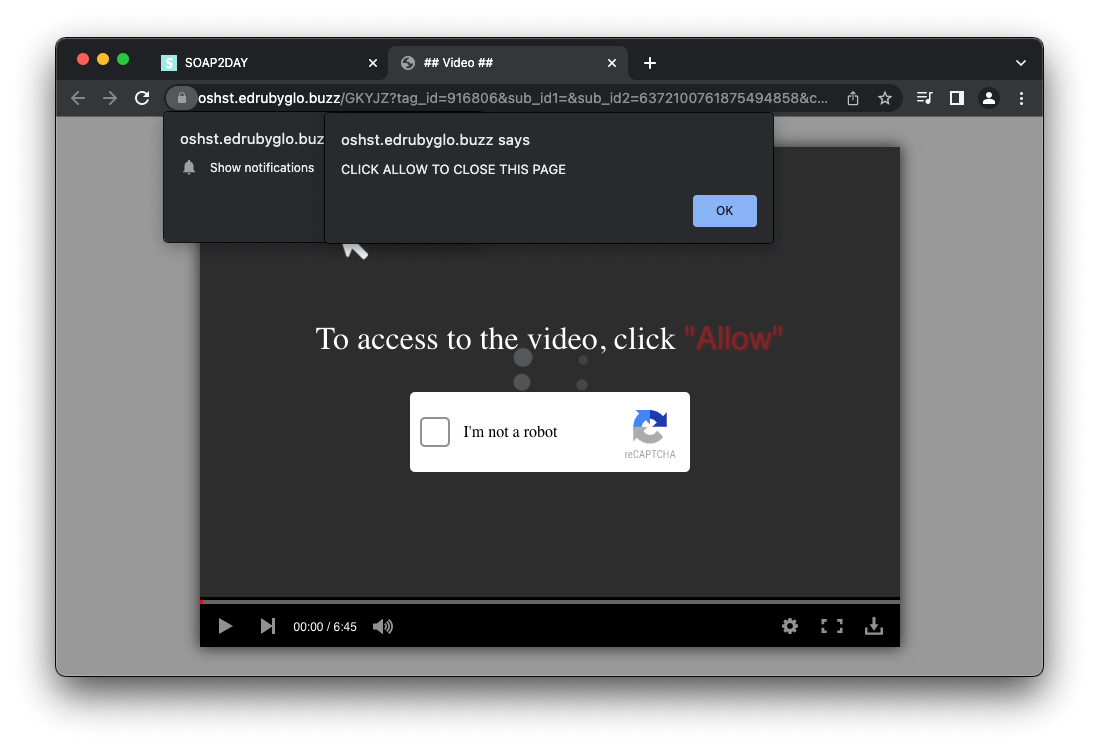 This page popped up when I paused a movie as part of my Soap2Day research. It is an interstitial window with what appears to be a video. The tricky thing is that the user is instructed to click an "Allow" or "OK" button to access the content or even to close the page. However, doing so will instead enable web push notifications for the junk site. With this permission granted, the web browser (Google Chrome in my case) will be piggybacked to display obnoxious pop-up ads, some of which will show up on the Mac's desktop.
Yet another shadowy facet of Soap2Day is in the legal area. Most, if not all, materials it contains are copyright-protected. To watch them, you would normally need to have a subscription with an authorized streaming service. That said, engaging with Soap2Day means dealing with pirated content in a way. That's one more important thing to consider. While the site is free to use, it puts your security and privacy at risk, so think twice the next time you decide to go there.