In-depth analysis of the Mac adware called FormList is what this article is about, with effective removal steps being also provided to help sort out the issue.
Mac computers are increasingly exposed to unauthorized interference stemming from PUAs (potentially unwanted applications). Also categorized as adware, these nasties turn all things browsing upside down in the blink of an eye. The adverse effects range from web traffic redirects to annoying ads that make one's Internet surfing experience intolerable. There are numerous families of these parasites ambushing Mac users via misleading installation clients downloadable on dubious sites, but one such adware cradle appears to be particularly lucrative for its proprietors. Its latest spinoff is called FormList, or FormList 1.0. This application manifests itself in the exact same way as dozens of its precursors did. It uses an identical software icon depicting a magnifying glass inside a green circle, and its impact is invariably frustrating. The most evident symptoms include a rush of popup ads and recurrent instances of traffic being forwarded to various junk pages.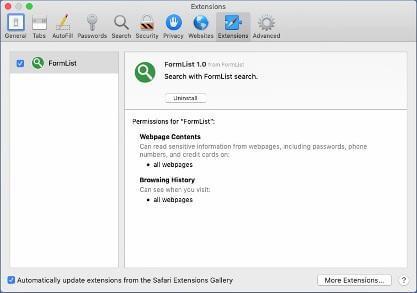 FormList virus isn't very sophisticated as far as its distribution goes. Every single infection case is an outcome of poor online hygiene of the user, who agrees to install the baddie without really knowing about it. What enables such a manipulation is an old school technique referred to as app bundling. It was originally masterminded to help freeware makers monetize their intellectual efforts through multi-element installers, where a certain program is accompanied by a number of extras. Cybercrooks couldn't possibly walk by this great opportunity to push their threats this way. The hoax comes down to booby-trapped setup wizards whose default structure includes undisclosed applications tailgating into Macs along with benign ones. FormList relies on this tactic, arriving with packages of several utilities. Its presence, though, isn't mentioned in the express installation mode screen. This explains how people unknowingly allow it to trespass on their computing. A game-changing action in this context is to select the custom option in the wizard so that the entire structure of the bundle is made clear and the user can uncheck whatever they deem redundant.
Special Offer
FormList may re-infect your Mac multiple times unless you delete all of its fragments, including hidden ones. Therefore, it is recommended to download Combo Cleaner and scan your system for these stubborn files. This way, you may reduce the cleanup time from hours to minutes. Download Now Learn how ComboCleaner works. If the utility spots malicious code, you will need to buy a license to get rid of it.
When inside a host, the virus gives the victim's browsing an overhaul without asking for consent. It injects a corresponding extension called FormList 1.0 in Safari, Chrome, and Firefox, depending on which browser is the default one on the machine. The goal of this add-on is to take control of the user's web surfing activities by substituting the original preferences with rogue ones. It tends to distort the homepage, new tab page, and search engine settings so that the admin keeps going to sketchy sites instead of the predefined pages of choice. In most scenarios, the browser is rerouted to a bogus search engine that displays sponsored content above the fold. Another serious pitfall is that the user will be seeing ads by FormList on most sites they visit, although these materials aren't supposed to be there at all. A ton of in-text links, popup advertisements providing coupons and freebies, and interstitial windows triggered in the background of the current browsing session – all of these will be constantly appearing out of the blue.
It's out of the question that removing FormList app is the best way to treat it. When trying to do it, though, users may encounter a hurdle – the culprit doesn't allow them to customize the browser as the appropriate fields of preferences are inactive. This is an upshot of a malicious user profile having been created on the Mac. Its name varies, with a few known ones being called AdminPrefs, TechFunctionSearch, and TechSignalSearch. Therefore, deleting this profile is an important prerequisite of successful cleanup. Keep reading to learn additional details on how to uninstall FormList from Mac for good.
FormList virus manual removal for Mac
The steps listed below will walk you through the removal of this malicious application. Be sure to follow the instructions in the order specified.
Open up the Utilities folder as shown below

Locate the Activity Monitor icon on the screen and double-click on it

Under Activity Monitor, find FormList (FormList 1.0) or some other item that appears suspicious, select it and click Quit Process
A dialog should pop up, asking if you are sure you would like to quit the troublemaking process. Select the Force Quit option
Click the Go button again, but this time select Applications on the list. Find the entry for FormList on the interface, right-click on it and select Move to Trash. If user password is required, go ahead and enter it

Now go to Apple Menu and pick the System Preferences option

Select Accounts and click the Login Items button. The system will come up with the list of the items that launch when the box is started up. Locate FormList (FormList 1.0) or other potentially unwanted app there and click on the "-" button
Get rid of FormList ads and redirects in web browser on Mac
To begin with, settings for the web browser that got hit by this virus should be restored to their default values. The overview of steps for this procedure is as follows:
Reset Safari

Open the browser and go to Safari menu. Select Preferences in the drop-down list

Once the Preferences screen appears, hit the Privacy tab at the top. Find the option that says Remove All Website Data and click on it

The system will display a confirmation dialog that also includes a brief description of what the reset does. Specifically, you may be logged out of some services and encounter other changes of website behavior after the procedure. If you're okay with that, go ahead and click the Remove Now button

In order to selectively clear data generated by certain websites only, not all of them, hit the Details button under the Privacy section of Safari Preferences

This feature will list all websites that have stored potentially sensitive data, including cache and cookies. Select the one, or ones, that might be causing trouble and click the appropriate button at the bottom (Remove or Remove All). Click the Done button to exit.

Reset Google Chrome

Open Chrome, click the More (⁝) icon in the top right-hand part of the window, and select Settings in the drop-down
When on the Settings pane, select Advanced
Scroll down to the Reset settings section. Under the Restore settings to their original defaults option, click the Reset settings button

Confirm the Chrome reset on a dialog that will pop up. When the procedure is completed, relaunch the browser and check it for malware activity.

Reset Mozilla Firefox

Open Firefox and select Help – Troubleshooting Information
On the page that opened, click the Reset Firefox button
Get rid of FormList virus Mac using Combo Cleaner removal tool
The Mac maintenance and security app called Combo Cleaner is a one-stop tool to detect and remove FormList virus. This technique has substantial benefits over manual cleanup, because the utility gets hourly virus definition updates and can accurately spot even the newest Mac infections.
Furthermore, the automatic solution will find the core files of the malware deep down the system structure, which might otherwise be a challenge to locate. Here's a walkthrough to sort out the FormList issue using Combo Cleaner:
Download Combo Cleaner installer. When done, double-click the combocleaner.dmg file and follow the prompts to install the tool onto your Mac.

By downloading any applications recommended on this website you agree to our Terms and Conditions and Privacy Policy. The free scanner checks whether your Mac is infected. To get rid of malware, you need to purchase the Premium version of Combo Cleaner.

Open the app from your Launchpad and let it run an update of the malware signature database to make sure it can identify the latest threats.
Click the Start Combo Scan button to check your Mac for malicious activity as well as performance issues.

Examine the scan results. If the report says "No Threats", then you are on the right track with the manual cleaning and can safely proceed to tidy up the web browser that may continue to act up due to the after-effects of the malware attack (see instructions above).

In case Combo Cleaner has detected malicious code, click the Remove Selected Items button and have the utility remove FormList threat along with any other viruses, PUPs (potentially unwanted programs), or junk files that don't belong on your Mac.

Once you have made doubly sure that the malicious app is uninstalled, the browser-level troubleshooting might still be on your to-do list. If your preferred browser is affected, resort to the previous section of this tutorial to revert to hassle-free web surfing.