This entry explains what can cause an error saying 'Safari cannot be opened while it is being updated' on Mac and provides a method to fix the problem.
At a glance, an error that says "Safari cannot be opened while it is being updated" seems to reflect an instance of some obvious reasoning. When an update is in progress, the software can be temporarily inaccessible until the workflow is completed. However, this train of thought doesn't always cohere with scenarios many Mac users actually encounter. Whereas a regular Safari update shouldn't take much time, the "Safari is being updated" dialogs may keep popping up for days on end. The OK button on them is often grayed out and not clickable, which means the only way to get them out of sight is to force-quit the misbehaving process. As a result, the affected Mac users have to switch to another browser to be able to surf the web.
This is definitely a nuisance, especially if Safari retains all the personalized settings such as usernames and passwords for one's online accounts, the preferred homepage and search engine, as well as bookmarks and a host of other useful shortcuts. Besides having to customize Google Chrome or Mozilla Firefox from scratch, it may take the user a while to get used to the unfamiliar alternative browser they normally don't leverage.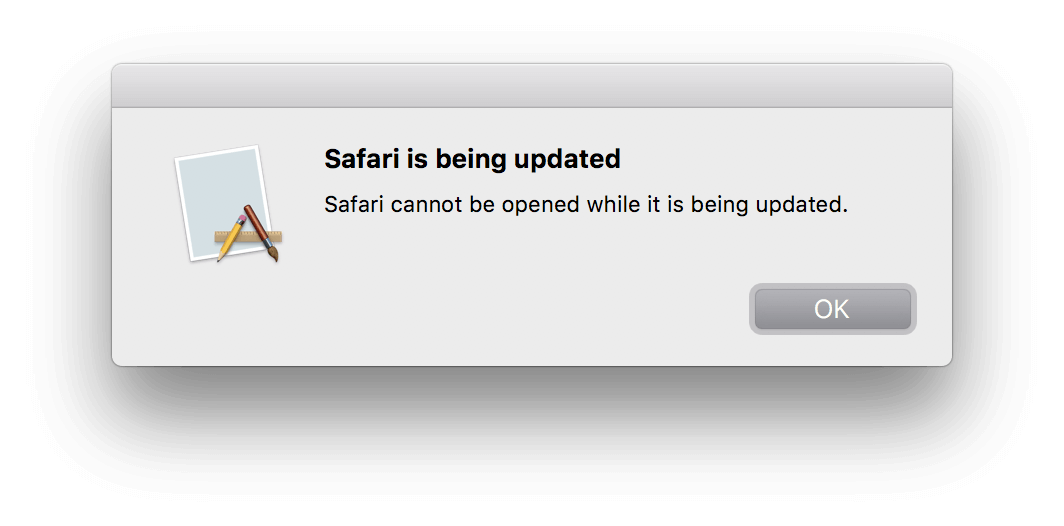 What can possibly make the known-stable web browser get out of hand all of a sudden? There are several causes. The common one has to do with a garden-variety situation where a process is being used by several system services at the same time. This theory becomes particularly evident in case the user goes to the /Library/Updates path in an attempt to figure out which specific installer package could be faulty. The item in that directory which is related to the Safari update is usually a folder whose name consists of two groups of numbers with a hyphen in between (e.g. 039-45182). Having launched the updater manually, the user may see a popup that says, "Spotlight is using the SafariQuickLookPreview extension, which must be closed before the software can be installed".

Now, let's figure out what this is about. Spotlight is a built-in system search feature that allows users to find arbitrary files on their Macs. It is a benign functionality delivering a vast range of search options and flexible filters by such attributes as data formats, sizes, creation or modification dates, and more. SafariQuickLookPreview is a browser extension that appears to be related to Quick Look, Apple's proprietary toolkit designed for previewing the contents of various files, including HTML, PDF, and Office documents.
The fact that SafariQuickLookPreview can be in use by Spotlight isn't something offbeat or beyond the realms of one's expectations. Both of these entities are associated with the operating system's file traversal routines. The problem is that the user can neither start the above-mentioned update nor close the extension, because Safari is currently locked down. Although this seems like a vicious circle with no way out, the fix isn't too difficult and implies a termination of the process under scrutiny via the Activity Monitor and then re-running the previously unsuccessful Safari update. This procedure will be described in detail further down.
Special Offer
Special Offer
This popup virus may re-infect your Mac multiple times unless you delete all of its fragments, including hidden ones. Therefore, it is recommended to download Combo Cleaner and scan your system for these stubborn files. This way, you may reduce the cleanup time from hours to minutes. Download Now Learn how ComboCleaner works. If the utility spots malicious code, you will need to buy a license to get rid of it.
With that said, there can be one more aspect of "Safari is being updated. Safari cannot be opened while it is being updated" popup error, and it doesn't come down to conflicts between normal processes highlighted above. Malware is another possible reason for its emergence on a Mac. The browser can be abused by offending code and will therefore fail to be updated in the regular way. The infection to blame for this predicament is a rogue plugin or extension that was added to Safari without due permission. It can even be camouflaged as the legit SafariQuickLookPreview add-on. Usually categorized as adware or PUA (potentially unwanted application), these entities twist the victim's Internet preferences, redirect web searches to unwanted providers, embed ads above the fold, and harvest sensitive online data in a furtive fashion.
And yet, completely denying access to Safari is quite an 'exotic' tactic, to put it mildly, even for the most intrusive pests from this cluster. If the browser cannot be opened, then the cybercriminals' wicked plan of redistributing the web traffic and displaying ads simply won't pan out. The only plausible conclusion that springs to mind based on such a nasty turn of events is that the malicious program is misconfigured and doesn't do its job as its operators expect it to. Anyway, if the message that says, "Safari cannot be opened while it is being updated" is iteratively popping up on a Mac, taking a possible virus scenario into account is a must. Below is an all-in-one knowledge base regarding the ways to fix this error.
"Safari cannot be opened while it is being updated" error manual removal for Mac
The steps listed below will walk you through the removal of this malicious application. Be sure to follow the instructions in the order specified.
1. Open up the Utilities folder as shown below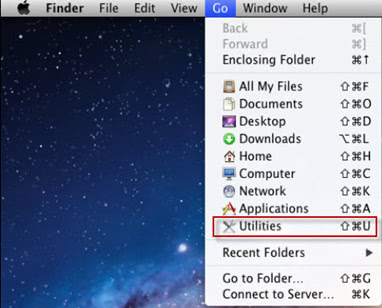 2. Locate the Activity Monitor icon on the screen and double-click on it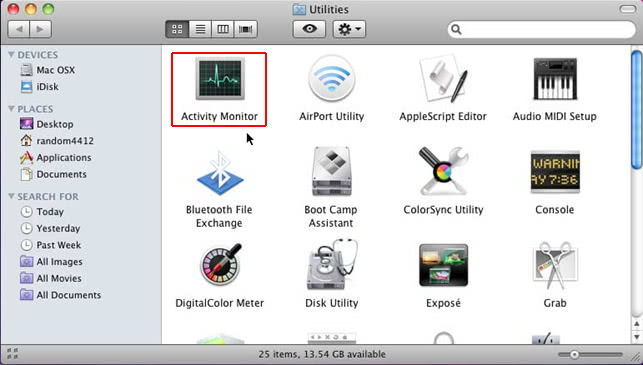 3. Under Activity Monitor, find a process named SafariQuickLookPreview (Spotlight) or another one that appears to be suspicious, select it and click Quit Process icon in the right-hand upper part of the panel

4. A dialog should pop up, asking if you are sure you would like to quit the troublemaking process. Select the Force Quit option. Close the Activity Monitor
5. Go to System Preferences from the Apple menu and select Software Update
6. Find the failed Safari update there and click Try Again. The update should now run as intended so that you can regain access to Safari
7. Click the Go button again, but this time select Applications on the list. Find a suspicious entry on the interface that you don't remember installing, right-click on it and select Move to Trash. If user password is required, go ahead and enter it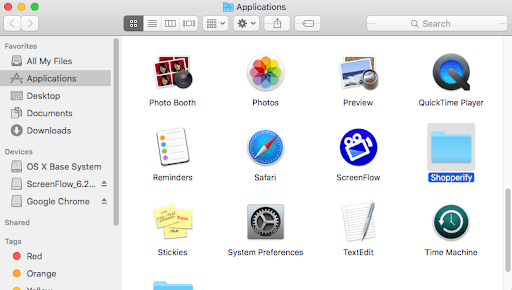 8. Now go to Apple Menu and pick the System Preferences option, select Accounts and proceed to Login Items. Locate the potentially unwanted app there and click on the "-" button.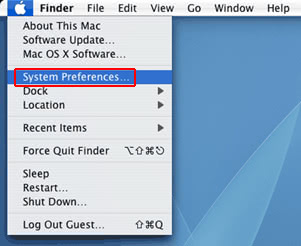 Browser-specific fix for "Safari cannot be opened while it is being updated" popup error
To make sure you are good to go, Safari settings that may have been modified by a virus should be restored to their default values. The overview of steps for this procedure is as follows:
Reset Safari
Open the browser and go to Safari menu. Select Preferences in the drop-down list

Once the Preferences screen appears, hit the Privacy tab at the top. Find the option that says Remove All Website Data and click on it

The system will display a confirmation dialog that also includes a brief description of what the reset does. Specifically, you may be logged out of some services and encounter other changes of website behavior after the procedure. If you're okay with that, go ahead and click the Remove Now button

In order to selectively clear data generated by certain websites only, not all of them, hit the Details button under the Privacy section of Safari Preferences

This feature will list all websites that have stored potentially sensitive data, including cache and cookies. Select the one, or ones, that might be causing trouble and click the appropriate button at the bottom (Remove or Remove All). Click the Done button to exit.
Get rid of "Safari cannot be opened while it is being updated" error using Combo Cleaner removal tool
The Mac maintenance and security app called Combo Cleaner is a one-stop tool to detect and remove This popup virus virus. This technique has substantial benefits over manual cleanup, because the utility gets hourly virus definition updates and can accurately spot even the newest Mac infections.
Furthermore, the automatic solution will find the core files of the malware deep down the system structure, which might otherwise be a challenge to locate. Here's a walkthrough to sort out the This popup virus issue using Combo Cleaner:
Download Combo Cleaner installer. When done, double-click the combocleaner.dmg file and follow the prompts to install the tool onto your Mac.

By downloading any applications recommended on this website you agree to our Terms and Conditions and Privacy Policy. The free scanner checks whether your Mac is infected. To get rid of malware, you need to purchase the Premium version of Combo Cleaner.

Open the app from your Launchpad and let it run an update of the malware signature database to make sure it can identify the latest threats.
Click the Start Combo Scan button to check your Mac for malicious activity as well as performance issues.

Examine the scan results. If the report says "No Threats", then you are on the right track with the manual cleaning and can safely proceed to tidy up the web browser that may continue to act up due to the after-effects of the malware attack (see instructions above).

In case Combo Cleaner has detected malicious code, click the Remove Selected Items button and have the utility remove This popup virus threat along with any other viruses, PUPs (potentially unwanted programs), or junk files that don't belong on your Mac.

Once you have made doubly sure that the malicious app is uninstalled, the browser-level troubleshooting might still be on your to-do list. If your preferred browser is affected, resort to the previous section of this tutorial to revert to hassle-free web surfing.