Peruse this review to learn how well the MacBooster 6 utility protects a Mac computer against security threats and keeps the system performing at its peak.
MacBooster 6 is a Mac maintenance and security suite that fills the void between a computer that simply works and one that works smooth. IObit, the award-winning vendor behind this product, has been operating in the PC optimization and security industry since 2004 and has built an enviable reputation for innovative practices and commitment to user experience. MacBooster is the company's flagship tool that has been continuously evolving to tackle emerging challenges and reached version 6 in late 2017.
So, what's new in the latest edition of MacBooster? On initial look-through, the main pane appears to bear a close resemblance to the previous build. With that said, the publisher has reorganized the existing features to make the GUI somewhat more streamlined and intuitive. Most importantly, though, the tool now accommodates new functions called Turbo Boost and Lightning Booster that take its optimization capacity to a whole new level. Let's see whether the updated application is worth its salt when it comes to keeping a Mac safe and sound.
First impression
MacBooster 6 is user-friendly from the get-go. The installation routine is a matter of a few clicks and fits in the commendable timeframe of one minute or so. Be advised the product supports Mac OS X 10.7 or later and requires 60+ MB of free disk space, so make sure your machine meets those criteria before you get started.
When you launch the app for the first time, its default screen will display the System Status pane that includes the following features: System Junk, Virus & Malware Scan, and Turbo Boost. This list matches the top three items lined up in the left-hand navigation pane, so it's accessible from either location.
Predictably enough, the system status is labeled 'Unknown' and won't switch to anything more informative until you hit the Scan button at the bottom middle and have MacBooster 6 quickly check those three areas for issues.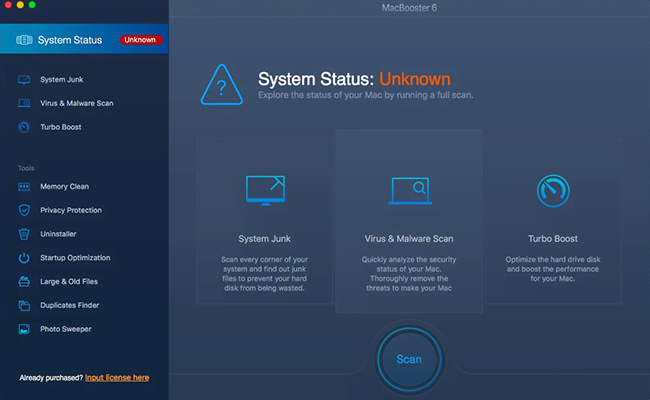 As soon as the tool has completed the scan, it reflects the results in an easy-to-interpret way. First and foremost, the system status will now be flagged 'Dangerous' or 'Good' depending on the obtained Mac health information. Furthermore, the utility displays the improvement potential for each category, including the amount of system junk that can be safely deleted and the number of Mac threats as well as privacy issues detected.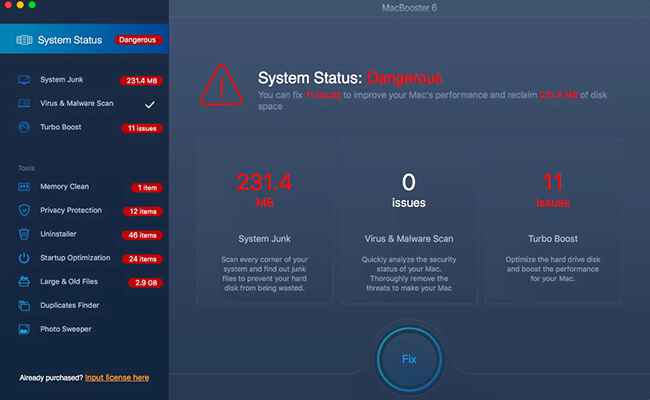 The user interface of MacBooster 6 looks generally familiar to its aficionados but underwent some fine-tuning as part of the upgrade. The feature set is now broken down into two main clusters – System Status and Tools – instead of four categories used in the previous version (Security Risks, Cleaner, Booster, and Tools). This tweak eliminates visual redundancy while keeping all the old features and adding a few extras.
Another modification is that the current status of the main areas isn't gauged in a speedometer-like way, as it was in version 5. Instead, it is straightforwardly reflected via the number of issues spotted during the scan.
There's a saying that the sequel is always worse than the original. From where we stand, MacBooster 6 proves the opposite. Its GUI looks just as intuitive as it used to, plus it's got an enhanced optimization toolkit.
Features
The latest edition of MacBooster inherits all of its precursor's functions and introduces two fresh ones, Turbo Boost and Lightning Booster. Both additions are aimed at taking its Mac performance improvement repertoire up a notch. Let's scrutinize the app's updated portfolio to get the big picture.
System Junk feature allows you to get rid of unnecessary data spawned by the operating system and applications as they run. Specifically, it identifies how much space can be safely cleaned by erasing unneeded application junk files, system log files, install packages, unused language files, system cache, and broken login items. Just click the Clean button to release free disk space.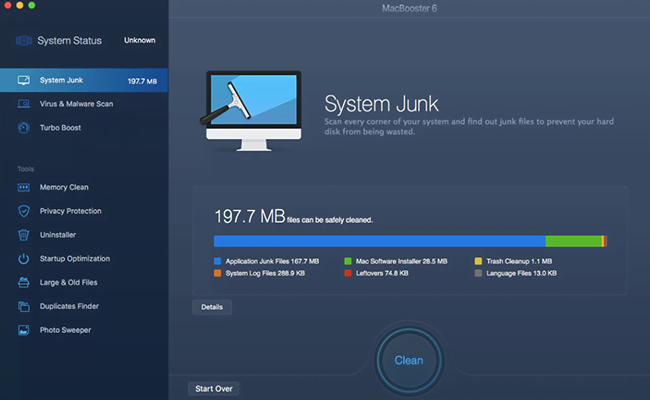 Virus & Malware Scan is a security module built into MacBooster 6. It is composed of two options: malware removal, and virus scan. The former is tasked with eliminating persistent applications or malicious files that do not yield to regular removal. The latter checks the Mac for malware and potentially unwanted applications (PUAs). Just click the Fix button at the bottom to remove any items spotted during the scan.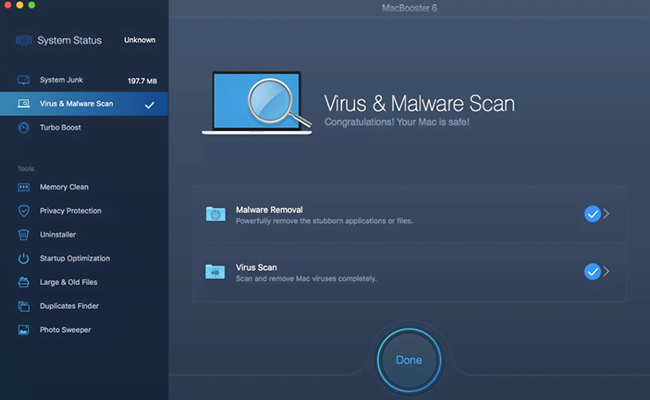 Turbo Boost is a new feature that tangibly enhances your Mac's performance by cleaning up iTunes media cache, fixing disk permission issues, and erasing cache files created by third-party applications. This way, you can potentially free up hundreds of megabytes of hard disk space without losing any important data.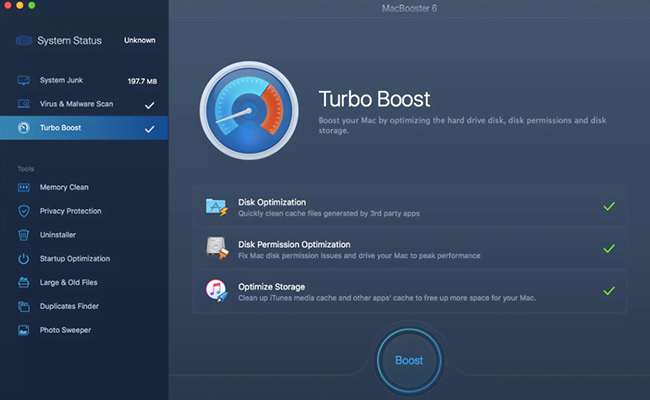 By leveraging the Memory Clean function, you can get your Mac running faster by releasing more CPU resources for task processing. It tunes up the balance between free and used memory so that the machine operates smoother and applications are launched faster. Do not use this feature too often, though, as it may exhaust the hardware over time.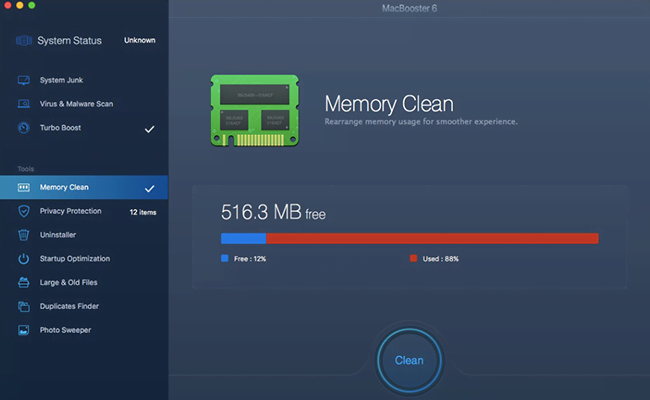 The objective of the Privacy Protection feature is to clear potentially fingerprintable traces of online activity that can speak volumes about your identity when in the wrong hands. The areas being monitored include your browsing and download history in Safari and Chrome, cookies, saved passwords, tabs from last web surfing session, recently opened items, HTML6 local storage, and app traces.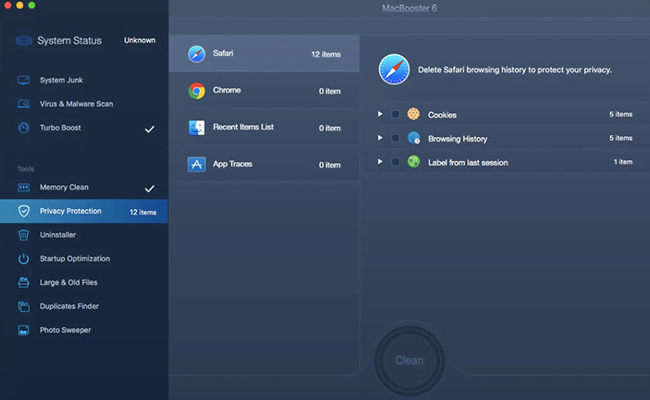 The Uninstaller module is another remarkable component of MacBooster 6 that facilitates the application removal and reset routine so that you needn't go anywhere else. It displays the list of all installed apps within a single screen; allows you to sort them by size, name, and 'last used' criterion; and makes it easy to completely remove a specific application or reset it to its original state.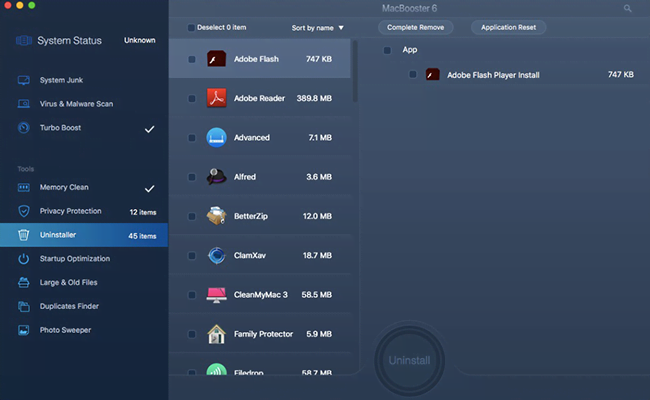 The idea behind the Startup Optimization tool is to save you the bother of going to the Login Items interface to rearrange the applications that launch at boot time. Just put a checkmark next to an item on the list and click the Disable button to prevent it from running at startup. You can also add new startup items via the same pane. A well-thought-out list of startup apps reduces the time it takes your Mac to load, so keeping track of those is a must.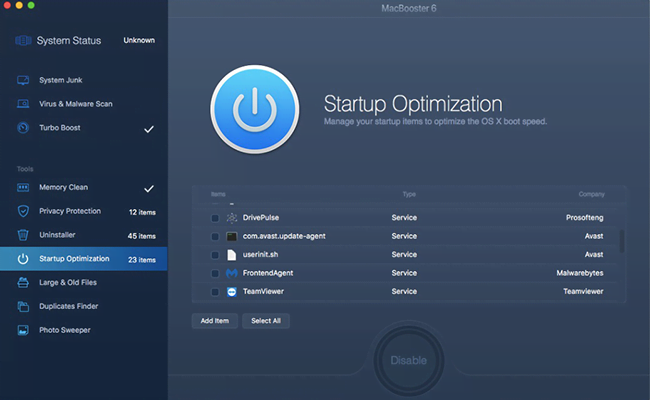 Large& Old Files is a feature aimed at finding files on your Mac that exceed specific size criteria, as well as items you haven't used for a long time that might no longer belong on your hard disk. This module provides you with flexible filters to locate objects taking up 10 MB to 6 GB and ones that haven't been used for a specified amount of time. The tool looks inside the Home folder by default, but you can add more locations manually by selecting the Add Folder option.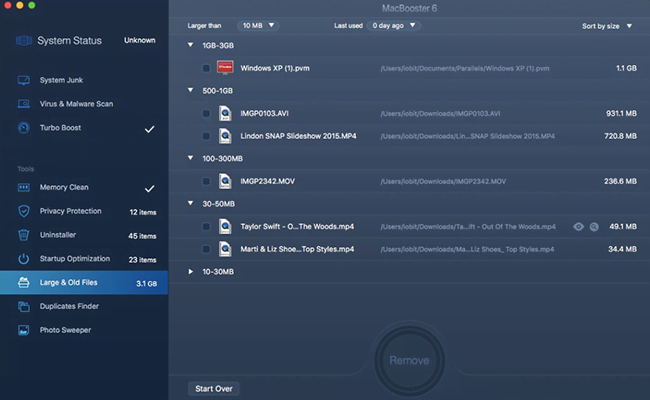 The Duplicates Finder module is self-explanatory: it spots copies of the same file in different paths and lets you easily erase the redundant ones. Similarly to the Large & Old Files feature, this one is equipped with filters to sort the detected objects by size, name, type, and quantity. Additionally, there's a 'Smart check' option that gives recommendations on which files can be safely eliminated. You can also employ the 'Smart Clean' function to convert a selected file to Alias and just keep the original.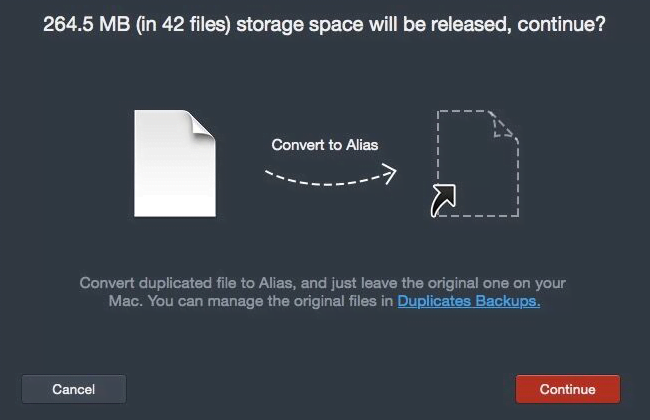 Photo Sweeper focuses on finding similar or identical images within the same folder or ones scattered across different locations on disk. Note that once you have deleted a photo using this feature, it cannot be recovered from Trash.
MacBooster 6 Mini Icon provides a handy shortcut to some of the app's features and real-time details on the network status, the percentage of memory used, the volume trash and system cache that can be released to speed up the machine. Additionally, it includes the all-new Lightning Booster module that drives your Mac's performance to its peak in one click.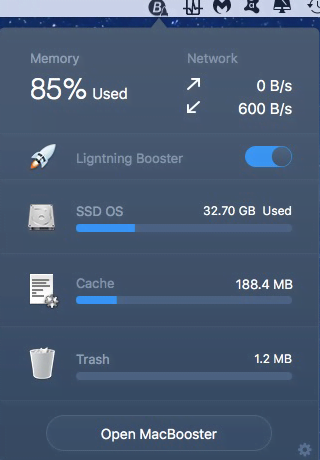 MacBooster 6 is a no-brainer to customize. Just go to Preferences and navigate to the tab associated with the settings you would like to tweak. These tabs include General, MacBooster Mini, Tools, Security Risks, System Junk, and Ignore List. A good idea is to go toggle stuff on or off to personalize the app once you start using it. The controls are intuitive, and the changes can be easily undone at a later point.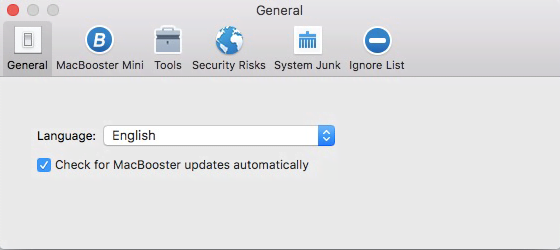 The program also stores logs while operating so that every issue is recorded and the details can be viewed anytime for troubleshooting. The corresponding tab was previously embedded in the Preferences interface, but in version 6 it is accessible via MacBooster 6 menu residing in main Mac toolbar at the top of the screen.
Support
The product goes with plenty of support options. By clicking the apropos Help button in the top right menu, you can access the User Manual, go to Support Center, submit your feedback to IObit, and report a bug or license issues. The MacBooster 6 online Support Center additionally includes FAQs to get the most common questions answered. To the vendor's credit, the User Manual is comprehensive and covers every single feature in detail, so it should suffice to get the hang of the application.
The bottom line
Download NowMacBooster 6 definitely lives up to its name. It speeds up your Mac by releasing megabytes or even gigabytes of memory space and rearranging the processing power to ensure a smoother computing experience. The anti-malware module stops malicious code in its tracks, detecting and obliterating Mac viruses, spyware, browser hijackers, adware, ransomware and tracking cookies in one click. The only blot on the landscape, in our humble opinion, is that the release doesn't go with real-time protection functionality. Download Now And yet, this product continues to be one of the industry's best Mac security and optimization suites.