Get down-to-earth information about the Deal Finder adware infection as well as verified recommendations to remove this virus from a Mac machine.
There are several different vectors of adware programs' activity known to the IT community. Some of these little bugs jack up the user-defined settings for the web browsers installed on the targeted system in order to make their victims recurrently visit pre-defined web pages full of sponsored links. Others basically indulge in advertising as well, but in a somewhat different fashion – they trigger cross-browser activity whose essence consists in embedding ads into the content of websites rather than redirecting one's traffic.
The latter approach is exemplified by Deal Finder, a fairly aggressive adware sample that started off with compromising Windows and shifted over to affecting devices that run Mac OS as well. Most of the known occasions of Mac machines being hit are associated with Mozilla Firefox undergoing the bad influence, although the pest was also found to be capable of interfering with Safari and Chrome. The contamination involves covert bundling schemes, where free application downloaders contain the additional unwanted component that gets eventually dropped onto the Mac without the user's knowledge.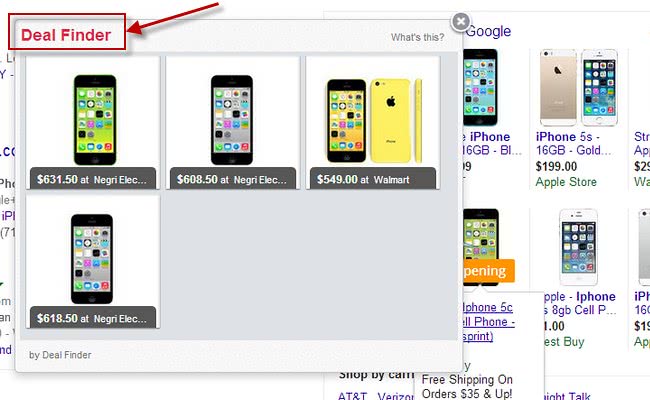 How the Deal Finder virus acts is a pain to those who fall victim to it, because user experience during web navigation becomes an empty word. This stealthy plugin makes web pages look odd almost beyond recognition as various coupons and large advertising banners appear where they're not intended to be. The adware also makes random words hyperlinked so that when you hover over them with your mouse a pop-up appears, displaying commercial offers and the like. Pop-under windows may as well open as you click on something that normally shouldn't be associated with any URLs. Overall, ads by Deal Finder keep users from viewing site content in a normal way. Yet another serious side effect is the online preferences tracking activity which is conducted for the purpose of presenting user-specific relevant offers and coupons.
The consequences of this adware operating on a Mac machine quickly grow unbearable, whereby an urgent need for cleanup comes on the agenda. Sadly, Deal Finder ads removal isn't a matter of deleting the related files on your Mac - it takes the measures more radical than that. Below is a list of must-do things in order to get rid of this obnoxious malware.
Deal Finder ads manual removal for Mac
To begin with, settings for the web browser that got hit by the Deal Finder adware should be restored to their default values. The overview of steps for this procedure is as follows:
1. Reset Safari
• Open the browser and go to Safari menu. Select Reset Safari in the drop-down list
• Make sure all the boxes are ticked on the interface and hit Reset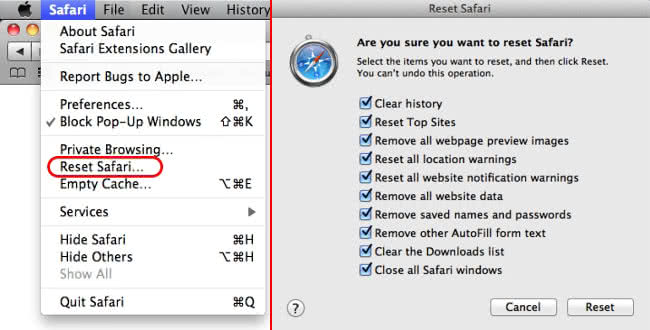 2. Reset Google Chrome (if affected by the Deal Finder virus)
• Open Chrome and click the Customize and Control Google Chrome menu icon
• Select Options for a new window to appear
• Select Under the Hood tab, then click Reset to defaults button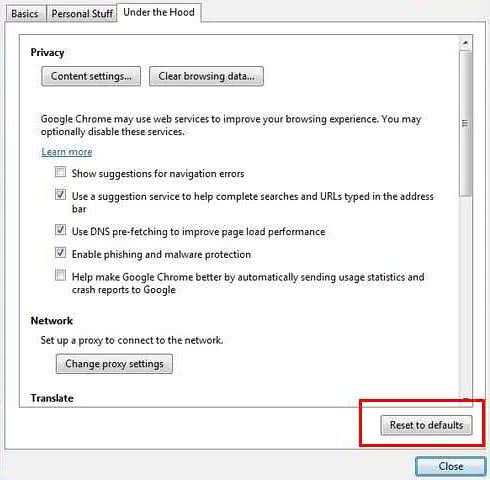 3. Reset Mozilla Firefox (if affected)
• Open Firefox and select Help – Troubleshooting Information
• On the page that opened, click the Reset Firefox button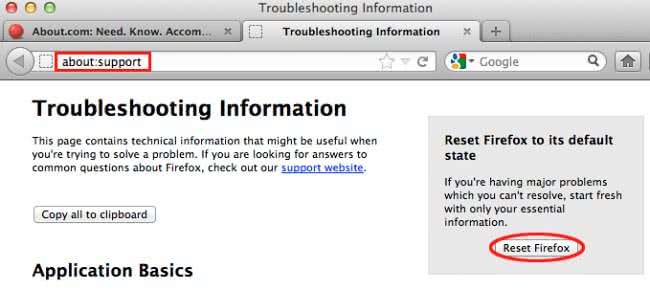 Get rid of Deal Finder virus using Combo Cleaner automatic removal tool
The Mac maintenance and security app called Combo Cleaner is a one-stop tool to detect and remove Deal Finder ads virus. This technique has substantial benefits over manual cleanup, because the utility gets hourly virus definition updates and can accurately spot even the newest Mac infections.
Furthermore, the automatic solution will find the core files of the malware deep down the system structure, which might otherwise be a challenge to locate. Here's a walkthrough to sort out the Deal Finder ads issue using Combo Cleaner:
Download Combo Cleaner installer. When done, double-click the combocleaner.dmg file and follow the prompts to install the tool onto your Mac.

By downloading any applications recommended on this website you agree to our Terms and Conditions and Privacy Policy. The free scanner checks whether your Mac is infected. To get rid of malware, you need to purchase the Premium version of Combo Cleaner.

Open the app from your Launchpad and let it run an update of the malware signature database to make sure it can identify the latest threats.
Click the Start Combo Scan button to check your Mac for malicious activity as well as performance issues.

Examine the scan results. If the report says "No Threats", then you are on the right track with the manual cleaning and can safely proceed to tidy up the web browser that may continue to act up due to the after-effects of the malware attack (see instructions above).

In case Combo Cleaner has detected malicious code, click the Remove Selected Items button and have the utility remove Deal Finder ads threat along with any other viruses, PUPs (potentially unwanted programs), or junk files that don't belong on your Mac.

Once you have made doubly sure that the malicious app is uninstalled, the browser-level troubleshooting might still be on your to-do list. If your preferred browser is affected, resort to the previous section of this tutorial to revert to hassle-free web surfing.