While the Mac is said to be well protected with built-in controls, a Mac virus scan is shaping up to be an important extra layer of security, and here is why.
The delusion of a virus-proof Mac
The popular belief that macOS gets no viruses and its native defenses are enough to fend off all threats imaginable could do users a disservice by giving them a false sense of security. Apple does deserve a thumbs up for its robust malware blocking mechanisms, no doubt. The M1 chip, for instance, comes with top-notch runtime protection that harbors effective AV software along with technologies that help maintain system integrity and prevent processes from modifying critical system files. However, the shift toward hardware-based security in the Mac ecosystem is a double-edged sword. If a vulnerability is found in this ostensibly unbreakable setup, the patching process is close to impossible because it cannot remedy a chip. By the way, a number of proof-of-concept loopholes in this security architecture have already surfaced. A recent example is the "Pacman" attack where a malefactor injects malware by determining a pointer authentication code (PAC), a cryptographic token used in M1 to verify that an application hasn't been maliciously changed.
That being said, even Macs with highly secure latest-gen processors on board are susceptible to viruses, let alone older machines that have been in the crosshairs of numerous malware campaigns over the years. The makers of adware, malware, rogue optimizers, and ransomware have had quite a bit of success raiding this environment, and these digital nasties aren't going anywhere anytime soon. Browser hijackers occupy a particularly massive niche of unwanted programs targeting Mac computers. After an infiltration under the guise of a bundle of useful apps, many of them cause redirects to Yahoo (see screen capture below) or Bing via intermediate phony search engines and ad networks. With viruses being malicious programs that populate systems through self-replication, such incursions are rare. But, some people use this term when referring to virtually any kind of dangerous code, and in this sense a Mac virus scan appears to be an indispensable element of security done right.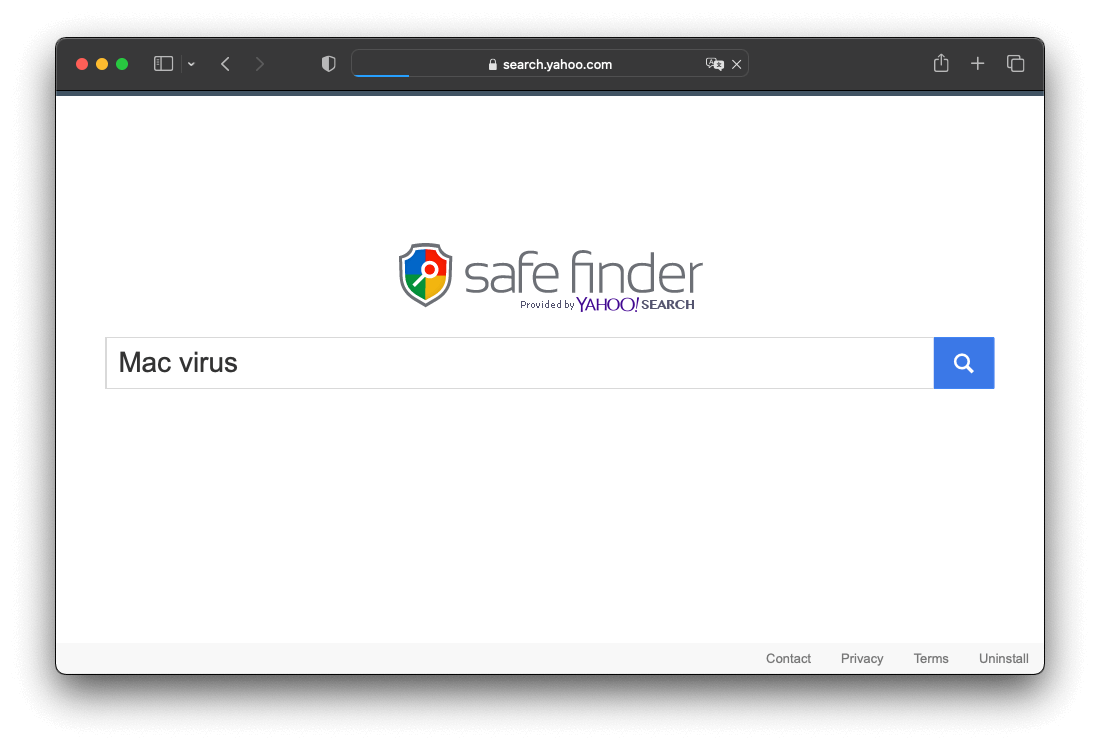 All in all, thinking that a Mac is safe from malware and viruses is self-deception. The past outbreaks of the different threats mentioned above prove that cybercriminals are getting better at bypassing the protections built into these hugely popular computers. Under the circumstances, it's best to combine the defensive technology your Apple laptop or desktop contains out of the box with an additional tool that can run an on-demand system scan whenever you suspect a virus. It's worth remembering that this approach is half the battle without another extremely important building block of any security framework - user vigilance.
Special Offer
A virus may re-infect your Mac multiple times unless you delete all of its fragments, including hidden ones. Therefore, it is recommended to download Combo Cleaner and scan your system for these stubborn files. This way, you may reduce the cleanup time from hours to minutes. Download Now Learn how ComboCleaner works. If the utility spots malicious code, you will need to buy a license to get rid of it.
A lot of imitation in the Mac virus scan area
The human factor is traditionally the pillar of many black hat initiatives, and the Apple threat landscape is no exception. In a wave of online scam that's been around for years, felons have been using a scare tactic to promote a junk application that purportedly provides a Mac virus scan service. This is how the notorious "Your system is infected with 3 viruses" hoax works. Aside from relying on one's gullibility to do its thing, it leverages malware that reroutes a web browser to a landing page that apes the AppleCare Protection Plan program. By stating that dangerous viruses have been found on the Mac, the site instructs the would-be victim to click the "Scan Now" button. Predictably enough, the alleged security application is scareware that pretends to check the system and returns serious threats requiring immediate removal. The final goal is to hoodwink the user into registering a product they don't need, which implies a payment.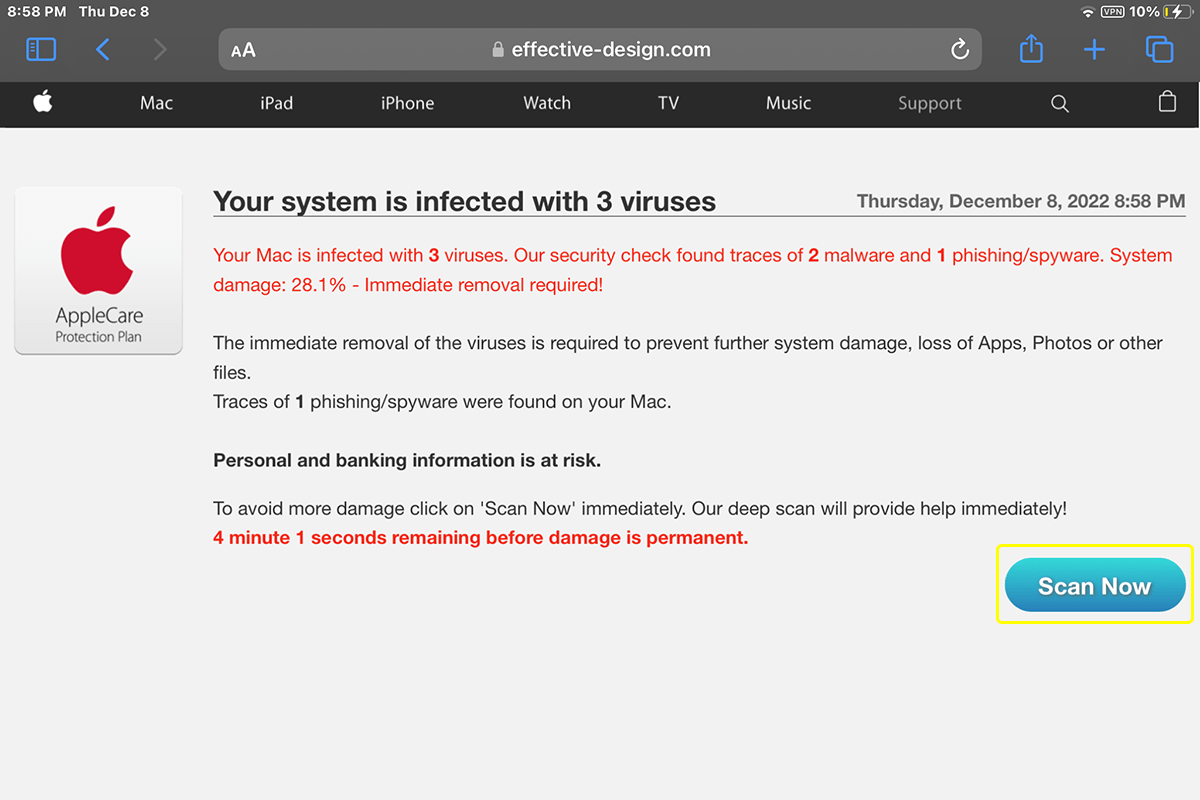 In addition to straight-up scams, there are plenty of antivirus tools that sit on a thin edge between legitimacy and manipulation. These can be nice-looking programs with bells and whistles such as disk optimization instruments, memory cleaning features, and privacy controls. The major issue with apps like that is that they exaggerate the seriousness of the Mac's unsatisfactory security condition to frighten the user into following the questionably reasonable recommendations that follow. For instance, they may portray garden-variety browser cookies as critical privacy risks, or pass off a competing product already installed on the computer as a potentially unwanted application (PUA). One of the hallmarks of such software is that it employs controversial promotion techniques like covert bundling and misleading pop-up ads.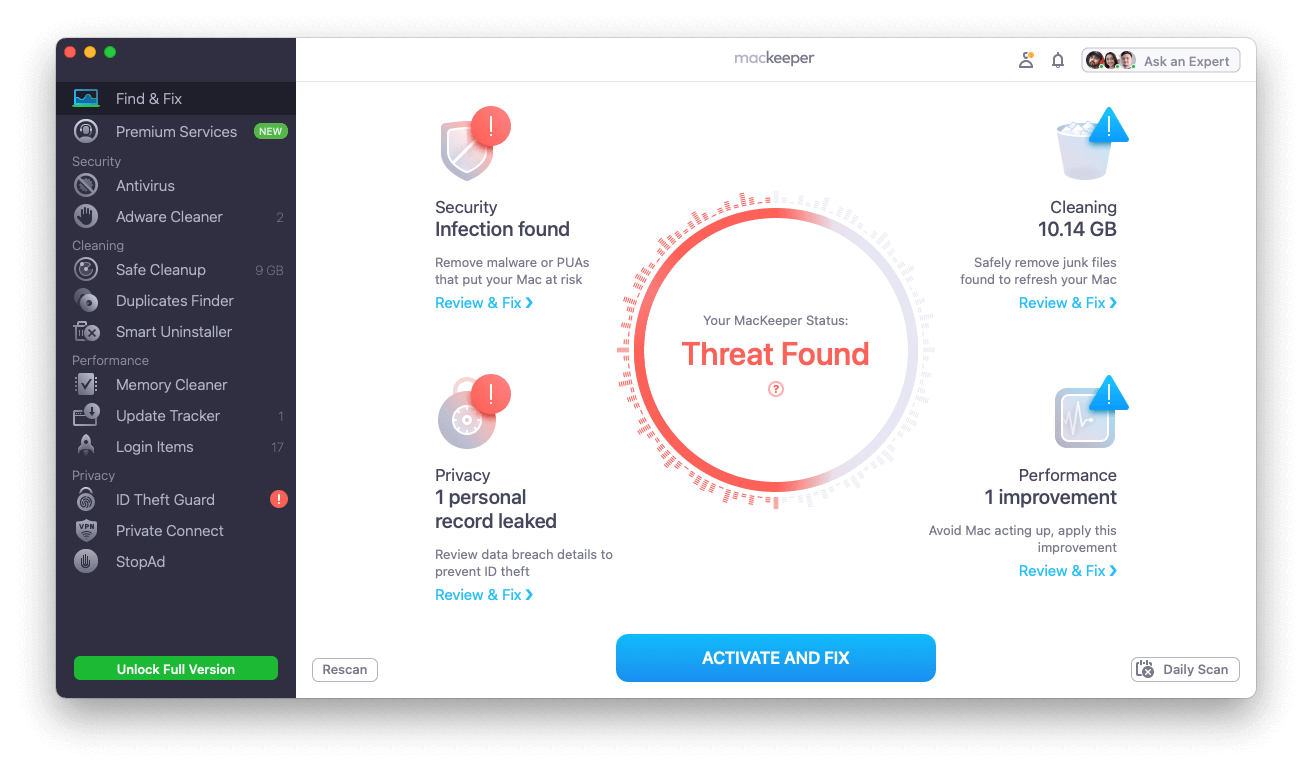 How to choose a Mac virus scanner that works
With AVs and system cleaners galore on various Mac software marketplaces, making the right pick is easier said than done. From where we stand, reputation is the top criterion. Avoid installing applications pushed via splash screens and other types of pop-ups that say your computer is at risk. Instead, do your homework and study your potential pick before installing it. As part of the research, read reviews of the product on well-respected technology sites and check security forums for relevant user feedback. Pay attention to detection scores published by software testing labs and look at awards or certifications. An effective scanner gets malware signature updates on a daily basis or more frequently to prevent new threats from flying under its radar. Heuristic and behavioral analyses of files and processes are on the plus side of an antivirus solution, too.
As per our research, the tool below meets these criteria and has an immaculate reputation, which spans OPSWAT Labs' Gold award for anti-malware as well as certifications by West Coast Labs and Virus Bulletin (VB100). The application gets hourly virus database updates, boasts high detection rates for both mainstream and new Mac threats, and comes with several effective optimization features that are always welcome. Importantly, it has demonstrated great results in real-world infection scenarios we've encountered. If your Mac is acting up and you blame this on possible virus activity, try the program to err on the side of caution.
Scan your Mac for viruses using Combo Cleaner
The Mac maintenance and security app called Combo Cleaner is a one-stop tool to detect and remove viruses. This technique has substantial benefits over manual cleanup, because the utility gets hourly virus definition updates and can accurately spot even the newest Mac infections.
Furthermore, the automatic solution will find the core files of the malware deep down the system structure, which might otherwise be a challenge to locate. Here's a walkthrough to sort out the virus issue using Combo Cleaner:
Download Combo Cleaner installer. When done, double-click the combocleaner.dmg file and follow the prompts to install the tool onto your Mac.

By downloading any applications recommended on this website you agree to our Terms and Conditions and Privacy Policy. The free scanner checks whether your Mac is infected. To get rid of malware, you need to purchase the Premium version of Combo Cleaner.

Open the app from your Launchpad and let it run an update of the malware signature database to make sure it can identify the latest threats.
Click the Start Combo Scan button to check your Mac for malicious activity as well as performance issues.

Examine the scan results. If the report says "No Threats", then you are on the right track with the manual cleaning and can safely proceed to tidy up the web browser that continues to act up due to the after-effects of the malware attack (see instructions above).

In case Combo Cleaner has detected malicious code, click the Remove Selected Items button and have the utility remove the threat along with any other viruses, PUPs (potentially unwanted programs), or junk files that don't belong on your Mac.

Once you have made doubly sure that the malicious app is uninstalled, the browser-level troubleshooting might still be on your to-do list. If your preferred browser is affected, restore its settings to their original defaults to revert to hassle-free web surfing.