Restless Mac malware makers have shown their true colors once again by spreading malware that redirects numerous users to junk sites via go.loadingnow.me.
Threat Profile
Name
Go.loadingnow.me browser hijacker
Category
Mac adware, redirect virus, PUA
Related Domains
go.loadingnow.me/browser/show?i=[random string]
Symptoms
Redirects web browser via go.loadingnow.me, adds sponsored content to search results, causes system slowdown, resists regular removal
Distribution Techniques
Fake Adobe Flash Player update / uninstaller popups, booby-trapped bundles, spam
Severity Level
Medium
Damage
Unwanted changes of browser preferences, privacy issues due to Internet activity tracking, man-in-the-middle (MITM) attack, search redirects, ads above the fold
Removal
Scan your Mac with Combo Cleaner to detect all files related to the browser hijacker. Use the tool to remove the infection if found.
What is go.loadingnow.me redirect?
The new browser redirect campaign with go.loadingnow.me at its heart is making Mac users frown by reorganizing their web activities without permission. Its operators achieve their shadowy goal by spreading a piece of malware that takes over Google Chrome, Safari, and Mozilla Firefox and triggers a new tab every minute or so. The forwarding process starts with go.loadingnow.me and ultimately resolves a garbage site such as a yellow press resource, a dubious streaming service, a gambling page, or a knockoff marketplace for random goods. Obviously, this interference drives victims nuts and makes them look for a fix – at this point, a persistence quirk steps in and prevents easy removal.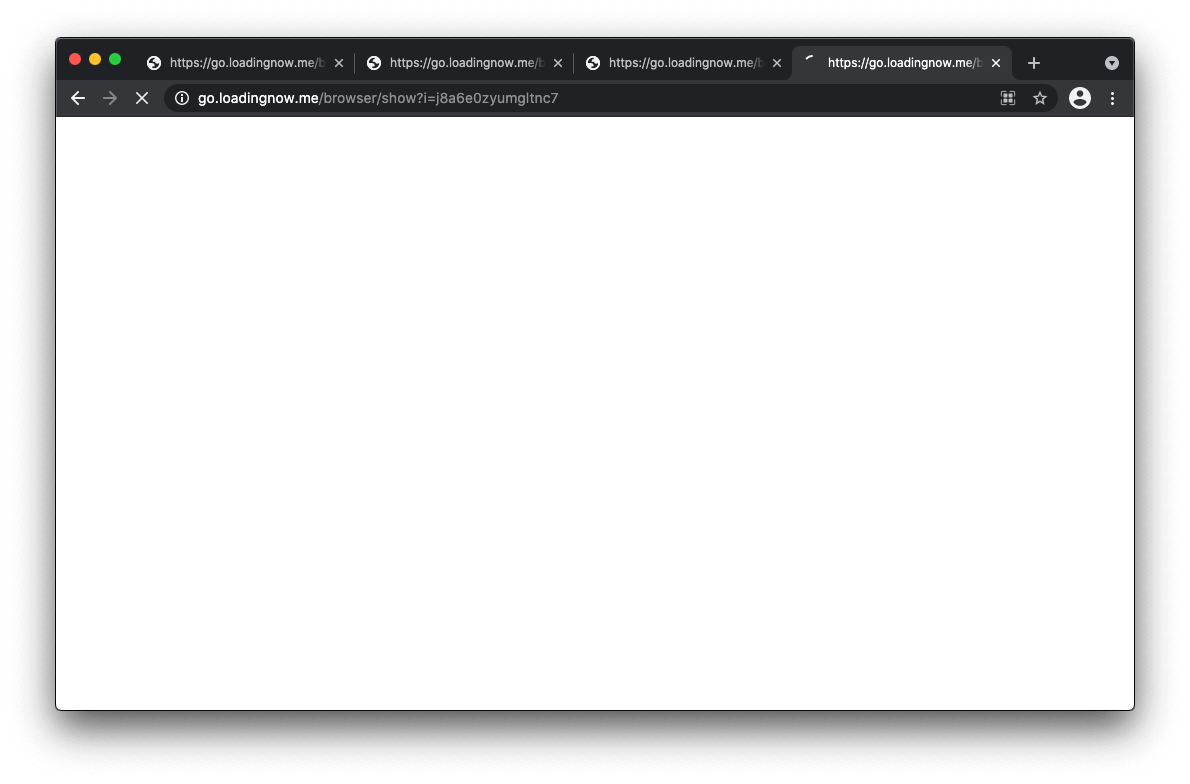 Special Offer
Go.loadingnow.me may re-infect your Mac multiple times unless you delete all of its fragments, including hidden ones. Therefore, it is recommended to download Combo Cleaner and scan your system for these stubborn files. This way, you may reduce the cleanup time from hours to minutes. Download Now Learn how ComboCleaner works. If the utility spots malicious code, you will need to buy a license to get rid of it.
The malicious app that makes stars align for crooks is doing the rounds through a technically legitimate scheme called bundling. In an ideal world, it is a foundation of freeware developers' monetization practices. Its essence is simple: when installing one app, users end up with a few. Cybercriminals have repurposed this principle over time, pushing their rogue products within the same packages as harmless ones. Go.loadingnow.me virus is typically glued up to installers for streaming media downloaders, simplistic video games, and cracked variants of popular programs. What all these instances have in common is that the parasite is hidden in plain sight, that is to say, under the curtain of the default "express" setup. This explains why Mac users are clueless about the infection until it demonstrates its ugly fangs.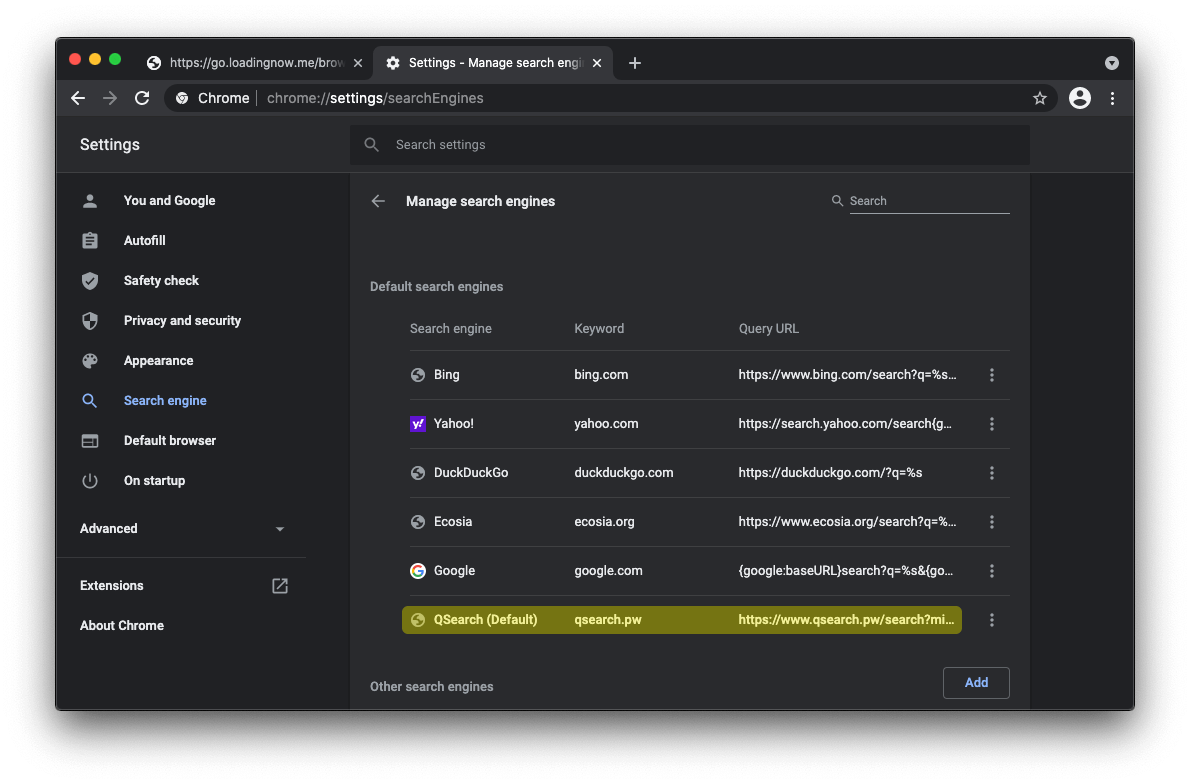 After diving into the settings of an affected web browser, most go.loadingnow.me victims discover a suspicious entry listed in the default search engines section. As illustrated in the above screenshot, it's an entity called QSearch. This is a long-running browser hijacker focused on plaguing Mac computers. It drives traffic to qsearch.pw which, in turn, redirects to Bing or Yahoo while hitting several advertising networks in transit. Another scenario involves the promotion of tech support scam pages that misleadingly state the system is infected with three viruses or stick to a similar dodgy narrative.
If this predicament is underway, one thing that's as clear as day is that there is some "spring cleaning" on the user's to-do list. The malware won't ease the grip unless straightforward measures are taken to make it vanish from the contaminated Mac. As previously mentioned, this is a road with quite a few bumps to dodge. Go.loadingnow.me virus and its cousins establish persistence by embedding their components into system spots most users won't examine. These include the Library' LaunchDaemons and LaunchAgents. To top it off, the culprit adds a Login Item and, what's worse, creates a device profile that puts the wrong configurations into effect without easy options to undo this tampering.
Therefore, removing this baddie is a multi-stage process that covers all these different areas of macOS. The walkthrough below explains how and what to do so that the infection disappears. Additionally, it sheds light on ways to revert to proper configurations at the browser level, whether it's Chrome, Safari, or Firefox that has been affected.
Go.loadingnow.me virus manual removal for Mac
The steps listed below will walk you through the removal of this malicious application. Be sure to follow the instructions in the specified order.
Expand the Go menu in your Mac's Finder bar and select Utilities as shown below.

Locate the Activity Monitor icon on the Utilities screen and double-click on it.

In the Activity Monitor app, look for a process that appears suspicious. To narrow down your search, focus on unfamiliar resource-intensive entries on the list. Keep in mind that its name isn't necessarily related to the way the threat is manifesting itself, so you'll need to trust your own judgement. If you pinpoint the culprit, select it and click on the Stop icon in the upper left-hand corner of the screen.

When a follow-up dialog pops up asking if you are sure you want to quit the troublemaking process, select the Force Quit option.


Click on the Go menu icon in the Finder again and select Go to Folder. You can as well use the Command-Shift-G keyboard shortcut.


Type /Library/LaunchAgents in the folder search dialog and click on the Go button.


Examine the contents of the LaunchAgents folder for dubious-looking items. Be advised that the names of files spawned by malware may give no clear clues that they are malicious, so you should look for recently added entities that appear to deviate from the norm.

As an illustration, here are several examples of LaunchAgents related to mainstream Mac infections: com.pcv.hlpramc.plist, com.updater.mcy.plist, com.avickUpd.plist and com.msp.agent.plist. If you spot files that don't belong on the list, go ahead and drag them to the Trash.

Use the Go to Folder lookup feature again to navigate to the folder named ~/Library/Application Support (note the tilde symbol prepended to the path).


When the Application Support directory is opened, identify recently generated suspicious folders in it and send them to the Trash. A quick tip is to look for items whose names have nothing to do with Apple products or apps you knowingly installed. A few examples of known-malicious folder names are QSearch, Searchlee, ProgressSite and IdeaShared.

Enter ~/Library/LaunchAgents string (don't forget to include the tilde character) in the Go to Folder search area.


The system will display LaunchAgents residing in the current user's Home directory. Look for dodgy items related to go.loadingnow.me redirect virus (see logic highlighted in subsections above) and drag the suspects to the Trash.

Type /Library/LaunchDaemons in the Go to Folder search field.


In the LaunchDaemons path, try to pinpoint the files the malware is using for persistence. Several examples of such items cropped by Mac infections are com.pplauncher.plist, com.startup.plist, and com.ExpertModuleSearchDaemon.plist. Delete the sketchy files immediately.


Click on the Go menu icon in your Mac's Finder and select Applications on the list.


Find the entry for QSearch or another app that clearly doesn't belong there and move it to the Trash. If this action requires your admin password for confirmation, go ahead and enter it.

Expand the Apple menu and select System Preferences.

Proceed to Users & Groups and click on the Login Items tab.

The system will display the list of items launched when the computer is starting up. Locate SearchMine or another potentially unwanted app there and click on the "-" (minus) button.

Now select Profiles under System Preferences. Look for a malicious item in the left-hand sidebar. Several examples of configuration profiles created by Mac adware include TechSignalSearch, MainSearchPlatform, AdminPrefs, and Chrome Settings. Select the offending entity and click on the minus sign at the bottom to eliminate it.


If your Mac has been infiltrated by adware, the infection will most likely continue to hold sway over your default web browser even after you remove the underlying application along with its components sprinkled around the system. Use the browser cleanup instructions below to address the remaining consequences of this attack.
Get rid of Go.loadingnow.me virus in web browser on Mac
To begin with, the web browser settings taken over by the Go.loadingnow.me virus should be restored to their default values. Although this will clear most of your customizations, web surfing history, and all temporary data stored by websites, the malicious interference should be terminated likewise. The overview of the steps for completing this procedure is as follows:
Remove Go.loadingnow.me virus from Safari

Open the browser and go to Safari menu. Select Preferences in the drop-down list.

Once the Preferences screen appears, click on the Advanced tab and enable the option saying "Show Develop menu in menu bar".

Now that the Develop entry has been added to the Safari menu, expand it and click on Empty Caches.

Now select History in the Safari menu and click on Clear History in the drop-down list.

Safari will display a dialog asking you to specify the period of time this action will apply to. Select all history to ensure a maximum effect. Click on the Clear History button to confirm and exit.

Go back to the Safari Preferences and hit the Privacy tab at the top. Find the option that says Manage Website Data and click on it.

The browser will display a follow-up screen listing the websites that have stored data about your Internet activities. This dialog additionally includes a brief description of what the removal does: you may be logged out of some services and encounter other changes of website behavior after the procedure. If you're okay with that, go ahead and click on the Remove All button.

Restart Safari

Remove Go.loadingnow.me in Google Chrome

Open Chrome, click the Customize and control Google Chrome (⁝) icon in the top right-hand part of the window, and select Settings in the drop-down

When on the Settings pane, select Advanced
Scroll down to the Reset settings section.

Confirm the Chrome reset on a dialog that will pop up. When the procedure is completed, relaunch the browser and check it for malware activity.

Remove Go.loadingnow.me from Mozilla Firefox

Open Firefox and go to Help – Troubleshooting Information (or type about:support in the URL bar and press Enter).

When on the Troubleshooting Information screen, click on the Refresh Firefox button.

Confirm the intended changes and restart Firefox.
Get rid of go.loadingnow.me virus using Combo Cleaner removal tool
The Mac maintenance and security app called Combo Cleaner is a one-stop tool to detect and remove Go.loadingnow.me virus. This technique has substantial benefits over manual cleanup, because the utility gets hourly virus definition updates and can accurately spot even the newest Mac infections.
Furthermore, the automatic solution will find the core files of the malware deep down the system structure, which might otherwise be a challenge to locate. Here's a walkthrough to sort out the Go.loadingnow.me issue using Combo Cleaner:
Download Combo Cleaner installer. When done, double-click the combocleaner.dmg file and follow the prompts to install the tool onto your Mac.

By downloading any applications recommended on this website you agree to our Terms and Conditions and Privacy Policy. The free scanner checks whether your Mac is infected. To get rid of malware, you need to purchase the Premium version of Combo Cleaner.

Open the app from your Launchpad and let it run an update of the malware signature database to make sure it can identify the latest threats.
Click the Start Combo Scan button to check your Mac for malicious activity as well as performance issues.

Examine the scan results. If the report says "No Threats", then you are on the right track with the manual cleaning and can safely proceed to tidy up the web browser that may continue to act up due to the after-effects of the malware attack (see instructions above).

In case Combo Cleaner has detected malicious code, click the Remove Selected Items button and have the utility remove Go.loadingnow.me threat along with any other viruses, PUPs (potentially unwanted programs), or junk files that don't belong on your Mac.

Once you have made doubly sure that the malicious app is uninstalled, the browser-level troubleshooting might still be on your to-do list. If your preferred browser is affected, resort to the previous section of this tutorial to revert to hassle-free web surfing.