Find out if MyFlixer.com streaming service is legal and learn what concerns might ensue from watching or downloading copyright-protected materials it provides.
Trending movies and TV shows are on numerous users' wish list, especially during the ubiquitous lockdowns precipitated by the coronavirus crisis. People are spending most of their time at home to stay safe and healthy, so it comes as no surprise that searching the web for some awesome multimedia content is part of everyone's routine. These circumstances have caused the audiences of online streaming services such MyFlixer.com to soar. The first impression from visiting the above-mentioned portal is that it's the best thing since sliced bread. The materials on it are free to watch, even in HD quality, plus there is an option to download a movie of interest and enjoy it at will. However, there is no such thing as a free lunch and so it's always a good idea to question the legitimacy and security of Internet services that seem too good to be true. In fact, there are several pitfalls about MyFlixer every user should know about.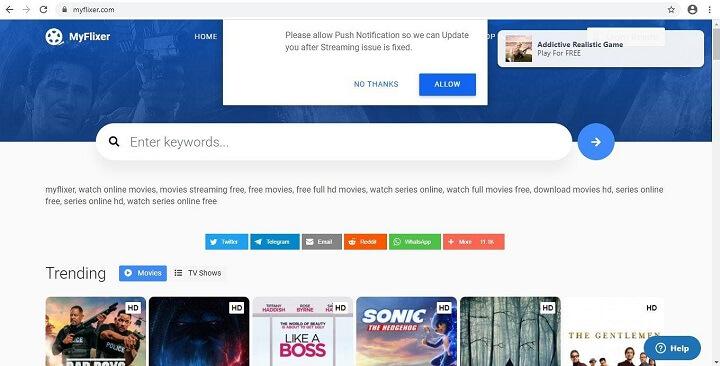 First things first, it doesn't take a genius to understand that the website contains copyright-protected content. No matter how enticing it could be to access such perks without paid subscription, doing so is illegal. A particularly risky business is to download stuff from MyFlixer.com because the copyright holder may interpret this as an intention to redistribute their proprietary materials for profit. Even if this isn't the case, such misdemeanor can potentially entail jail sentence of up to five years. Furthermore, according to the Digital Millennium Copyright Act (DMCA), an alternative penalty for this type of infringement is a fine of up to $150,000 for mishandling a single file categorized as intellectual property. All in all, the consequences can be serious enough to make users rethink their attitude towards the likes of MyFlixer.
Special Offer
MyFlixer may re-infect your Mac multiple times unless you delete all of its fragments, including hidden ones. Therefore, it is recommended to download Combo Cleaner and scan your system for these stubborn files. This way, you may reduce the cleanup time from hours to minutes. Download Now Learn how ComboCleaner works. If the utility spots malicious code, you will need to buy a license to get rid of it.
Besides the legal roadblocks, another facet of the matter is that the service in question might not be as harmless and user-friendly as it appears. Whenever a Mac user goes to MyFlixer.com, the website displays a dubious popup that says, "Please allow Push Notifications so we can update you after streaming issue is fixed". This is a tactic often employed by adware authors to give various malvertising campaigns a boost. Once a site visitor clicks "Allow" on that dialog, their Mac usage experience will become deluged with ads appearing on the home screen and in the default browser.
Furthermore, the wording of the popup prompt looks fishy and somewhat misleading. It makes the user think that the only reason to enable notifications is to stay tuned for updates regarding bug fixes and thereby to find out when the streaming session can be resumed after an unsuccessful attempt to watch a movie. Meanwhile, the fact that tons of annoying third-party advertisements will start to flood the Mac isn't clearly mentioned. Yet another issue is that the web resource may drop tracking cookies that pose serious privacy risks down the road. To top it off, the people who want to discontinue using this service often run into difficulties deleting their MyFlixer accounts – obviously, it shouldn't be that way.
Taking all these caveats into consideration, users would be better off staying away from the portal under scrutiny. If you have been using it for a while, it's additionally a good idea to check your Mac for adware that could have been deposited onto the system surreptitiously.
MyFlixer related adware manual removal for Mac
The steps listed below will walk you through the removal of this malicious application. Be sure to follow the instructions in the order specified.
1. Open up the Utilities folder as shown below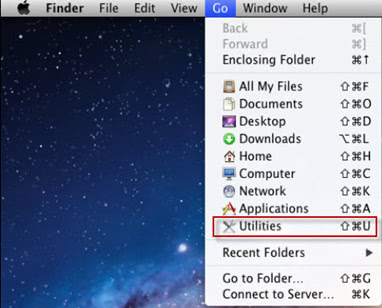 2. Locate the Activity Monitor icon on the screen and double-click on it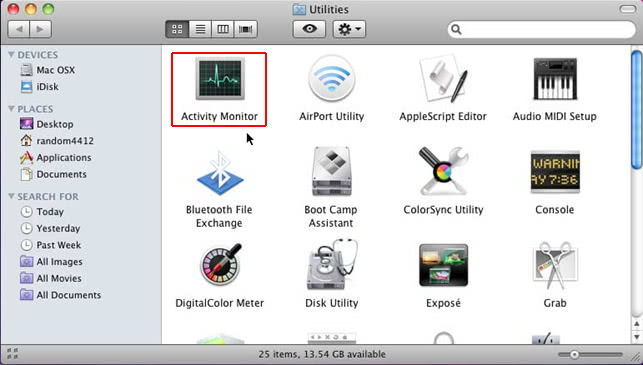 3. Under Activity Monitor, find a process you don't recognize, select it and click Quit Process
4. A dialog should pop up, asking if you are sure you would like to quit the troublemaking process. Select the Force Quit option
5. Click the Go button again, but this time select Applications on the list. Find the suspect entry on the interface, right-click on it and select Move to Trash. If user password is required, go ahead and enter it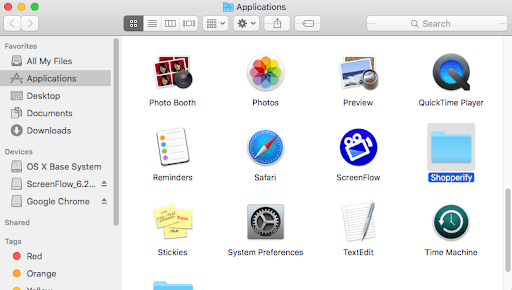 6. Now go to Apple Menu and pick the System Preferences option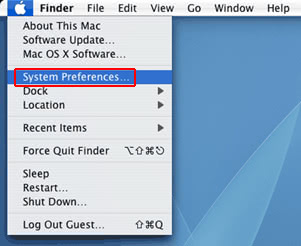 7. Select Accounts and click the Login Items button. The system will come up with the list of the items that launch when the box is started up. Locate a potentially unwanted object there that looks clearly suspicious and click on the "-" button.
Get rid of MyFlixer ads in web browser on Mac
To begin with, the web browser settings taken over by MyFlixer push notifications virus should be restored to their default values. Although this will clear most of your customizations, web surfing history, and all temporary data stored by websites, the malicious interference should be terminated likewise. The overview of the steps for completing this procedure is as follows:
Remove MyFlixer ads in Safari

Open the browser and go to Safari menu. Select Preferences in the drop-down list

Once the Preferences screen appears, click on the Advanced tab and enable the option saying "Show Develop menu in menu bar".

Now that the Develop entry has been added to the Safari menu, expand it and click on Empty Caches.

Now select History in the Safari menu and click on Clear History in the drop-down list.

Safari will display a dialog asking you to specify the period of time this action will apply to. Select all history to ensure a maximum effect. Click on the Clear History button to confirm and exit.

Go back to the Safari Preferences and hit the Privacy tab at the top. Find the option that says Manage Website Data and click on it.

The browser will display a follow-up screen listing the websites that have stored data about your Internet activities. This dialog additionally includes a brief description of what the removal does: you may be logged out of some services and encounter other changes of website behavior after the procedure. If you're okay with that, go ahead and click on the Remove All button.

Restart Safari

Get rid of MyFlixer popup ads in Google Chrome

Open Chrome, click the Customize and control Google Chrome (⁝) icon in the top right-hand part of the window, and select Settings in the drop-down

When on the Settings pane, select Advanced
Scroll down to the Reset settings section.

Confirm the Chrome reset on a dialog that will pop up. When the procedure is completed, relaunch the browser and check it for malware activity.

Remove MyFlixer adware in Mozilla Firefox

Open Firefox and go to Help – Troubleshooting Information (or type about:support in the URL bar and press Enter).

When on the Troubleshooting Information screen, click on the Refresh Firefox button.

Confirm the intended changes and restart Firefox.
Get rid of MyFlixer adware using Combo Cleaner removal tool
The Mac maintenance and security app called Combo Cleaner is a one-stop tool to detect and remove MyFlixer virus. This technique has substantial benefits over manual cleanup, because the utility gets hourly virus definition updates and can accurately spot even the newest Mac infections.
Furthermore, the automatic solution will find the core files of the malware deep down the system structure, which might otherwise be a challenge to locate. Here's a walkthrough to sort out the MyFlixer issue using Combo Cleaner:
Download Combo Cleaner installer. When done, double-click the combocleaner.dmg file and follow the prompts to install the tool onto your Mac.

By downloading any applications recommended on this website you agree to our Terms and Conditions and Privacy Policy. The free scanner checks whether your Mac is infected. To get rid of malware, you need to purchase the Premium version of Combo Cleaner.

Open the app from your Launchpad and let it run an update of the malware signature database to make sure it can identify the latest threats.
Click the Start Combo Scan button to check your Mac for malicious activity as well as performance issues.

Examine the scan results. If the report says "No Threats", then you are on the right track with the manual cleaning and can safely proceed to tidy up the web browser that may continue to act up due to the after-effects of the malware attack (see instructions above).

In case Combo Cleaner has detected malicious code, click the Remove Selected Items button and have the utility remove MyFlixer threat along with any other viruses, PUPs (potentially unwanted programs), or junk files that don't belong on your Mac.

Once you have made doubly sure that the malicious app is uninstalled, the browser-level troubleshooting might still be on your to-do list. If your preferred browser is affected, resort to the previous section of this tutorial to revert to hassle-free web surfing.