This review provides a lowdown on MacBooster 5 application, highlighting its features in detail and evaluating the efficiency of Mac maintenance it delivers.
MacBooster 5 by IObit is an all-in-one Apple Mac maintenance tool delivering the essentials for protecting macOS machines from viruses and malware, plus a commendable feature set addressing various performance issues. Retrospectively, this suite has been praised and criticized. Some Mac aficionados have claimed it to raise red flags on trivial issues; some, especially power users, have stated that there are free substitutes for its features that go with the operating system.
Nonetheless, MacBooster is an invariably popular product due to its comprehensive nature allowing users to clean up and protect their systems without going anywhere else. Its portfolio includes remarkable functions like Privacy Clean, Virus & Malware Scan, Memory Clean, Defragment, Startup Optimization, Duplicates Finder, to name a few. The review you are about to read offers an unbiased perspective on the overall efficiency and user experience hallmarks of the software under scrutiny.
Getting started
IObit provides an option of downloading and installing a 14-day trial version of MacBooster from CNET, a third-party software repository. If you choose to go this route, you get a fully functional build for a limited time span. Note that the system requirements are as follows: OS X 10.7 or later, and at least 60 MB of free space. The installer file, MacBooster_5.dmg, takes up 26.8 MB. There is nothing complicated in the setup routine. All it takes is accept the Terms of Service, define the installation path and optionally toggle some checkmarks on or off to perform some preliminary customization. A minute wait – and the suite is up and running.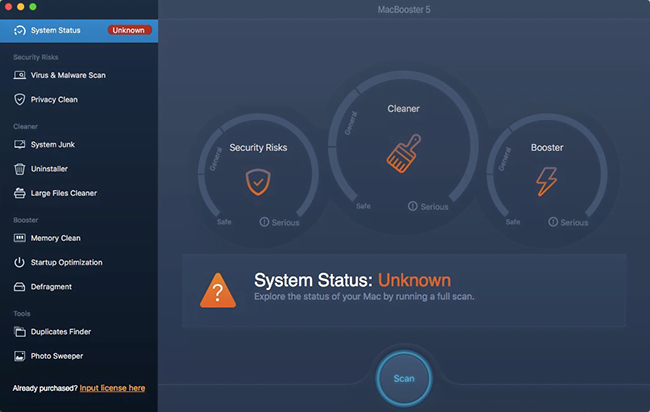 The first thing striking the eye is the sleek design of the user interface. To its credit, the GUI is quite intuitive despite an abundance of modules that are lined up in the left-hand section. The home pane includes three areas: Security Risks, Cleaner, and Booster. From the get-go, the system status is going to be 'Unknown'. To rectify this, go ahead and click the Scan button at the bottom of the screen.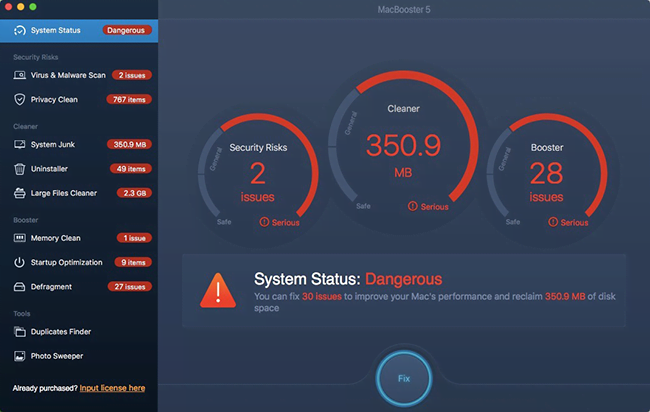 When MacBooster is done checking the system for issues, it displays updated information on the System Status pane. To help you interpret the scan results, the suite labels each one of the above-mentioned areas with one of the following indicators: Excellent, Medium, or Serious. Based on the number and severity of issues spotted during the scan, the System Status will switch from 'Unknown' to 'Dangerous' or 'Good'.
The whole maintenance and security potential of MacBooster 5 is split up into four sections residing in the left-hand part of the interface. These include Security Risks, Cleaner, Booster, and Tools. The names of these sections are self-explanatory, so even users who are new to the Mac world will easily understand what they do. What is more, the suite indicates quick status clues next to most sub-sections, such as the volume of system junk and the number of memory issues detected.
Features
MacBooster 5 is equipped with more than just the essential Mac maintenance functionality. Its latest edition accommodates the new Defragment feature and introduces enhancements for the Booster, Cleaner, and Security Risks features. Furthermore, the software now supports more languages and delivers the Mini extra for real-time monitoring of system health and security. Let's take a closer look at the stuffing under the tool's the hood.
Virus & Malware Scan is just what it sounds like. This module is aimed at detecting persistent malicious code and annoying Mac viruses such as browser adware. Clicking the Fix button in the bottom middle removes the spotted culprits in seconds.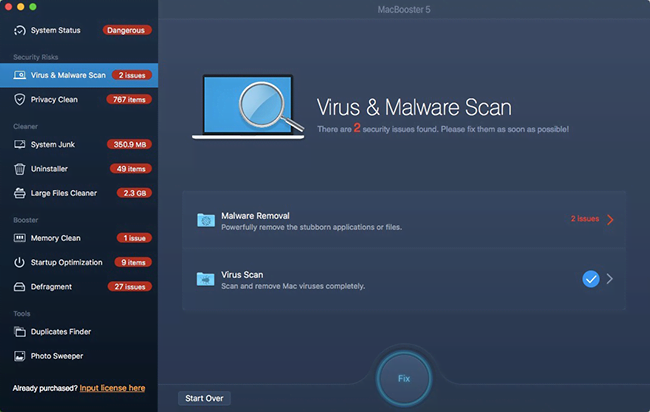 Privacy Clean focuses on checking Safari and Chrome for potentially fingerprintable traces of user activity and cleaning them up. These privacy risks include cookies, browsing history, downloads history, HTML5 local storage, saved passwords, tabs from last session, app traces, and recent items list. Erasing this sensitive information thwarts identity theft and exploitation by hackers.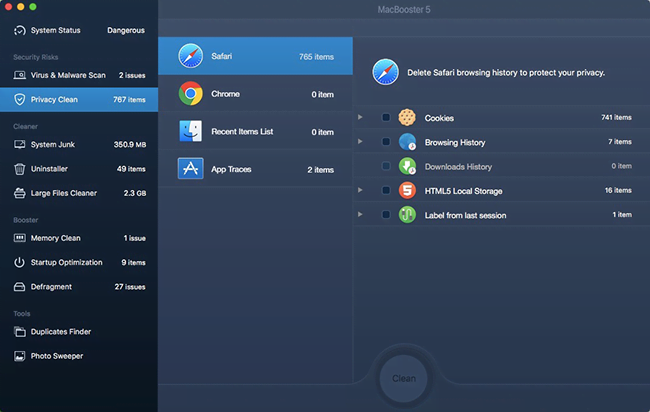 When it comes to finding and eliminating unnecessary data routinely generated by macOS, the System Junk feature is a godsend. It accurately locates system logs, cache files (including iTunes cache), application junk files, language files, broken login items and Mac install packages, letting you know how much space they occupy. By removing various system junk, MacBooster can free up hundreds of megabytes of hard disk space.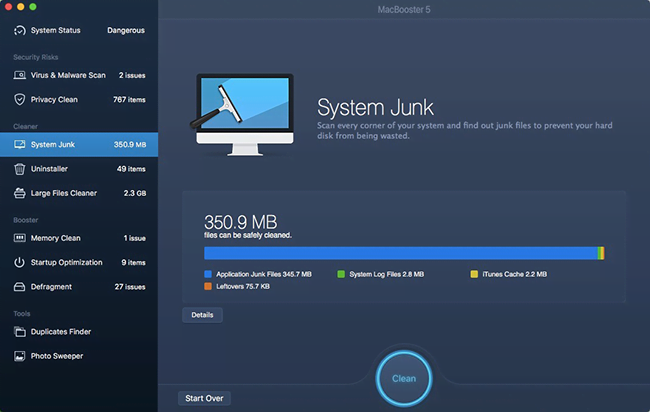 Uninstaller streamlines the process of removing unneeded applications from your Mac. This module's pane displays the list of all installed apps, where you only need to put a checkmark next to a redundant one and click the Uninstall button at the bottom to get rid of it completely. The programs can be sorted by size, name, and the time they were last used. Aside from removal proper, this feature also allows you to reset configuration data for selected apps so that they get back to their original state.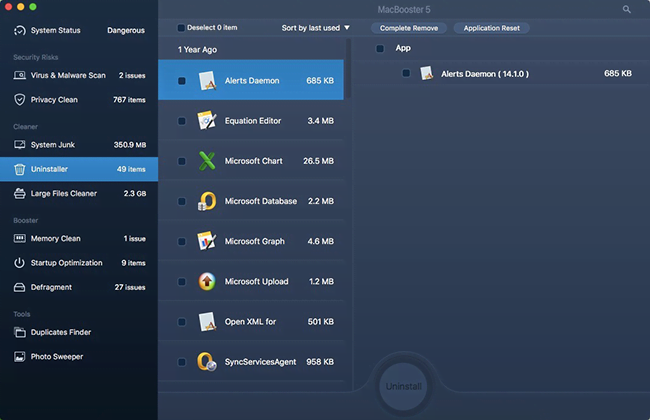 Large Files Cleaner provides an easy way to handle large objects stored on your hard drive, including files, directories and applications. In the event a detected entity doesn't belong on your Mac, such as an old video you totally forgot about and aren't up to watching anytime soon, just get rid of it to clean some extra disk space. By default, MacBooster 5 looks for such items in the Home folder, but you can manually add any other folders to check. There are some intuitive filters you can apply, such as to sort objects by size, by name and by kind.
Memory Clean is the first item you see under the Booster section. It provides details on the amount of free and used memory at the time the last system scan was performed. Click the Clean button to release available memory so that applications become more responsive and run faster.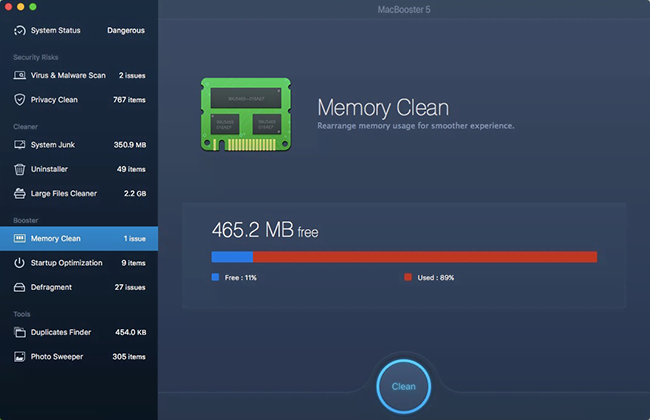 Startup Optimization can significantly reduce the time that the operating system takes to boot up by excluding redundant login items. Just select the entry / entries you don't want to load at boot time and click Disable. There is also a reverse option where you can add new items to the startup list.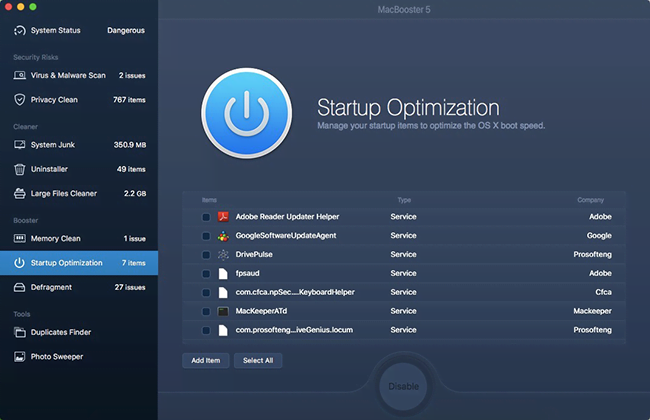 Defragment is a new module added to the latest, version 5 release of MacBooster. The name is somewhat of a misnomer, though. Unlike commonplace defragment routine that revolves around physically organizing hard disk contents into fewer fragments, this particular feature cleans cache files spawned by third-party applications and addresses Mac disk permission issues in a bid to enhance system performance.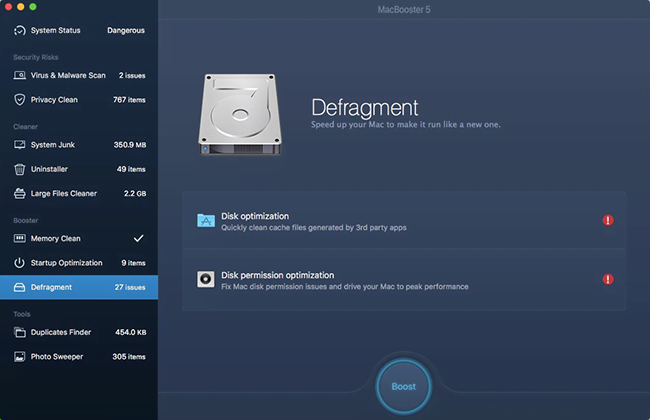 Duplicates Finder spots duplicated items on the hard disk, allows you to arrange them by size, by name and by kind, and provides a quick option to get rid of the excess file copies. The 'Smart check' and 'Smart Clean' extras streamline the workflow of handling duplicates, providing tips on which files can be safely eliminated just to keep the original ones on your Mac.
Photo Sweeper is another fancy feature delivered by MacBooster. It locates identical or similar images on your Mac and lets you easily erase them to free up additional disk space. This module is particularly relevant if you often sync photos from your iPhone or iPad to your Mac, in which case there will be a bevy of them that should be deleted. Be advised, though, that the suite trashes such pictures beyond recovery.
Mini Icon resides on the Mac menu bar to keep you on top of the network status as well as basic system health parameters via an intuitive quick-access interface. It also allows you to empty the Trash and perform disk cleanup without opening the main MacBooster screen. Some users may find the Mini extra annoying as it appears every time the machine starts up. If this doesn't suit you, go to MacBooster 5 - Preferences and deselect the option that says "Always keep MacBooster mini running".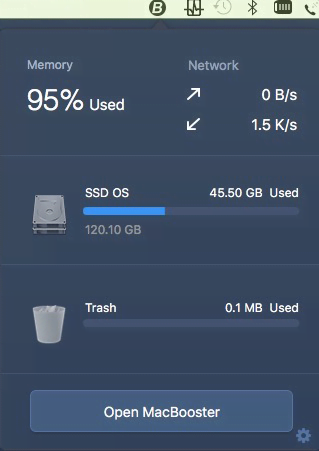 That's it for the feature set of MacBooster 5. You can additionally customize the suite by accessing the Preferences screen. It consists of seven tabs, namely General, MacBooster Mini, Tools, Security Risks, System Junk, Logs, and Ignore List. The settings are intuitive enough even for users with little Mac experience to adjust the tool's functionality as they please.
Support
In case you come across technical issues while using MacBooster, the easiest way to get professional help is via the Support page on the vendor's website. To submit your feedback, simply fill out the name and email fields, type your question in the message box, optionally attach a screenshot or log (it shouldn't be larger than 2 MB), enter a verification code and hit 'Get Help Now'. IObit support agents will get back to you with recommendations. There is additionally a toll-free telephone number indicated on the site for a free diagnosis. The available support options also include FAQs and a detailed User Manual.
Be advised that unless you are using a 14-day trial that hasn't expired yet, you need to purchase a license to activate MacBooster 5 and unlock all of its features. There is a 'Standard' license plan for up to three Macs that's currently worth $59.95, and a 'Premium' plan ($89.95) for up to five machines that additionally includes priority support. Note that all the licensing options presuppose lifetime protection.
Summary
MacBooster 5 lives up to its name as it does enhance Mac performance by freeing up disk space and releasing memory to ensure the system and applications run smooth. It intelligently handles junk files, unnecessary startup items, duplicates and large files. The security modules built into the suite are particularly welcome these days, given the rapidly growing ecosystem of Mac ransomware and ad-serving viruses.
One of the few caveats is that the Privacy Clean feature tends to flag benign browser cookies and history as privacy issues while you might want to keep them for smooth web surfing. There has been some feedback about redundancy of the Startup Optimization feature, where users state they can do the same manually by going to System Preferences – Users & Groups – Login Items. One way or another, the availability of this option alongside other maintenance modules won't hurt for sure, especially for those who have little experience using Macs.
Download NowTo recap, MacBooster 5 is definitely worth its salt as a powerful, effective and user-friendly tool to keep your Mac malware-free and performing at its peak.