Learn the details of the Apple iPad virus warning scam and get effective methods to prevent these deceptive alerts from popping up in web browsers on iPad.
There are native defenses built into iOS that keep the user on top of current security issues with their mobile device. These defensive mechanisms are mostly non-intrusive and don't interrupt routine usage of the gadget, which aligns with Apple's focus on user experience. Cybercrooks, in their turn, try to forge regular security notifications in order to achieve various malicious objectives. An ongoing massive wave of such fraud revolves around phony Apple iPad virus warning popups. These misleading splash alerts appear during a victim's web browsing sessions and are usually accompanied by forcible redirects of Internet traffic. The fact that the impact is isolated to a targeted user's online surfing environment is a major giveaway as genuine messages from the mobile platform wouldn't have restrictions of that kind.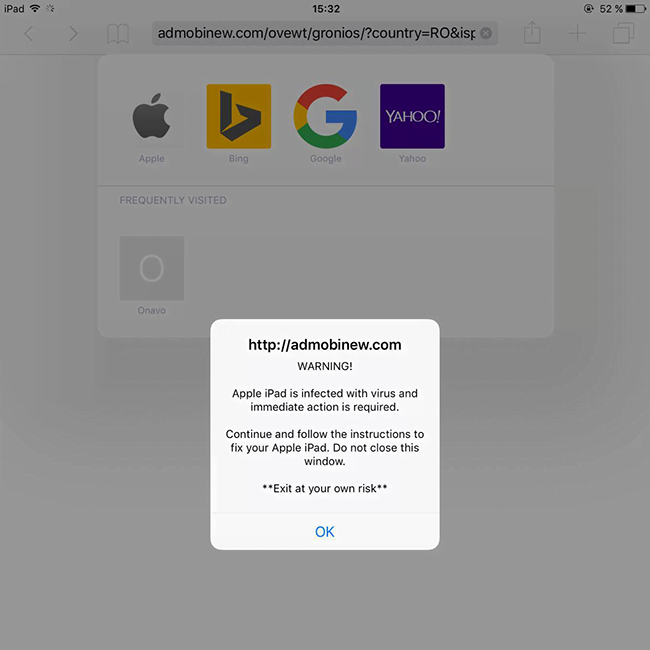 This scam commences with infiltration of stealth adware into a device. Users may catch this entity when installing third-party applications from dubious iOS software download sites. The booby-trapped app may appear benign on the face of it, but additional code being covertly promoted as part of this installation is definitely not safe. After the intrusion, the PUP (potentially unwanted program) tweaks the preset of Safari and possibly other browsers running on the infected iPad. In some reported instances, the offending program hijacked DNS settings. Ultimately, the victim's web browsing routine will turn into a loop of redirects to fraudulent web pages and obnoxious popups wrongfully raising red flags on malicious code detected on the device.
The bogus warning popups will typically convey the following message, "Apple iPad is infected with virus and immediate action is required. Continue and follow the instructions to fix your Apple iPad. Do not close this window. Exit at your own risk." The OK button down at the bottom of the alert leads to a malicious website that either hosts harmful code or instructs the user to contact impostor tech support agents by phone or via an embedded online chat. In the latter scenario, the criminals may try to wheedle out the user's financial details or other sensitive information. As far as the fix is concerned, closing the haphazardly triggered browser tabs over and over is an inefficient strategy. The Apple iPad virus warning popups are powered by JavaScript, so the cure involves some troubleshooting both on the system and browser level. Meanwhile, be sure to abstain from downloading anything from pages affiliated with this hoax, and do not hand over any personally identifiable data if the threat actors request it.
Apple iPad virus warning manual removal in iOS
As per the anatomy of this hijack, settings for the web browser that may have gotten hit by the virus should be restored to their default values. The steps for performing this procedure are as follows:
1. Safari troubleshooting on iPhone
• Go to Settings and select Safari on the menu
• Tap the Clear History and Website Data option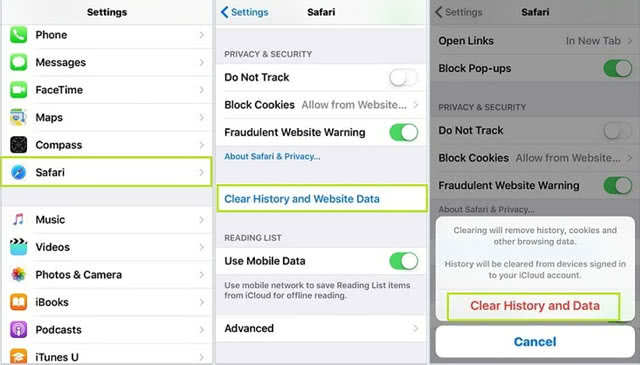 • Confirm by tapping Clear History and Data. Check is the problem with Safari has been fixed. In the event the Apple iPad virus warning issue is still there, proceed to next step
• Go back to Settings and select Safari again. Look at JavaScript status under Security section. Normally, it's on by default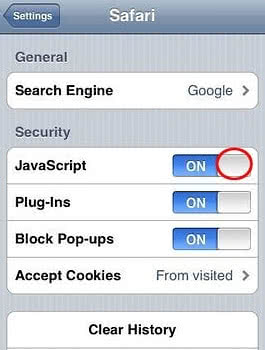 • Tap to toggle the JavaScript status to OFF. This should solve the problem.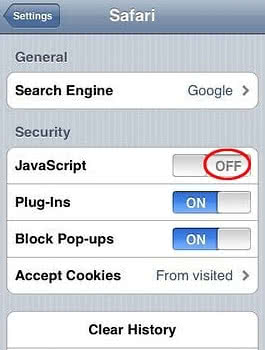 2. Reset Chrome on iPad
• Open Chrome browser, go to Settings and tap Clear browsing data entry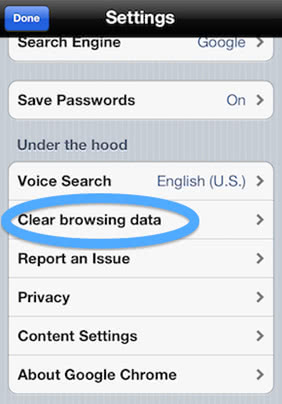 • As the menu expands, make sure the following options are checked: Clear browsing history, Clear cache and Clear cookies. Confirm before exiting. The mobfree.click redirect activity should now stop in Chrome.
Use security software to prevent attacks on iOS
Infections like the Apple iPad virus warning iPad can infiltrate a device through unprotected connections. Logging into public Wi-Fi networks and visiting compromised sites may get the gadget exposed to malware and hacker attacks. It's therefore strongly recommended to use automatic protection during web surfing.
1. Download and install SurfEasy VPN (read review). This app accommodates Wi-Fi security as well as privacy and identity protection features
2. Make sure SurfEasy Protection is turned on throughout Internet browsing sessions. The application will encrypt all traffic, prevent ad tracking, anonymize online activities and secure the iOS device when it's connected to Wi-Fi hotspots.