Stay on top of the Snowbitt virus issue on Mac and learn how it spreads, what dangers ensue from its activity, and how to remove it from a contaminated Mac.
Mac users are being targeted by a new malware specimen that turns their customary online surfing paradigm upside down. In the aftermath of said hoax, Snowbitt.com web page is visited in a recurrent fashion instead of one's preferred defaults. These distressing redirects occur due to the impact of a misbehaving app that grips the presets of Safari, as well as Mac editions of Chrome and Firefox, in its paws. Most of the users who fall victim to this baddie are at their wit's end trying to figure out how come it managed to circumvent their authorization. The clue to solving this puzzle has to do with conventional malware distribution practices, which tend to be nearly the same for Mac and Windows platforms. The catch is to make users literally approve the intrusion while being unaware of it. It's the application bundling trick to blame for such an intricate trespass, where innocuous freeware and perpetrating code are installed side by side without proper notification.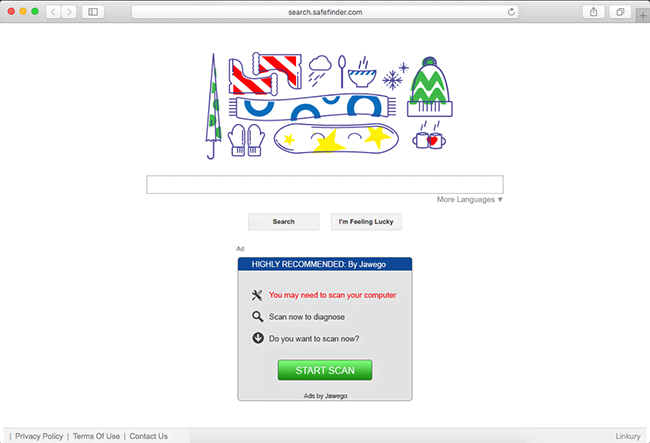 As soon as the infection chain has been triggered, the malicious entity starts wreaking havoc with the target Mac. Whenever the victim is online, the hijacker will be constantly forcing the browser to resolve the rogue Snowbitt.com domain automatically. In particular, this nasty routine is activated each time the browser is launched, a web search is being made, or a new tab is opened. A peculiar hallmark sign of this underhand workflow is that the final landing page may be different than Snowbitt.com proper. There is a network of related junk sites visited via the bad URL under consideration. For instance, the loop of diverts includes feed.snowbitt.com/publisher string followed by a long identifier of the malvertising campaign. This sub-domain currently switches on a further redirect to search.safefinder.com. Ultimately, the victim ends up on a page resembling a regular search engine, but the goal pursued by the crooks is to make money through traffic monetization rather than enhance one's Internet experience.
Snowbitt is a fairly offbeat type of adware. Rather than inject ads and suchlike third-party content into web pages, it drags its victims into a quagmire of browser rerouting. Another side effect that's disconcerting is that the infection keeps track of the plagued user's web navigation. It harvests data like search queries, bookmarks, and sites visited. These details are a godsend to both benign and ill-disposed third parties, advertisers in the first place. Considering the complex technical background of Snowbitt strain, the cleanup is only effective as long as it conforms to the best practices of malware removal from Mac. It's difficult to spot all elements of the infection inside the compromised system; moreover, even after some of them are sent to trash manually they may reappear due to persistent scheduled routine. So stick with the recommendations below and bid farewell to the entire browser mess instigated by Snowbitt malware.
Snowbitt manual removal for Mac
To begin with, settings for the web browser that got hit by the Snowbitt virus should be restored to their default values. The overview of steps for this procedure is as follows:
1. Reset Safari
• Open the browser and go to Safari menu. Select Reset Safari in the drop-down list
• Make sure all the boxes are ticked on the interface and hit Reset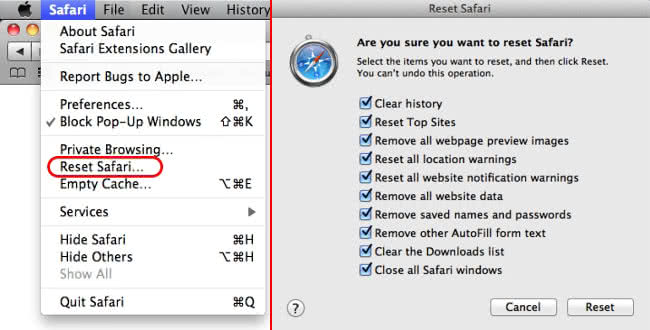 2. Reset Google Chrome
• Open Chrome and click the Customize and Control Google Chrome menu icon
• Select Options for a new window to appear
• Select Under the Hood tab, then click Reset to defaults button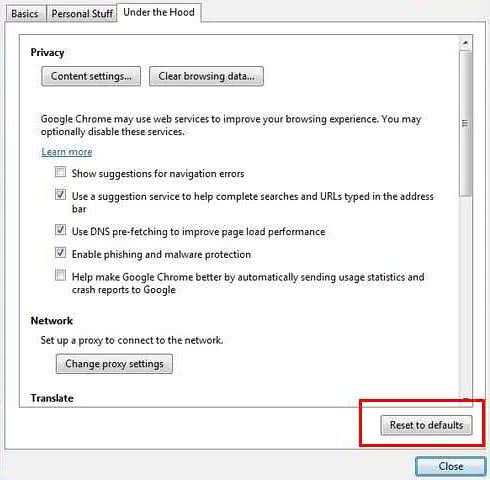 3. Reset Mozilla Firefox
• Open Firefox and select Help – Troubleshooting Information
• On the page that opened, click the Reset Firefox button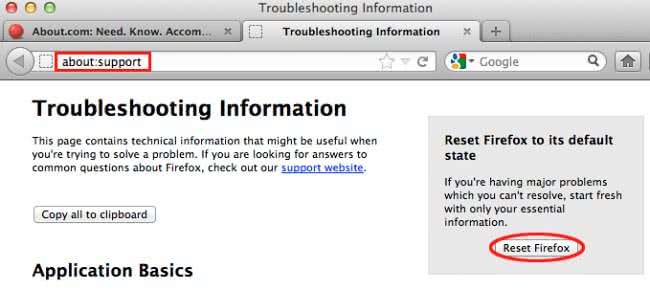 Get rid of Snowbitt malware using Combo Cleaner automatic removal tool
The Mac maintenance and security app called Combo Cleaner is a one-stop tool to detect and remove Snowbitt (feed.snowbitt.com) virus. This technique has substantial benefits over manual cleanup, because the utility gets hourly virus definition updates and can accurately spot even the newest Mac infections.
Furthermore, the automatic solution will find the core files of the malware deep down the system structure, which might otherwise be a challenge to locate. Here's a walkthrough to sort out the Snowbitt (feed.snowbitt.com) issue using Combo Cleaner:
Download Combo Cleaner installer. When done, double-click the combocleaner.dmg file and follow the prompts to install the tool onto your Mac.

By downloading any applications recommended on this website you agree to our Terms and Conditions and Privacy Policy. The free scanner checks whether your Mac is infected. To get rid of malware, you need to purchase the Premium version of Combo Cleaner.

Open the app from your Launchpad and let it run an update of the malware signature database to make sure it can identify the latest threats.
Click the Start Combo Scan button to check your Mac for malicious activity as well as performance issues.

Examine the scan results. If the report says "No Threats", then you are on the right track with the manual cleaning and can safely proceed to tidy up the web browser that may continue to act up due to the after-effects of the malware attack (see instructions above).

In case Combo Cleaner has detected malicious code, click the Remove Selected Items button and have the utility remove Snowbitt (feed.snowbitt.com) threat along with any other viruses, PUPs (potentially unwanted programs), or junk files that don't belong on your Mac.

Once you have made doubly sure that the malicious app is uninstalled, the browser-level troubleshooting might still be on your to-do list. If your preferred browser is affected, resort to the previous section of this tutorial to revert to hassle-free web surfing.