Find out how the Tavanero virus affects Mac desktop computers and learn how to prevent Safari, Chrome and Firefox from being redirected to the rogue site.
Browser hijackers are classified as low-profile threats that cause little damage. Nonetheless, these offending applets tend to call forth a great deal of frustration for anyone infected. Mac users who fall victim to a widespread strain called Tavanero are unable to set their regular Internet surfing preferences and get stuck with a rogue search provider that keeps popping up in Safari, Chrome and Firefox alike. The actual URL of the landing page is http://tavanero.info/tavanero/tavanero.php . It appears to be a service powered by Google Custom Search and stuffed up with large ad sections. Obviously, its purpose has little to do with enhancing one's web search experience. Instead, the adware campaign operators pursue the goal of making money off of the display of sponsored information below the fold.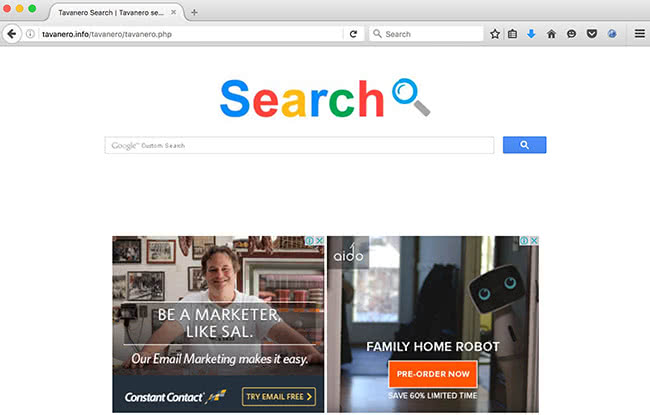 The modus operandi of the Tavanero Search virus is based on a series of unauthorized steps, starting from installation on a Mac, all the way to making changes to the custom setup of web browsers. To make its way into a system, the adware in question glues up to various freeware and shareware products available on dubious application repositories online. This isn't an illegal practice – in fact, bundling of this sort is a popular way of distributing regular apps. The pitfall of such software packages, though, is that additional "featured" offers aren't necessarily listed on the installation wizards in a clear way. Ultimately, a user may install a Torrents client or an open-source media player without realizing that a potentially unwanted piece of code is sneaking inside along the way.
The Tavanero virus primarily interferes with web browsers it detects on the infected Mac. By adding a new aggressive plugin without producing any prior authorization requests, it gets a set of privileges that are sufficient to modify a number of preferences. These include the homepage, as well as new tab page and default search engine. They all get automatically substituted by Tavanero.info. The domain name proper is followed by a repetitive argument string mentioned above. These configuration level alterations have absolutely tangible consequences. The victim's browsers will be redirected to a website that they never chose to use. Again, the landing page isn't dangerous to visit, but it blatantly takes over Internet navigation clients running on the machine. To get rid of Tavanero, it's recommended to follow a specially crafted adware termination procedure.
Tavanero adware manual removal for Mac
To begin with, settings for the web browser that got hit by the Tavanero.info virus should be restored to their default values. The overview of steps for this procedure is as follows:
1. Reset Safari
• Open the browser and go to Safari menu. Select Reset Safari in the drop-down list
• Make sure all the boxes are ticked on the interface and hit Reset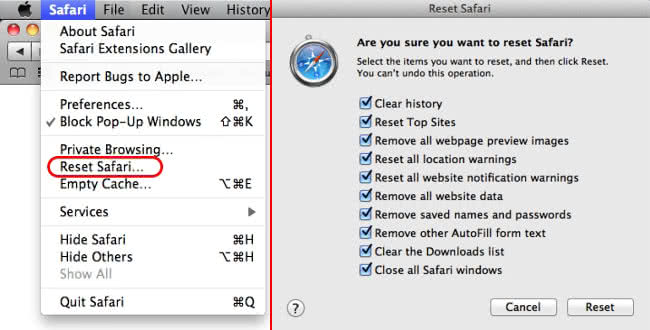 2. Reset Google Chrome
• Open Chrome and click the Customize and Control Google Chrome menu icon
• Select Options for a new window to appear
• Select Under the Hood tab, then click Reset to defaults button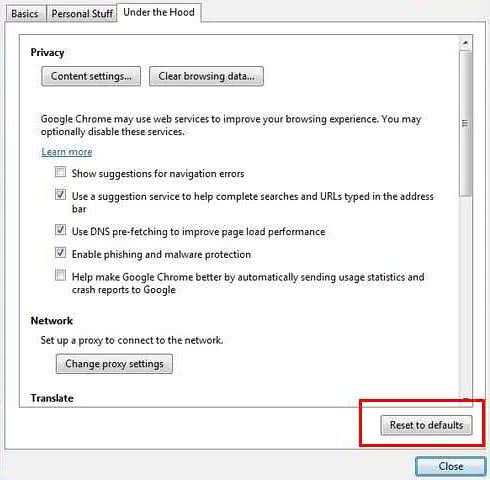 3. Reset Mozilla Firefox
• Open Firefox and select Help – Troubleshooting Information
• On the page that opened, click the Reset Firefox button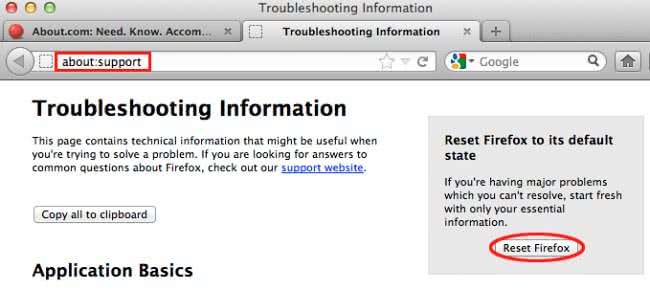 Get rid of Tavanero virus using Combo Cleaner automatic removal tool
The Mac maintenance and security app called Combo Cleaner is a one-stop tool to detect and remove Tavanero Search (tavanero.info) virus virus. This technique has substantial benefits over manual cleanup, because the utility gets hourly virus definition updates and can accurately spot even the newest Mac infections.
Furthermore, the automatic solution will find the core files of the malware deep down the system structure, which might otherwise be a challenge to locate. Here's a walkthrough to sort out the Tavanero Search (tavanero.info) virus issue using Combo Cleaner:
Download Combo Cleaner installer. When done, double-click the combocleaner.dmg file and follow the prompts to install the tool onto your Mac.

By downloading any applications recommended on this website you agree to our Terms and Conditions and Privacy Policy. The free scanner checks whether your Mac is infected. To get rid of malware, you need to purchase the Premium version of Combo Cleaner.

Open the app from your Launchpad and let it run an update of the malware signature database to make sure it can identify the latest threats.
Click the Start Combo Scan button to check your Mac for malicious activity as well as performance issues.

Examine the scan results. If the report says "No Threats", then you are on the right track with the manual cleaning and can safely proceed to tidy up the web browser that may continue to act up due to the after-effects of the malware attack (see instructions above).

In case Combo Cleaner has detected malicious code, click the Remove Selected Items button and have the utility remove Tavanero Search (tavanero.info) virus threat along with any other viruses, PUPs (potentially unwanted programs), or junk files that don't belong on your Mac.

Once you have made doubly sure that the malicious app is uninstalled, the browser-level troubleshooting might still be on your to-do list. If your preferred browser is affected, resort to the previous section of this tutorial to revert to hassle-free web surfing.