Apple has just demystified a heavily rumored new generation of powerful MacBook Pros that might give it a leg up in the global computer technology game.
Revolutionary M1 designs unleashed
The Apple event that took place on October 18, 2021 brought groundbreaking changes to the company's most popular products. The blasting news of the day was the release of next-gen Apple silicon architectures that boast unparalleled performance, better energy efficiency, and a bunch of other perks. These enhancements of the M1 processor, which debuted last year, are embodied in chips called M1 Pro and M1 Max. A quick look at their specifications reveals why they make a difference. Let's dwell on these details from the get-go:
| M1 Pro | M1 Max |
| --- | --- |
| Up to 200GB/s memory bandwidth | 400GB/s memory bandwidth |
| Up to 32GB of unified RAM | Up to 64GB of unified RAM |
| Up to 10-core CPU and 16-core GPU | 10-core CPU and up to 32-core GPU |
| Two external displays supported | Four external displays supported |
| 33.7 billion transistors inside | 57 billion transistors |
Compared to their precursor, these chips have more CPU and GPU cores and a greater amount of memory under the hoods. They also incorporate the Neural Engine tech that underlies machine learning capabilities, plus ProRes support for advanced video editing. Also, both consume less power than the fastest processors used on PC laptops while maintaining the productivity at the same decent level. For instance, M1 Max uses 100W less than its most productive analog from the Windows world.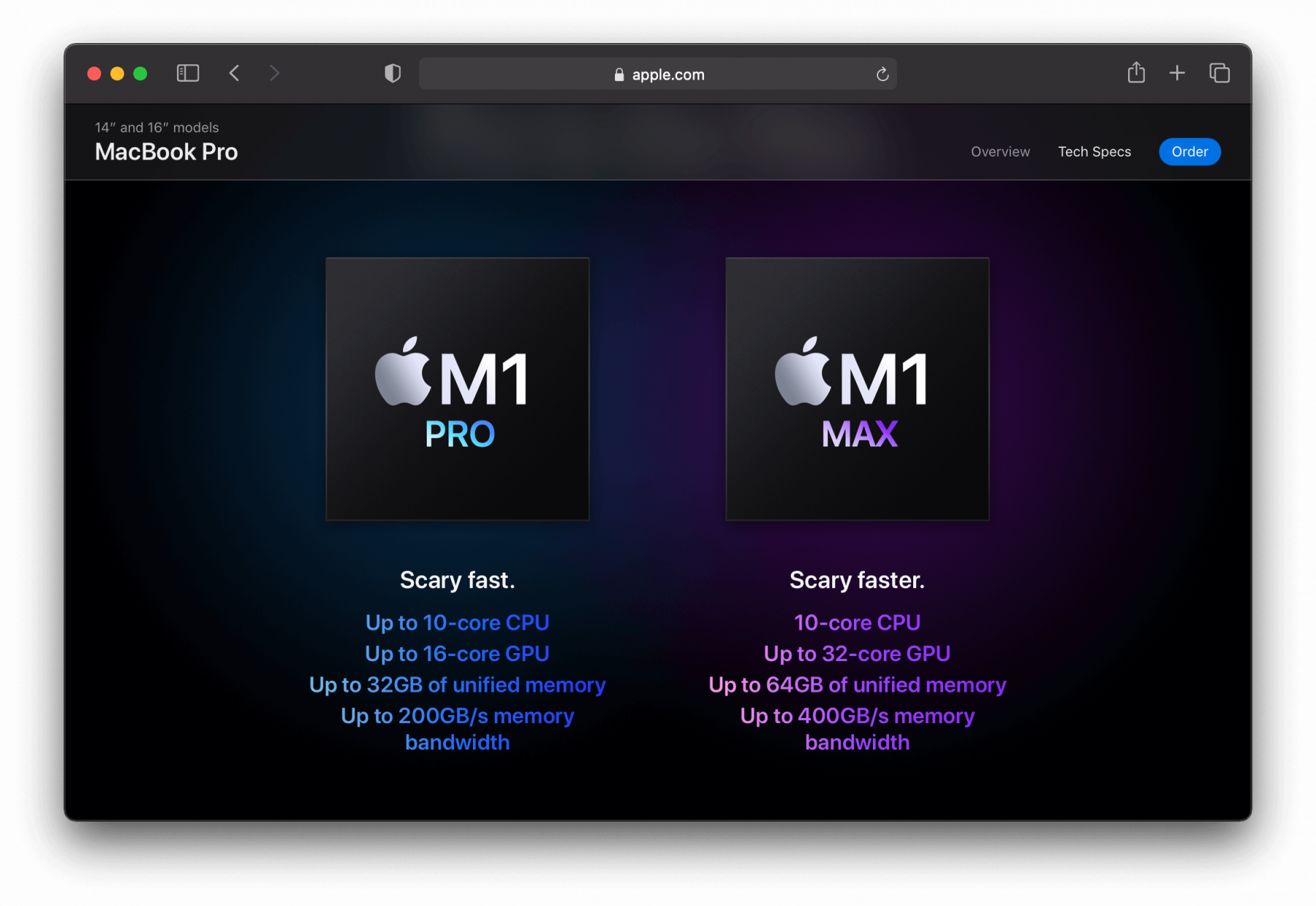 New MacBook Pros – something ditched, something brought back, a lot added
The 2021 MacBook Pro machines with the M1 Pro and Max chips onboard now come in the already familiar 16-inch and an all-new 14-inch form factors. The weight and dimensions are as follows: MacBook Pro 16" measures at 0.66 inches (height), 14.01 inches (width), and 9.77 inches (depth), while its smaller version is 0.61 inches thick, 12.31 inches wide, and 8.71 inches deep. The former weighs 4.7 pounds, and the latter is 1.2 pounds lighter.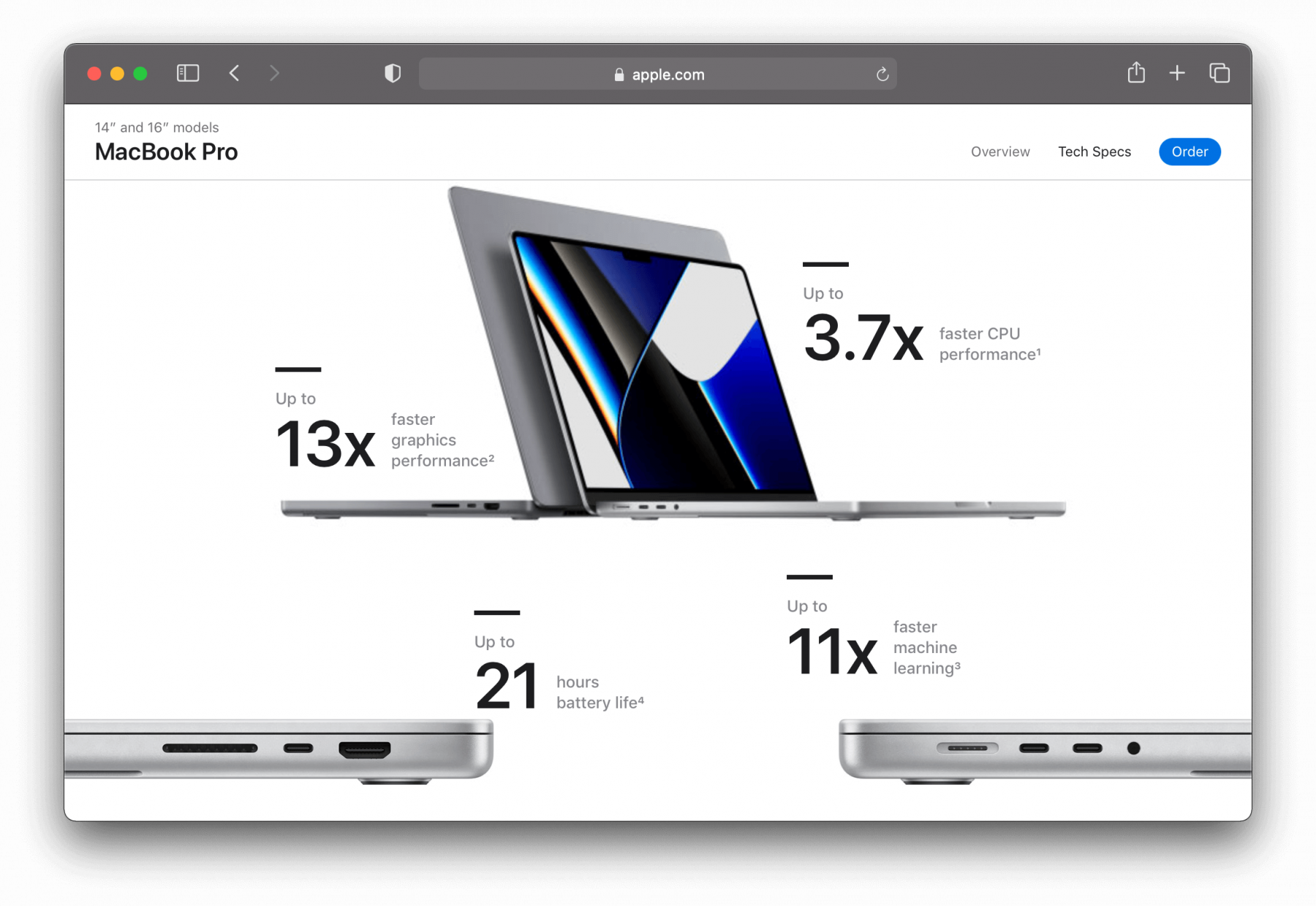 Apple has phased out the Touch Bar, replacing it with full-size physical keys. Also, those nostalgic about the MagSafe magnetic charger, which was superseded by USB-C in 2019, will absolutely love its return – the new laptops are equipped with MagSafe 3 that supports fast charging. Along with it, the HDMI and SD card reader are making a comeback to the right side of the computer. You'll also find three Thunderbolt 4 ports and a 3.5 mm headphone jack that works seamlessly with high-impedance headphones. The built-in SSD storage has a data exchange rate of up to 7.4GB/s.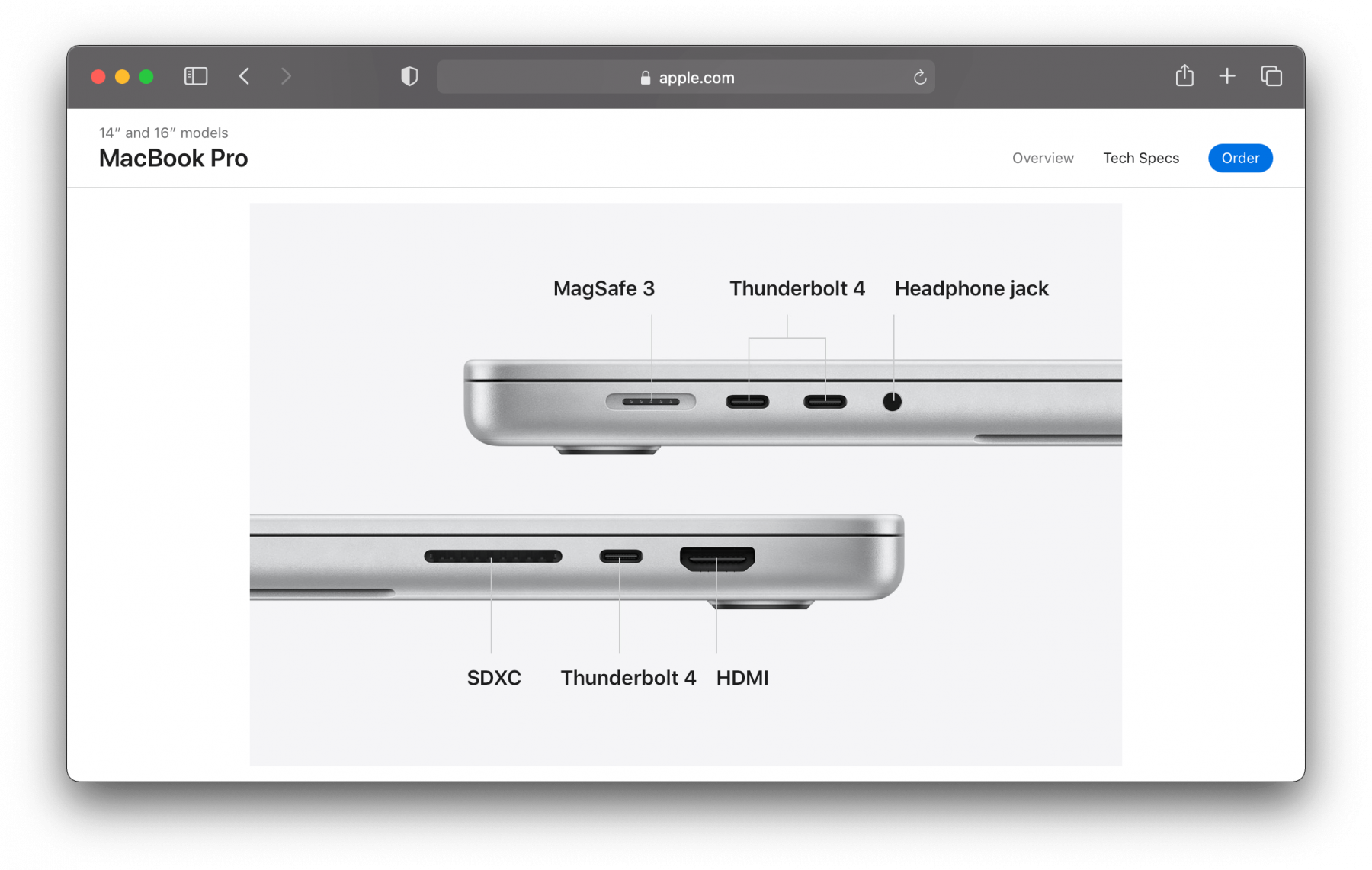 MacBook Pros 16" and 14" come with Liquid Retina XDR (Extreme Dynamic Range) displays that provide 254 ppi and the resolution of 3456 x 2234 and 3024 x 1964, respectively. The ProMotion technology is debuting in this ecosystem, allowing refresh rates of up to 120Hz. The camera doubles video quality in low-light conditions compared to the previous make. The sound system combines six speakers producing spatial audio with up to 80% more bass.
According to Apple, these machines have outstanding battery life due to the efficiency of M1 Pro and M1 Max processing units. If you take wireless web surfing as a benchmark, the 16-inch model can last 14 hours on battery power, and the 14-inch one will stay on for about 11 hours. Also, the new cooling system has a 50% airflow increase even when the fan speed is moderate. Pair that with splendid thermal characteristics of the innovative chips inside, and fan noise or overheating aren't something to worry about.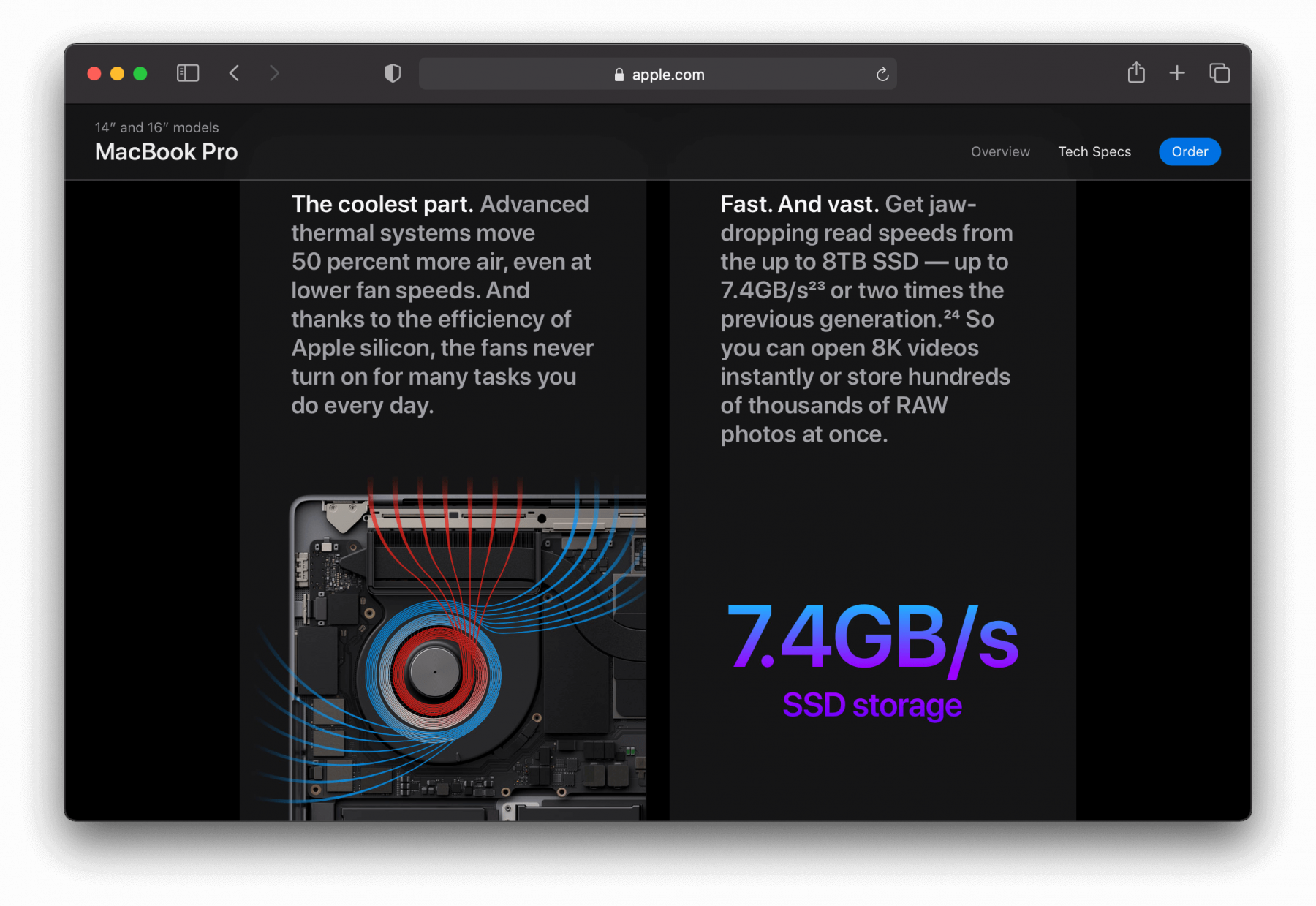 All in all, the brand-new MacBook Pros appear to be immensely promising in many ways. From the sophisticated SoC architectures, a refreshed external design, and exceptional graphics, to sound improvements, the return of MagSafe along with more connectivity ports and full-size function keys, and commendable SSD read speeds – the release is shaping up to be much-anticipated. These models will become available on October 26. The cost of the 14-inch laptop starts at $1999, and the 16-inch one at $2499.
Beyond the MacBook
During the fall 2021 event, Apple additionally spread the word about several bells and whistles in other areas, namely its audio-focused products. The company announced three new colors for HomePod mini: blue, orange, and yellow. Furthermore, Apple's wireless headphones have been redesigned. The third-generation AirPods are sweat and water resistant. They have a shorter stem, feature battery life improvements, and come with a unique technology that automatically adjusts sound based on how they fit your ear.
Whilst these moves of the Cupertino company are warmly received, the release of the new MacBook Pro 2021 models is definitely more of a game changer. Time will tell whether the M1 Pro and Max chips live up to all the marketing claims, but at this point, they appear to be a breakthrough in computing. And to recap, here's an interesting observation. The return of good old ports and physical buttons in place of the Touch Bar demonstrates that Apple appears to take user feedback seriously. The thumbs up for that.