If macOS says a process named ServiceRecords will damage your computer, this might be worse than a mere nuisance and should be interpreted as a call to action.
Update: September 2023
What does the "ServiceRecords will damage your computer" error mean?
Several years ago, the solution called Citrix Receiver seemed to be ahead of its time. It provided workspace virtualization functionality for enterprises, allowing them to cut the costs of buying and maintaining on-premises digital infrastructures. In other words, this is a great way to use a wide range of applications and services without actually installing them onto corporate endpoints. Personnel working remotely can also benefit from the same bells and whistles.
Now in 2021, the need for these features across the business spectrum is soaring. Not only has the pandemic forced numerous organizations to take the work-from-home route, but it has also had a significant economic footprint. Under the circumstances, the rebranded suite called the Citrix Workspace App, which inherits its forerunner's virtualization logic, is the silver bullet. Zooming back into the original subject, ServiceRecords is one of the processes running on a workstation when this toolkit is deployed within a corporate environment.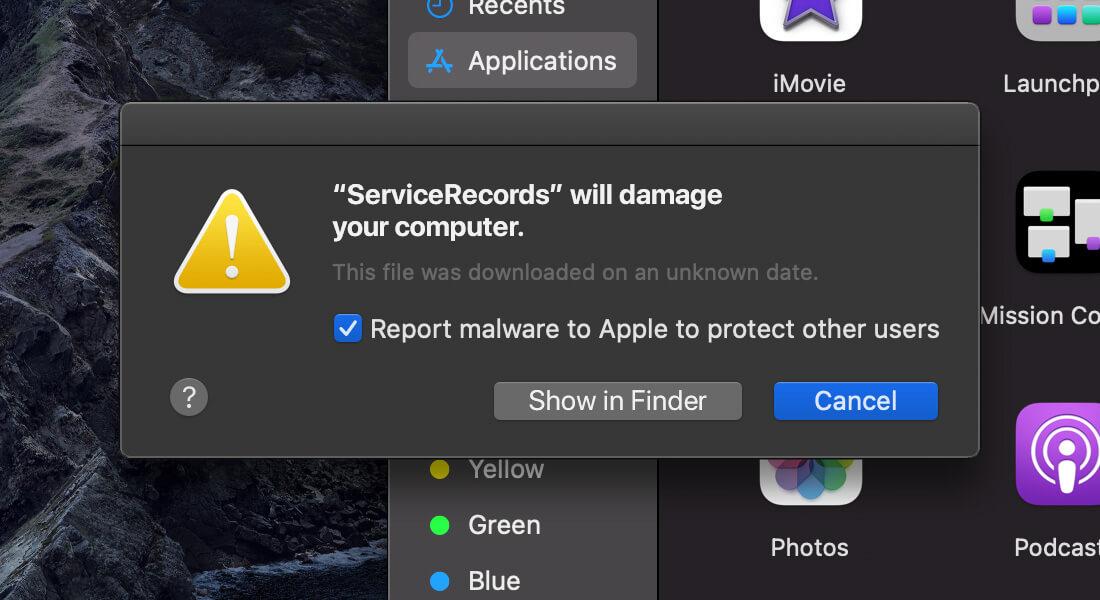 In an ideal world, customers can organize mini-ecosystems so that employees can seamlessly perform their day-to-day duties, and the companies' budgets aren't drained through hefty hardware expenses. However, there is a gotcha serious enough to ruin this awesomeness. More than a year ago, Mac users who ran Citrix software started getting super-annoying popup errors that said, "ServiceRecords will damage your computer". The process mentioned in these messages can be slightly different, namely "Service Records" or "ServiceRecords.app". Also, this activity is often accompanied by alerts that read, "ReceiverHelper will damage your computer" and "AuthManager_Mac will damage your computer", in which case the system reports several other components of the legitimate Citrix application as potentially harmful.
Special Offer
"ServiceRecords will damage your computer" alert malware may re-infect your Mac multiple times unless you delete all of its fragments, including hidden ones. Therefore, it is recommended to download Combo Cleaner and scan your system for these stubborn files. This way, you may reduce the cleanup time from hours to minutes. Download Now Learn how ComboCleaner works. If the utility spots malicious code, you will need to buy a license to get rid of it.
At first blush, flagging trusted code as malware seems nonsensical. Why does macOS do it then? There are several theories. This is most likely a code-signing issue on Citrix' end. To be able to run on a Mac, any application has to use a valid publisher certificate that proves its code hasn't been interfered with. If this requirement isn't met, the operating system's protection modules, such as XProtect and Gatekeeper, will automatically identify the inconsistency and treat the item as a threat.
A similar condition kicks in if a software maker who wants to distribute their product outside the official App Store neglects to submit it to Apple for analysis in advance. Even if a publisher diligently obeys this rule but their program doesn't pass all the security checks, it won't get a Notarization ticket and therefore cannot be executed on Macs. In each one of the above scenarios, the user will be constantly shelled by the "ServiceRecords will damage your computer" error notifications that cannot be thought of as false positives.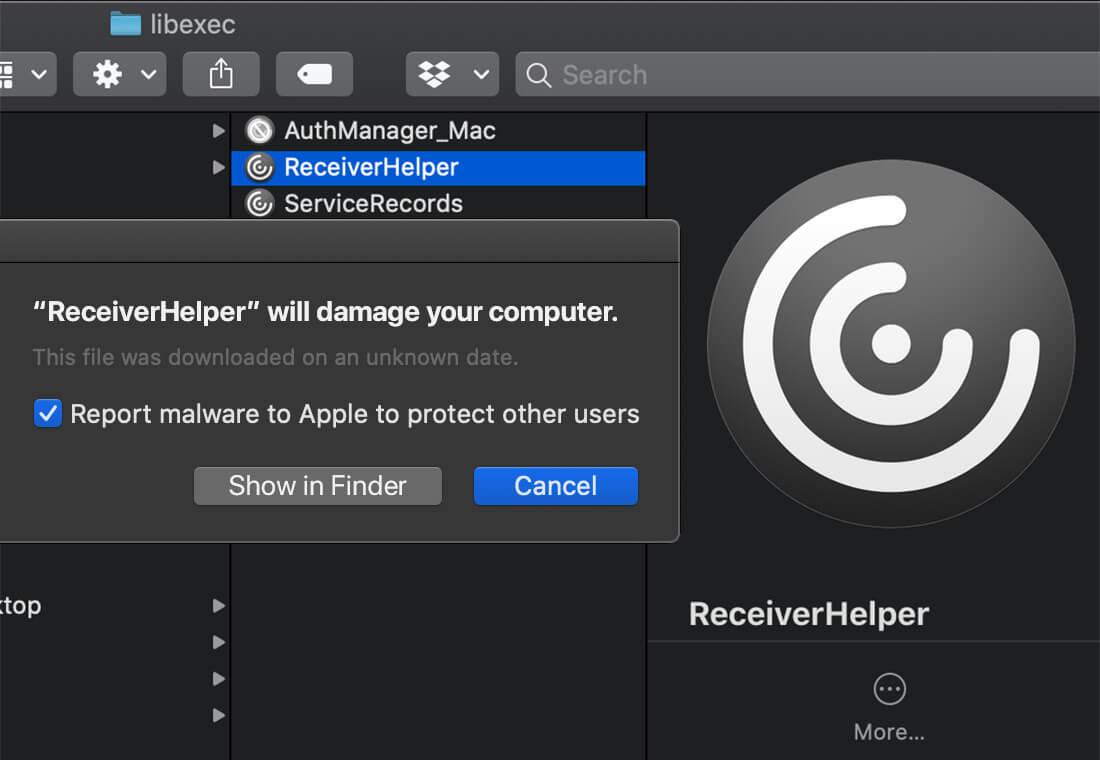 There is still no clear understanding in security circles at which stage of the workspace app deployment pipeline something went wrong. Citrix reportedly had its software signed by Symantec's Certificate Authority service, which has a shadowy reputation due to a series of security blunders. Perhaps that's the root cause. Anyway, the issue is making itself felt across a slew of installations, even if people are no longer using the program under scrutiny. One of the ways to fix the bug is to find and delete all the remaining files, including LaunchAgents, LaunchDaemons, and the associated objects in the Application Support folder. If the solution is still needed, it's recommended to install its latest version and see how it goes.
However, it's hard to imagine Apple's defensive mechanisms consistently detecting different elements of a reputable solution without a solid rationale for such a long time. This train of thought lifts another curtain that might cloak an entirely different facet of the problem. Hypothetically, malware portraying itself as the legitimate ServiceRecords process could get on macOS protection radar. Cybercriminals may also distribute trojanized variants of the software that appear to work as intended but raise red flags when inspected by Macs' built-in barriers for dangerous code. The odds of such a predicament aren't very high, and yet it's not entirely far-fetched.
Here are some extra insights from the security angle. When the "Show in Finder" button is clicked on the alert, this action reveals the location of the rowdy process in the system. It's a folder named "libexec". Unsurprisingly, those affected tend to associate their problem with this directory. Tech-savvy users would probably become skeptical about this fact, though, as they know it's a legitimate repository for macOS daemons and binaries. Moreover, it's part of a read-only filesystem and cannot be removed. How can it possibly be home to malicious entities then? It's most likely that a piece of Mac malware creates a namesake folder and drops its components into it. Therefore, when these errors are popping up, there is no harm in checking the computer for threats. The following instructions should help.
"ServiceRecords will damage your computer" virus manual removal for Mac
The steps listed below will walk you through the removal of this malicious application. Be sure to follow the instructions in the specified order.
Expand the Go menu in your Mac's Finder bar and select Utilities as shown below.

Locate the Activity Monitor icon on the Utilities screen and double-click on it.

In the Activity Monitor app, look for a process that appears suspicious. To narrow down your search, focus on unfamiliar resource-intensive entries on the list. Keep in mind that its name isn't necessarily related to the way the threat is manifesting itself, so you'll need to trust your own judgement. If you pinpoint the culprit, select it and click on the Stop icon in the upper left-hand corner of the screen.

When a follow-up dialog pops up asking if you are sure you want to quit the troublemaking process, select the Force Quit option.


Click on the Go menu icon in the Finder again and select Go to Folder. You can as well use the Command-Shift-G keyboard shortcut.


Type /Library/LaunchAgents in the folder search dialog and click on the Go button.


Examine the contents of the LaunchAgents folder for dubious-looking items. Be advised that the names of files spawned by malware may give no clear clues that they are malicious, so you should look for recently added entities that appear to deviate from the norm.

As an illustration, here are several examples of LaunchAgents related to mainstream Mac infections: com.pcv.hlpramc.plist, com.updater.mcy.plist, com.avickUpd.plist, and com.msp.agent.plist. If you spot files that don't belong on the list, go ahead and drag them to the Trash.

Use the Go to Folder lookup feature again to navigate to the folder named ~/Library/Application Support (note the tilde symbol prepended to the path).


When the Application Support directory is opened, identify recently generated suspicious folders in it and send them to the Trash. A quick tip is to look for items whose names have nothing to do with Apple products or apps you knowingly installed. A few examples of known-malicious folder names are UtilityParze, ProgressSite, and IdeaShared.

Enter ~/Library/LaunchAgents string (don't forget to include the tilde character) in the Go to Folder search area.


The system will display LaunchAgents residing in the current user's Home directory. Look for dodgy items related to ServiceRecords popup virus (see logic highlighted in subsections above) and drag the suspects to the Trash.

Type /Library/LaunchDaemons in the Go to Folder search field.


In the LaunchDaemons path, try to pinpoint the files the malware is using for persistence. Several examples of such items cropped by Mac infections are com.pplauncher.plist, com.startup.plist, and com.ExpertModuleSearchDaemon.plist. Delete the sketchy files immediately.


Click on the Go menu icon in your Mac's Finder and select Applications on the list.


Find the entry for an app that clearly doesn't belong there and move it to the Trash. If this action requires your admin password for confirmation, go ahead and enter it.

Expand the Apple menu and select System Preferences.

Proceed to Users & Groups and click on the Login Items tab.

The system will display the list of items launched when the computer is starting up. Locate the potentially unwanted app there and click on the "-" (minus) button.

Now select Profiles under System Preferences. Look for a malicious item in the left-hand sidebar. Several examples of configuration profiles created by Mac adware include TechSignalSearch, MainSearchPlatform, AdminPrefs, and Safari Settings. Select the offending entity and click on the minus sign at the bottom to eliminate it.


If your Mac has been infiltrated by adware, the infection will most likely continue to hold sway over your default web browser even after you remove the underlying application along with its components sprinkled around the system. Use the browser cleanup instructions below to address the remaining consequences of this attack.
Get rid of "ServiceRecords will damage your computer" virus in web browser on Mac
TTo begin with, the web browser settings taken over by the "ServiceRecords will damage your computer" virus should be restored to their default values. Although this will clear most of your customizations, web surfing history, and all temporary data stored by websites, the malicious interference should be terminated likewise. The overview of the steps for completing this procedure is as follows:
Remove "ServiceRecords will damage your computer" virus from Safari

Open the browser and go to Safari menu. Select Preferences in the drop-down list

Once the Preferences screen appears, click on the Advanced tab and enable the option saying "Show Develop menu in menu bar".

Now that the Develop entry has been added to the Safari menu, expand it and click on Empty Caches.

Now select History in the Safari menu and click on Clear History in the drop-down list.

Safari will display a dialog asking you to specify the period of time this action will apply to. Select all history to ensure a maximum effect. Click on the Clear History button to confirm and exit.

Go back to the Safari Preferences and hit the Privacy tab at the top. Find the option that says Manage Website Data and click on it.

The browser will display a follow-up screen listing the websites that have stored data about your Internet activities. This dialog additionally includes a brief description of what the removal does: you may be logged out of some services and encounter other changes of website behavior after the procedure. If you're okay with that, go ahead and click on the Remove All button.

Restart Safari

Remove "ServiceRecords will damage your computer" virus in Google Chrome

Open Chrome, click the Customize and control Google Chrome (⁝) icon in the top right-hand part of the window, and select Settings in the drop-down

When on the Settings pane, select Advanced
Scroll down to the Reset settings section.

Confirm the Chrome reset on a dialog that will pop up. When the procedure is completed, relaunch the browser and check it for malware activity.

Remove "ServiceRecords will damage your computer" malware from Mozilla Firefox

Open Firefox and go to Help – Troubleshooting Information (or type about:support in the URL bar and press Enter).

When on the Troubleshooting Information screen, click on the Refresh Firefox button.

Confirm the intended changes and restart Firefox.
Get rid of "ServiceRecords will damage your computer" error malware using Combo Cleaner removal tool
The Mac maintenance and security app called Combo Cleaner is a one-stop tool to detect and remove "ServiceRecords will damage your computer" popup virus. This technique has substantial benefits over manual cleanup, because the utility gets hourly virus definition updates and can accurately spot even the newest Mac infections.
Furthermore, the automatic solution will find the core files of the malware deep down the system structure, which might otherwise be a challenge to locate. Here's a walkthrough to sort out the "ServiceRecords will damage your computer" popup issue using Combo Cleaner:
Download Combo Cleaner installer. When done, double-click the combocleaner.dmg file and follow the prompts to install the tool onto your Mac.

By downloading any applications recommended on this website you agree to our Terms and Conditions and Privacy Policy. The free scanner checks whether your Mac is infected. To get rid of malware, you need to purchase the Premium version of Combo Cleaner.

Open the app from your Launchpad and let it run an update of the malware signature database to make sure it can identify the latest threats.
Click the Start Combo Scan button to check your Mac for malicious activity as well as performance issues.

Examine the scan results. If the report says "No Threats", then you are on the right track with the manual cleaning and can safely proceed to tidy up the web browser that may continue to act up due to the after-effects of the malware attack (see instructions above).

In case Combo Cleaner has detected malicious code, click the Remove Selected Items button and have the utility remove "ServiceRecords will damage your computer" popup threat along with any other viruses, PUPs (potentially unwanted programs), or junk files that don't belong on your Mac.

Once you have made doubly sure that the malicious app is uninstalled, the browser-level troubleshooting might still be on your to-do list. If your preferred browser is affected, resort to the previous section of this tutorial to revert to hassle-free web surfing.