Using Private Internet Access VPN is a sure-shot way to curb eavesdroppers, avoid geo-discrimination, and generally surf the web with peace of mind.
Let's face it: having a virtual private network (VPN) tool at hand isn't only a quirk of paranoid privacy geeks. With ubiquitous Internet surveillance, censorship, and commercial biases based on users' geographic location rapidly becoming the norm these days, a service like that is a sign of proper online hygiene that keeps snoops at bay. Pair that with the escalating threat of cybercrime-borne data theft through the likes of man-in-the-middle (MiTM) attacks, and a VPN turns into a must-have.
If at some point you have explored the VPN market to find your best bet, you have probably come across Private Internet Access. It's one of the big names in the industry, and for good reason. It boasts an overarching operating system coverage, an unparalleled server network consisting of 35,000+ servers in 77 countries, outstanding usability, and a rigid no-logs policy.
Another thing that sets this product aside from the competition is that one subscription covers up to 10 devices, a perk you aren't very likely to find elsewhere.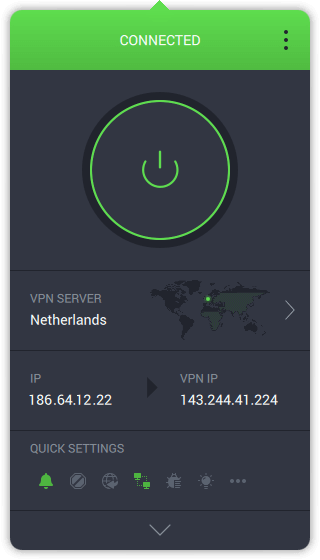 In this review, we will dive into the pros and cons of Private Internet Access VPN to give you the big picture. You will learn, among other things, how intuitive its controls are, how efficiently it secures your web traffic, and how fast your connections are.
Get Private Internet Access VPN
Technical Specs
Operating systems supported:
macOS 10.13 or later, including macOS Big Sur (64-bit only)
Windows 8.1 / 10 (both 32-bit and 64-bit)
Linux (64-bit versions of Ubuntu 18.04 or later, Mint 18 and newer, Arch, Debian)
Android 5.0 or later
iOS 11 or later
Compatible web browsers:
Google Chrome v48 or later
Mozilla Firefox v57 or later
Opera v52 or later
Device coverage:
Up to 10 devices with one subscription
Server network:
More than 35,000 servers in 77 countries
Private Internet Access – getting started
We decided to give Private Internet Access a shot on our lab MacBook Pro with 8 GB RAM under the hood. The installer weighs 63.2 MB and does its thing flawlessly. The whole process is a breeze that involves a minimum of user interaction.
The only extra thing is to authorize the addition of a new helper tool by entering your admin password. On a side note, this is your garden-variety request across the VPN spectrum.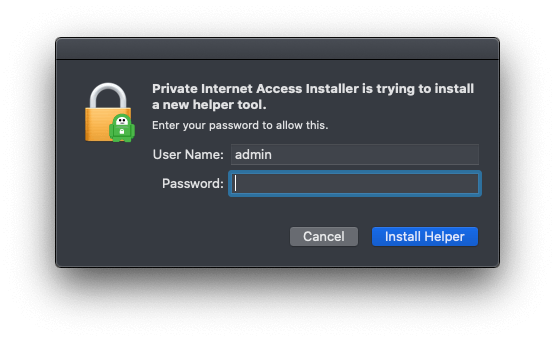 The setup workflow also includes a dialog where you need to allow or disable web push notifications on the desktop. We prefer keeping those things out of sight, so our choice was the "Don't Allow" button. You can change this setting at a later point if you want.
Then, the app launches a three-step quick tour providing basic usage tips. These screens let you choose between light and dark theme (we picked the latter); explain how to use movable tiles on the dashboard to help you focus on what matters the most; and emphasize that the product is cross-platform and, as previously mentioned, your subscription supports up to 10 different devices.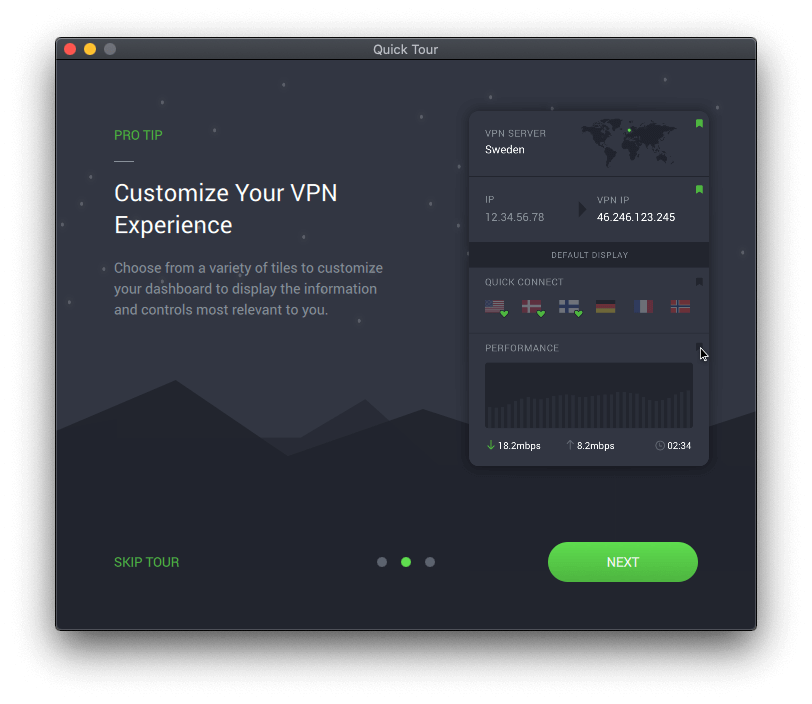 When the app is all set, you'll see a sign-in screen asking you to enter the username and password generated as part of your subscription. Speaking of which, the standard monthly plan is worth €9.29, the yearly counterpart costs €37.19, or you can get a two-year subscription for €65.00.
The latter option offers the best value for money because it includes two months free, and so the proportional monthly VPN expenses only amount to €2.50. No matter which one you pick, the purchase is backed by a 30-day money-back guarantee.
Also, the service supports multiple payment channels, including PayPal, Bitcoin, and mainstream types of gift cards. The fly in the ointment is that there is no free trial.
Controls and usability
When the macOS app is open, you'll notice its icon in the Finder toolbar for easy access. The default UI layout includes a large round-shaped connection switch, a VPN server selection area, and a quick settings section providing shortcuts to manage your desktop notifications, the proprietary anti-tracking feature called MACE, port forwarding, LAN preferences, debug logging, and the app theme.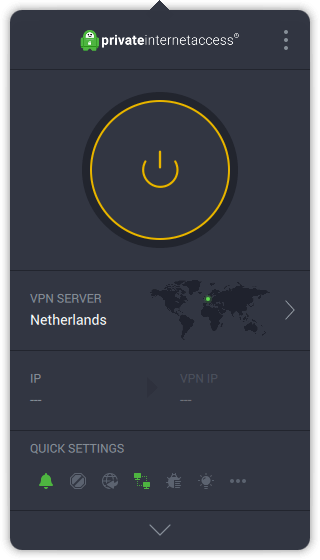 Clicking the three horizontal dots icon, or selecting "Settings" in the three vertical dots menu accessible from the upper right-hand corner of the interface, brings up the full settings screen. It provides an exhaustive range of controls that run the gamut from VPN kill switch, network preferences, and secure connection protocol management – to dedicated IP settings, automation rules, and account details.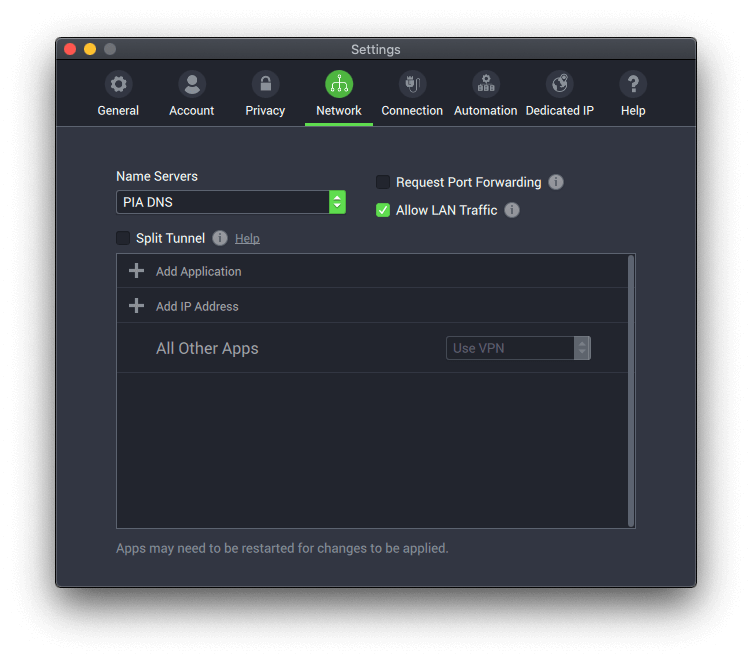 The clickable arrow at the bottom expands the default display to reflect your data usage statistics (the amount of traffic sent and received), VPN protocol in use, data encryption details, subscription info, quick connect functionality, and the VPN Snooze feature that pauses your secure connection and automatically reconnects after a specified period.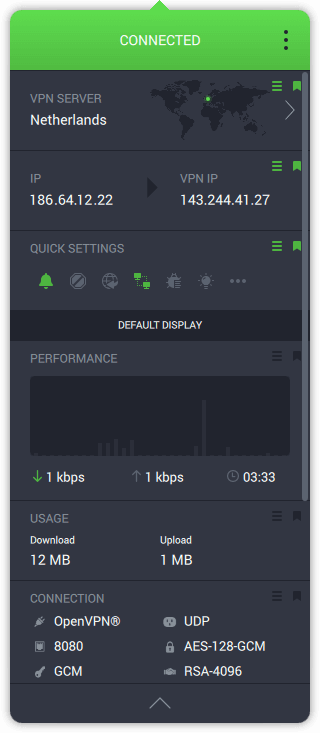 The awesome thing about the dashboard implementation logic is that you can drag its tiles up or down to adjust its look and feel to your preferences. Clicking the right-hand flag pictogram next to each section automatically adds it to the default display. Overall, Private Internet Access is amazingly user-friendly and flexible.
Private Internet Access – prominent features
Here is a summary of the app's features that we find the most enticing.
• OpenVPN and WireGuard protocols
You can switch between two popular secure communication protocols – OpenVPN and WireGuard. The former is preselected and allows you to specify the connection type (UDP or TCP), remote and local ports, the AES encryption algorithm version, and the proxy.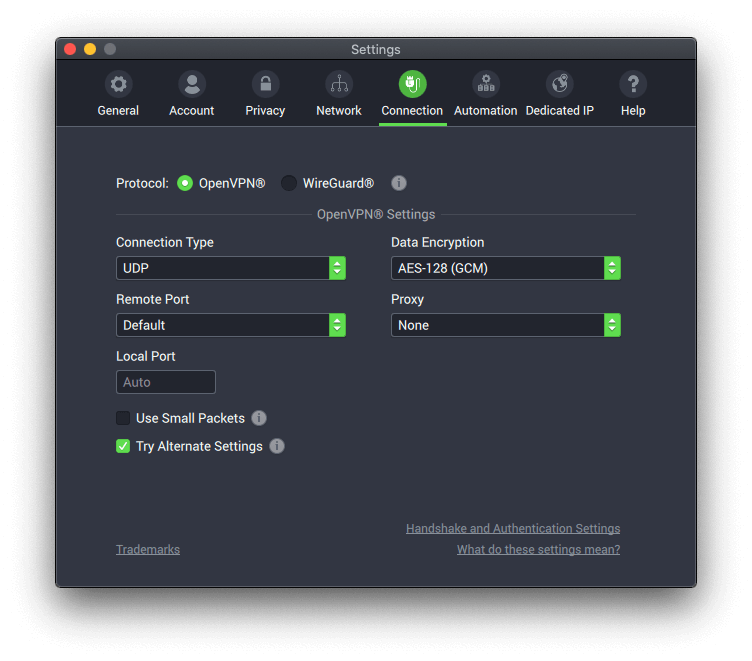 To use the alternative, head to Settings, click the Connections tab and select WireGuard. This is a relatively new, yet promising protocol in the VPN arena. You don't get nearly as many customizations as OpenVPN offers, though. All you can configure is the local port and connection timeout, plus there is an option to use small packets for greater stability on low-quality connections.
• VPN kill switch
If you are familiar with the basic VPN principles, then you probably know what a VPN kill switch is. It's a feature that automatically stops all traffic when an encrypted connection is unavailable. Private Internet Access takes it up a notch by providing an additional Auto mode. When enabled, it terminates outside traffic when the VPN is turned off.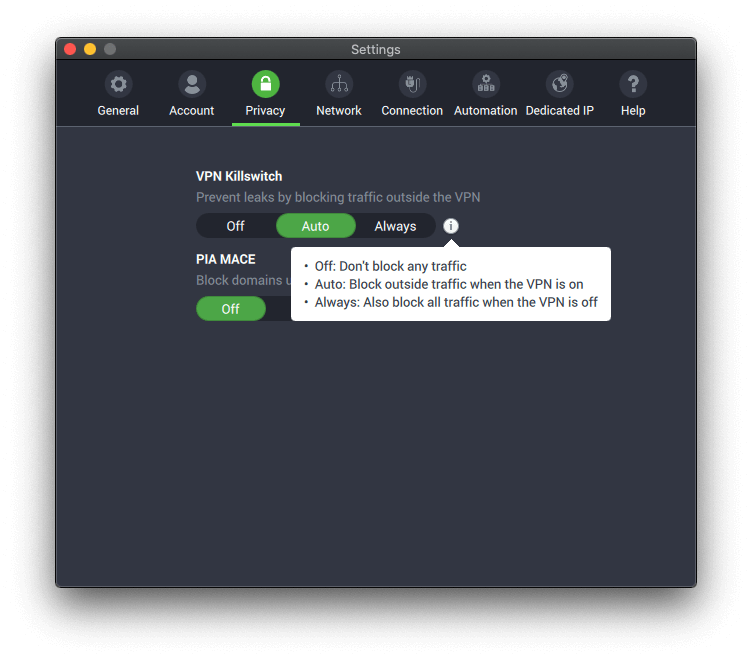 • PIA MACE
MACE is a unique technology developed by Private Internet Access to pull the plug on online trackers, ads, and malware attacks. It processes DNS requests in such a way that known malicious and advertising domains are blocked automatically.
• P2P support
The app allows you to enjoy using peer-to-peer networks such as torrenting sites with no strings attached. It ensures decent download speeds and, just as importantly, absolute privacy with its no-logs service.
• Bypassing geo-restrictions
Because Private Internet Access VPN hides your real IP address to make it look like you're browsing from another place, discrimination based on location is not something you need to worry about. This way, you can get better deals when shopping online and access content (streaming sites, video games, social networks, etc.) that's otherwise unavailable in your region.
• Dedicated IP
This is a fairly common option in the average VPN's toolkit, and predictably enough, the app under scrutiny has it as well. The idea is that you can purchase a personal IP in a specific country and won't be sharing it with anybody else throughout your subscription. This adds a rock-solid layer of privacy on top of the standard feature set.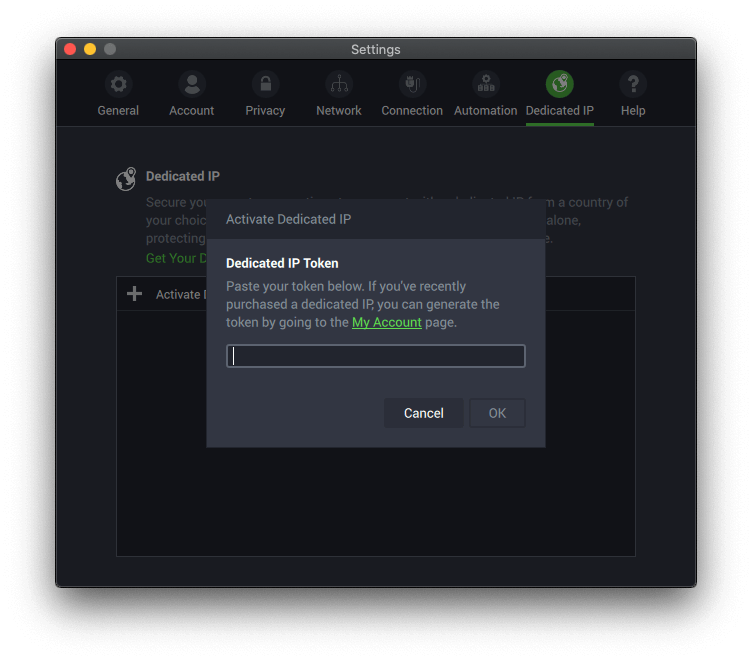 • Unlimited bandwidth
The tool doesn't throttle your VPN connection speeds no matter how much traffic you use. This is a major prerequisite for seamless video streaming and P2P file-sharing experience.
Any DNS leaks?
To vet the reliability of the product, we started by checking VPN connections for DNS leaks using a popular ad hoc online service. For those uninitiated, this condition occurs when certain DNS servers (usually those owned by ISPs) can establish ties between your IP address and the sites you visit. As illustrated below, we're in the clear as long as the VPN connection is on.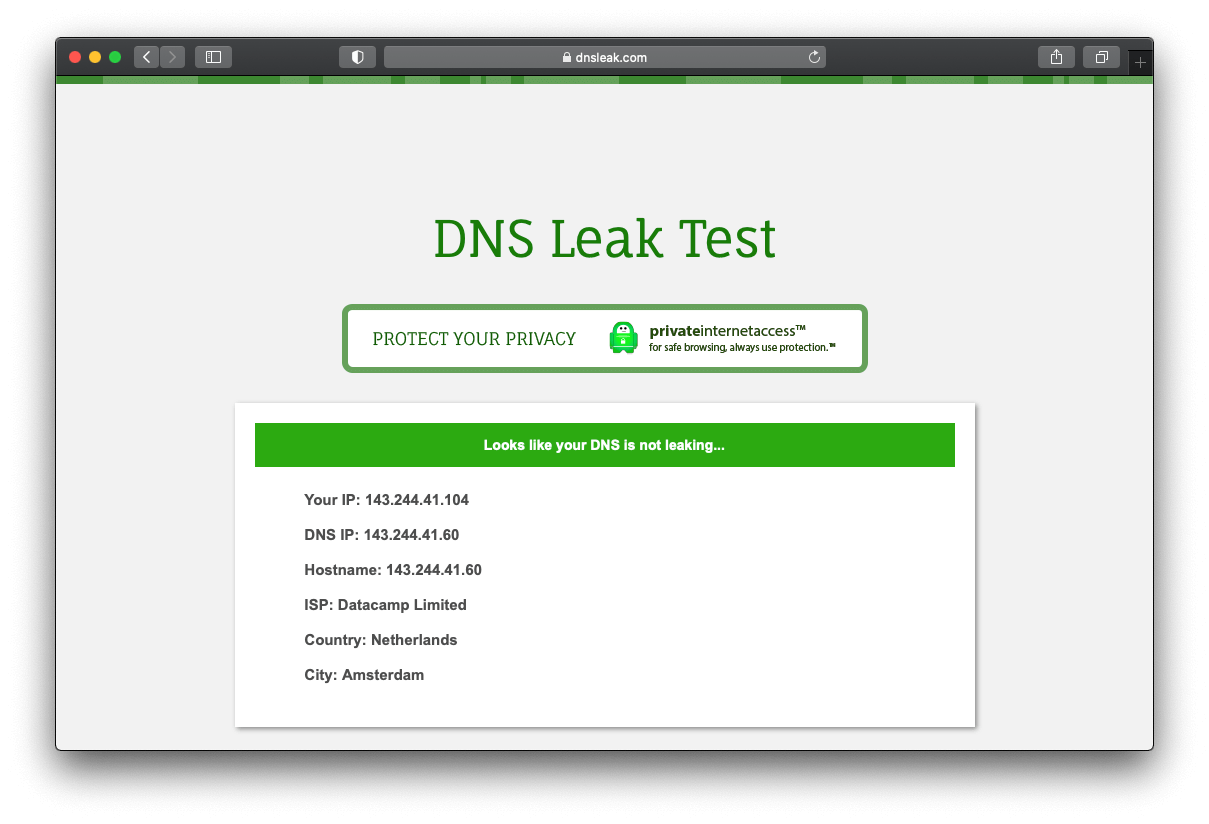 How fast are Private Internet Access connections?
Next, we put the app to the test in terms of connection speeds. To set a benchmark for comparison, here's our baseline download and upload speed, plus the ping time:

We ran a speed test when connected to a server in the Netherlands and got the following results:

Whilst the download speed was high enough in this case, the upload and ping parameters took a hit. However, that's not a critical decrease and might go unnoticed with the naked eye.
Things were also relatively okay when we set up a VPN connection via a server in the United States (see screenshot below). The ping was affected the most, reaching nearly 200 milliseconds.

A connection through a VPN server in Australia showed the worst numbers, and frankly, it's a pain to surf the web with such low speeds. See for yourself:

To recap, Private Internet Access VPN connections are fairly fast most of the time. As is the case with many counterparts, though, the speeds may take a major nosedive when you are connected to a server overseas.
Help & support
The vendor offers 24/7 customer support. The PIA Support Portal is easily accessible via the Help tab under Settings.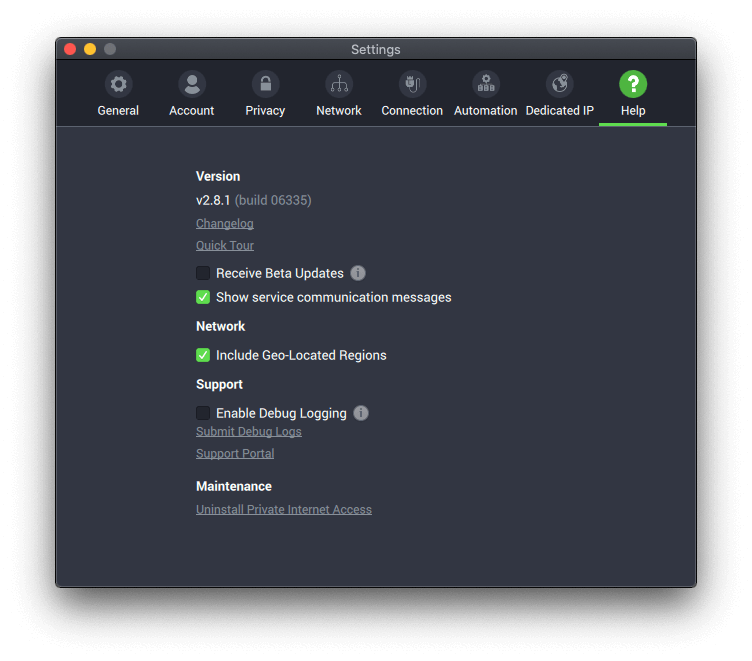 The available support options include knowledgebase, user tutorials, product news, and community forums. If you can't find information that addresses your issue, fill out the Contact Us form and await a response over email, or use the built-in chat widget to start a conversation with a support agent.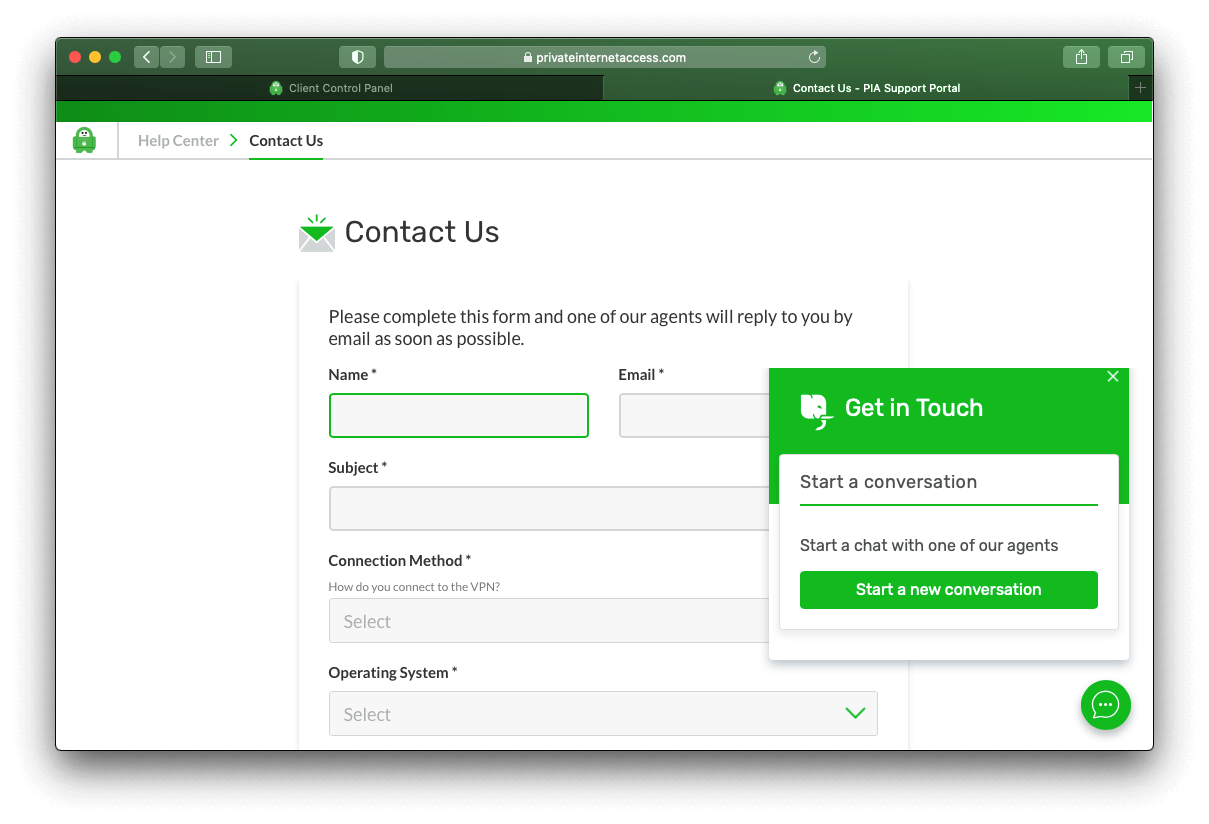 Private Internet Access - pros & cons
Pros:
Incredibly easy to use
Multi-platform
Huge server network
Up to 10 concurrent connections
Blocks ads, tracking, and malware
24/7 customer support
No logs
30-day money-back guarantee
Cons:
No free trial
Speeds via distant servers can be low
Buy Private Internet Access VPN
The Bottom Line
Few VPNs across the board measure up to Private Internet Access in terms of the server count, operating system support, and ease of use. Since we are kind of obsessed with security here, we find the MACE feature extremely useful, as it thwarts malware attacks and unwanted ads.
One of the things on the minus side of this product is that you can't check out its benefits for free. The speeds vary depending on the server, but they rarely go below the acceptable threshold. By and large, the advantages eclipse the shortcomings, and therefore you can't go wrong with Private Internet Access VPN if online privacy and security are your priorities.