Intego Mac Premium Bundle X9 is an incredibly effective toolkit to get your Mac experience covered from both security and performance angles.
Protecting a Mac against cyber threats is like an equation with a handful of constants and variables. An antivirus is a mere fraction of today's security logic and isn't enough to ensure stalwart defenses. Aside from malware, there are network threats that piggyback on unsecured ports and software vulnerabilities to quietly gain a foothold in systems. Phishing and other online scams are out there to try and trick you into slipping up, too. To top it off, threats are mutating and signature-based detection is no longer a cure-all.
One of the ways to stay in the clear is to go the extra mile installing several types of security solutions developed by different publishers. In this case, though, you run the risk of bumping into software conflicts that can badly impact your Mac's performance and ruin the user experience.
A more reasonable approach is to stick with one vendor so that the tools interoperate seamlessly. Mac Premium Bundle X9 from Intego seems like a surefire option. It combines antivirus, firewall, Internet security, parental controls, system optimization, and backup features – all tailor-made for the Mac.
What sets this package apart from many other suites across the spectrum is that Intego is focused entirely on creating security software and system utilities for the Apple ecosystem, and it has been committed to this route for more than 18 years.
We decided to put this toolkit to the test and figure out if it lives up to all the marketing claims. In this review, we will dive into its key features, efficiency, usability, and a few more things you should know if keeping your Mac safe and sound is your priority. Read more to learn our findings.
Get Mac Premium Bundle X9
Special offer: 50% off
Technical Specs
Operating System:
Runs on Mac OS X 10.9 Mavericks or later (including macOS 11.0 Big Sur)
Hardware:
At least 1.5 GB of free disk space
Internet connection for security updates
Languages:
English, French, German, Japanese, Spanish
Mac Premium Bundle X9 – Getting Started
Installing this package on your Mac is frictionless overall. The setup client walks you through all the steps in a user-friendly way, and the product is up and running in a little more than a minute.
There are several dialogs you'll see during the process. In addition to the software license agreement pop-up, we got a "Legacy System Extension" alert stating that a kernel extension signed by Intego will be "incompatible with a future version of macOS". Clicking OK appears to be an easy workaround, though. Once a message about successful installation appears, you'll be prompted to restart your computer.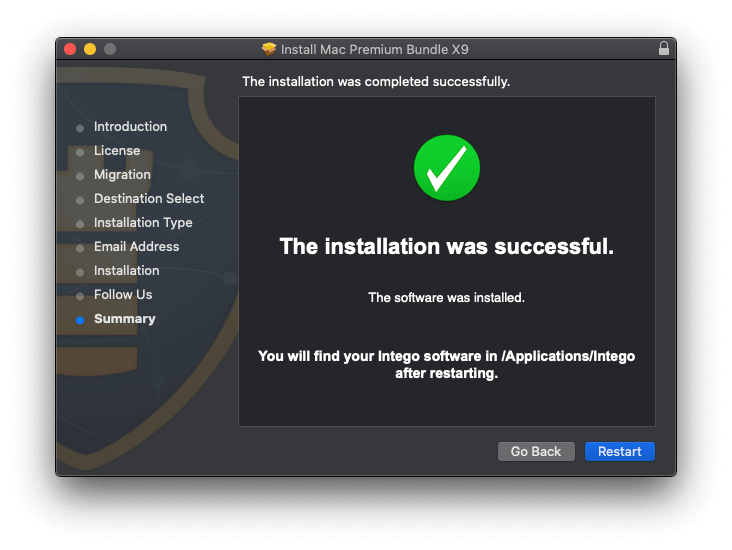 When your Mac boots back up, just open the Launchpad and select the Bundle X9 component you want to give a shot. We started with the malware protection module called VirusBarrier. After choosing the desired level of coverage (minimum, standard, or maximum), you'll see the following screen that explains what each element of the UI does.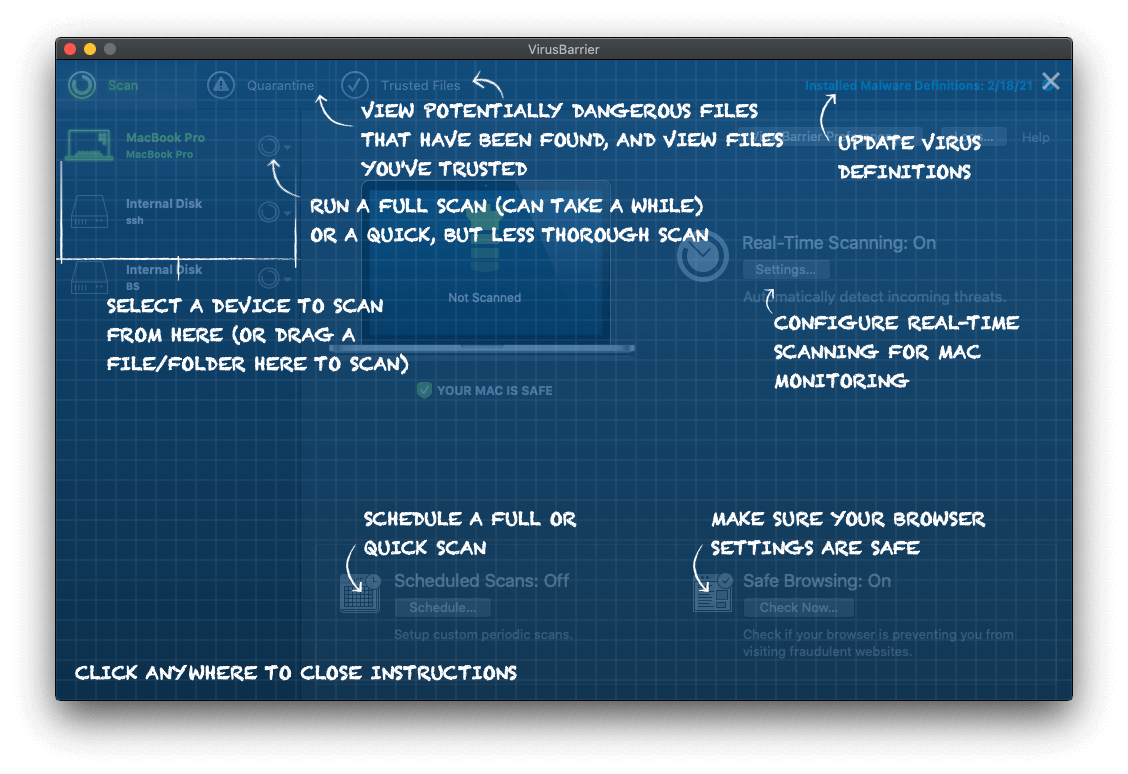 By the way, the same tips appear as you launch some of the other tools in the package for the first time. From where we stand, that's a good way to make complex things simple.
You'll also notice the Intego menu icon appear in the Finder bar. It is a shortcut to accessing all the tools and toggling some of their preferences in one place. If there is an update ready to be downloaded and installed, the NetUpdate entry in the list will let you know by displaying a red dot next to it.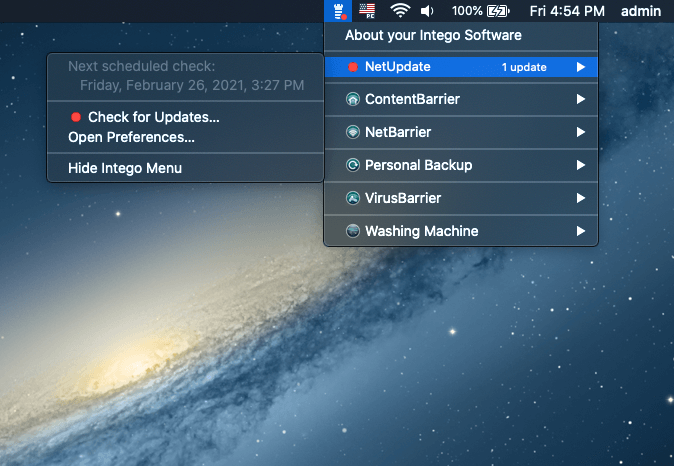 What about the subscription plans? First things first, you can opt for a free trial by simply entering your email address along with your first and last name on Intego's official website. In this case, you'll be able to use all the features without any restrictions and with no strings attached for 30 days.
There are two paid licensing options to choose from: €84.99 for one year, and €158.99 for two years of protection. Speaking of which, we at MacSecurity.net have some great news in store for our readers: you can get 50% off by clicking this link. Enjoy!
Unwrapping Intego Mac Premium Bundle X9
There are five distinct components under Mac Premium Bundle X9's umbrella. The backbone of this robust structure is formed by protection-focused tools, plus you get a Mac system utility as a bonus to keep your machine healthy in terms of performance. Here is a summary of all the elements in this multi-pronged suite's kit.
• VirusBarrier
This one is the stronghold of the bundle when it comes to security. Essentially, it is a fusion of a real-time virus scanner and an on-demand threat detection instrument.
Aside from being on the lookout for Mac and iOS malware, its default set-up is geared toward pinpointing malicious scripts, hacking tools, keyloggers, and – believe it or not – Windows perils. While the latter can't impact Macs, your machine might serve as a conduit for these nasties to plague PCs belonging to your family, friends, and co-workers.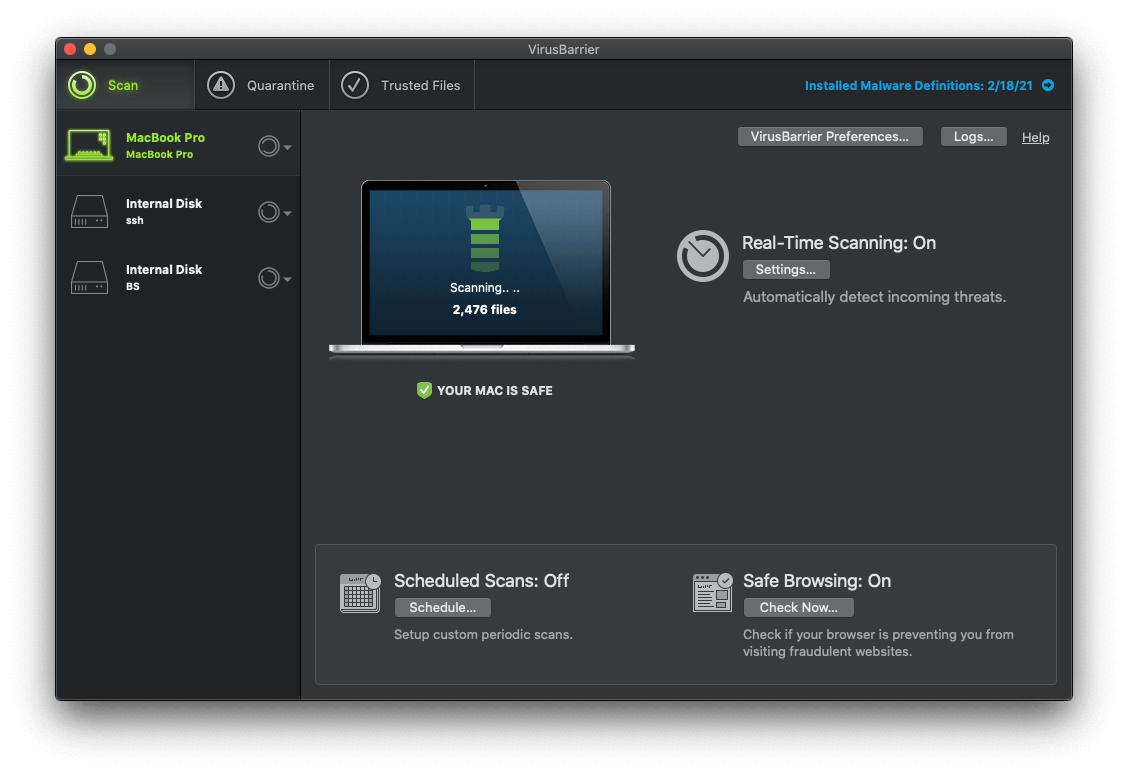 You get the classic choice between quick and full scan. Checking a disk volume or an external drive connected to the Mac is another option. All it takes is specifying the right data media in the sidebar and clicking the Scan button in the pull-down menu. Scheduling your scans is a breeze, too.
Whatever ends up on the tool's radar is moved to quarantine, an isolated environment that keeps the pest from doing its thing. To view or vanquish the items that were caught red-handed, click the Quarantine tab in VirusBarrier's upper toolbar. Another feature called Trusted Files is self-explanatory: it allows you to exclude know-safe files and folders from all the checks (both real-time and manual).
You can also manage the Safe Browsing feature from the same UI. To fine-tune its settings, click Check Now in the respective section at the bottom of the main dashboard and go over the fraudulent website blocking statuses for your web browsers. This functionality supports Safari, Google Chrome, and Mozilla Firefox.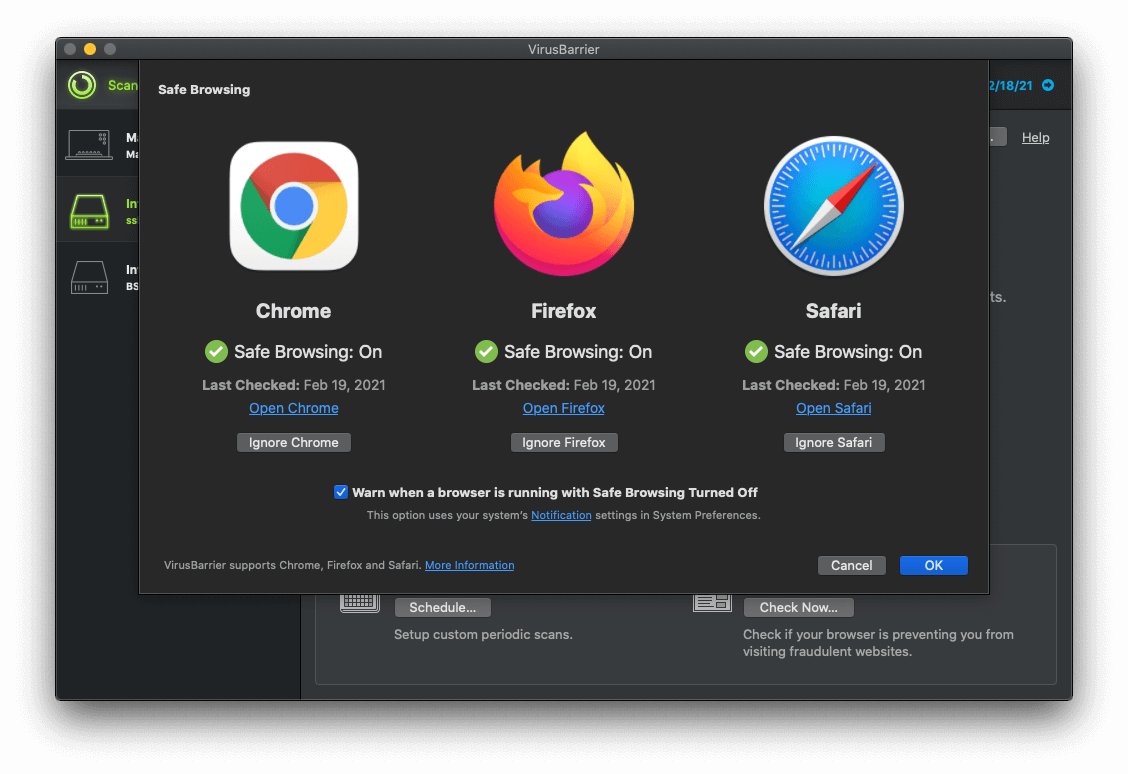 • NetBarrier
The purpose of NetBarrier is to safeguard your Mac at the network level. It keeps track of the incoming and outgoing Internet connections and gives you a heads-up when anomalous activity is identified.
By design, this is a firewall solution that prevents cyber-intruders from gaining unauthorized access to the Mac when it's connected to your home or work network, or when you are using a public hotspot. To get either scenario covered, you'll need to specify your current profile in the settings.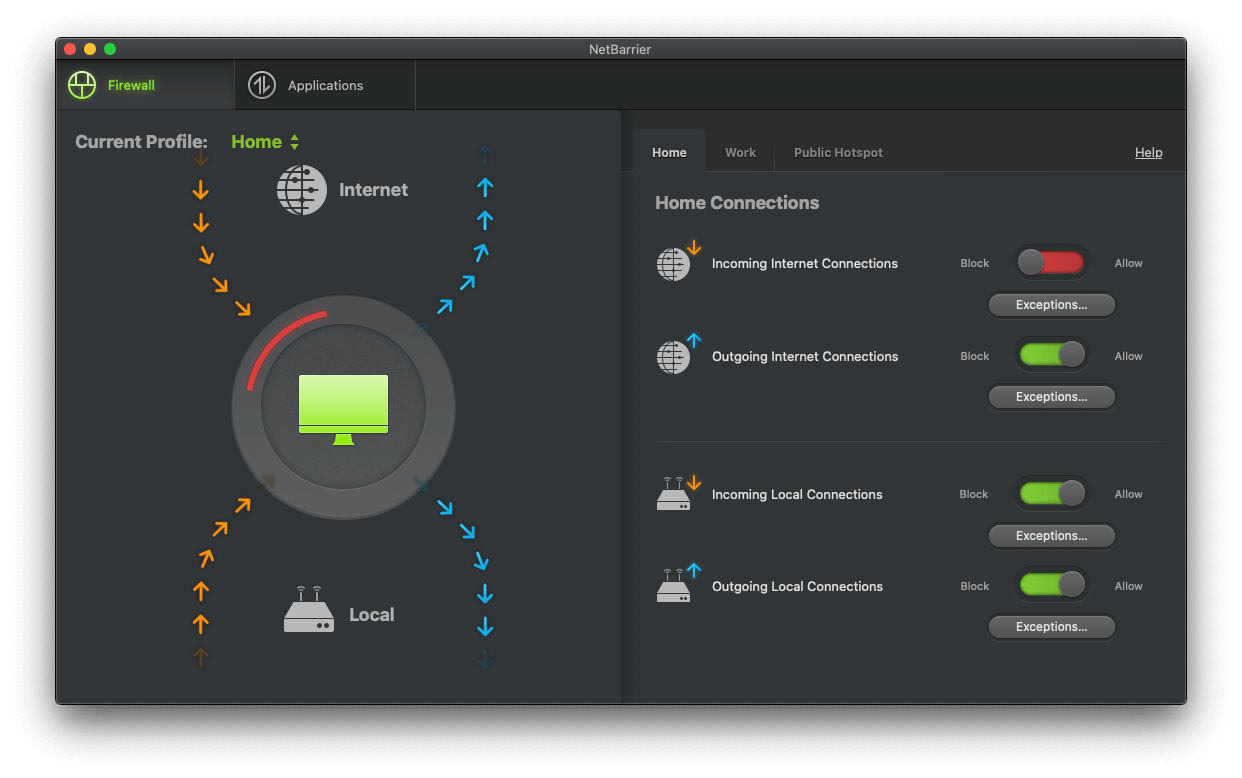 One more facet of the tool boils down to monitoring network activity of your applications. Whenever a third-party app or its component is trying to establish a connection with a remote server, NetBarrier will display a popup allowing you to green-light or block this attempt. It will also remember your choice and reflect it in the Application Rules section (see screenshot below).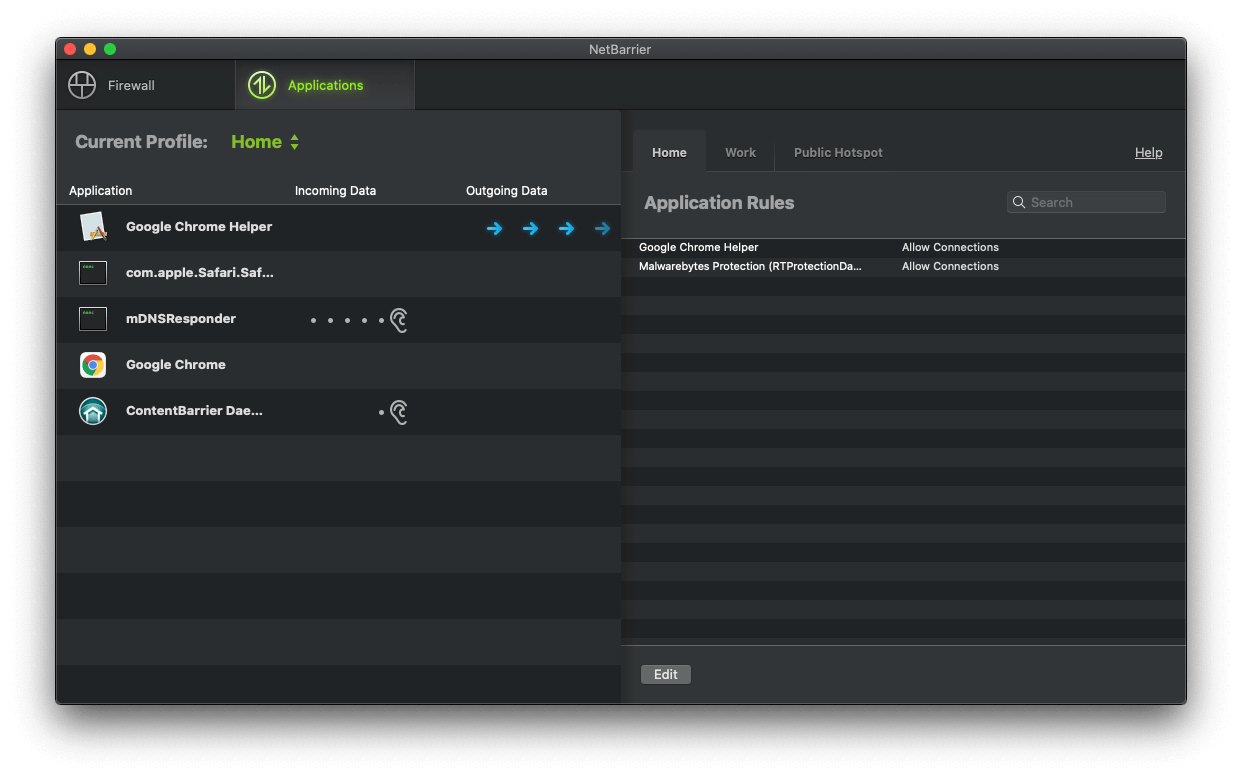 We really like the visual effects hard-coded into this module. They reflect complex stuff in an intuitive way so that even a Mac user with no more than basic technical background can easily understand the traffic flows.
• ContentBarrier
This is Intego's parental control tool that prevents your kids from getting on the hook of cyber predators. It allows you to limit and keep tabs on your little ones' online activities in several ways. For instance, you can configure ContentBarrier to block chat messages containing dubious phrases, restrict the use of applications that connect to the Internet, schedule periods for network access, and set the range of allowed websites.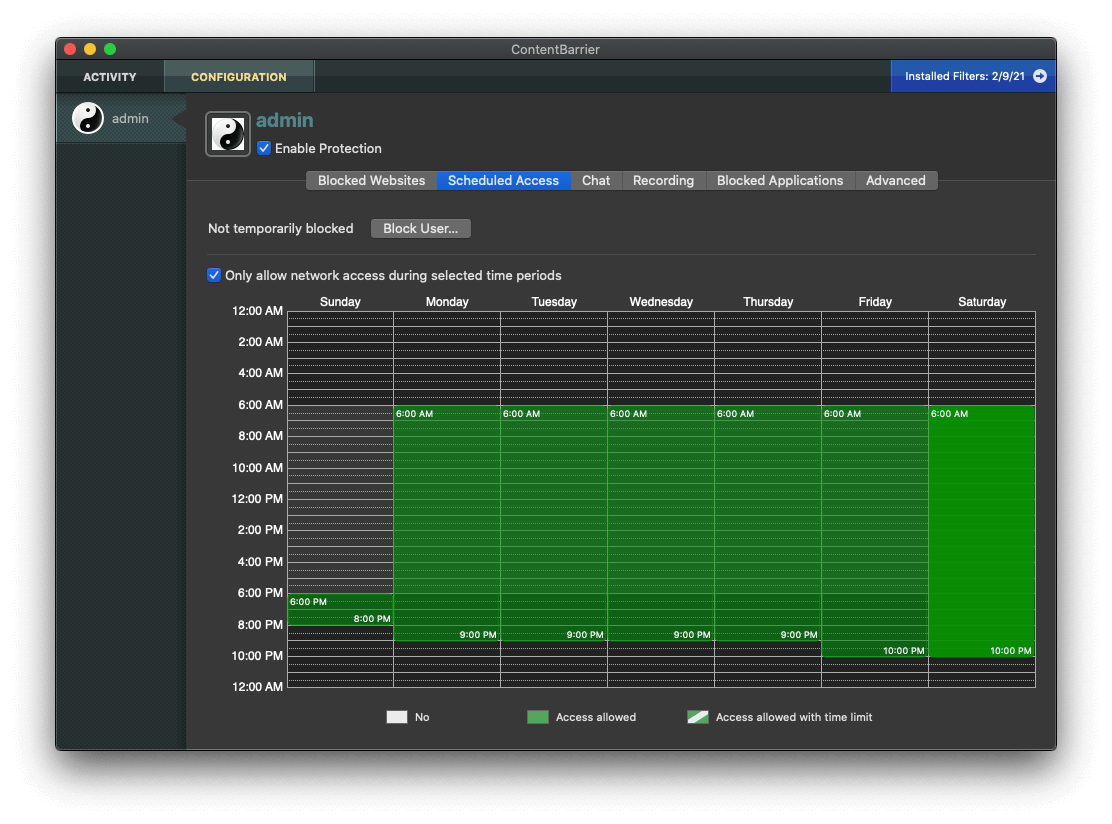 If you are a little more paranoid about what your children are doing when you aren't nearby, you can configure ContentBarrier to take snapshots of the screen or record keystrokes with certain time intervals. Advanced things like pulling the plug on P2P file transfers, blocking game servers, or keeping audio and video content from playing are available as well.
• Washing Machine
Not really fitting the protection context, Washing Machine is a system optimizer that won't go amiss if you want to keep your Mac running smooth. It bridges the performance gap by tidying up several areas of your system. Freeing up disk space is one of these nifty features. The tool looks for unneeded caches, downloads, logs, and languages while letting you empty the Trash in one go.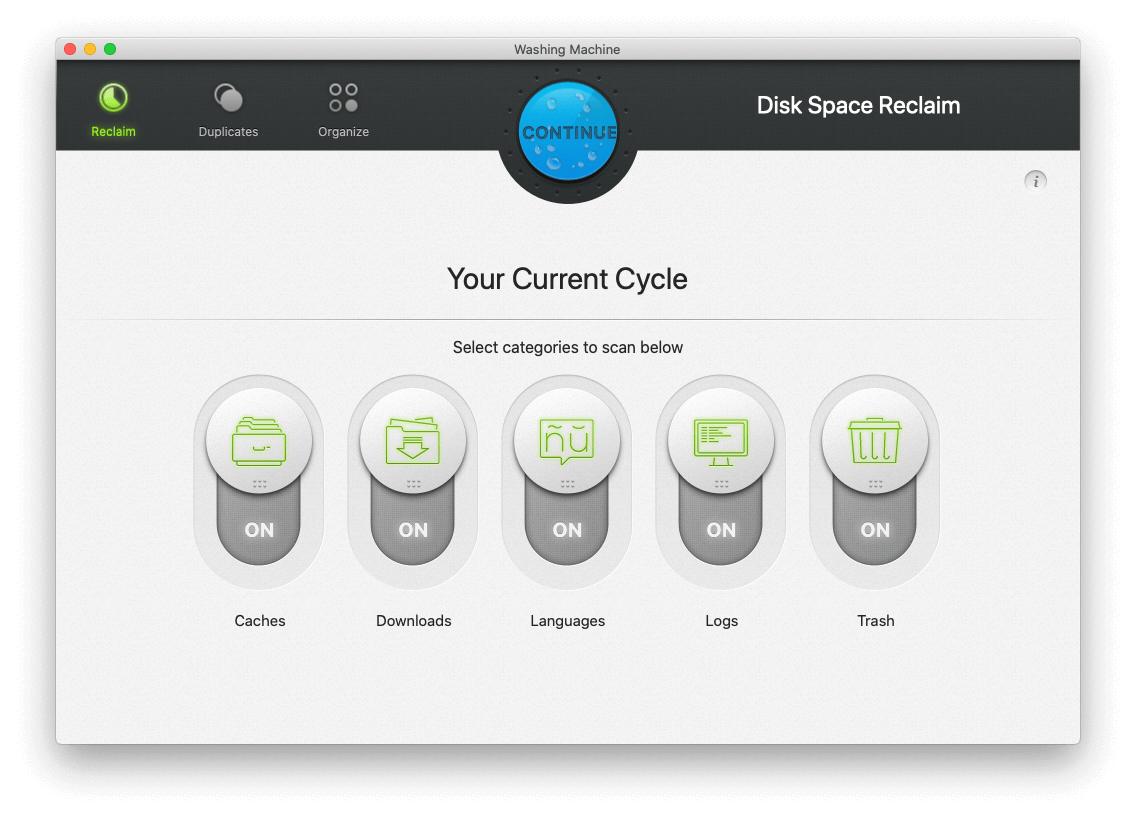 The Washing Machine found nearly 300 MB of junk on our lab MacBook Pro. Be advised that you'll be prompted to grant full disk access to the tool so that the scan can traverse all folders for garbage. You can do it by going to Security & Privacy under System Preferences.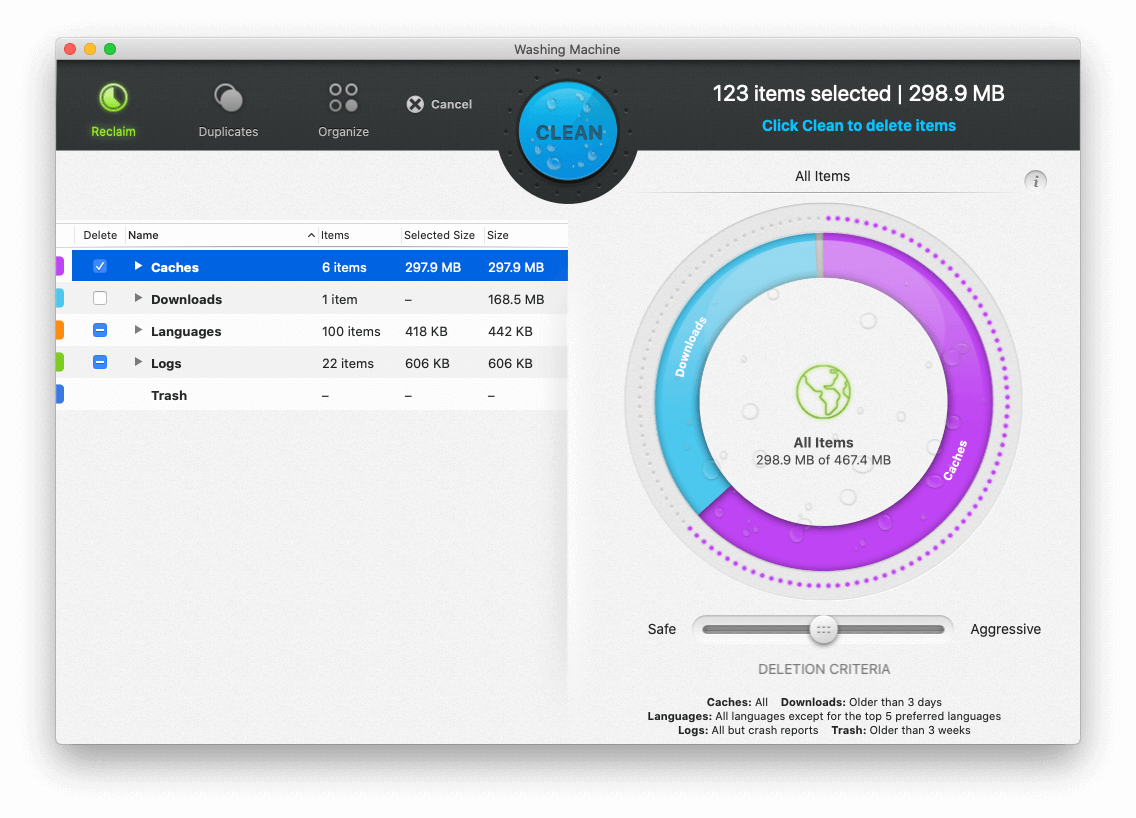 Another way to make the most of your storage media is to spot and purge duplicate items that may occupy a ton of space. The utility does that in a snap, too. By default, it scans for the following categories of redundant data: folders, documents, images, videos, audio content, and archives.
There is also a feature at hand that helps rearrange items on your desktop, in the Dock, and in Smart Folders to keep unwanted stuff out of sight and give your user experience a boost. Once it assesses these areas, you can drag items back and forth within the interface or simply click the Tidy button to let the app do the tedious work for you. This is remarkable functionality overall. The only drawback we noticed is that unlike the other components of Mac Premium Bundle X9, the Washing Machine doesn't support macOS dark mode.
• Personal Backup
Several past outbreaks of Mac ransomware became a wake-up call, and this nasty phenomenon could become the new black in the threat landscape. Because such infections lead to data encryption, you might want to have a plan B that will reinstate files in such a scenario. Furthermore, storage devices such as HDDs and SSDs aren't perfect and may break down when you are least prepared for it. The Personal Backup tool is there to fill the void.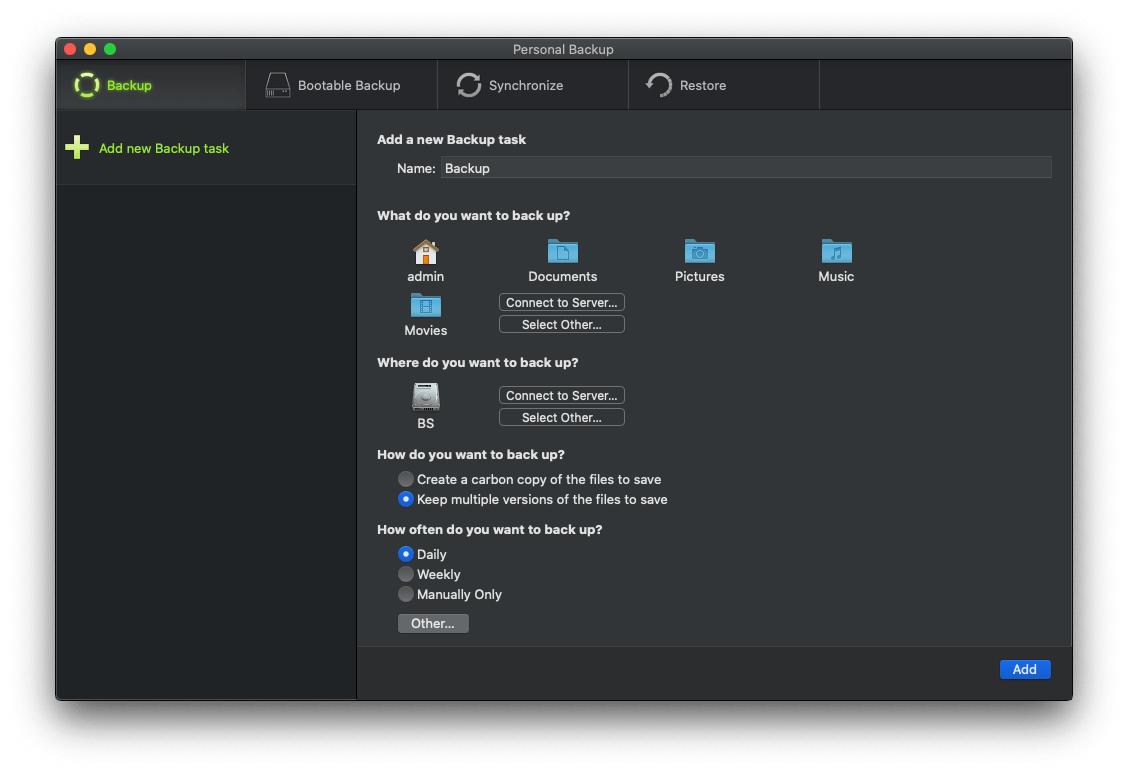 You can use it to add extensively customizable backup tasks, create a bootable backup, synchronize different folders, and restore the secured data at any point. It's also good to know that this routine can be automated and run on a daily or weekly basis.
Efficiency
VirusBarrier, the protection module built into Mac Premium Bundle X9, detected and quarantined all adware samples from some of the prevalent families we tried to run on our MacBook Pro as part of the test. These include VSearch, Bundlore, and Pirrit. No false positives were encountered during the review.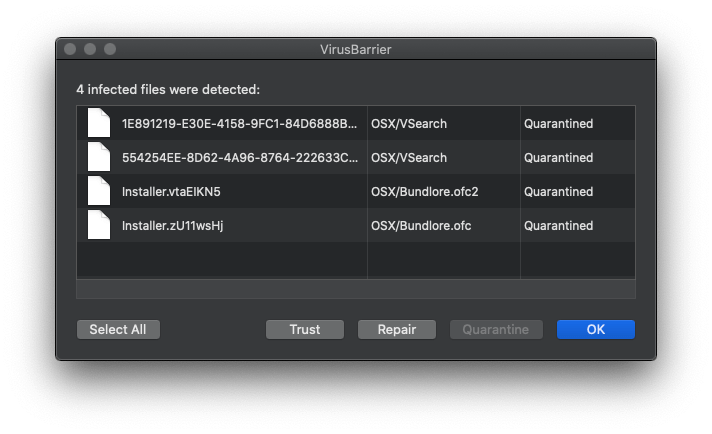 The NetBarrier component, in turn, was triggering an alert whenever an app or process was trying to establish a network connection. In these dialogs, you can specify whether or not the entity is allowed to reach out to a remote site.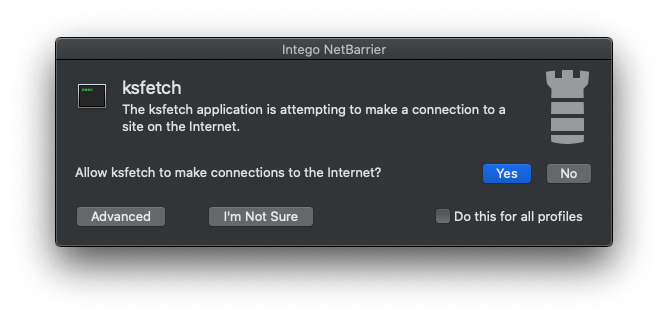 The other tools in the bundle were also doing their job properly throughout the test. By and large, the kit passed all the checks with flying colors and fully met our expectations.
Help & Support
The easiest way to get assistance when using a specific product from the package is to click Help in the Finder area and select the appropriate entry in the drop-down list. This brings you to a comprehensive user manual that explains every usage scenario in detail.

Additionally, the manual provides a link leading to the knowledge base that includes, among other things, the FAQ and a page that interprets all the alerts the app may display down the line. You can also submit a request by describing your issue and filling out a few more fields.
+/- (Pros / Cons)
Pros:
The vendor's immaculate track record
Delivers all-embracing protection plus system cleanup from junk
Easy to use despite the technical sophistication
Outstanding Mac malware detection
Pinpoints Windows malware as well
Reliable parental controls (ContentBarrier)
30-day trial
Cons:
Washing Machine lacks macOS dark mode support
No browser extensions for extra Internet security
Paid plans are somewhat pricey
Get Mac Premium Bundle X9
Special offer: 50% off
The Bottom Line
Intego Mac Premium Bundle X9 is a one-of-a-kind fusion of security and system optimization features you aren't likely to find elsewhere. With all the power under its hood, it doesn't cause a noticeable performance hit and all components coexist smoothly inside your Mac. All in all, the package will help you emerge unscathed from any malware plight while keeping your machine's productivity at its peak.
On a side note, whereas the bundle boasts a competitive coverage of protection and performance enhancement features, it never hurts to take it up a notch. There is an extra perk from Intego you might want to give a go. They are also offering a paid Premium VPN service for Mac you can add to your subscription if you so desire. This is a decent way to step up your privacy when online and access geo-restricted content.