Read this hands-on summary of the random Mac rebooting problem and learn the DIY troubleshooting options that will address the drag.
No matter how reliable Macs are by design, these are electronic devices, and as such, they are neither foolproof nor immaculate in terms of software implementation and hardware functionality. If something goes wrong, users may run into minor glitches and slowdown nuisances that make them frown. However, there are more serious predicaments that turn hassle-free user experience into a misnomer. Alerts that say, "Your computer was restarted because of a problem" exemplify the latter – not because they just splash up and interrupt normal Mac use, but because they are a generic symptom of a high-impact issue that is unlikely to sort itself out without efforts on your end.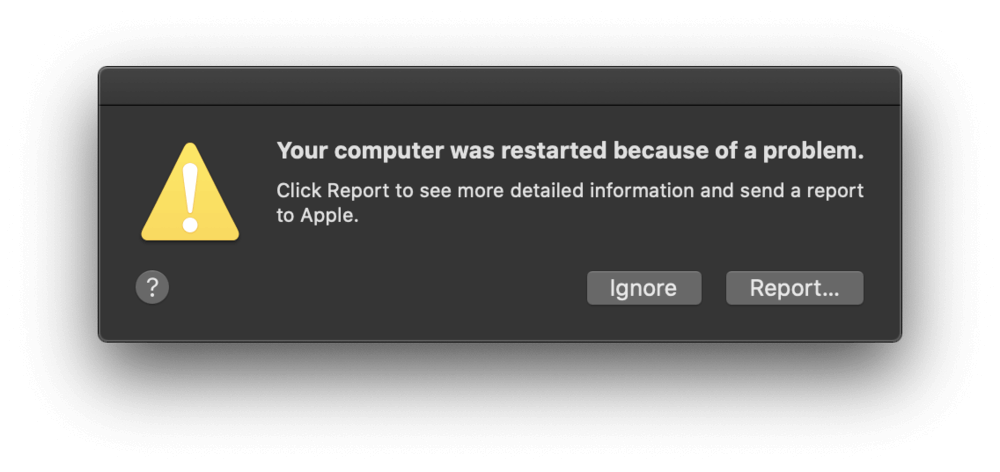 What causes your Mac to be restarted on its own?
Although at first sight the answer seems prosaic as it boils down to either a software or a hardware bug, finding clues to accurately pinpoint the root cause is easier said than done. Sometimes the glitch kicks in after you replace your hard disk or install extra memory in a machine that supports upgrades like that. There is also a theory that some T2 co-processor models built into newer Macs are to blame. In addition to these, here is a rundown on the other common factors that set "Your computer was restarted because of a problem" glitch in motion.
Buggy macOS updates. In many cases, the reboot issue overlaps with a macOS update. Software engineers at Apple may slip up, especially if they have to prep emergency patches addressing some severe zero-day macOS vulnerabilities in quick succession. If an update includes crude code, your Mac may start giving you a hard time.
USB-C ports don't work as intended. This is another frequently reported flaw that accompanies the Mac restarting dilemma. Most of the time, the issue makes itself felt when you connect an external monitor or another peripheral device via one of these ports.
Peripheral devices are the usual suspects, too. The things you plug into your Mac could let you down if misconfigured. Out-of-date drivers often lead to hardware or software conflicts, pulling your machine into a reboot loop.
Faulty logic board. This is the worst-case scenario because you can't possibly address the problem without a tech professional's assistance. In other words, the motherboard probably needs to be replaced, and lucky you if the warranty is still valid so you won't be charged for this.
Whereas the whys and wherefores can be kind of blurred in this context, there is a common denominator across all these scenarios: kernel panic. This condition occurs when macOS detects a critical error it can't recover from. In response, the system may restart in an attempt to get back on track. It's noteworthy that such a quagmire often happens in sleep mode, with users discovering "Your computer was restarted because of a problem" pop-up when they wake their Macs.
Importantly, a good idea is to click the "Report" button on the alert – this could give you some insights into what's calling forth the kernel panic so that you can take a shortcut with your troubleshooting efforts. All in all, this is a multi-pronged issue that requires your scrutiny and a good deal of experimenting to spot the faulty hardware or system component. The following tips will help you emerge from the plight unscathed.
How to stop your Mac from being randomly rebooted?
There is no such thing as a one-size-fits-all answer regarding the root cause for "Your computer was restarted because of a problem" alerts and the recurrent Mac restart instances preceding them. The silver lining is that there are several common malfunctions you may need to fix. Go over the checklist below to try and address the quandary.
Method 1: Apply the latest macOS update (if available)
Head to System Preferences and select Software Update as illustrated below.

Check whether a macOS update is waiting to be applied. If the screen says, "An update is available for your Mac", click Install Now and wait for the tweaks to take effect.

Because the reboot issue often occurs after a system update (especially a major one), chances are that Apple has rolled out a supplemental update that takes care of the bug.
Method 2: Check your hard disk for errors
Click the Go button in the Finder toolbar and select Utilities in the drop-down list.

Double-click Disk Utility.

Select your primary disk volume (the one macOS is running from) in the sidebar and click the First Aid button at the top of the Disk Utility screen. Then, click Run in the dialog.

The tool will scan your HDD/SSD for errors and repair them if found. Just follow further prompts to complete the procedure. Consider also checking your other volumes according to the same logic.
Method 3: Release disk space
Click the Apple menu icon and select About This Mac.

Click the Storage tab and check how much free disk space you have.

Even if there is enough free storage, consider clicking the Manage button next to the primary disk volume. Doing so will open the following screen.

Examine the storage optimization tips and click through data categories in the sidebar to free up space and purge all the clutter.
Method 4: Get rid of unneeded Login Items
Go to System Preferences and select Users & Groups.

Click the padlock icon at the bottom left and enter your admin password to enable changes. Then, hit the Login Items tab.

Select redundant apps (the ones you don't want to automatically run at startup) and click the minus sign at the bottom to remove them from the list.
Method 5: Check third-party hardware
Some Mac models have removable memory and therefore allow for RAM upgrades. If you own one of these machines and have recently replaced the original memory chip, make sure the new one is installed correctly.
Also, check Apple Support resources for specifications regarding maximum memory you can insert into your upgradeable Mac. If you deviate from the official recommendations, your computer may act up by freezing and rebooting.
If you have replaced your hard disk, double-check if it is properly installed.
Method 6: Check your peripheral devices
Sometimes your peripherals – such as the mouse, keyboard, external monitor, printer, or speakers – can cause problems due to buggy drivers that lead to hardware conflicts. Therefore, you may want to probe them for issues.
Disconnect these devices one by one and check whether the rebooting issue persists. If you identify the culprit, replace it without a second thought.
Method 7: Reinstall macOS as a last resort
If none of the above helps, there is one more thing you can try: reinstall the operating from scratch. Be sure to back up your Mac using Time Machine before you proceed.
Restart your Mac. Once it's starting back up, press and hold Command (⌘) + R to boot into Recovery mode. Release the keys as soon as the macOS Utilities screen appears.
Select the Reinstall macOS option and click Continue.

Follow on-screen prompts to start fresh with the operating system.
Bottom line
In most cases, the above tips help eliminate the catalyst for "Your computer was restarted because of a problem" alerts and incredibly annoying Mac reboots. Keep in mind that the reasons vary, so you'll have to go through trial and error to address the nuisance. If these techniques don't do the trick, though, you'll need to have your machine tested and fixed by a certified technician.