With macOS 11 Big Sur official release being likely around the corner, let's go over the list of supported Macs and its game-changing security features.
The macOS 11 Big Sur operating system created a lot of ripples in the Apple world immediately after being announced at the latest WWDC event held in June. This is arguably the most tangible overhaul of macOS look and feel in recent years. It features, among other things, a redesigned Dock, an all-new Notification Center, a more streamlined Maps app, improved messaging experience, significant changes in Safari, unified icon appearance, and window curvature that feels so different. The more intelligent Siri and faster software updates that run in the background are a few more things on the plus side of the much-anticipated 11th iteration of the operating system.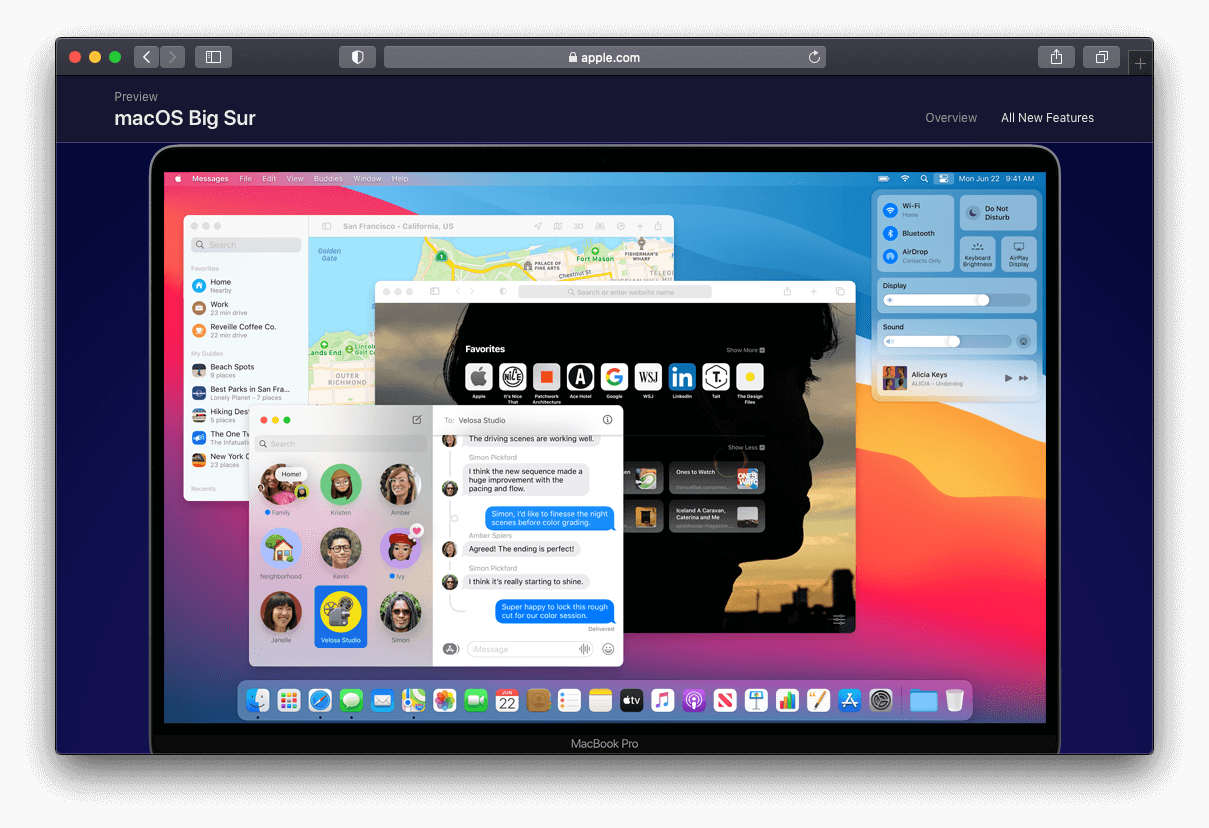 When will macOS Big Sur be released?
As groundbreaking as it appears, macOS Big Sur has caused a good deal of controversy. The wait for the official release has been painful for Mac fans. The whole process has gone through a rabbit hole of 10 betas, and the public roll-out isn't yet the case at the time of this publication.
Here are some facts to consider: the current version of the operating system, macOS 10.15 Catalina, went live on October 7 last year, and macOS 10.14 Mojave was officially launched on September 24, 2018. Unlike the predecessors, macOS Big Sur is still on hold as of November 9, 2020.
The silver lining is that things are rumored to change very soon – possibly as soon as Tuesday, November 10. Apple has scheduled a big event that's reportedly dedicated to the presentation of the tech giant's brand-new computer powered by its proprietary processor known as Apple Silicon.
The invites sent to the media include a somewhat ambiguous phrase that goes, "One more thing". Is this about the official launch of macOS Big Sur? That's within the realms of possibility. Anyway, it's hard to think of a better time to finally green-light the release and let Mac users check out all the bells and whistles.
Is my Mac compatible with macOS Big Sur?
The official list of Mac machines compatible with macOS Big Sur is as follows:
MacPro 2013 and newer;
MacBook 2015 and newer;
MacBook Pro late 2013 and newer;
MacBook Air 2013 and newer;
Mac Mini 2014 and newer;
iMac 2014 and newer;
iMac Pro 2017 and newer.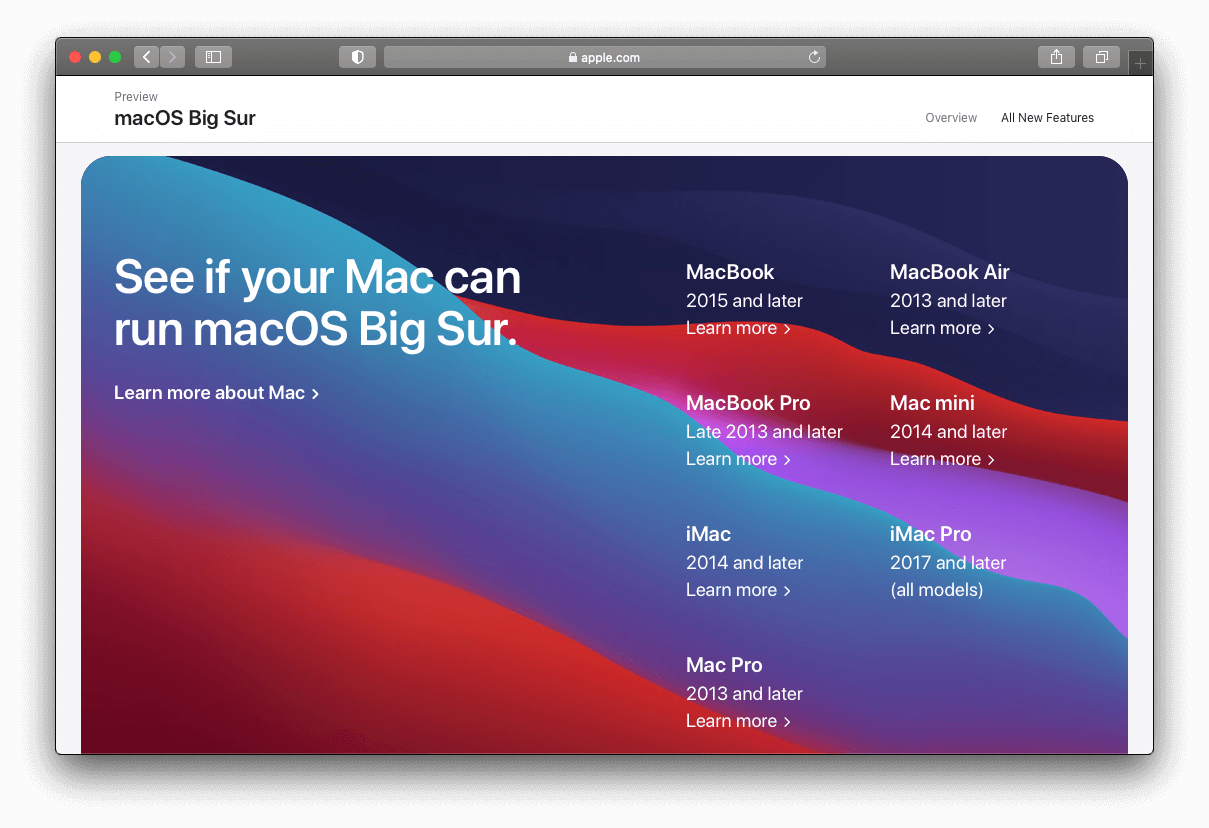 If you own one of these models, just wait for an update notification in System Preferences – once it appears, follow on-screen prompts to take your Mac experience to the next level. Keep in mind that the initial release process could be a bumpy road, so be sure to back up your Mac with Time Machine before proceeding.
Unfortunately, those who are using Macs released in 2012 and earlier won't get the chance to enjoy all the perks of macOS Big Sur. This also goes for machines that natively support macOS Catalina, including MacBook Pro 2012 and MacBook Air 2012 models. These devices can reportedly run Big Sur fairly smoothly in terms of performance, but there are Wi-Fi issues and a few more problems.
Although technically, you can install the new macOS version on these 2012 devices without Apple's seal of approval, you will have to apply a series of patches manually to get wireless connectivity and other things working. Another downside is that you won't be receiving automatic updates down the line, including security enhancements. All in all, you might be better off sticking with Catalina on a Mac that's not on the above list.
macOS Big Sur security enhancements
The visual redesign isn't the only change in macOS Big Sur. The Safari browser underwent tweaks that aren't just cosmetic but directly affect users' privacy and security. Perhaps the most sensational thing is the automatic blocking of trackers that monitor user actions. Now there is a special icon next to the address bar. If you click it, you will see how many trackers have been blocked on the specific website.
At this point, of course, it is necessary to explain what exactly this is about. It does not block some kind of scary Trojans or browser hijackers. It will block mostly different counters and trackers that help personalize advertising; however, the ads will still be displayed. By clicking the "i" symbol, you will see a detailed report. Not that it brings any significant benefit, but perhaps it is nice to know that no one is watching you. Besides, hypothetically, not all trackers are harmless; some may be created by evil actors.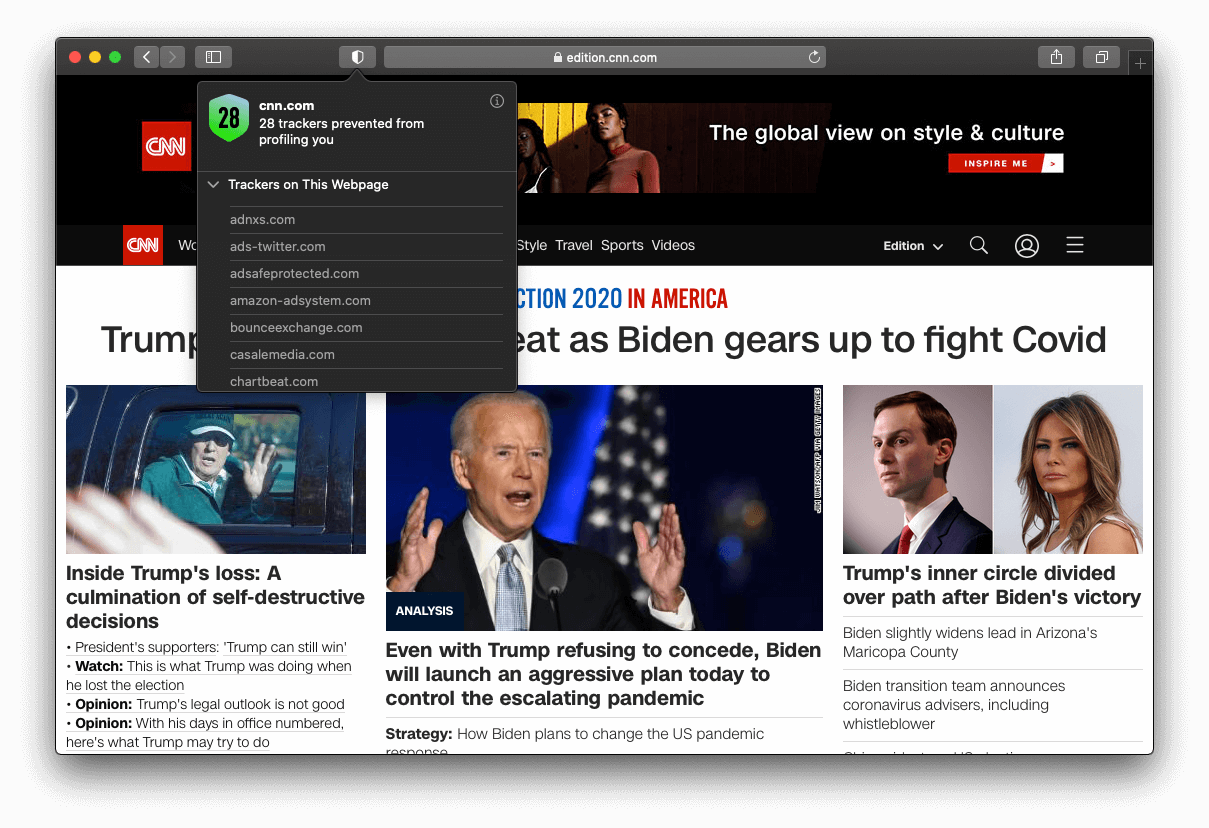 Few people expected that Apple would undermine the economic model of most websites and services by banning cross-site tracking and allowing users to block cookies, so that's a bold move. Additionally, password monitoring and privacy reporting have been added to the Safari browser. These features are designed to help users find out if they are using a hacked password for any online account.
Importantly, the company has also highlighted several other security and privacy features that will be added to the upcoming macOS Big Sur system to help users:
Better control which applications can access the data.
Identify shadow applications that do not respect privacy and exchange data with other applications.
Detect malicious applications that secretly monitor user data and actions. For instance, in the Control Center, users can see which applications have recently used a microphone or camera.
Set up limited access to the photo library for the selected application.
Apple now also requires developers to display a summary of the privacy policies of their applications on their pages in the App Store.
macOS Big Sur will also support DNS-over-HTTPS and DNS-over-TLS. With these innovations' help, Apple hopes to provide a higher level of protection for its users and protect them from the interception of personal data sent through web browsers or applications.
In general, the emphasis on security, interface redesign, and Safari update is enough to recommend installing the operating system as soon as the final version appears. Of course, it will be very interesting to see how the new macOS will work on computers with ARM chips.