This article provides steps to remove Grammarly from Mac, covering the process both for the standalone app and for extensions added to popular web browsers.
It's common knowledge that a good deal of human communication has migrated online. People mostly type rather than write in the classic sense these days, which in theory makes it easier to automate things like grammar and spell checks. That's true, and there are services that deliver such functionality. Grammarly is one of them. Even if you aren't currently using it, you have probably seen some of its ads here and there on the Internet. It claims to employ artificial intelligence (AI) to identify different types of text inaccuracies. Specifically, its proprietary algorithms rely on a mix of machine learning and unique methods for processing natural language. Grammarly boasts full-blown support of macOS. Users can install a separate Mac application, add the Grammarly extension to their preferred web browser, and from late March 2020, use an add-in for Microsoft Word. As is the case with any software, though, Mac users may need to remove this tool at some point.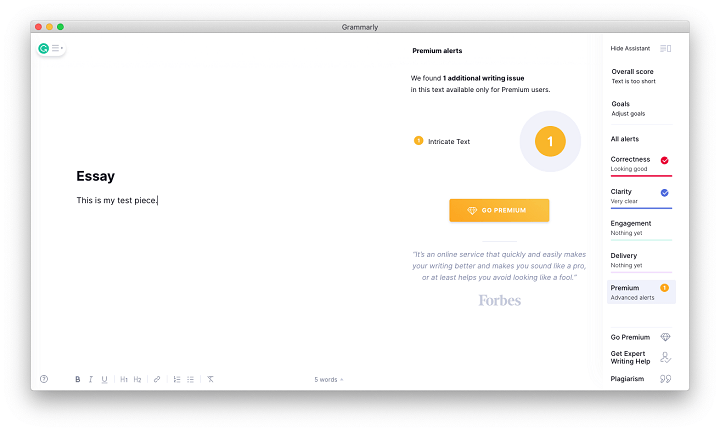 Whereas most people find Grammarly helpful and handy, there is a little bit of dissatisfaction with a few facets of this software and the marketing behind it. First off, the product is pricey. The annual subscription plan is worth $139.95. Some other tools on the market with similar features may cost several times less. It's noteworthy in this context that Grammarly also offers free subscription. It has limited functionality but works well for basic checks. When you run this version, it may report dozens of "advanced" issues even in a relatively short document. To view the details of these alerts, you'll need to go Premium. Another caveat some Mac users have been complaining about on discussion forums is that the charges for product renewals may take place without prior notice.
Special Offer
Malware impersonating Grammarly may re-infect your Mac multiple times unless you delete all of its fragments, including hidden ones. Therefore, it is recommended to download Combo Cleaner and scan your system for these stubborn files. This way, you may reduce the cleanup time from hours to minutes. Download Now Learn how ComboCleaner works. If the utility spots malicious code, you will need to buy a license to get rid of it.
The free version of Grammarly does require some personal information to use, though. It asks for the email address to get started, alternatively offering a sign-in with an existing Google or another account. Once this info is submitted, Mac users will be receiving emails from the service off and on. Some of them are quite informative. For instance, messages flagged "Grammarly Insights" list the customer's writing track record for the past week. This includes statistics about the top mistakes made as well as productivity, mastery, and vocabulary scores combined with the percentage reflecting how the user did as compared to others. But, some emails such as upgrade recommendations and discount offers are quite annoying.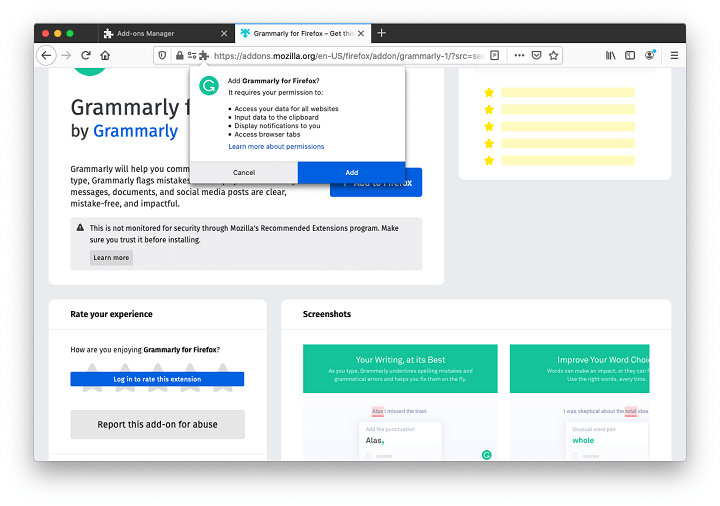 One more concern about Grammarly is that the service may not be suitable for sensitive text. This isn't about the accuracy of checking written content – it's about privacy-minded Mac users' fears of a third-party company having access to what's being typed. Moreover, as seen in the screenshot above, the browser extension needs your permission to read all data on websites, access browser tabs, and more. This is an understandable set of privileges, given the very gist of Grammarly, but it could be a red flag to some people who take the confidentiality of their correspondence and web surfing seriously.
There is an extra factor that might make itself felt with any highly popular product such as Grammarly. Cybercriminals may disguise malware as the application under scrutiny to give their dodgy distribution tactics a boost. As numerous Mac users are looking for tools to keep their writing at a proper level, they run the risk of installing potentially unwanted applications (PUAs) that impersonate Grammarly. It's also within the realms of possibility that malicious code could be surreptitiously bundled with the legitimate Grammarly app. This is a hypothetical scenario at this point and there haven't been any reported incidents of that kind, but who knows what threat actors are up to. They definitely follow the trends and might add such a scheme to their repertoire.
In summary, it should be reiterated that Grammarly for Mac is a useful and trustworthy instrument to take your writing to the next level. Its benign essence and the power of its AI algorithms are out of the question. Also, its system performance footprint is low enough to ensure that your Mac won't slow down during the checks. And yet, if you would like to uninstall this software from your Mac for whatever reason, consider using the following steps that will walk you through the whole process.
Uninstall Grammarly app from Mac manually
The steps listed below will walk you through the removal of this application. Be sure to follow the instructions in the specified order.
Right-click (control-click) on the Grammarly icon in the Dock. Select Quit in the contextual menu.

Click on the Go menu icon in your Mac's Finder and select Applications on the list.

Find Grammarly on the list of your installed applications, right-click on it, and select Move to Trash.

Click on the Go menu icon in the Finder again and select Go to Folder. You can as well use the Command-Shift-G keyboard shortcut.


Type ~/Library/ (don't forget to include the "tilde" character) in the folder search dialog and click on the Go button.

When in the Library directory, find the Application Support path. Select the Grammarly folder and delete all of its contents (Cache, GPUCache, Local Storage, Partitions, and Preferences).

Don't exit the Library yet. Select the Caches path in it, find folders named com.grammarly.DesktopEditor and com.grammarly.DesktopEditor.ShipIt, and send both of them to the Trash.

Find a directory named Saved Application State in the Library and remove com.grammarly.DesktopEditor.savedState folder from it along with all of its contents.
In case you have previously added the Grammarly extension to your web browser, it will continue to run even after you uninstall the Grammarly application along with its components sprinkled around the system.
Remove Grammarly from web browser on Mac
To begin with, you need to uninstall the Grammarly extension from your preferred web browser. If this doesn't do the trick for whatever reason, you may have to restore browser settings to their default values. Although this will clear most of your customizations, web surfing history, and all temporary data stored by websites, the malicious interference should be terminated likewise. The overview of the steps for completing this procedure is as follows:
Remove Grammarly extension in Safari

Open the browser and go to Safari menu. Select Preferences in the drop-down list

Hit the Extensions tab in the Preferences screen, spot Grammarly for Safari in the sidebar, and click Uninstall.

If Grammarly is still running in Safari regardless, you may need to go through several extra steps. For a start, click on the Advanced tab in Safari Preferences and enable the option saying "Show Develop menu in menu bar".

Now that the Develop entry has been added to the Safari menu, expand it and click on Empty Caches.

Now select History in the Safari menu and click on Clear History in the drop-down list.

Safari will display a dialog asking you to specify the period of time this action will apply to. Select all history to ensure a maximum effect. Click on the Clear History button to confirm and exit.

Go back to the Safari Preferences and hit the Privacy tab at the top. Find the option that says Manage Website Data and click on it.

The browser will display a follow-up screen listing the websites that have stored data about your Internet activities. This dialog additionally includes a brief description of what the removal does: you may be logged out of some services and encounter other changes of website behavior after the procedure. If you're okay with that, go ahead and click on the Remove All button.

Restart Safari

Remove Grammarly extension from Google Chrome on Mac


Open Chrome, click the Customize and control Google Chrome (⁝) icon in the top right-hand part of the window, click More Tools, and select Extensions.

Find Grammarly for Chrome on the extensions list and click Remove.

Confirm the removal of Grammarly for Chrome extension on the follow-up dialog.

Check if Grammarly has been uninstalled from Chrome. If it's still there, you'll need to reset the browser to its defaults. Click on Customize and control Google Chrome (⁝) icon again and select Settings in the drop-down.

When on the Settings pane, select Advanced
Scroll down to the Reset settings section.

Confirm the Chrome reset on a dialog that will pop up. When the procedure is completed, relaunch the browser and check it for malware activity.

Remove Grammarly add-on from Mozilla Firefox on Mac


Click on the Open menu button in the upper right-hand corner of the Firefox window and select Add-ons.

Go on to Extensions, find Grammarly for Firefox on the list, click on the three-dots button next to it, and select Remove in the contextual menu.

Click Remove once again on a confirmation pop-up to complete the procedure.

If the Grammarly add-on continues to run in Firefox, you should revert to the original browser settings. Go to Help – Troubleshooting Information (or type about:support in the URL bar and press Enter).

When on the Troubleshooting Information screen, click on the Refresh Firefox button.

Confirm the intended changes and restart Firefox.
Get rid of Grammarly using Combo Cleaner removal tool
The Mac maintenance and security app called Combo Cleaner is a one-stop tool that will help you remove Grammarly app. This technique has substantial benefits over manual cleanup because the automatic solution will find the core files of the application deep down the system structure, which might otherwise be a challenge to locate. Furthermore, the utility gets hourly virus definition updates and can accurately spot Mac infections, even the newest ones. Here's a walkthrough to sort out your issue using Combo Cleaner:
Download Combo Cleaner installer. When done, double-click the combocleaner.dmg file and follow the prompts to install the tool onto your Mac.

By downloading any applications recommended on this website you agree to our Terms and Conditions and Privacy Policy. The free scanner checks whether your Mac is infected. To get rid of malware, you need to purchase the Premium version of Combo Cleaner.

Open the app from your Launchpad and let it run the update of malware signature database to make sure it can identify the latest threats.
Click the Start Combo Scan button to check your Mac for malicious activity as well as performance issues.

Examine the scan results. If the report says "No Threats", then you are on the right track with the manual cleaning and can safely proceed to tidy up the web browser that may continue to act up.

In case Combo Cleaner has detected malicious code, click the Remove Selected Items button and have the utility remove viruses, PUPs (potentially unwanted programs), or junk files that don't belong on your Mac.

Click Uninstaller in the Combo Cleaner sidebar, select Grammarly, and hit the Remove Selected Items button to get rid of the application thoroughly.

Once you have made doubly sure that the app is uninstalled, the browser-level cleaning might still be on your to-do list. If your preferred browser is affected, resort to the previous section of this tutorial to revert to hassle-free web surfing.