Find out how the Player Location Check plugin can play dirty on a Mac, what unwanted effects it causes, and how to completely uninstall it from a computer.
Update: February 2020
The popularity of online gambling overshadows the fact that it can be risky business. The flip side of this activity isn't only about objectionable consequences of addiction, but it can also be about minimal to zero vigilance. Bedazzled by money for jam, many users opt for services that appear to be benign but actually make a mess of their devices. The Player Location Check app can be in that gray area under certain circumstances. As the name prompts, it is a geolocation plugin used to determine one's whereabouts. It was developed by GeoComply, a provider of geolocation compliance technology widely used by the gaming industry around the world. Various online casinos are among the top customers of this solution. It seems all the parties involved in this cooperation are absolutely reputable and there shouldn't be any room for foul play in their strategies. Which is true, except that sometimes Player Location Check gets buggy or undergoes a configuration change that raises a few red flags and makes Mac users want to uninstall it.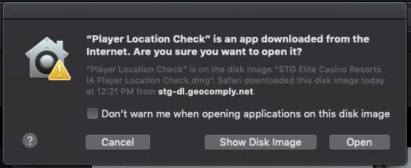 A common concern related to this plugin is that it produces annoying popup requests and alerts. For example, it may display dialogs asking the user to allow access to his or her location. Although this is a normal thing you would expect from an app with geolocation features at its core, these notifications are a surprise to many users, and here is why. The emergence of Player Location Check on a Mac is often unauthorized – in other words, some people don't remember agreeing to install it. Moreover, most of those affected don't use gambling services at all. How did the plugin end up inside their systems then? The onset of new software out of the blue is a telltale sign of offensive distribution relying on booby-trapped installers that don't mention the presence of bundled entities anywhere on the default mode screens. The most likely source of such an intrusion is some freeware the user has recently installed. The harmless-looking program probably came with the unwanted app without clear notice.
Special Offer
Player Location Check may re-infect your Mac multiple times unless you delete all of its fragments, including hidden ones. Therefore, it is recommended to download Combo Cleaner and scan your system for these stubborn files. This way, you may reduce the cleanup time from hours to minutes. Download Now Learn how ComboCleaner works. If the utility spots malicious code, you will need to buy a license to get rid of it.
Speaking of the negative impact caused by Player Location Check app, there are a few facets of it. As previously mentioned, it irritates the user by showing nag screens and popups that won't stop requesting specific permissions on the Mac until it gets the required scope of access. However, one's accurate geographic location is a piece of sensitive information no one should disclose unless they actually engage in e-gaming and absolutely have to let the app know such details to move on with their playing pastime. This is a serious privacy issue that needs to be sorted out. To add insult to injury, the plugin under scrutiny may also collect additional fingerprintable data. Zooming out a bit, it runs within a web browser on Mac, being compatible with Safari, Google Chrome, and Mozilla Firefox. Having entered a host, it automatically determines which browser the victim uses by default and integrates itself with the software. Now back to the point, Player Location Check may harvest details on the admin's Internet history, bookmarked pages, and keywords entered in a search engine. This is quite a reconnaissance, and it's definitely not in one's interest.
It's worth mentioning that there can be malware-riddled variants of the Player Location Check app in the wild. Cybercriminals sure know how popular the service is and therefore how many people would like to install it. By spreading its trojanized copies, the black hats can take root on numerous Macs and thereby orchestrate large-scale adware campaigns. These malicious clones of the genuine solution may be able to redirect the victims' browsers to dodgy ad networks and landing pages with more virus downloads. Also, they will inject ads into visited sites that further undermine the user experience. All things considered, if you are faced with the Player Location Check plugin that snuck into your Mac without permission and is causing a slew of popups along with obnoxious ads in the browser, be sure to get rid of it.
When trying to uninstall this plugin, users often run into an obstacle that undermines the whole process. The usual technique of dragging the app to the Trash is to no avail as the system displays an alert saying that Player Location Check cannot be moved because it's still open. To get around this persistence, it might be necessary to reboot your Mac in safe mode by pressing and holding the Shift key during the startup process. Release the key once you see the Apple logo and the login screen. When in safe mode, follow the steps below to remove the unwanted app for good.
Player Location Check app manual removal for Mac
The steps listed below will walk you through the removal of this potentially unwanted application. Be sure to follow the instructions in the order specified.
Open up the Utilities folder as shown below

Locate the Activity Monitor icon on the screen and double-click on it

Under Activity Monitor, find a process named Player Location Check, select it and click Quit Process
A dialog should pop up, asking if you are sure you would like to quit the troublemaking process. Select the Force Quit option
Click the Go button again, but this time select Applications on the list. Find the entry for Player Location Check (GeoComply) on the interface, right-click on it and select Move to Trash. If user password is required, go ahead and enter it

Now go to Apple Menu and pick the System Preferences option

Select Accounts and click the Login Items button. The system will come up with the list of the items that launch when the computer is started up. Locate Player Location Check, GeoComply there and click on the "-" button
Get rid of Player Location Check plugin in web browser on Mac
To begin with, settings for the web browser that got hit by this virus should be restored to their default values. The overview of steps for this procedure is as follows:
Reset Safari

Open the browser and go to Safari menu. Select Preferences in the drop-down list

Once the Preferences screen appears, hit the Privacy tab at the top. Find the option that says Remove All Website Data and click on it

The system will display a confirmation dialog that also includes a brief description of what the reset does. Specifically, you may be logged out of some services and encounter other changes of website behavior after the procedure. If you're okay with that, go ahead and click the Remove Now button

In order to selectively clear data generated by certain websites only, not all of them, hit the Details button under the Privacy section of Safari Preferences

This feature will list all websites that have stored potentially sensitive data, including cache and cookies. Select the one, or ones, that might be causing trouble and click the appropriate button at the bottom (Remove or Remove All). Click the Done button to exit.

Reset Google Chrome

Open Chrome, click the More (⁝) icon in the top right-hand part of the window, and select Settings in the drop-down
When on the Settings pane, select Advanced
Scroll down to the Reset settings section. Under the Restore settings to their original defaults option, click the Reset settings button

Confirm the Chrome reset on a dialog that will pop up. When the procedure is completed, relaunch the browser and check it for malware activity.

Reset Mozilla Firefox

Open Firefox and select Help – Troubleshooting Information
On the page that opened, click the Reset Firefox button
Get rid of Player Location Check using Combo Cleaner removal tool
The Mac maintenance and security app called Combo Cleaner is a one-stop tool to detect and remove Player Location Check virus. This technique has substantial benefits over manual cleanup, because the utility gets hourly virus definition updates and can accurately spot even the newest Mac infections.
Furthermore, the automatic solution will find the core files of the malware deep down the system structure, which might otherwise be a challenge to locate. Here's a walkthrough to sort out the Player Location Check issue using Combo Cleaner:
Download Combo Cleaner installer. When done, double-click the combocleaner.dmg file and follow the prompts to install the tool onto your Mac.

By downloading any applications recommended on this website you agree to our Terms and Conditions and Privacy Policy. The free scanner checks whether your Mac is infected. To get rid of malware, you need to purchase the Premium version of Combo Cleaner.

Open the app from your Launchpad and let it run an update of the malware signature database to make sure it can identify the latest threats.
Click the Start Combo Scan button to check your Mac for malicious activity as well as performance issues.

Examine the scan results. If the report says "No Threats", then you are on the right track with the manual cleaning and can safely proceed to tidy up the web browser that may continue to act up due to the after-effects of the malware attack (see instructions above).

In case Combo Cleaner has detected malicious code, click the Remove Selected Items button and have the utility remove Player Location Check threat along with any other viruses, PUPs (potentially unwanted programs), or junk files that don't belong on your Mac.

Once you have made doubly sure that the malicious app is uninstalled, the browser-level troubleshooting might still be on your to-do list. If your preferred browser is affected, resort to the previous section of this tutorial to revert to hassle-free web surfing.
FAQ
Player Location Check is an app tasked with complementing some gaming services with geographic location features. Created by GeoComply provider, it plays an important role in the digital implementations of quite a few popular online casinos, sports betting, and other entertainment related services.
Ideally, this piece of software should work and coexist with the other macOS components in a seamless way. In practice, though, it often gives Mac users a hard time finding their way around annoying popup requests in the web browser and system-wide. One of these dialogs goes, "Player Location Check requires that you allow access to your location". On the one hand, this seems like an understandable request for a geolocation plugin. On the other hand, the message may keep splashing up even if you grant the access it wants.
This app has also gained notoriety for its obstruction when it comes to uninstalling. A user's attempts to send it to the Trash produce an alert saying this is a no-go because the app is open. All in all, this entity appears to be a mixed blessing that bolsters various gaming activities while causing noxious popups on a Mac, which explains why many people want to get rid of it.
It is an object underlying the Player Location Check features in a web browser. Additionally, this is how the software manifests itself in a number of macOS directories such as LaunchAgents and LaunchDaemons.
In plain words, GeoComply is a plugin that broadcasts the whereabouts of a Mac computer within a specific Internet-borne gambling framework. Services such as online casinos need this information about their customers to ascertain that they are located within the right jurisdiction borders. Unless this requirement is met, a user may be prohibited from signing up for the service or wagering on its website.
A serious caveat about GeoComply plug-in is that it tends to thwart regular termination and removal. It's difficult to say whether this is an intended quirk or an outcome of buggy code, but the fact remains that users are often unable to get rid of it. This is especially a nuisance for those who never knowingly installed this software in the first place.
The most effective workaround is to close the geolocation plug-in in safe mode on Mac. Hold the Shift key when the computer is starting up until you see the Apple logo. Doing so will boot your Mac in safe mode.
Then, go to the Applications, find Player Location Check, and move it to the Trash. When done, open your Finder and navigate to the following paths one by one: Library/LaunchAgents, ~Library/LaunchAgents, Library/LaunchDaemons, and Library/Application Support. Go ahead and delete every entry with com.GeoComply in its name. Finally, empty the Trash and reboot your Mac in normal mode.