Get a comprehensive report on the RocketTab powered by Advertise virus affecting Mac computers and learn how to remove this crapware from a target Mac machine.
Compared to the adverse effect of malicious cryptojackers and ransomware, perpetrating code like adware seems to be a joke. It does not hold any data for ransom, nor does it sweat the contaminated Mac's CPU or GPU to mine Monero or other form of cryptocurrency. However, this somewhat mild impact is still cold comfort to adware victims as they keep on bumping into obnoxious ads wherever they go online. That's the case with RocketTab powered by Advertise, a junk app that inundates SERPs (search engine results pages) and ecommerce sites with sponsored links, deals, banners, freebies, coupons and the like. Not only does it annoy the plagued users this way, but it can also slow down the browser to a crawl or even cause it to crash every so often.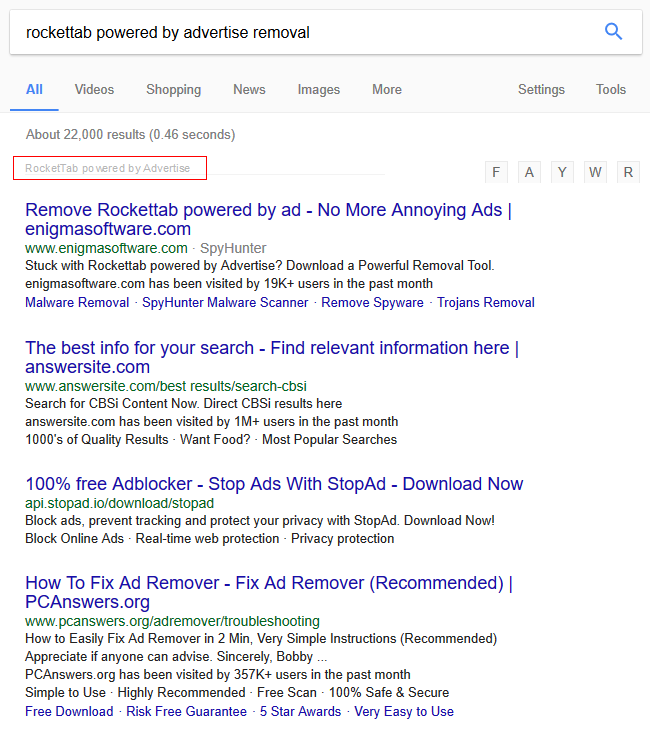 The springboard for the RocketTab powered by Advertise virus attack is all about tricky software bundles. When a Mac user is up to downloading and installing some ostensibly useful free application, they may deal with a setup client that pushes additional entities alongside the main one instead of streamlining the installation experience. People may fall for this deceit when adding various extensions to Safari, Chrome or Firefox. Their types range from Photoshop-related to streaming video downloaders and instant translation tools. The incursion will take place in these scenarios unless the user is prudent enough to opt of the default (recommended) setup option and deselects the undesired extras in custom mode.
When inside, the culprit attaches itself to the victim's browsers and modifies their parameters so that a virtual layer can be complemented to the regular display of websites. Consequently, it obtains sufficient privileges for interfering with the way web pages are rendered. The virus will embed comparison shopping elements, deals, various discounts and in-text hyperlinks into visited sites, especially ones related to ecommerce. It may as well trigger full-page interstitial ads that pop up imperceptibly and sit in the background until the user closes them. To top it off, the infection integrates a bevy of sponsored links above the fold of regular search results. These are tagged "RocketTab powered by Advertise", and they considerably diminish the informative value of web searches made on a compromised Mac.
The virus under scrutiny is persistent and can reinstate itself after the appropriate browser add-on is sent to trash. Therefore, to implement the cleanup the right way, those infected should utilize a combo of techniques aimed at thorough eradication of every troublemaking module of RocketTab powered by Advertise.
RocketTab powered by Advertise virus manual removal for Mac
The steps listed below will walk you through the removal of this malicious application. Be sure to follow the instructions in the order specified.
• Open up the Utilities folder as shown below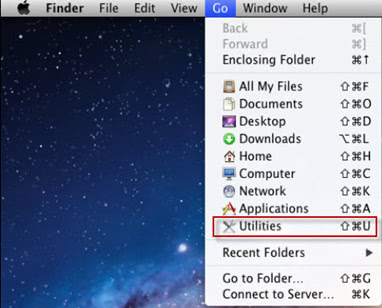 • Locate the Activity Monitor icon on the screen and double-click on it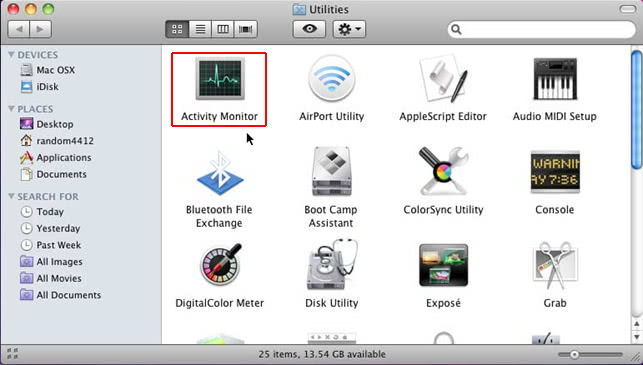 • Under Activity Monitor, find RocketTab or other suspicious entry that you don't think belongs on your Mac, select it and click Quit Process
• A dialog should pop up, asking if you are sure you would like to quit the troublemaking process. Select the Force Quit option
• Click the Go button again, but this time select Applications on the list. Find the entry for RocketTab on the interface, right-click on it and select Move to Trash. If user password is required, go ahead and enter it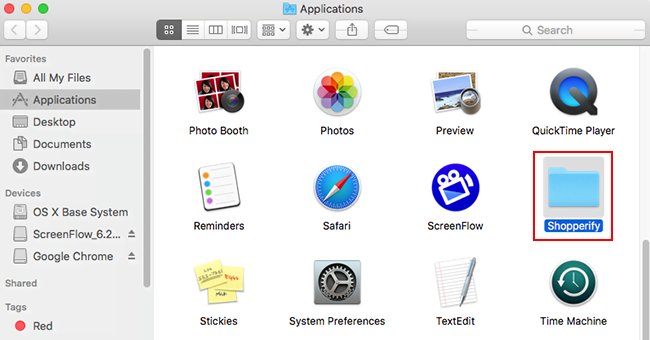 • Now go to Apple Menu and pick the System Preferences option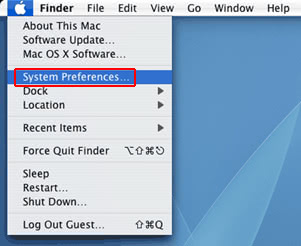 • Select Accounts and click the Login Items button. The system will come up with the list of the items that launch when the computer is started up. Locate the perpetrating app (RocketTab) there and click on the "-" button
Get rid of RocketTab powered by Advertise ads in web browser
To begin with, settings for the web browser that got hit by the RocketTab powered by Advertise virus should be restored to their default values. The overview of steps for this procedure is as follows:
1. Reset Safari
• Open the browser and go to Safari menu. Select Reset Safari in the drop-down list
• Make sure all the boxes are ticked on the interface and hit Reset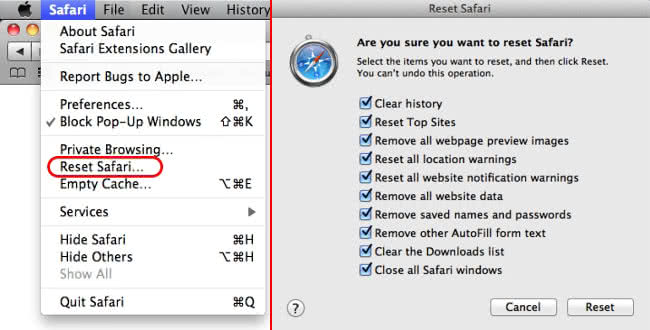 2. Reset Google Chrome
• Open Chrome and click the Customize and Control Google Chrome menu icon
• Select Options for a new window to appear
• Select Under the Hood tab, then click Reset to defaults button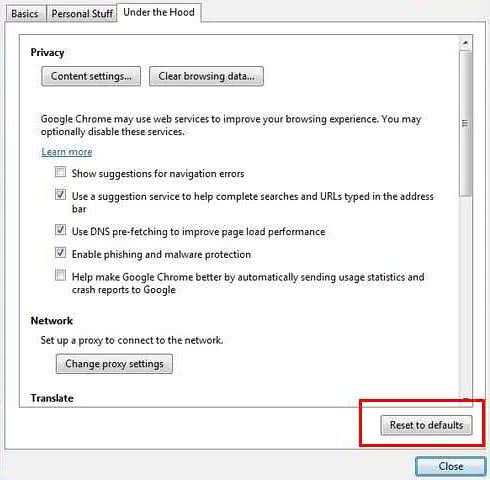 3. Reset Mozilla Firefox
• Open Firefox and select Help – Troubleshooting Information
• On the page that opened, click the Reset Firefox button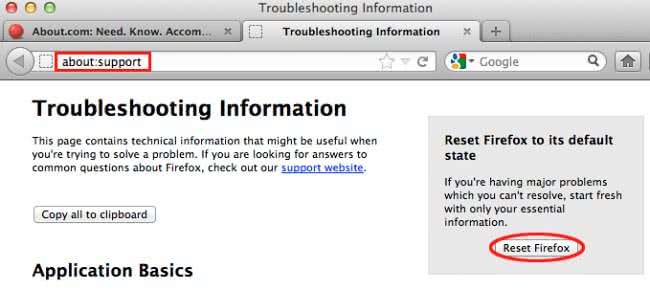 Use automatic tool to uninstall RocketTab powered by Advertise malware from your Mac
Unless you are a power user, you run the risk of failing to find and delete some components of this infection on your own. Overlooking dodgy LaunchAgents, LaunchDaemons, and malicious configuration profiles means that the threat will continue to cause problems. A more efficient alternative to manual cleanup is to use MacBooster 8, an application that will scan your Mac for issues and fix them automatically.
The app comes with a competitive toolkit that includes Virus & Malware Scan as well as a decent range of optimization features. Therefore, not only does it identify and vanquish mainstream Mac viruses but it also releases disk space and memory so that your computer gets a performance tune-up. Here's how to go the route of RocketTab powered by Advertise virus removal with MacBooster:
Download and install MacBooster 8.

By downloading any applications recommended on this website you agree to our Terms and Conditions and Privacy Policy. The free scanner checks whether your Mac is infected. To get rid of malware, you need to purchase the Pro version of MacBooster.

Open the app. When on the System Status screen, click the Scan button to check your Mac for viruses, junk files, and memory hogs.

Once the scan is completed, inspect the report to see what security threats and performance issues have been found. To get rid of the detected items, click the Fix button at the bottom.

As an extra step, you might want to make sure that the RocketTab powered by Advertise virus infection leftovers are no longer riddling your web browser. This can be the case in an adware scenario. Proceed to the Privacy Protection feature in the left-hand sidebar, select the default browser in the list, and click the Clean button.

In case your web browser is still acting up, follow the steps provided in the previous section of this guide to get rid of the adverse web surfing interference for good.