How to remove MacKeeper "virus" and get rid of popup ads
Find out why some users consider MacKeeper to be a potentially unwanted application and learn how to completely uninstall MacKeeper from Mac in a few steps.
When it comes to keeping one's Mac computer safe and performing at its peak, there are quite a few effective solutions out there as well as impostor apps that pass themselves off as ultimate, all-in-one security and optimization suites. It's difficult to state outright whether MacKeeper is the former or the latter type, but there is a great deal of user feedback that doesn't play into its vendor's hands. People have been complaining of shady promotion mechanisms, where they are redirected to what's called landing pages that highly recommend them to download and install MacKeeper and have it clean up and secure their Macs instantly. This questionably ethical marketing also involves annoying popup ads that report numerous issues and literally coerce users into installing the program.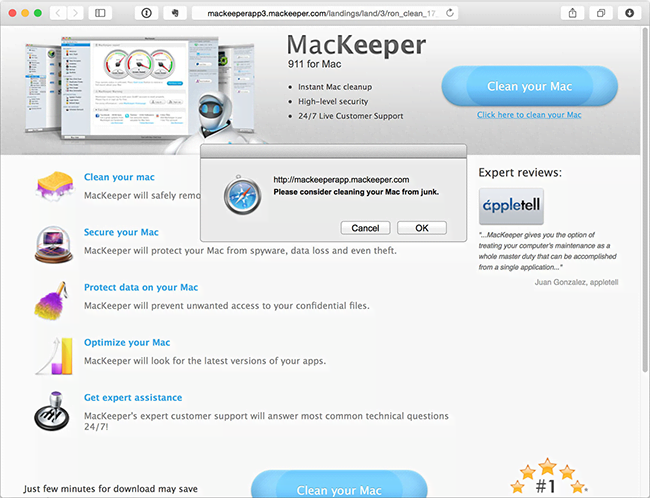 All in all, the distribution facet of MacKeeper is amongst the biggest issues accompanying this utility, but not the only one. Upon making its way into a Mac, sometimes without even asking for user authorization in a clear way, the app continues to shell the admin with noxious error reports as well as popup dialogs about poor performance and security problems. The motivation for conducting this brainwashing campaign is to persuade the user to register the full licensed edition of the program. Note that some issues reported by MacKeeper are actually real, but the way it presents this information does not fit in the paradigm of legit software activity.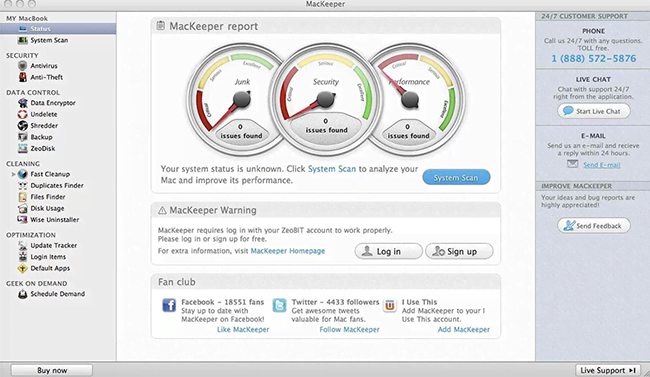 To top it all off, MacKeeper runs system scans at random. The scan results are, predictably enough, disconcerting. It purports to detect hundreds of megabytes of junk on the machine, viruses or other perpetrating code, and critical performance issues. Simply closing the graphical interface to get those scary results out of sight will be a short-lived relief, because popup alerts will continue to bombard the user with recommendations to apply a fix, a paid one of course. Yet another flip side of MacKeeper's activity is that it may have a conspicuous system footprint. Therefore, the Mac will run slower. Furthermore, this application may install browser add-ons on its own, that is, without asking for admin's consent.
To recap, this suite appears to be handy as it does accommodate useful functionality, such as Mac cleanup and protection modules. And yet, it isn't the most unobtrusive app imaginable, to put it mildly. The myriads of irritating popup alerts are likely to make user experience go down the drain. If MacKeeper is on board your Mac and you are unwilling to endure its activity, follow the steps below to uninstall it. Before getting down to removal, though, be sure to undo some changes that you may have made to your data using this program. These include file encryption and backup.
MacKeeper manual removal for Mac
The removal guide applies to all macOS-based computers, including MacBook, MacBook Air, MacBook Pro, iMac, iMac Pro, etc. Follow these steps to remove MacKeeper virus from Mac:
Open up the Utilities folder as shown below:

Locate the Activity Monitor icon on the screen and double-click on it.

Under Activity Monitor, find the entry for MacKeeper, select it and click Quit Process.
A dialog should pop up, asking if you are sure you would like to quit the MacKeeper executable. Select the Force Quit option.
Click the Go button again, but this time select Applications on the list. Find the entry for MacKeeper on the interface, right-click on it and select Move to Trash. If user password is required, go ahead and enter it.

Now go to Apple Menu and pick the System Preferences option:

Select Accounts and click the Login Items button. Mac OS will come up with the list of the items that launch when the box is started up. Locate MacKeeper there and click on the "-" button.
Use automatic tool to completely uninstall MacKeeper from your Mac
1. Download and install MacBooster application (read review). The tool provides both optimization and security features for your Mac. Before you get down to obliterating MacKeeper proper, consider checking your machine for other security risks and performance issues by hitting the Scan button.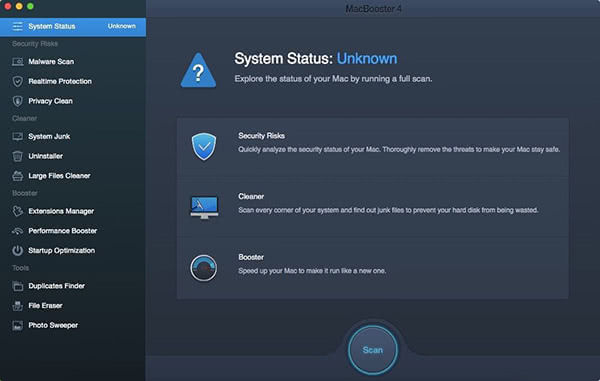 2. Proceed to the Uninstaller feature, find MacKeeper on the Applications list and have MacBooster completely eliminate all components of the app from your Mac by clicking Uninstall in the bottom part of the GUI. Doing so will ensure all components of the malware and its remainders, which may have not been removed in the manual way, will be thoroughly cleaned up.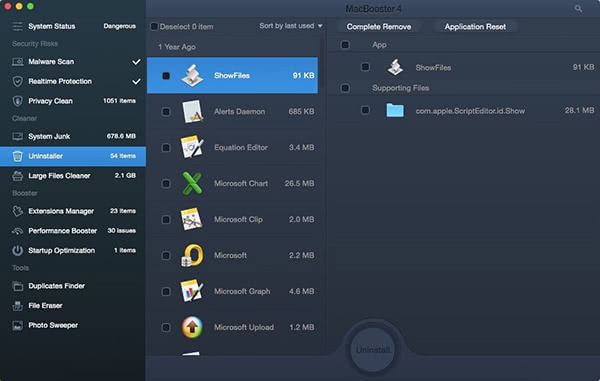 ←

Return