Get rid of Zeus virus alert hoax on Mac, which is caused by malicious code hijacking Safari and other browsers in order to dupe users into wasting money.
Update: August 2020
Threat Profile
Name
Fake "ZEUS Virus Detected" Mac pop-up
Category
Redirect / pop-up virus, Mac browser hijacker, Mac adware
Symptoms
Interrupts web sessions with fake "ZEUS Virus Detected" pop-ups, recommends dialing a rogue tech support number, redirects to deceptive sites, causes browser slowdown
Fake Support Phone Numbers
+1-888-223-9813, +1-877-624-3165, +1-833-740-0348
Distribution Techniques
Freeware bundles, torrents, booby-trapped software updates, misleading pop-up ads
Severity Level
Medium
Damage
Interference with browsing settings, drive-by downloads, privacy issues due to Internet activity tracking, search redirects, malicious ads
Removal
Scan your Mac with Combo Cleaner to detect all files related to the browser hijacker. Use the tool to remove the infection if found.
What is "ZEUS Virus Detected" warning screen?
There are several components constituting the average tech support scam. First off, threat actors need to infect a Mac computer with a malware strain that runs malicious JavaScript code in an infinite loop. This type of infection, commonly referred to as a hijacker or PUP (potentially unwanted program), forces Internet hits to a predefined web page containing an error message and generating persistent pop-ups off and on. Secondly, the crooks have to utilize some sort of intimidation hype in order to pressure a victim into following rogue recommendations. In the case of the ongoing Mac fraud campaign under scrutiny, this scare component is the notorious Zeus virus.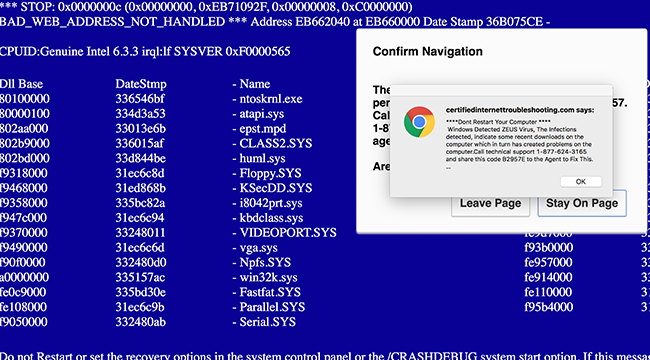 A nonsensical early variant of ZEUS virus Mac scam
However, the fact that the operators of this particular hoax are using said malware's name in their illegal activity is a huge giveaway. The thing is, Zeus is Windows-only malware and has never been used in cyber-attacks against Macs. It was designed to run on the operating system that has nothing to do with Apple. Despite this, the bad guys are simply pulling off the exact same fraud on both platforms, trying to cash in on people's lack of security awareness. Anyway, Mac users who end up catching the early version of the above-mentioned browser hijacking entity encounter a BSOD-style lock screen when surfing the web. It contains a bunch of process names and timestamps, but the main catch is a pop-up that says:
"Don't restart your computer. Windows detected ZEUS Virus. The infections detected indicate some recent downloads on the computer which in turn has created problems on the computer. Call technical support [phone number] and share this code [hexadecimal code] to the Agent to fix this."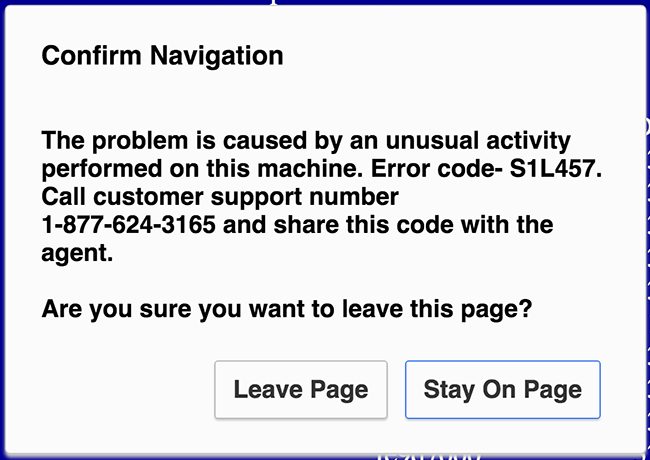 Again, this warning message doesn't make any sense for Mac, but the con artists don't seem to care. Another popup titled Confirm Navigation says, "The problem is caused by an unusual activity performed on this machine," and also instructs the victim to call rogue customer support for troubleshooting. Unfortunately, no matter which button you click on this alert – Leave Page or Stay On Page – the lock screen won't go away, therefore users are stuck with the counterfeit Zeus virus alerts that persevere regardless.
Special Offer
"ZEUS Virus Detected" warning malware may re-infect your Mac multiple times unless you delete all of its fragments, including hidden ones. Therefore, it is recommended to download Combo Cleaner and scan your system for these stubborn files. This way, you may reduce the cleanup time from hours to minutes. Download Now Learn how ComboCleaner works. If the utility spots malicious code, you will need to buy a license to get rid of it.
"ZEUS Virus Detected" alerts getting more persuasive
As of 2019, cybercrooks have added some rationality to this tech support fraud, making it look a bit truer to life. Unlike its early crude variants, newer scams zeroing in on Macs no longer involve the Windows theme or hilariously contain recommendations to contact a Microsoft technician. Instead, the "Zeus virus detected!!!" pop-ups are Mac-specific and they advise that victims reach out to Apple help desk. Moreover, the spoof alerts say, "If you leave this site your macOS will remain damaged and vulnerable" in order to enhance the scare effect. Furthermore, they include more details regarding the gist of the purported problem and the associated consequences, emphasizing that "a suspicious Trojan was trying to access your logins, banking details & tracking your Internet activity". With this tweak in the misleading Zeus virus Mac campaign, users are more likely to fall for the hoax than before.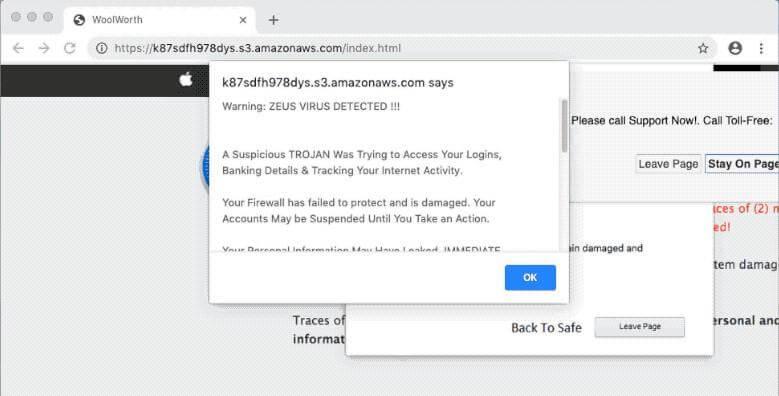 It's important to understand a few essential things pertaining to the hoax in question. Every single bit of information provided on this scary-looking page is a lie – there is no Zeus Trojan on board, nor is the machine going to crash unless you give the impostors a call. The only infection that's inside the Mac is an aggressive browser plugin or extension that redirects Safari, Chrome or Firefox to the fake warning site in a recurrent manner. The idea of this whole scam boils down to persuading users into dialing the telephone number provided. A self-proclaimed "technician" on the other end will say that the only way to fix the problem and avoid critical Mac damage is to pay about $250.
Extra pressure added to the mix
A newer variant of the "ZEUS Virus Detected" scam circulating since early 2020 takes the manipulation further. It is accompanied by an extra pop-up that says, "Your Mac has been blocked due to suspicious activity!" Combined with false claims about info-stealing properties of the Trojan that may entail a leak of personal data, this terrifying alert is more likely to fool users into doing what the fraudsters want them to. It's noteworthy that this combo of spoof warnings is shown on a malicious website that constitutes the long-running "Your Mac is infected with 3 viruses" hoax.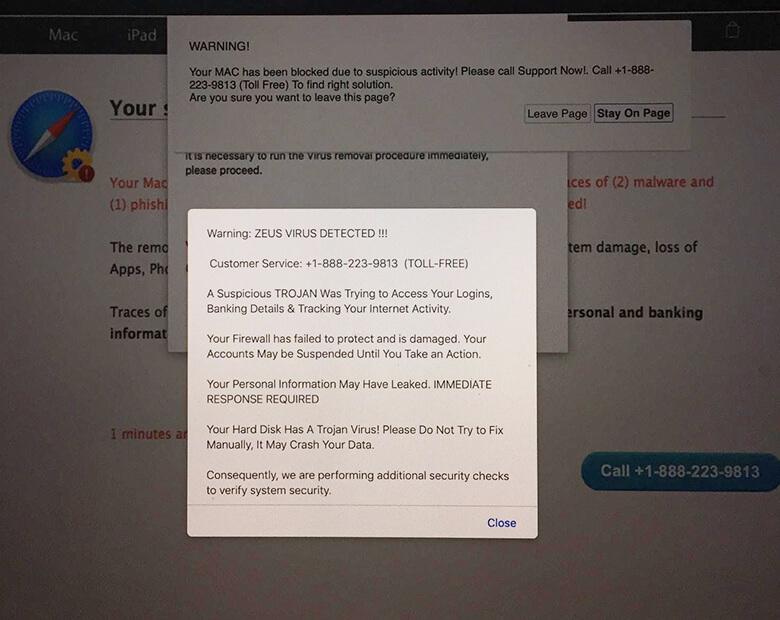 The key takeaways
In summary, it makes sense to get a few things straight. Zeus virus on Mac is a misnomer that contradicts logic and common sense. Any website reporting it on an Apple computer is undoubtedly run by scammers. Also, the mantra about a Mac being blocked is nothing but an element of intimidation, and the only affected component of the system is the web browser. The goal of such eyebrow-raising detection reports is to make victims rush headlong into following the crooks' advice. To avoid the Zeus virus pop-up and redirect issue, be sure to steer clear of dubious torrent sites, suspicious MP3 download sites and portals that distribute free software in the form of compound application bundles. If your browser of choice is already acting up due to this infection, don't linger with cleanup. The walkthrough below will give you clues on how to sort things out with the fake Zeus virus pop-ups on Mac.
Zeus virus alerts manual removal for Mac
The steps listed below will walk you through the removal of this malicious application. Be sure to follow the instructions in the specified order.
Expand the Go menu in your Mac's Finder bar and select Utilities as shown below.

Locate the Activity Monitor icon on the Utilities screen and double-click on it.

In the Activity Monitor app, look for a process that appears suspicious. To narrow down your search, focus on unfamiliar resource-intensive entries on the list. To narrow down your search, focus on unfamiliar resource-intensive entries on the list. Keep in mind that its name isn't necessarily related to the way the threat is manifesting itself, so you'll need to trust your own judgement. If you pinpoint the culprit, select it and click on the Stop icon in the upper left-hand corner of the screen.

When a follow-up dialog pops up asking if you are sure you want to quit the troublemaking process, select the Force Quit option.


Click on the Go menu icon in the Finder again and select Go to Folder. You can as well use the Command-Shift-G keyboard shortcut.


Type /Library/LaunchAgents in the folder search dialog and click on the Go button.


Examine the contents of the LaunchAgents folder for dubious-looking items. Be advised that the names of files spawned by malware may give no clear clues that they are malicious, so you should look for recently added entities that appear to deviate from the norm.

As an illustration, here are several examples of LaunchAgents related to mainstream Mac infections: com.pcv.hlpramc.plist, com.updater.mcy.plist, com.avickUpd.plist, and com.msp.agent.plist. If you spot files that don't belong on the list, go ahead and drag them to the Trash.

Use the Go to Folder lookup feature again to navigate to the folder named ~/Library/Application Support (note the tilde symbol prepended to the path).


When the Application Support directory is opened, identify recently generated suspicious folders in it and send them to the Trash. A quick tip is to look for items whose names have nothing to do with Apple products or apps you knowingly installed. A few examples of known-malicious folder names are Quick Mac Booster, Mac Cleanup Pro and IdeaShared.

Enter ~/Library/LaunchAgents string (don't forget to include the tilde character) in the Go to Folder search area.


The system will display LaunchAgents residing in the current user's Home directory. Look for dodgy items related to "ZEUS Virus Detected" pop-up virus (see logic highlighted in subsections above) and drag the suspects to the Trash.

Type /Library/LaunchDaemons in the Go to Folder search field.


In the LaunchDaemons path, try to pinpoint the files the malware is using for persistence. Several examples of such items cropped by Mac infections are com.pplauncher.plist, com.startup.plist, and com.ExpertModuleSearchDaemon.plist. Delete the sketchy files immediately.


Click on the Go menu icon in your Mac's Finder and select Applications on the list.


Find a suspicious app that clearly doesn't belong there and move it to the Trash. If this action requires your admin password for confirmation, go ahead and enter it.

Expand the Apple menu and select System Preferences.

Proceed to Users & Groups and click on the Login Items tab.

The system will display the list of items launched when the computer is starting up. Locate the potentially unwanted app there and click on the "-" (minus) button.

Now select Profiles under System Preferences. Look for a malicious item in the left-hand sidebar. Several examples of configuration profiles created by Mac adware include TechSignalSearch, MainSearchPlatform, AdminPrefs, and Chrome Settings. Select the offending entity and click on the minus sign at the bottom to eliminate it.


If your Mac has been infiltrated by adware, the infection will most likely continue to hold sway over your default web browser even after you remove the underlying application along with its components sprinkled around the system. Use the browser cleanup instructions below to address the remaining consequences of this attack.
Get rid of "ZEUS Virus Detected" warning malware virus in web browser on Mac
To begin with, the web browser settings taken over by the "ZEUS Virus Detected" warning malware virus should be restored to their default values. Although this will clear most of your customizations, web surfing history, and all temporary data stored by websites, the malicious interference should be terminated likewise. The overview of the steps for completing this procedure is as follows:
Remove "ZEUS Virus Detected" warning malware virus from Safari

Open the browser and go to Safari menu. Select Preferences in the drop-down list.

Once the Preferences screen appears, click on the Advanced tab and enable the option saying "Show Develop menu in menu bar".

Now that the Develop entry has been added to the Safari menu, expand it and click on Empty Caches.

Now select History in the Safari menu and click on Clear History in the drop-down list.

Safari will display a dialog asking you to specify the period of time this action will apply to. Select all history to ensure a maximum effect. Click on the Clear History button to confirm and exit.

Go back to the Safari Preferences and hit the Privacy tab at the top. Find the option that says Manage Website Data and click on it.

The browser will display a follow-up screen listing the websites that have stored data about your Internet activities. This dialog additionally includes a brief description of what the removal does: you may be logged out of some services and encounter other changes of website behavior after the procedure. If you're okay with that, go ahead and click on the Remove All button.

Restart Safari

Remove "ZEUS Virus Detected" warning malware in Google Chrome

Open Chrome, click the Customize and control Google Chrome (⁝) icon in the top right-hand part of the window, and select Settings in the drop-down

When on the Settings pane, select Advanced
Scroll down to the Reset settings section.

Confirm the Chrome reset on a dialog that will pop up. When the procedure is completed, relaunch the browser and check it for malware activity.

Remove "ZEUS Virus Detected" warning malware from Mozilla Firefox

Open Firefox and go to Help – Troubleshooting Information (or type about:support in the URL bar and press Enter).

When on the Troubleshooting Information screen, click on the Refresh Firefox button.

Confirm the intended changes and restart Firefox.
Get rid of Zeus virus Mac using Combo Cleaner automatic removal tool
The Mac maintenance and security app called Combo Cleaner is a one-stop tool to detect and remove "ZEUS Virus Detected" warning malware virus. This technique has substantial benefits over manual cleanup, because the utility gets hourly virus definition updates and can accurately spot even the newest Mac infections.
Furthermore, the automatic solution will find the core files of the malware deep down the system structure, which might otherwise be a challenge to locate. Here's a walkthrough to sort out the "ZEUS Virus Detected" warning malware issue using Combo Cleaner:
Download Combo Cleaner installer. When done, double-click the combocleaner.dmg file and follow the prompts to install the tool onto your Mac.

By downloading any applications recommended on this website you agree to our Terms and Conditions and Privacy Policy. The free scanner checks whether your Mac is infected. To get rid of malware, you need to purchase the Premium version of Combo Cleaner.

Open the app from your Launchpad and let it run an update of the malware signature database to make sure it can identify the latest threats.
Click the Start Combo Scan button to check your Mac for malicious activity as well as performance issues.

Examine the scan results. If the report says "No Threats", then you are on the right track with the manual cleaning and can safely proceed to tidy up the web browser that may continue to act up due to the after-effects of the malware attack (see instructions above).

In case Combo Cleaner has detected malicious code, click the Remove Selected Items button and have the utility remove "ZEUS Virus Detected" warning malware threat along with any other viruses, PUPs (potentially unwanted programs), or junk files that don't belong on your Mac.

Once you have made doubly sure that the malicious app is uninstalled, the browser-level troubleshooting might still be on your to-do list. If your preferred browser is affected, resort to the previous section of this tutorial to revert to hassle-free web surfing.
FAQ
Zeus, also known as Zbot, is a dangerous Trojan targeting Windows computers. It was originally discovered in 2007. This threat exhibits a number of deleterious characteristics, including data theft through form grabbing and keylogging, as well as the ability to distribute other infections in a highly surreptitious way. In 2009, it was used to perpetrate numerous high-profile cyber-attacks against the IT infrastructure of such technology and finance giants as NASA, Cisco, Oracle, and the Bank of America, to name a few. Also, Zeus was reportedly a pivot of the CryptoLocker ransomware propagation campaign about a decade ago.
The vast media coverage of these incidents made the Zeus virus a top cybersecurity concern of the late 2000s. It comes as no surprise that regular computer users became aware of the threat that was really the talk of the town back in the day. The above-mentioned peak of its activity was followed by well-coordinated law enforcement operations leading to a slew of arrests around the world and a takedown of its digital backbone.
However, the menace associated with Zeus continues to echo back even in 2019, except that this term is now being used as a scare element in tech support scams. Threat actors use malware that redirects victims' web browsers to rogue sites stating that Zeus has been detected on their computers. Pop-up alerts on these misleading pages try to coerce the visitors to contact impostor technicians for paid cleanup assistance, or to download a "security tool" which is scareware in disguise.
Zeus virus alert is a fake notification displayed on tech support scam sites. Its purpose is to scare computer users into thinking that their systems are badly infected. This way, the operators of these frauds try to hoodwink people into calling a pseudo support agent or downloading a malicious program camouflaged as a security solution. In the former scenario, the con artists ask for a fee so that they can remotely remove the Zeus virus from the victim's PC. In the latter situation, the phony antimalware will pretend to scan the host system, only to report more threats and recommend the user to buy its full version that will allegedly address the problem.
Although Zeus is a Trojan supporting Windows only, scammers often leverage the Zeus virus alert to try and manipulate Mac users via the same brainwashing scheme. As absurd as it appears, this attack vector has been in rotation throughout the macOS ecosystem for years. It's not until 2019 that some of these stratagems started getting a reasonable overhaul. Whereas the recent hoaxes are still reporting Zeus virus (and the ensuing identity theft activity) on Macs, at least they no longer tell the victims to contact Microsoft like they used to. However, the operating system discrepancy is still a giveaway.
No, it can't. If you happen to come across an alert on a web page telling you the opposite, just ignore it. Zeus is only capable of contaminating Windows computers, period. In spite of this undeniable fact, online scammers have been setting up bogus tech support sites that display the Zeus virus alert pop-up to every visitor regardless of their operating system. This explains why Mac users may be targeted by this ruse, even though it doesn't make any sense.
Moreover, some cybercriminal groups are distributing browser hijacking malware that runs specifically on Macs and redirects the victims to pages hosting these faux pop-ups. If you get hit by one of such infections, simply disregarding the deceptive pop-ups is not enough and you need to additionally get rid of the harmful code as described in the article above.
As previously emphasized, blaming Mac issues on the Zeus virus is a laughable scam tactic because this malicious code doesn't infect computers running macOS. The range of its targets is isolated to Windows PCs. Therefore, the Zeus threat is definitely not something you may ever need to remove from your Mac.
If you are seeing incessant pop-ups stating "ZEUS Virus Detected", focus on eradicating adware that's displaying these fake alerts in the web browser to bilk you of money for imaginary cleanup services. Before fixing the browser side of things, though, you should check your Mac for traces of the underlying potentially unwanted application (PUA).
First, go to the Activity Monitor and quit dubious processes that are consuming more CPU and memory than others. Next, head to the LaunchAgents, LaunchDaemons, and Application Support folders and delete any entries you don't recognize. Additionally, explore the list of installed applications and remove the ones that look out of place. Mac adware tends to leave a footprint in these directories.
As part of the repair, open your Login Items under "Users & Groups", select suspicious ones, and click the minus sign to purge them. If there is a fishy-looking object under Profiles (accessible from the System Preferences screen), get rid of it as well. Finally, empty the Trash.
To stop redirects and pop-ups in your default browser, use the dedicated walkthroughs in this article to clear caches, Internet history, and data stored by websites. A worthwhile shortcut to performing these procedures is to use a trusted automatic cleaner that will detect and vanquish the "ZEUS Virus Detected" alert malware in minutes. Please peruse the tutorial above to learn your options and choose the one that suits you the most.