The guide contains useful security information with regard to MacitNow adware operating on Mac OS X, and provides recommendations on removal of said bug.
The way e-advertising works is through displaying sponsored information to potential buyers where appropriate. The key phrase is "where appropriate", and that's what makes it easy to differentiate between legit ads and the ones generated by malicious entities such as adware. Since the MacitNow browser add-on triggers an awful lot of ads where they don't belong at all, it causes user experience issues and raises some red flags for security software suites. A peculiar feature of this app is that it's tailored specifically for Macs, its installer being a .dmg file. It's cross-browser, so no matter which one of the popular web browsers you use – it will get hit. The somewhat shady essence of this little program becomes obvious as early as during the setup, where the payload sneaks into a Mac machine via an undercover process. Affiliated free products, such as multimedia tools, video downloaders, whatnot, carry the bug with them and try to conceal this fact along the way. The installation workflow doesn't clearly tell you that MacitNow is included, and automatically promotes the questionable tool unless custom setup is selected and configured. So, the tip of the day: do not go default when installing freeware or shareware.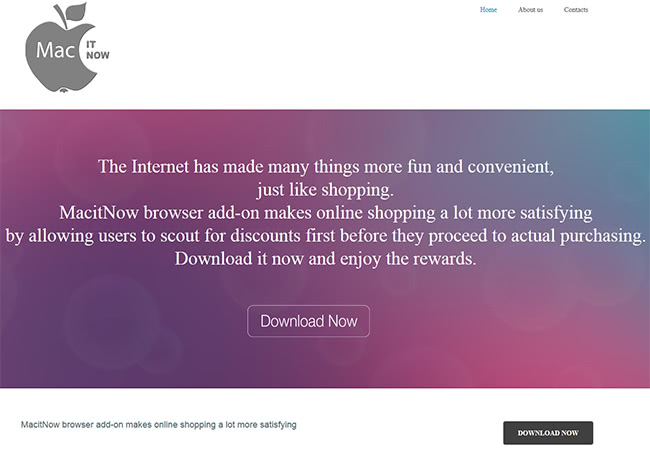 The worst part commences after this adware has integrated its components into the targeted Mac. The respective browser extension gets the privileges that suffice for it to make tangible changes to the way websites are displayed. The app embeds various types of advertising into pages, including coupons, discount codes, freebies, best price offers, etc, signed "Ads by MacitNow" or "Brought to You by MacitNow". In addition to the content mentioned above, some fragments of the text or single words on sites become automatically hyperlinked with merchant resources, which renders the pages yet more weird-looking. The tons of content that gets continuously loaded by MacitNow as you are surfing the web affects page opening times, so get ready for some sluggish browsing.
Another important fact to keep in mind is that this app scans the shopping sites you recently visited – this is what its official page says. What this means, though, is that MacitNow is aware of your browsing patterns, so it obviously monitors and collects about your online activity. To avoid Internet privacy problems and stop the annoying ads from popping up, one should uninstall the add-on. This, however, may be more difficult than the standard extension removal procedure due to the adware attributes of MacitNow.
MacitNow manual removal for Mac
To begin with, settings for the web browser that got hit by MacitNow virus should be restored to their default values. The overview of steps for this procedure is as follows:
1. Reset Safari
• Open the browser and go to Safari menu. Select Reset Safari in the drop-down list
• Make sure all the boxes are ticked on the interface and hit Reset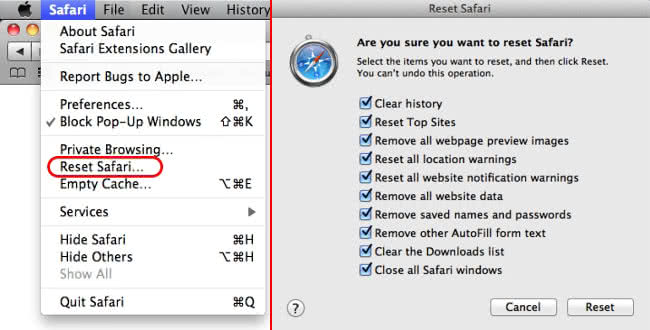 2. Reset Google Chrome
• Open Chrome and click the Customize and Control Google Chrome menu icon
• Select Options for a new window to appear
• Select Under the Hood tab, then click Reset to defaults button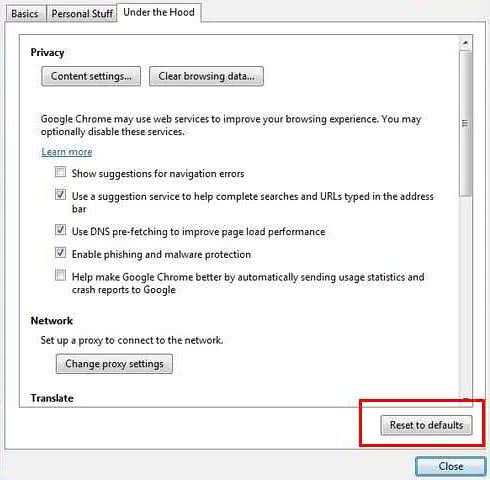 3. Reset Mozilla Firefox
• Open Firefox and select Help – Troubleshooting Information
• On the page that opened, click the Reset Firefox button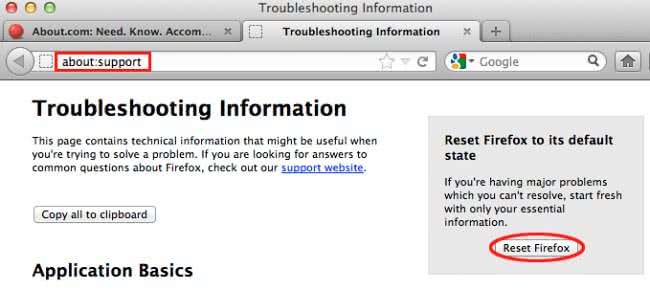 Get rid of MacitNow virus using Combo Cleaner automatic removal tool
The Mac maintenance and security app called Combo Cleaner is a one-stop tool to detect and remove MacitNow virus virus. This technique has substantial benefits over manual cleanup, because the utility gets hourly virus definition updates and can accurately spot even the newest Mac infections.
Furthermore, the automatic solution will find the core files of the malware deep down the system structure, which might otherwise be a challenge to locate. Here's a walkthrough to sort out the MacitNow virus issue using Combo Cleaner:
Download Combo Cleaner installer. When done, double-click the combocleaner.dmg file and follow the prompts to install the tool onto your Mac.

By downloading any applications recommended on this website you agree to our Terms and Conditions and Privacy Policy. The free scanner checks whether your Mac is infected. To get rid of malware, you need to purchase the Premium version of Combo Cleaner.

Open the app from your Launchpad and let it run an update of the malware signature database to make sure it can identify the latest threats.
Click the Start Combo Scan button to check your Mac for malicious activity as well as performance issues.

Examine the scan results. If the report says "No Threats", then you are on the right track with the manual cleaning and can safely proceed to tidy up the web browser that may continue to act up due to the after-effects of the malware attack (see instructions above).

In case Combo Cleaner has detected malicious code, click the Remove Selected Items button and have the utility remove MacitNow virus threat along with any other viruses, PUPs (potentially unwanted programs), or junk files that don't belong on your Mac.

Once you have made doubly sure that the malicious app is uninstalled, the browser-level troubleshooting might still be on your to-do list. If your preferred browser is affected, resort to the previous section of this tutorial to revert to hassle-free web surfing.