Find out what techniques malicious actors use to target iPhone and Mac users with the Apple Security Alert scam in 2021 and how to stop these deceptive pop-ups.
What is the Apple Security Alert pop-up virus?
Cybercriminals have leaned on tech support scams for years, and for good reason. First off, this sort of exploitation is relatively easy to contrive, compared to creating payloads that parasitize software vulnerabilities or shoddy authentication. All it takes is a scary, legit-looking alert on a website plus a little bit of social engineering. Whereas electronic systems aren't foolproof, humans slip up a lot due to sentiments and natural gullibility. Also, this is a highly lucrative exercise as long as it involves a well-thought-out narrative and elaborately designed warnings. All of this holds true for the Apple Security Alert scam. It mostly homes in on iPhone and iPad users, but the attack area extends to Macs as well. The gist is to make a person nervous by stating that their device is infected with malware and needs urgent cleaning.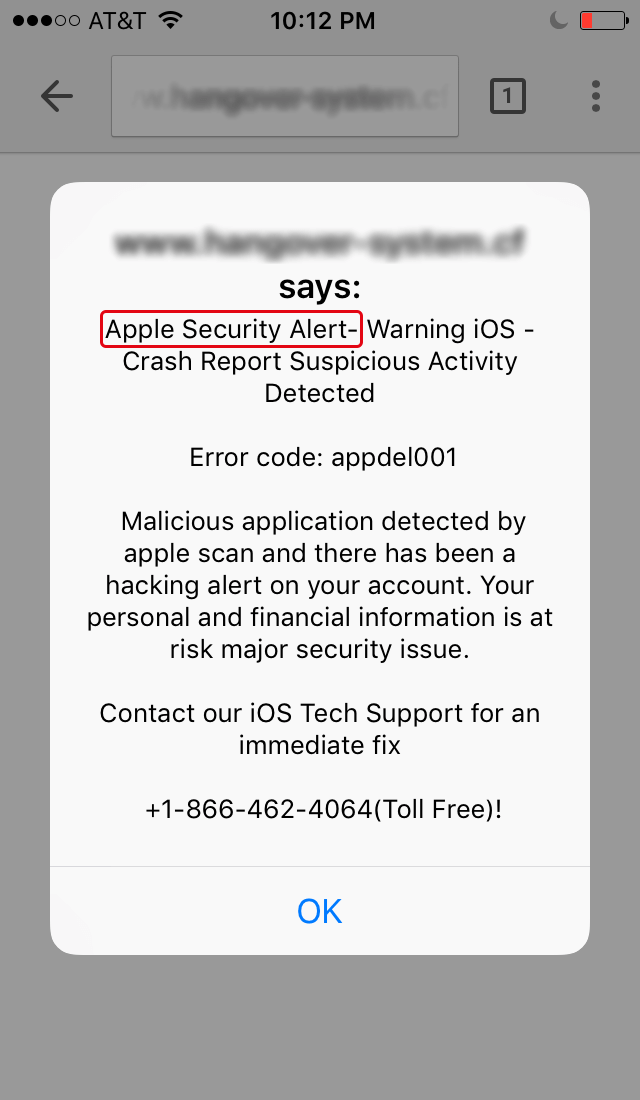 One of the most common variants of this hoax tries to get into specifics by indicating the error code "appdel001" that corresponds to the allegedly detected suspicious activity. It goes on to say, "Malicious application detected by Apple scan and there has been a hacking alert on your account". To add some extra scare to the mix, it emphasizes that personal and financial information is at risk and pressures victims into contacting "iOS Tech Support for an immediate fix". This, in turn, involves a phone call to a number that's supposedly toll free, such as +1-866-462-4064 or +1-855-633-1666. If the targeted person gets on the hook and reaches out to the self-proclaimed experts, they run the risk of unknowingly granting remote access to their device. Also, contrary to what the alert says, fraudsters use premium rate numbers, and that entails mobile billing that makes people frown.
Special Offer
Apple Security Alert pop-up virus may re-infect your Mac multiple times unless you delete all of its fragments, including hidden ones. Therefore, it is recommended to download Combo Cleaner and scan your system for these stubborn files. This way, you may reduce the cleanup time from hours to minutes. Download Now Learn how ComboCleaner works. If the utility spots malicious code, you will need to buy a license to get rid of it.
Since the Apple Security Alert pop-up scam has been around for a long time, it has spawned plenty of other spin-offs. One of the latest versions eliminates direct contact with impostors. Instead, it encourages users to download and install software that runs the gamut from Virtual Private Network (VPN) tools to worthless "cleaners" that do more harm than good. The logic behind this tactic is twofold. The unethical promotion of various applications generates affiliate revenue for scam operators. Furthermore, if the stratagem pushes a rogue anti-malware program, it will keep swamping the victim's experience with bogus warnings about system performance and security issues that aren't there. In a worst-case scenario, the perpetrating app will harvest sensitive data, such as Apple ID details, and send it to its masters.
Whether the manipulation logic circles around calling scammers or installing dubious software, the pressure mechanisms in malefactors' genre include a handful of fake Apple Security Alerts. Here are the most widespread examples:
"Warning! Your Apple iPhone is severely damaged by 13 viruses"
"Your iPhone has been compromised. Immediate action is required!"
"Your iPhone may be hacked!"
"Attention!! (6) Virus detected on your iPhone!"
"(3) viruses have been detected on your iPhone and battery has been infected and damaged"
"System Notification. Please read important information regarding your iOS device"
The text filling of some of these scams has misspellings and other inaccuracies that should give vigilant users a heads up. However, many people overlook the danger because of the imposed urgency combined with elements of Apple branding here and there. One of the biggest giveaways, though, is that these spoof notifications are displayed on junk websites rather than be triggered by iOS, iPadOS, or macOS. Several known resources that set this manipulation in motion are umobile-security.com, hangover-system.cf, iospricepro.cf, grandflooring.xyz, mobile-security-alert.com, xwqcm.net, connect.wcsoft.link, vpnshielplus4.com, and veniamad.com.
As these are knocked offline due to abuse reports, new ones supersede them. Users are typically redirected to these pages after tapping or clicking some ad, and yet the catalyst for this activity can be more unsettling. If an adware application has previously slithered inside the device, it can reorganize the web surfing settings to force hits to sites that display a counterfeit Apple Security Alert. In the latter case, the scam pop-ups won't stop appearing unless the user finds and removes the unwanted code.
Apple Security Alert pop-up virus manual removal from iPhone, iPad
As per the anatomy of this hijack, settings of the web browser that may have gotten hit by the virus should be restored to their default values. The steps for performing this procedure are as follows:
Safari troubleshooting on iPhone / iPad
Go to Settings and select Safari on the menu
Tap the Clear History and Website Data option

Confirm by tapping Clear History and Data. Check if the problem with Safari has been fixed. In the event the iPhone / iPad virus popups are still there, proceed to next step.
When on the Safari Settings screen, tap Advanced. Find the JavaScript entry there and toggle it off. This should solve the problem
Safari virus warning manual removal for Mac
The steps listed below will walk you through the removal of this malicious application. Be sure to follow the instructions in the specified order.
Expand the Go menu in your Mac's Finder bar and select Utilities as shown below.

Locate the Activity Monitor icon on the Utilities screen and double-click on it.

In the Activity Monitor app, look for a process that appears suspicious. To narrow down your search, focus on unfamiliar resource-intensive entries on the list. Keep in mind that its name isn't necessarily related to the way the threat is manifesting itself, so you'll need to trust your own judgement. If you pinpoint the culprit, select it and click on the Stop icon in the upper left-hand corner of the screen.

When a follow-up dialog pops up asking if you are sure you want to quit the troublemaking process, select the Force Quit option.

Click on the Go menu icon in the Finder again and select Go to Folder. You can as well use the Command-Shift-G keyboard shortcut.


Type /Library/LaunchAgents in the folder search dialog and click on the Go button.


Examine the contents of the LaunchAgents folder for dubious-looking items. Be advised that the names of files spawned by malware may give no clear clues that they are malicious, so you should look for recently added entities that appear to deviate from the norm.

As an illustration, here are several examples of LaunchAgents related to mainstream Mac infections: com.pcv.hlpramc.plist, com.updater.mcy.plist, com.avickUpd.plist, and com.msp.agent.plist. If you spot files that don't belong on the list, go ahead and drag them to the Trash.

Use the Go to Folder lookup feature again to navigate to the folder named ~/Library/Application Support (note the tilde symbol prepended to the path).


When the Application Support directory is opened, identify recently generated suspicious folders in it and send them to the Trash. A quick tip is to look for items whose names have nothing to do with Apple products or apps you knowingly installed. A few examples of known-malicious folder names are Quick Mac Booster, IdeaShared, and ProgressMatch.

Enter ~/Library/LaunchAgents string (don't forget to include the tilde character) in the Go to Folder search area.


The system will display LaunchAgents residing in the current user's Home directory. Look for dodgy items related to Apple Security Alert pop-up virus (see logic highlighted in subsections above) and drag the suspects to the Trash.

Type /Library/LaunchDaemons in the Go to Folder search field.


In the LaunchDaemons path, try to pinpoint the files the malware is using for persistence. Several examples of such items cropped by Mac infections are com.pplauncher.plist, com.startup.plist, and com.ExpertModuleSearchDaemon.plist. Delete the sketchy files immediately.


Click on the Go menu icon in your Mac's Finder and select Applications on the list.


Find the app that clearly doesn't belong there and move it to the Trash. If this action requires your admin password for confirmation, go ahead and enter it.

Expand the Apple menu and select System Preferences.

Proceed to Users & Groups and click on the Login Items tab.

The system will display the list of items launched when the computer is starting up. Locate a potentially unwanted app there and click on the "-" (minus) button.

Now select Profiles under System Preferences. Look for a malicious item in the left-hand sidebar. Several examples of configuration profiles created by Mac adware include TechSignalSearch, MainSearchPlatform, AdminPrefs, and Chrome Settings. Select the offending entity and click on the minus sign at the bottom to eliminate it.


If your Mac has been infiltrated by adware, the infection will most likely continue to hold sway over your default web browser even after you remove the underlying application along with its components sprinkled around the system. Use the browser cleanup instructions below to address the remaining consequences of this attack.
Get rid of Apple Security Alert pop-ups in web browser on Mac
To begin with, the web browser settings taken over by Apple Security Alert virus should be restored to their default values. Although this will clear most of your customizations, web surfing history, and all temporary data stored by websites, the malicious interference should be terminated likewise. The overview of the steps for completing this procedure is as follows:
Remove Apple Security Alert scam in Safari (Mac)

Open the browser and go to Safari menu. Select Preferences in the drop-down list.

Once the Preferences screen appears, click on the Advanced tab and enable the option saying "Show Develop menu in menu bar".

Now that the Develop entry has been added to the Safari menu, expand it and click on Empty Caches.

Now select History in the Safari menu and click on Clear History in the drop-down list.

Safari will display a dialog asking you to specify the period of time this action will apply to. Select all history to ensure a maximum effect. Click on the Clear History button to confirm and exit.

Go back to the Safari Preferences and hit the Privacy tab at the top. Find the option that says Manage Website Data and click on it.

The browser will display a follow-up screen listing the websites that have stored data about your Internet activities. This dialog additionally includes a brief description of what the removal does: you may be logged out of some services and encounter other changes of website behavior after the procedure. If you're okay with that, go ahead and click on the Remove All button.

Restart Safari

Get rid of Apple Security Alert virus in Google Chrome (Mac)

Open Chrome, click the Customize and control Google Chrome (⁝) icon in the top right-hand part of the window, and select Settings in the drop-down

When on the Settings pane, select Advanced
Scroll down to the Reset settings section.

Confirm the Chrome reset on a dialog that will pop up. When the procedure is completed, relaunch the browser and check it for malware activity.

Remove Apple Security Alert pop-ups in Mozilla Firefox (Mac)

Open Firefox and go to Help – Troubleshooting Information (or type about:support in the URL bar and press Enter).

When on the Troubleshooting Information screen, click on the Refresh Firefox button.

Confirm the intended changes and restart Firefox.
Get rid of Apple Security Alert pop-up virus using Combo Cleaner removal tool
The Mac maintenance and security app called Combo Cleaner is a one-stop tool to detect and remove Apple Security Alert pop-up virus. This technique has substantial benefits over manual cleanup, because the utility gets hourly virus definition updates and can accurately spot even the newest Mac infections.
Furthermore, the automatic solution will find the core files of the malware deep down the system structure, which might otherwise be a challenge to locate. Here's a walkthrough to sort out the Apple Security Alert pop-up issue using Combo Cleaner:
Download Combo Cleaner installer. When done, double-click the combocleaner.dmg file and follow the prompts to install the tool onto your Mac.

By downloading any applications recommended on this website you agree to our Terms and Conditions and Privacy Policy. The free scanner checks whether your Mac is infected. To get rid of malware, you need to purchase the Premium version of Combo Cleaner.

Open the app from your Launchpad and let it run an update of the malware signature database to make sure it can identify the latest threats.
Click the Start Combo Scan button to check your Mac for malicious activity as well as performance issues.

Examine the scan results. If the report says "No Threats", then you are on the right track with the manual cleaning and can safely proceed to tidy up the web browser that may continue to act up due to the after-effects of the malware attack (see instructions above).

In case Combo Cleaner has detected malicious code, click the Remove Selected Items button and have the utility remove Apple Security Alert pop-up threat along with any other viruses, PUPs (potentially unwanted programs), or junk files that don't belong on your Mac.

Once you have made doubly sure that the malicious app is uninstalled, the browser-level troubleshooting might still be on your to-do list. If your preferred browser is affected, resort to the previous section of this tutorial to revert to hassle-free web surfing.