The blend of online protection, sensitive data guards, anti-theft, powerful optimization features and dedicated customer support makes this suite a nearly perfect match for the average Mac user when it comes to keeping the machine safe and performing at its peak.
Originally developed by ZeoBit and purchased in 2013 by Kromtech Alliance, the MacKeeper software suite is a popular utility for protection and maintenance of Mac devices. Although the issue of viruses affecting this platform is debatable, combatting attacks as in the notorious botnet story a few years back is steadily gaining relevance. In the meanwhile, real-time and on-demand scanning for Mac malware is only part of what MacKeeper is designed to do.

The bulk of this app's functionality is focused on assuring smooth operating system performance through handling junk and duplicate files. Data control via encryption and backup of sensitive information along with a reliable data shredding feature is another lure to users who care about privacy. To its credit, the suite also accommodates a capability of keeping track of newer available versions of the installed applications, though this complex feature has been reported to not always return accurate results within its competence. An important facet of MacKeeper is online security delivered through anti-phishing and identity theft prevention, powered by a large and continuously expanding sandbox of blacklisted URLs that host malware or engage in scam activities. The anti-theft feature deserves a separate mention as it allows remotely locating a stolen or misplaced device.
Some marketing issues in the past set aside, on the output you get a fairly versatile suite providing security, data control, cleaning, and optimization of your Mac.
Requirements
Platform: Mac OS X 10.5 or later (OS X Mavericks compatible).
Interface, Controls and Reporting
MacKeeper's GUI is tailored to deliver an all-embracing perspective of the built-in features in an easy-to-understand form. All of the core functional components are located in the left-hand pane, grouped by feature clusters (Status, System Scan, Security, Data Control, Cleaning, Optimization, and Geek on Demand) for greater intuitiveness. The central part of the interface is occupied by extensive information on the selected features, providing the respective metrics, analysis progress statistics, and options toggling capabilities. Support-related details and links to live chat as well as the feedback form are in the right-hand section.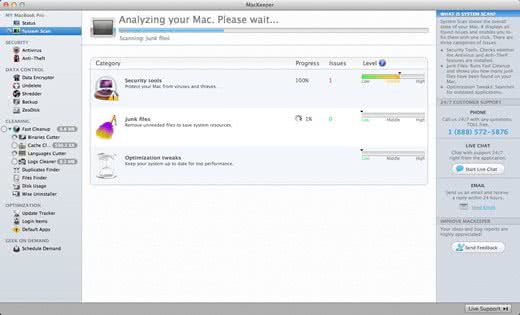 The MacKeeper report is accessible via the Status button, and it's one of the remarkable things about the suite. That's where you can learn the current state of things by three major areas: Junk, Security, and Performance. Easy-to-perceive and smart-looking statuses located in one place make it ultimately simple to find out how your Mac is doing.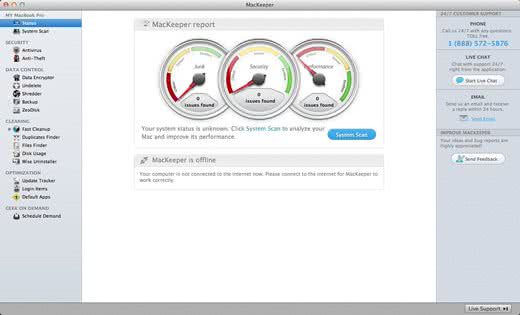 The system scan process reveals the specific security and device health problems, recommending the fixes for detected issues. In this context, it's great to know that users get to choose whether or not certain bugs should be taken care of – we believe respect for user discretion is important.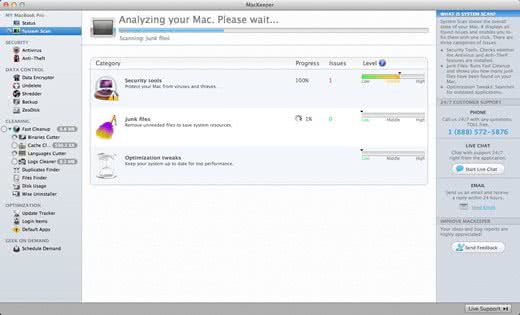 Overall, we found the GUI streamlined and really easy to navigate, so it definitely doesn't take a rocket scientist to manage this program and use its undoubtedly powerful arsenal of capacities.
Features
As mentioned above, MacKeeper delivers the essentials for system maintenance, user privacy, data security and malware protection through subsets of features grouped by areas of expertise. In this section we will review the key functionalities built into the suite.
Security
• Internet Security is powered by the Real-Time Safe Browsing feature which automatically blocks unsafe websites in case you're trying to access them. With this capability at your disposal, you can rest assured you won't fall victim to credit card fraud, identity theft, email spoofing and phishing.
• Again, whereas virus protection for Macs is fortunately not as critical as it is for Windows, this trend is on the rise, being exemplified by some rogue products, ransomware, and device zombifying attacks. The Antivirus feature combats known Mac malware and assists in keeping the system secure in the event you are using Windows emulators like VMWare.
• Anti-Theft is a unique capability enabling you to track your Mac in case it gets stolen. By logging into your online account you can determine your device's geographic location and even get an iSight snapshot of the thief taken.
Data Control
• Data Encryptor is intended to hide and password-protect your most sensitive files. Furthermore, this feature makes it impossible to find such files or folders through the use of Terminal or Finder. Consequently, you are the only person that has access to the information concealed in this fashion.
• File Recovery (Undelete) can give you a helping hand in case you need to restore files that were deleted - intentionally or by accident. This tool scans the hard drive and creates a preview of the previously erased files. Indicate the one(s) you would like restored – and leave the rest to MacKeeper. Note that the deep scan may take hours; also, files can only be recovered to a storage device other than the drive they were originally on.
• Owing to the Shredder feature, you can eliminate selected files beyond recovery. A widespread scenario where this procedure is recommended is when selling a device. Important to know, shredded objects are completely gone and even using forensic tools to get them back is to no avail.
• Backup makes it possible to create reserve copies of your files and folders on an external data storage such as external hard drive, USB memory stick, etc. An additional benefit is the ability of scheduling this task so that MacKeeper backs up the data on a regular basis.
Cleaning
• Fast Cleanup is many users' all time favorite about MacKeeper. It scans the hard drive and finds the junk items that can be safely removed to free up disk space and speed up your Mac. This feature accommodates Binaries Cutter, Cache Cleaner, Languages Cutter, and Logs Cleaner.
• Duplicates Finder deals with the issue of redundant files, namely copies of the same file in different system locations. This tool can even find the files whose copies were renamed.
• Files Finder is an advanced feature for file lookup on your Mac. It includes an extensive set of filters for a greater efficiency of the search process, allowing you to find photos, archives, video and audio files, as well as applications.
• MacKeeper's Disk Usage feature creates a detailed profile of the folders based on their size. The handy visualization component returns the list of files in different colors depending on the hard drive space they occupy.
• Smart Uninstaller is meant to entirely remove apps, plugins, widgets and other software from your Mac. This feature effectively completes the job that the standard uninstall procedure may not accomplish thoroughly enough, since dragging stuff to Trash may still leave some objects (cache, logs, etc.) behind.
Optimization
• Update Tracker is another unique thing about MacKeeper. It monitors all installed applications for newer versions in real time. Based on the 'verdict', apps are labeled green (up to date) or red (out of date). The user can therefore get the needed updates in one click without actually having to do it through the respective feature in each individual piece of Mac software running on the machine.
• The feature called Login Items enables you to customize the list of processes (applications) that are automatically triggered each time you start up your device.
• Default Apps configures the app launching process by letting you associate different types of files with programs to be used for opening those. The filtering option facilitates and reduces the time needed for this activity.
Support
The help and support system for MacKeeper is built around the idea of users not having to confront and solve problems on their own. You can contact the company's tech representatives 24/7 in several ways: by phone (numbers indicated in the right-hand section of the GUI as well as on the official website), live chat, or email. The guys on the other end are responsive, competent and helpful. For some basic troubleshooting and general product information, users can resort to the manual freely accessible on the vendor's site.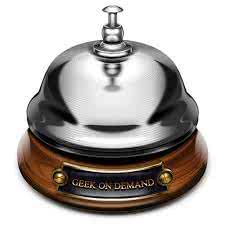 A very special support feature called 'Geek on Demand' addresses technical issues of any complexity relating to Mac OS and iOS. During the 15-day trial period, users can submit one demand to get professional response and advice. Registered users can send as many demands as they like. The declared response time is 48 hours however in most cases the wait is much shorter. With 'Geek on Demand', you can get your Mac device remotely configured and receive easy-to-apply tips for any Mac-related situation.
Conclusion
Download NowMacKeeper accommodates an extensive set of tools and controls for maintenance and security of a Mac device, which means you can use it as an all-in-one toolkit for accomplishing a variety of different tasks. The blend of online protection, sensitive data guards, anti-theft, powerful optimization features and dedicated customer support makes this suite a nearly perfect match for the average Mac user when it comes to keeping the machine safe and performing at its peak.