The blend of online protection, sensitive data guards, powerful optimization features, and dedicated customer support makes this suite a nearly perfect match for the average Mac user when it comes to keeping the machine safe and performing at its peak.
Update: September 2023
Intro
MacKeeper is one of the big-name applications geared toward the security and maintenance of laptops and desktops with macOS on board. This solution is a firmly established old-stager in the Mac protection and optimization territory. Developed by ZeoBIT in 2010 and purchased by Kromtech Alliance in 2013, it currently runs under the umbrella of Clario Tech that acquired the software in 2019.
Over a decade ago when MacKeeper splashed onto the scene, the issue of viruses and malware affecting Mac machines was debatable. But today, as adware, info-stealers, and ransomware are gaining momentum in the Apple arena, the growing importance of proper cybersecurity for Macs is as clear as crystal. That said, real-time and on-demand scanning for malicious programs is only part of what MacKeeper is designed for.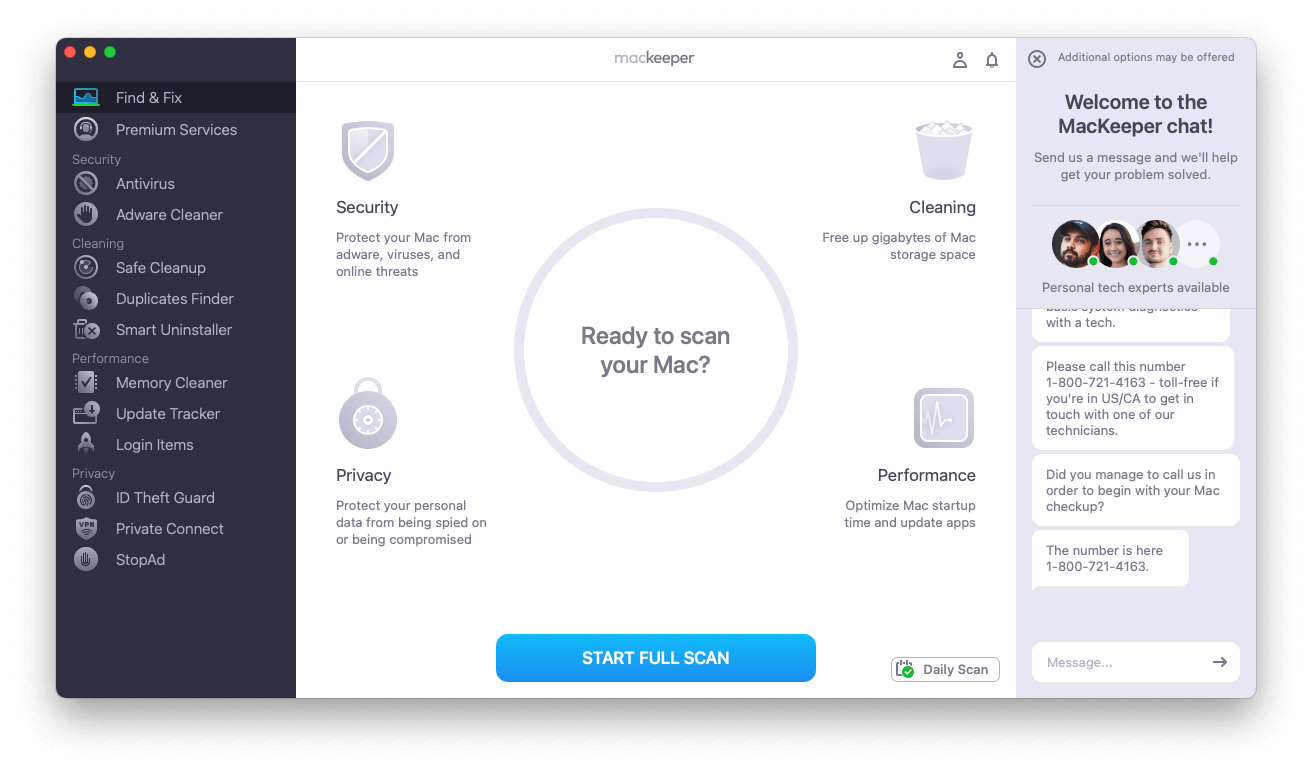 A good deal of this app's functionality is focused on assuring smooth performance of the operating system through handling junk, duplicate files, and memory hogs. A built-in VPN, email scanner that identifies leaked personal data, and proprietary ad blocker are extra lures to those who care about privacy. To its credit, the app also accommodates a feature that keeps track of newer available versions of the installed applications.
Some of you may have come across reports about MacKeeper's questionable promotion tactics reminiscent of scareware activity. This story boiled down to the foul play of unscrupulous affiliates and culminated in 2014 with a lawsuit that the company settled. Criticism over aggressive marketing is now a thing of the past.
Long-gone controversies set aside, this is a fairly versatile suite providing security, cleaning, and identity protection features. I'll fast forward a bit here to say that my testing of MacKeeper 6 revealed its exceptional capacity to do its thing properly across all these areas. Moreover, I didn't stumble upon a single hint of deceptive practices – the app is all fair and square with its "Find & Fix" routines. Without further ado, let's go into detail.
Requirements
Operating system
macOS 10.13 and later
CPU
64-bit Intel processor, Apple M1, or newer
Memory
2 GB
Disk space
113 MB
Interface, Controls and Reporting
MacKeeper's GUI is tailored to deliver an all-embracing perspective of the available features in an easy-to-understand way. All of the core functional components are located in the left-hand sidebar, grouped by feature clusters (Find & Fix, Premium Services, Security, Cleaning, Performance, and Privacy) for greater intuitiveness.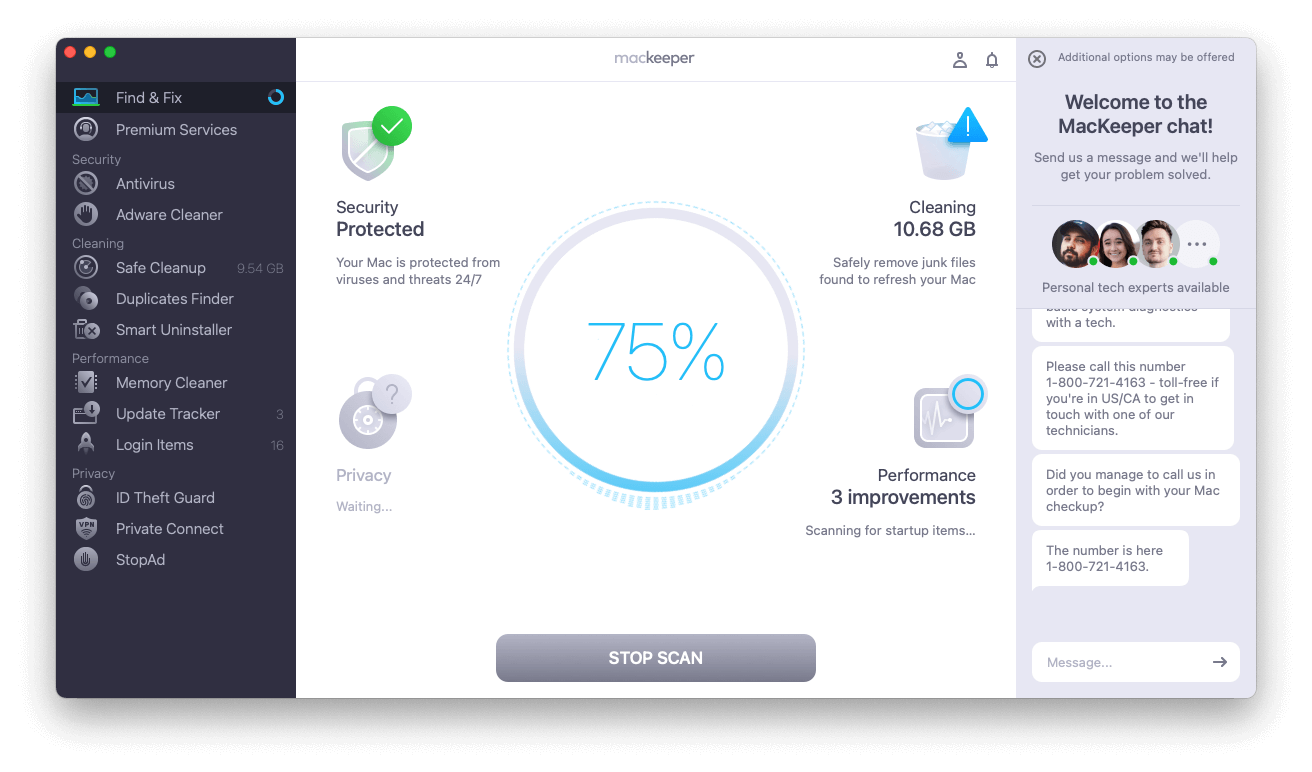 The central part of the interface is occupied by the current statuses by four key areas, shortcuts to review and fix each one separately, or repair what's not right in one go. The live chat section is in the right-hand part of the GUI – it can be minimized if you'd rather focus entirely on resolving the issues found. Overall, I find the MacKeeper status screen amazingly intuitive and informative.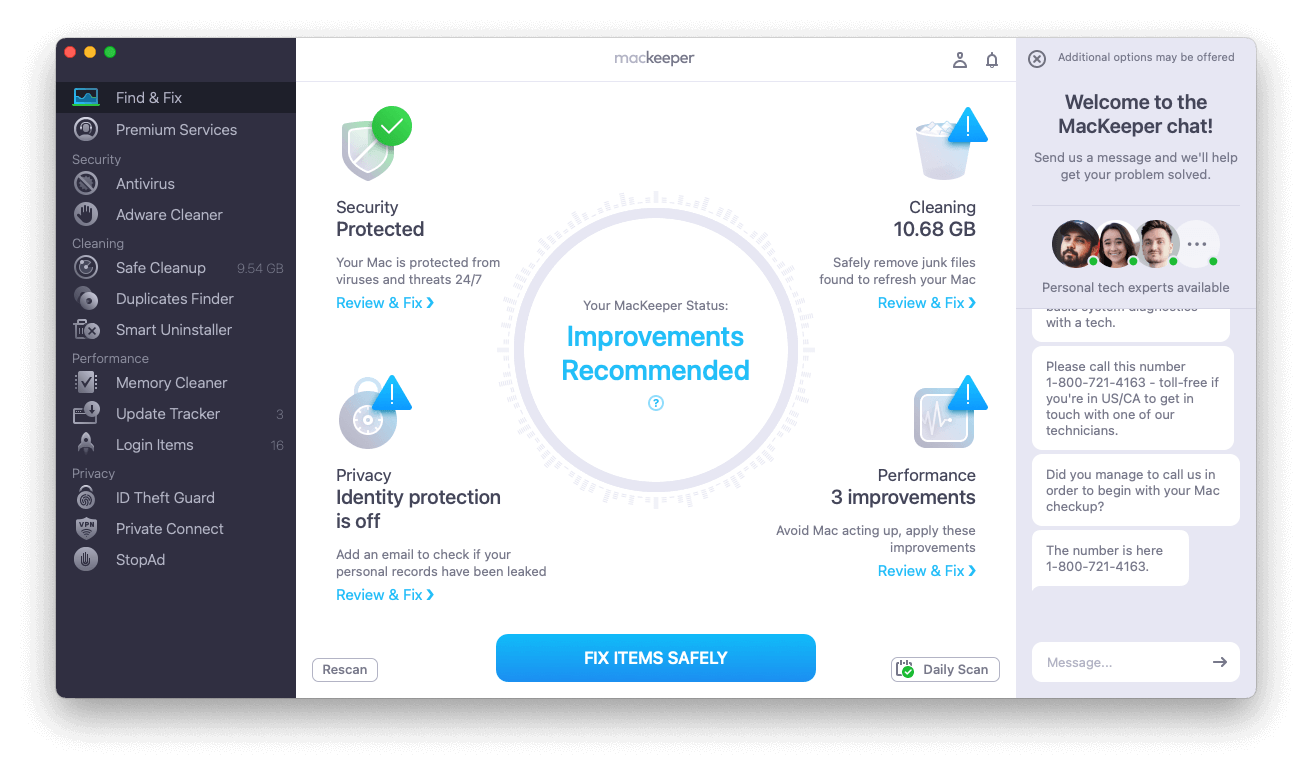 The system scan process took a little more than two minutes. It revealed the specific security and device health problems, recommending the fixes for detected issues. In this context, it's great to know that users get to choose whether or not certain bugs should be taken care of automatically and right away – I believe respect for user discretion is important.
Of special note is the MacKeeper Dashboard. This is a widget that sits in the system's upper menu bar, appearing on each startup. It provides a bird's-eye view of the essential information and includes quick actions, fixing what's not right, along with recommendations based on previous scans. You can as well enable VPN with one click from there.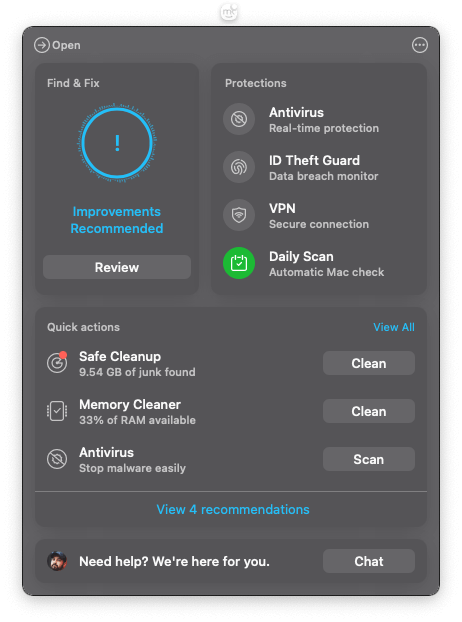 The app's preferences are accessible via the menu bar as well. Using a total of seven tabs, you can configure the main areas of MacKeeper functionality, including scan options, third-party application updates tracking, antivirus, and account details.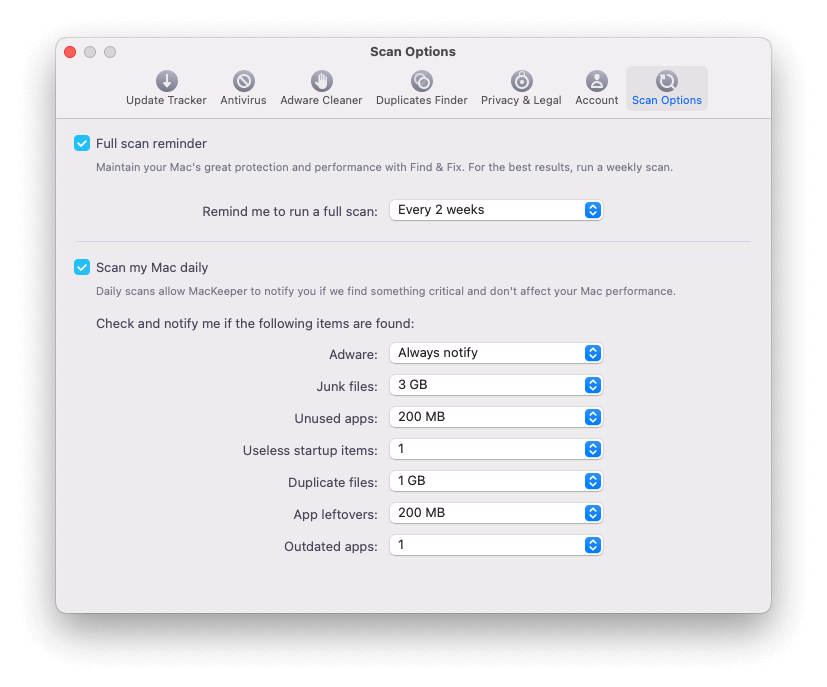 To recap, the user interfaces are sleek, streamlined, and really easy to navigate, so it definitely doesn't take a rocket scientist to adjust this program to your needs and use its undoubtedly powerful arsenal of capacities. Combined with a low system performance footprint, MacKeeper makes a positive first impression.
MacKeeper features
As mentioned above, MacKeeper delivers the fundamental functionality for system maintenance, user privacy, and malware protection through subsets of features grouped by areas of focus. In this section I will review the key features the suite comes equipped with.
Security
• The Antivirus feature combats known and emerging Mac malware. Whereas virus protection for Macs is fortunately not as critical as it is for Windows, this trend is on the rise, exemplified by rogue software, ransomware, and spyware attacks. Note that enabling real-time protection requires that you add a new system extension manually from Security & Privacy menu under System Preferences.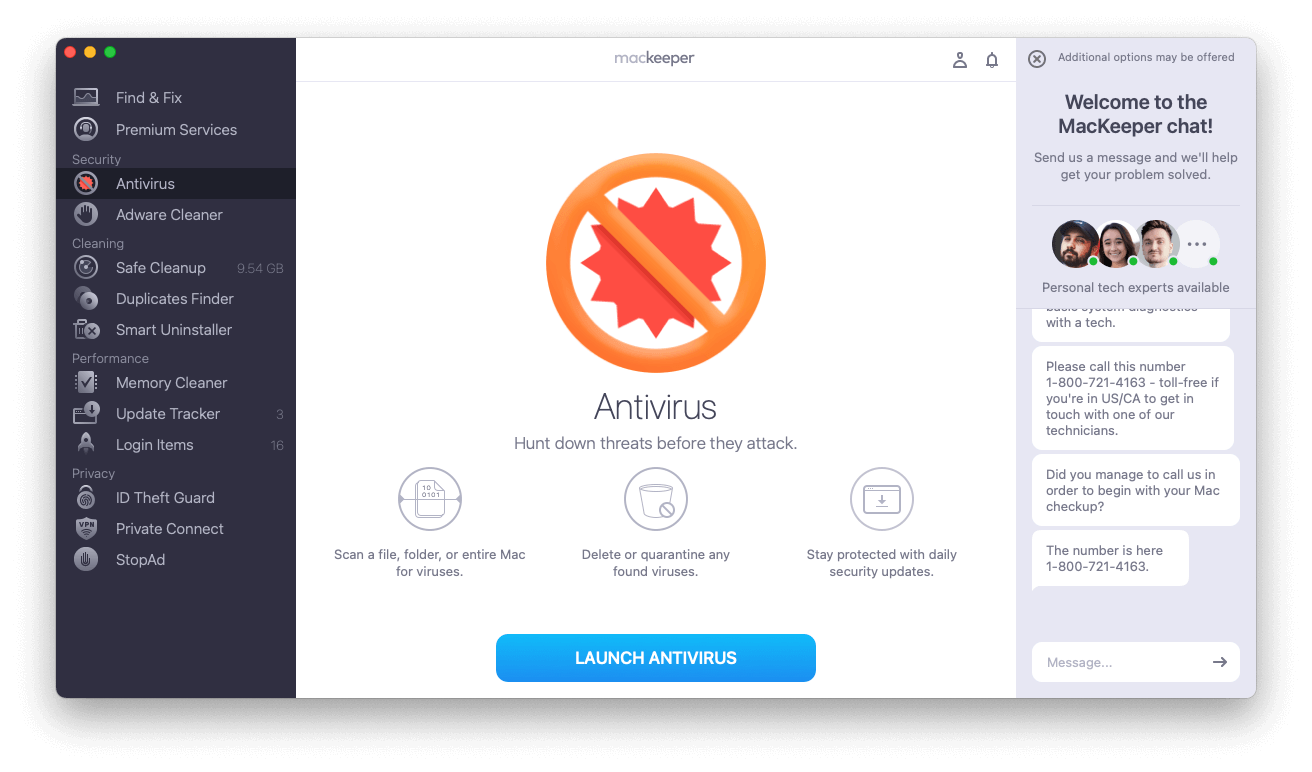 • Adware Cleaner is an important addition to the feature set because of how prevalent these digital culprits are. Mac adware is a broad phenomenon that runs the gamut from browser hijackers to ad-injecting programs, many of which also collect personally identifiable data (PID). The feature in question detects such threats in a matter of minutes and allows you to remove them in mere seconds.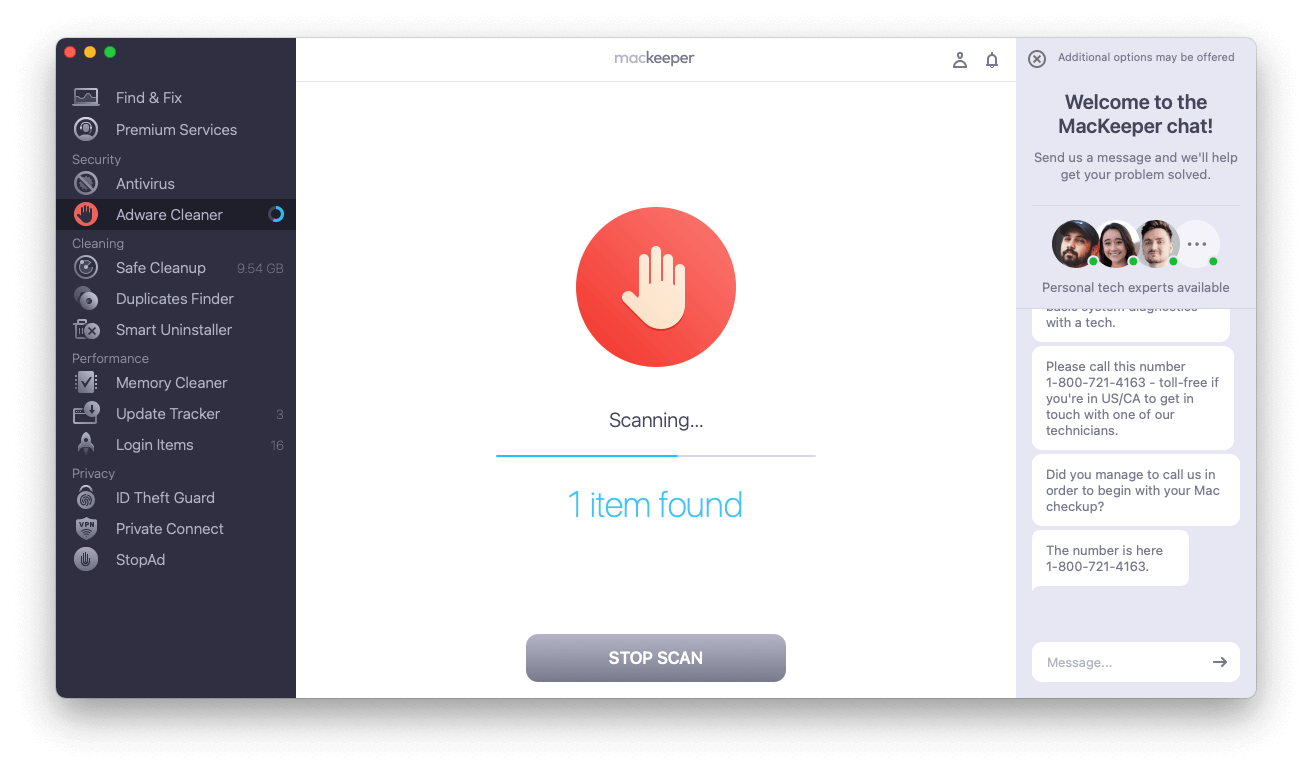 Cleaning
• Safe Cleanup is many users' all-time favorite about MacKeeper. It scans the hard drive and finds the junk items that can be safely removed to free up disk space and speed up your Mac. This feature looks for logs, caches, unused languages, mail attachments, and trash files that you might want to be purged.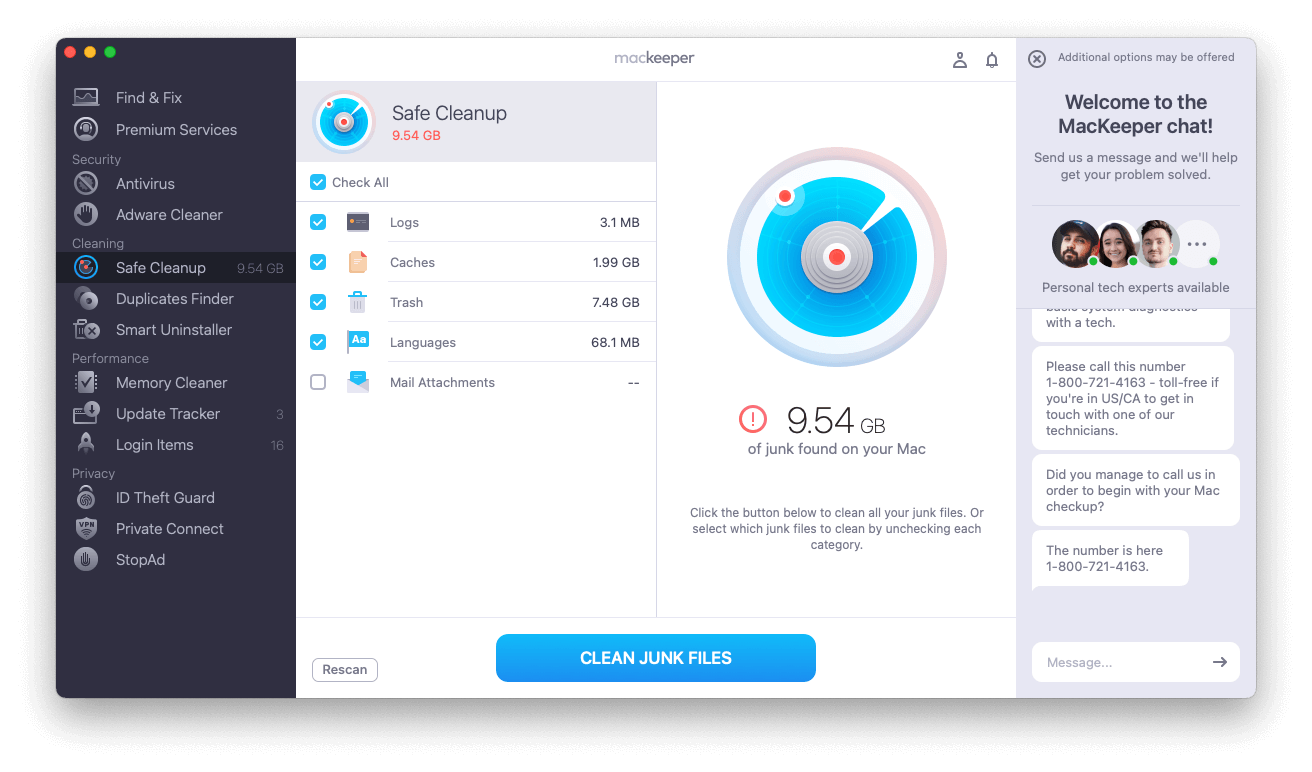 • Duplicates Finder deals with the issue of redundant files, namely copies of the same file in different directories across the system. This tool can even find similar photos, useless screenshots, and files whose copies were renamed.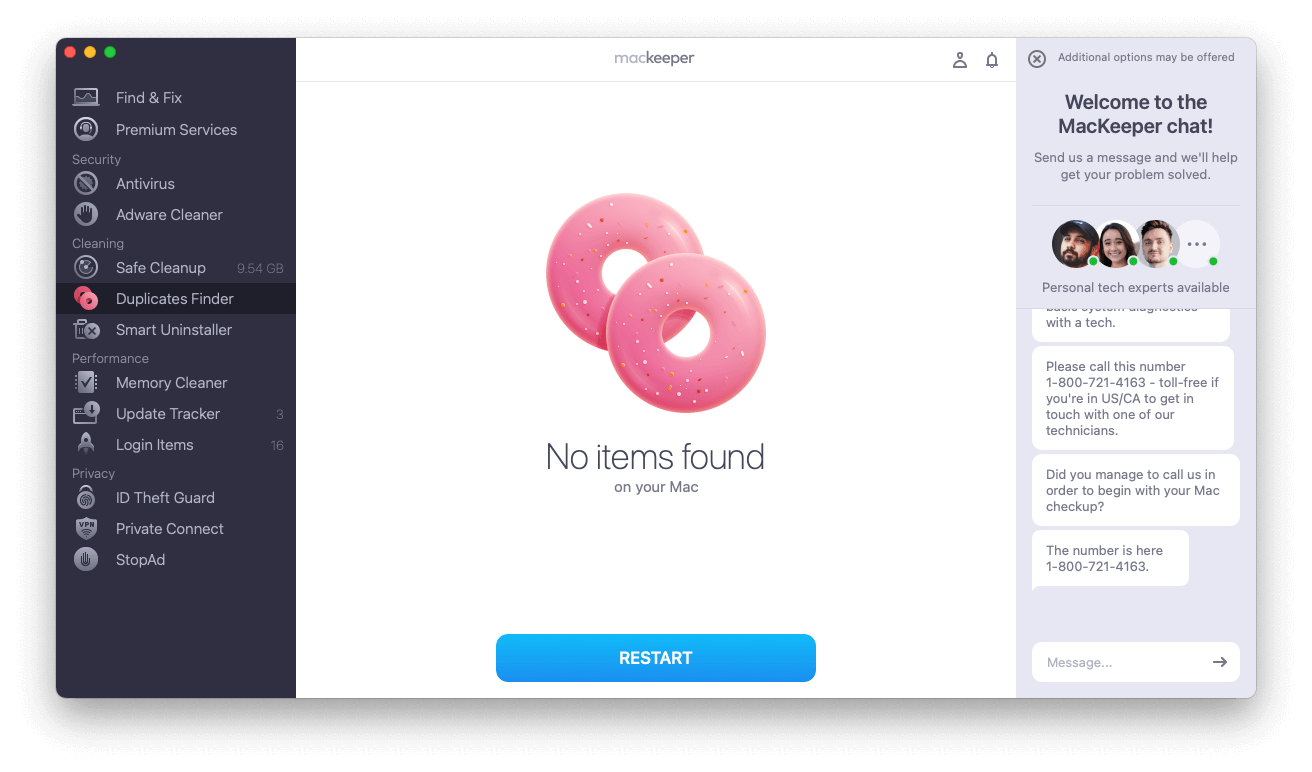 • Smart Uninstaller is meant to entirely remove apps, plugins, widgets, preference panes, browser extensions, and application leftovers from your Mac. This feature effectively completes the job that the standard uninstall procedure may not accomplish thoroughly enough, as moving stuff to the Trash may still leave some objects behind (caches, logs, etc.)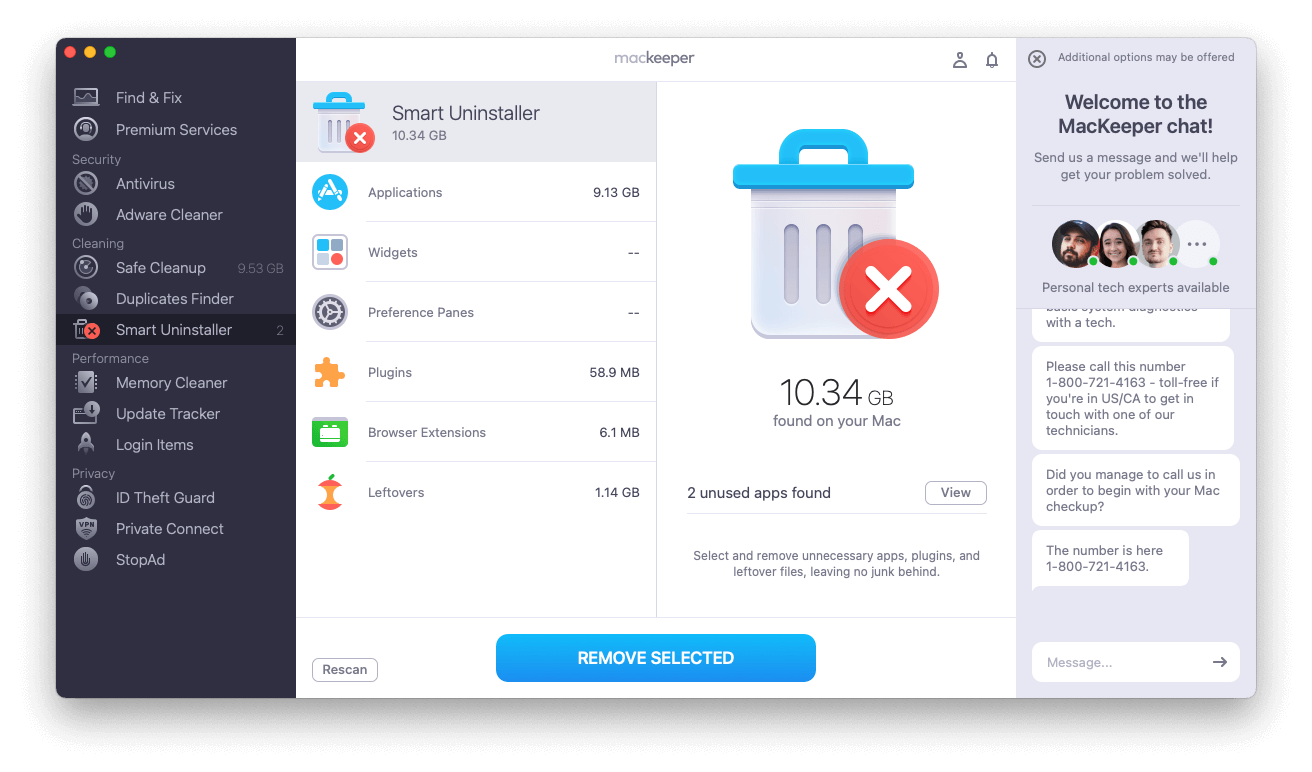 Optimization
• Memory Cleaner is intended to release your Mac's RAM, control the memory consumption patterns, and keep track of resource-heavy processes continuously. This is a brilliant feature to keep your computer speedy. Be advised that the report may show a frighteningly low amount of available RAM (15.9 MB out of 8 GB in my case). As you dig a bit deeper, you'll see that several gigabytes of these are cached files, which is a regular way macOS optimizes memory. And yet, this cache is absolutely safe to delete.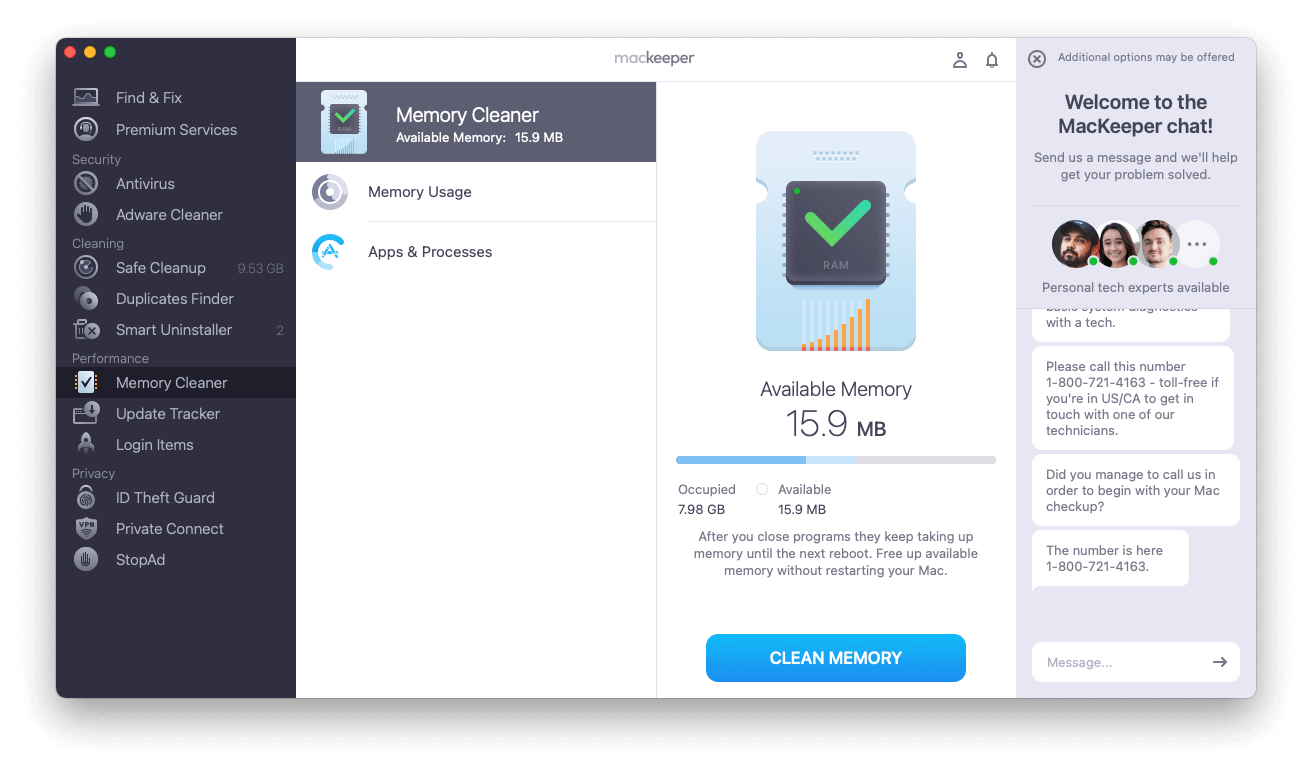 • Update Tracker is another unique thing about MacKeeper. It scans all installed applications for newer versions. Based on the verdict, you can get the necessary updates in one click without having to do it through the respective feature in each individual piece of Mac software.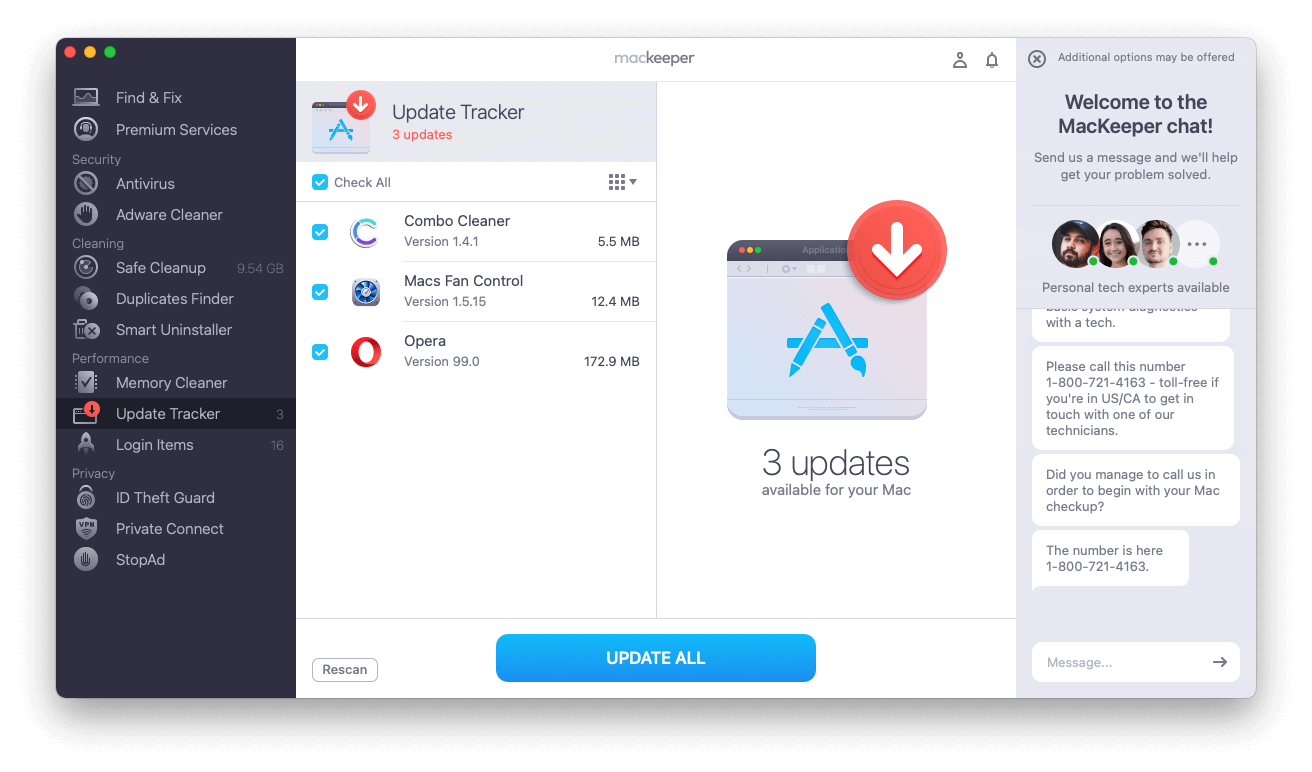 • The feature called Login Items enables you to customize the list of processes and applications that automatically launch each time you turn on your computer. Otherwise, you'd need to browse the LaunchAgents folder and Users & Groups under System Preferences to do it.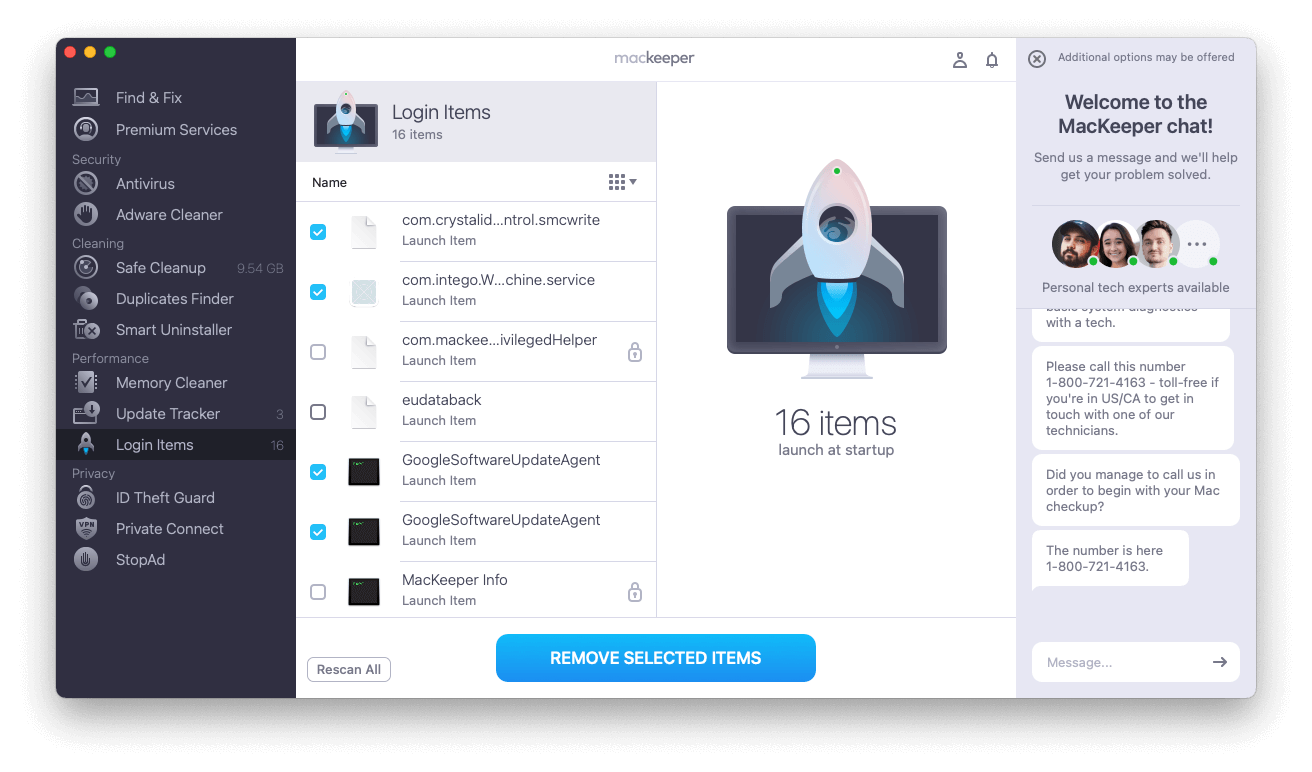 Privacy
• ID Theft Guard scans your email addresses against a database of login credentials leaked to the dark web. If such facts are discovered down the road, MacKeeper will alert you to risk in real time so that you can change your password before crooks get a chance to hack your account. Additionally, the feature monitors dumps of credit card numbers and SSN.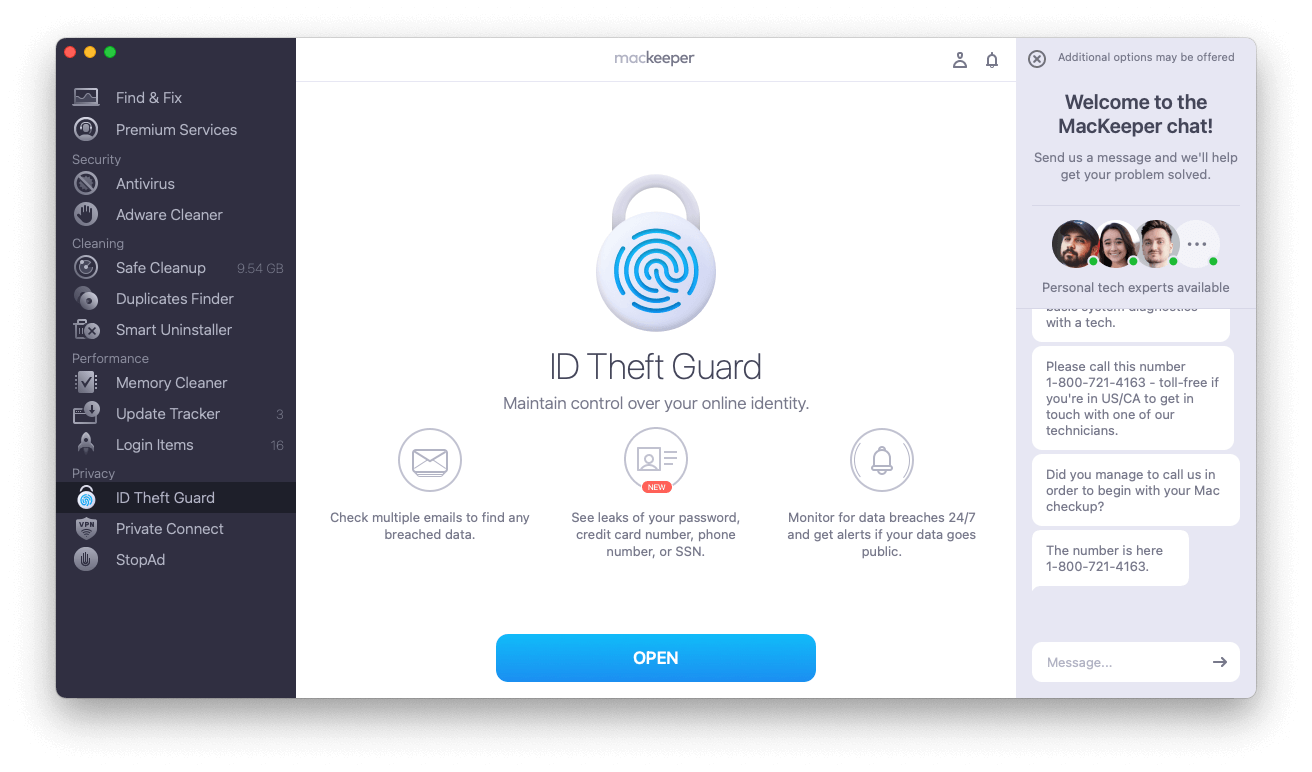 • Private Connect is MacKeeper's built-in VPN service. As such, it secures your internet connections by encrypting data and assigning a different IP address for your web surfing sessions.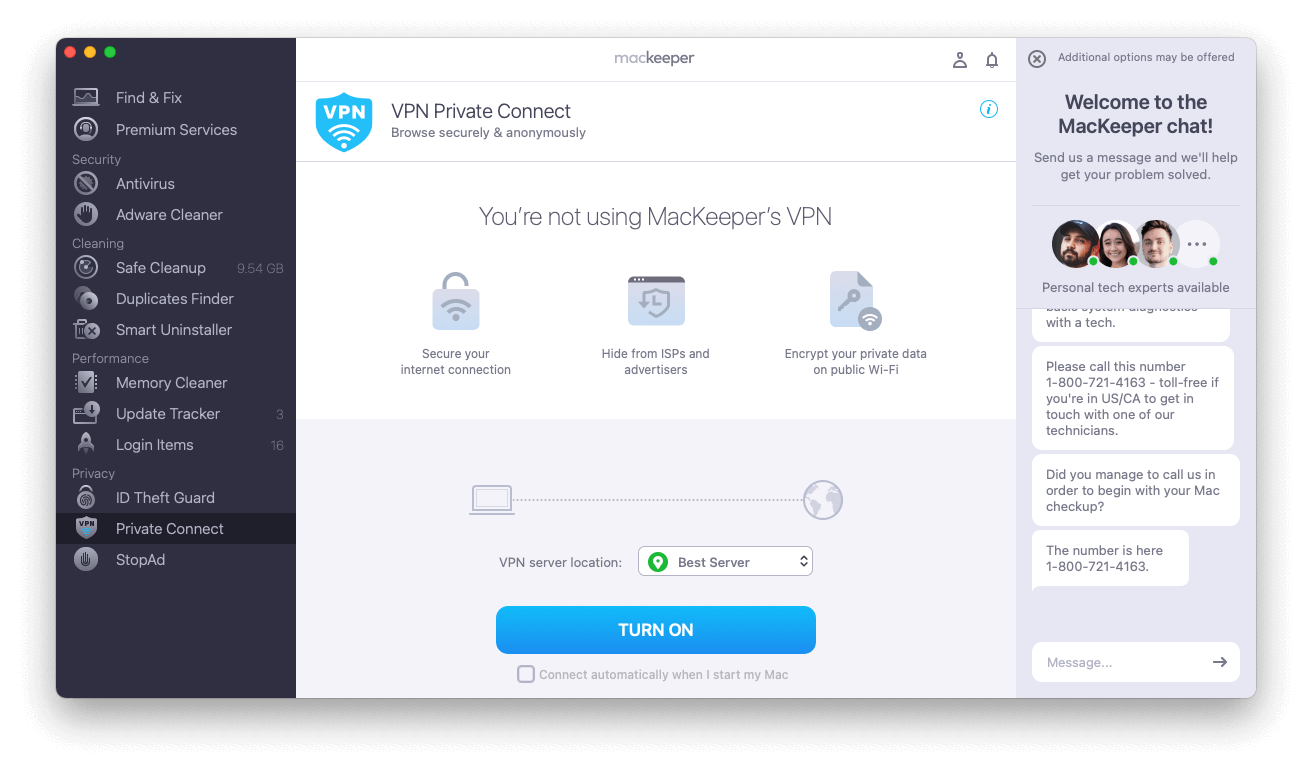 • StopAd is a feature aimed to block ads and trackers as you browse. Aside from privacy, an extra benefit of using it is that pages will load faster without the unwanted tracking in place. To make it work, you'll need to install and enable a respective browser extension.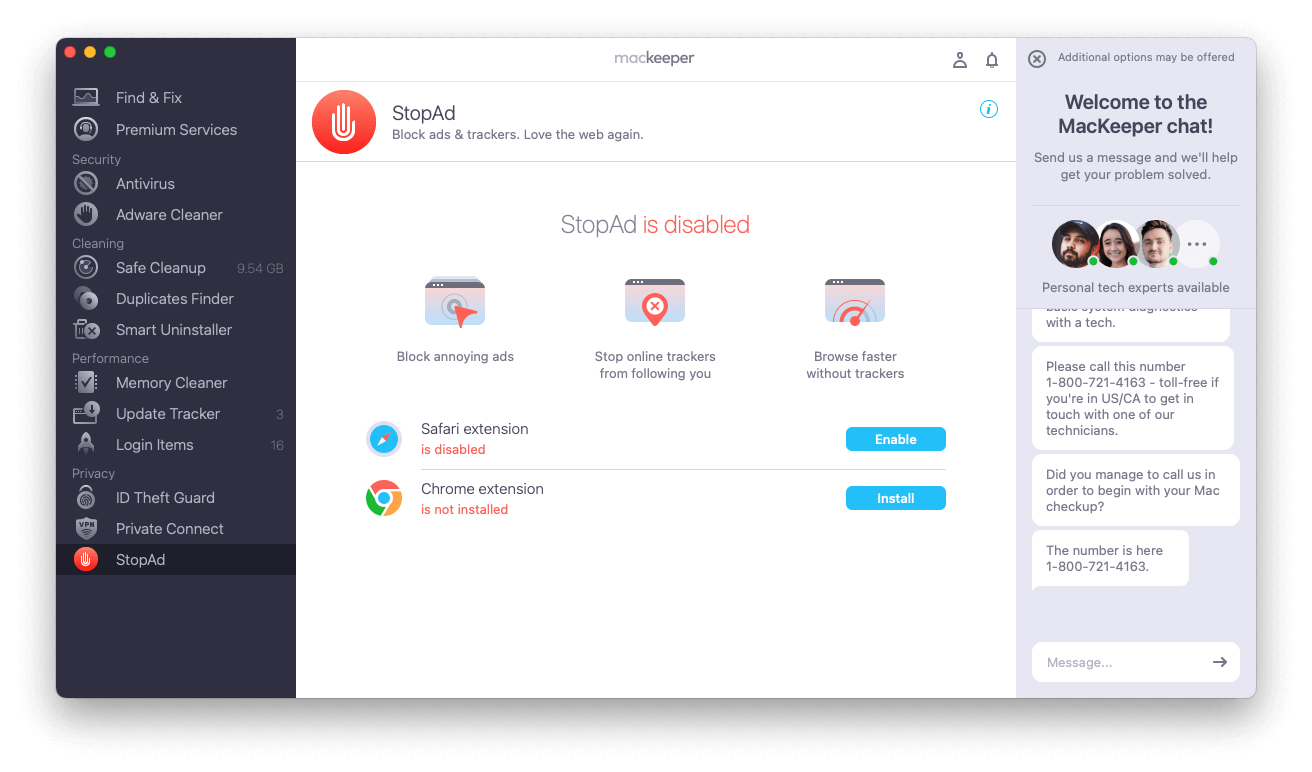 Support
The help and support system for MacKeeper is built around the idea of users not having to confront and solve problems on their own. You can contact the company's tech representatives 24/7 in several ways: via live chat, or by phone (numbers are indicated in the right-hand section of the GUI for different regions). The Premium Services option in the app's sidebar menu harbors all tech support opportunities in one place.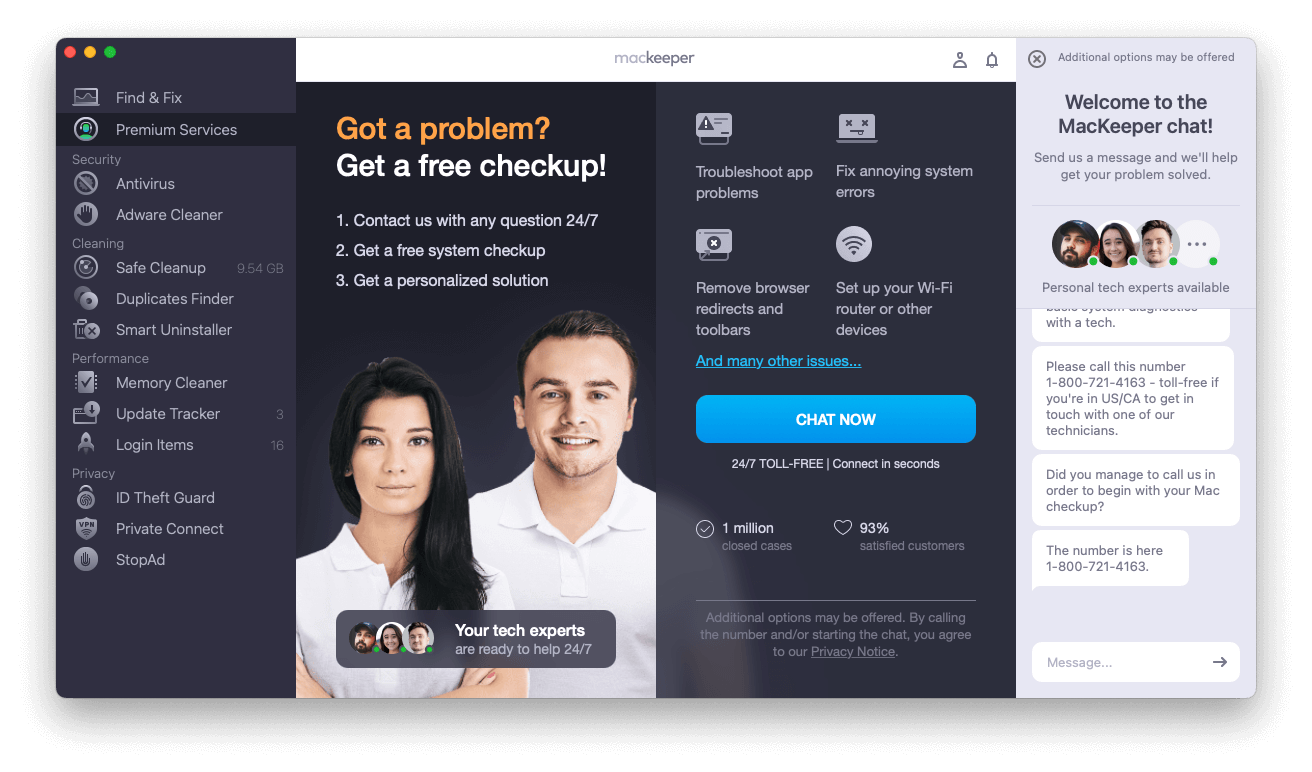 The folks on the other end are responsive, competent, and helpful. For some basic troubleshooting and general product information, users can resort to the manual readily available on the publisher's website.
Conclusion
MacKeeper accommodates an extensive set of tools and controls for the maintenance and security of a Mac computer, which means you can use it as an all-in-one toolkit for accomplishing a variety of different tasks. The blend of malware protection, privacy controls, powerful optimization features, and dedicated customer support makes this suite a nearly perfect match for the average Mac user when it comes to keeping the machine safe and performing at its peak.