Follow the steps listed in this guide to get rid of search-quick.com hijacker on Mac and also get tips and tricks to stay clear of this nagging threat.
Search-quick.com is a website overpopulated with sponsored information. This, however, is not the main problem about it. As far as Mac user's security is concerned, visiting the page mentioned above is an alarm signal that denotes one of the prevalent adware infections currently deployed for OS X. In other words, there is an app that infiltrates one's machine without adhering to typical authorization requirements and then messes up the functioning of web browsers. The final goal that the virus makers pursue via this tactic is to make the victims frequently hit search-quick.com as though this were their preferred homepage and search engine.
This adware reportedly follows a bundling workflow to contaminate Mac devices. The common scheme is simple: you stumble upon some captivating video, but it cannot be watched because a notification says you need some special software, for instance, MPlayerX. Since the recommended utility includes the potentially unwanted applet in its setup pack, you end up catching the virus without even realizing it.
Dubious software installation that like is the starting point for the malware deployment. The changes that follow this trespass include the addition of new objects to the system, named ".onlySearch.plist" and "V.framework". That's not something the user will notice with the naked eye, though. More obvious symptoms are going to be observed in Safari, Chrome or Firefox on the Mac. Whichever of these browsers is used, its settings will undergo significant changes.
The browser homepage will be changed to search-quick.com, and so will the new tab and preferred search provider. The interesting thing about the site mentioned above is that it will be always redirecting you to a different page, namely thesmartsearch.net, when you try to enter your search in there. As a result, you end up being involved in a loop of repeatedly triggered browser redirects, which complicates the web surfing and keeps you from configuring your preferences. Read further instructions to learn how Search-Quick virus can be removed from Mac.
Search-Quick manual removal for Mac
To begin with, settings for the web browser that got hit by the search-quick.com virus should be restored to their default values. The overview of steps for this procedure is as follows:
1. Reset Safari
• Open the browser and go to Safari menu. Select Reset Safari in the drop-down list
• Make sure all the boxes are ticked on the interface and hit Reset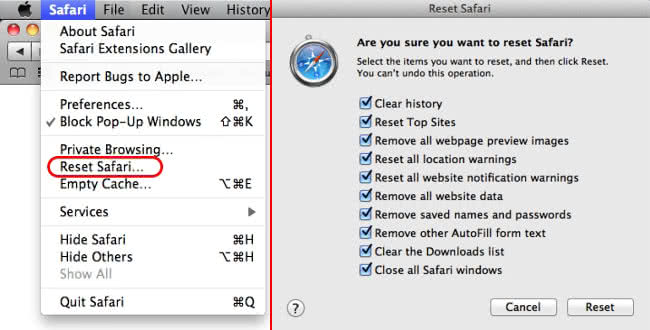 2. Reset Google Chrome
• Open Chrome and click the Customize and Control Google Chrome menu icon
• Select Options for a new window to appear
• Select Under the Hood tab, then click Reset to defaults button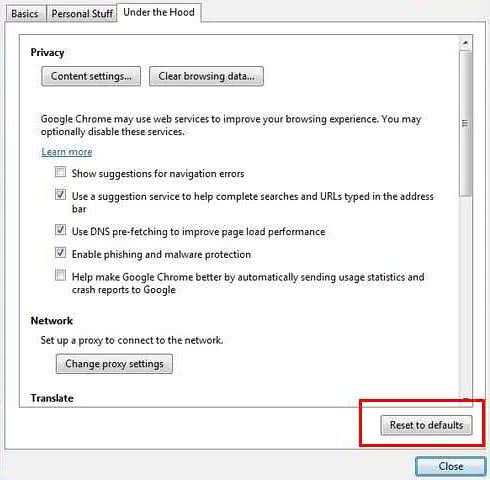 3. Reset Mozilla Firefox
• Open Firefox and select Help – Troubleshooting Information
• On the page that opened, click the Reset Firefox button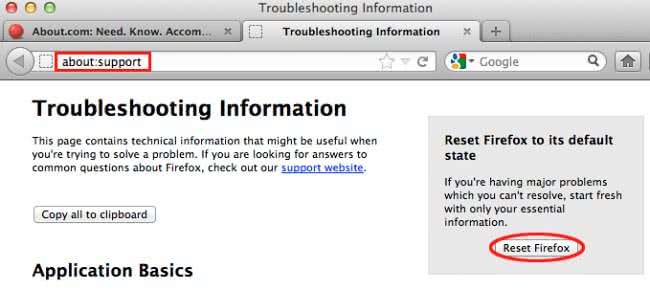 Get rid of Search-quick.com virus using Combo Cleaner automatic removal tool
The Mac maintenance and security app called Combo Cleaner is a one-stop tool to detect and remove Search-Quick virus virus. This technique has substantial benefits over manual cleanup, because the utility gets hourly virus definition updates and can accurately spot even the newest Mac infections.
Furthermore, the automatic solution will find the core files of the malware deep down the system structure, which might otherwise be a challenge to locate. Here's a walkthrough to sort out the Search-Quick virus issue using Combo Cleaner:
Download Combo Cleaner installer. When done, double-click the combocleaner.dmg file and follow the prompts to install the tool onto your Mac.

By downloading any applications recommended on this website you agree to our Terms and Conditions and Privacy Policy. The free scanner checks whether your Mac is infected. To get rid of malware, you need to purchase the Premium version of Combo Cleaner.

Open the app from your Launchpad and let it run an update of the malware signature database to make sure it can identify the latest threats.
Click the Start Combo Scan button to check your Mac for malicious activity as well as performance issues.

Examine the scan results. If the report says "No Threats", then you are on the right track with the manual cleaning and can safely proceed to tidy up the web browser that may continue to act up due to the after-effects of the malware attack (see instructions above).

In case Combo Cleaner has detected malicious code, click the Remove Selected Items button and have the utility remove Search-Quick virus threat along with any other viruses, PUPs (potentially unwanted programs), or junk files that don't belong on your Mac.

Once you have made doubly sure that the malicious app is uninstalled, the browser-level troubleshooting might still be on your to-do list. If your preferred browser is affected, resort to the previous section of this tutorial to revert to hassle-free web surfing.