Find out how to prevent Safari and Chrome on iPhone, iPad and iPod Touch from being redirected to mobfree.click site that pushes unwanted app downloads.
The ongoing fuss around the issue of redirects to mobfree.click web page has been pinned to the most popular discussion boards for the users of Apple's products. This problem is currently isolated to devices running iOS 9 and higher, affecting iPhones, iPads and iPod Touch gadgets. The infected customers experience web browsing issues when using Safari as well as Google Chrome edition compatible with the mobile platform in question. While surfing the web, users get repeatedly rerouted to mobfree.click site. Originally, those suffering from these occurrences would assume this was a website-specific issue as they were stumbling into the diverting when on Walmart.com, Consequenceofsound.net and a few more resources.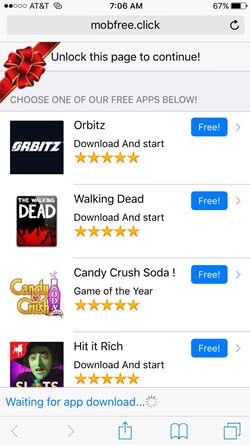 Although said speculation hasn't been entirely refuted, it turned out that the quandary occurs on a much broader set of web pages. What they all have in common is JavaScript objects embedded, which are banners or other types of advertisements. Whereas it's a cumbersome and lengthy adventure to try and convince a random site's admin to remove an ad or a few just because they might or might not be causing trouble, a more reasonable thing is to install an application like Adblock Plus. By the way, doing so is reportedly an efficient way to make the nagging activity discontinue.
The workflow of the compromise is fairly trivial. Let's say an iPhone user goes online via Safari and navigates to an arbitrary page. Once the site of interest loads, the Internet traffic streams over to mobfree.click all of a sudden. Mobfree.click, in its turn, displays a number of free apps and suggests that the user choose one. Furthermore, the bottom part of the screen says "Waiting for app download", which indicates that some software may be installed in the background. It's quite possible that the forcible setup may result in a more severe malware attack or an influx of junk entities that cram up the iOS device's memory.
As far as the fix goes, again, one of the workarounds is to install a browser extension that blocks popup ads along with scripts that trigger redirects. Users may also try disabling JavaScript in Safari so that third-party content on visited sites cannot be used for the rerouting activity. The tips and tricks below will walk you through the remediation steps and help stay protected further on.
Mobfree.click redirect manual removal on iOS
As per the anatomy of this hijack, settings for the web browser that may have gotten hit by mobfree.click virus should be restored to their default values. The steps for performing this procedure are as follows:
1. Safari troubleshooting on iPhone
• Go to Settings and select Safari on the menu
• Tap the Clear History and Website Data option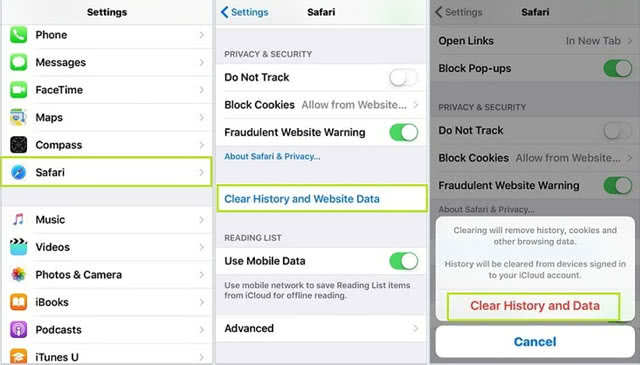 • Confirm by tapping Clear History and Data. Check is the problem with Safari has been fixed. If the mobfree.click redirect issue is still there, proceed to next step
• Go back to Settings and select Safari again. Look at JavaScript status under Security section. Normally, it's on by default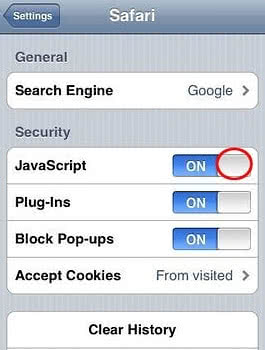 • Tap to toggle the JavaScript status to OFF. This should solve the problem.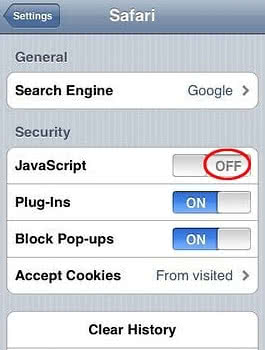 2. Reset Chrome on iPhone
• Open Chrome browser, go to Settings and tap Clear browsing data entry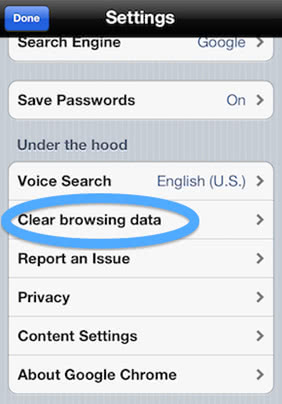 • As the menu expands, make sure the following options are checked: Clear browsing history, Clear cache and Clear cookies. Confirm before exiting. The mobfree.click redirect activity should now stop in Chrome.
Use security software to prevent attacks on iOS
Infections like mobfree.click on iPhone or iPad can infiltrate a device through unprotected connections. Logging into public Wi-Fi networks and visiting compromised sites may get the gadget exposed to malware and hacker attacks. It's therefore strongly recommended to use automatic protection during web surfing.
1. Download and install SurfEasy VPN (read review). This app accommodates Wi-Fi security as well as privacy and identity protection features
2. Make sure SurfEasy Protection is turned on throughout Internet browsing sessions. The application will encrypt all traffic, prevent ad tracking, anonymize online activities and secure the iOS device when it's connected to Wi-Fi hotspots.