Learn how to remove myntre.org redirects from Safari and other browsers in iPhone, iPad and Mac caused by a persistent virus endangering one's privacy.
From a cybercriminal's perspective, the beauty of using browser redirect malware like myntre.org boils down to the ability of covering a maximum victim audience and monetizing the pilfered web traffic without causing much harm to the plagued devices. Furthermore, the social engineering element increases the odds of the users falling for these hoaxes. The above-mentioned virus referred to as myntre.org made its debut in early March 2019. It forcibly forwards an iPhone, iPad or Mac user's Internet surfing routine to www.myntre.org/telenet/index.html?# web page, which is designed as some sort of a survey whose completion allegedly allows the "lucky" ones to be entitled for a prize.
The gifts listed on the dodgy resource include popular high-end gadgets, Galaxy S9 and Apple iPhone XS. To claim the freebie, though, the unsuspecting site visitors are supposed to answer several simple questions about their Internet usage and sentiments regarding Telenet, Belgium's major cable broadband services provider. This gives a clue that the malvertising campaign zeroes in on Belgian users at this point, although Apple users in other locations have reported the redirects as well.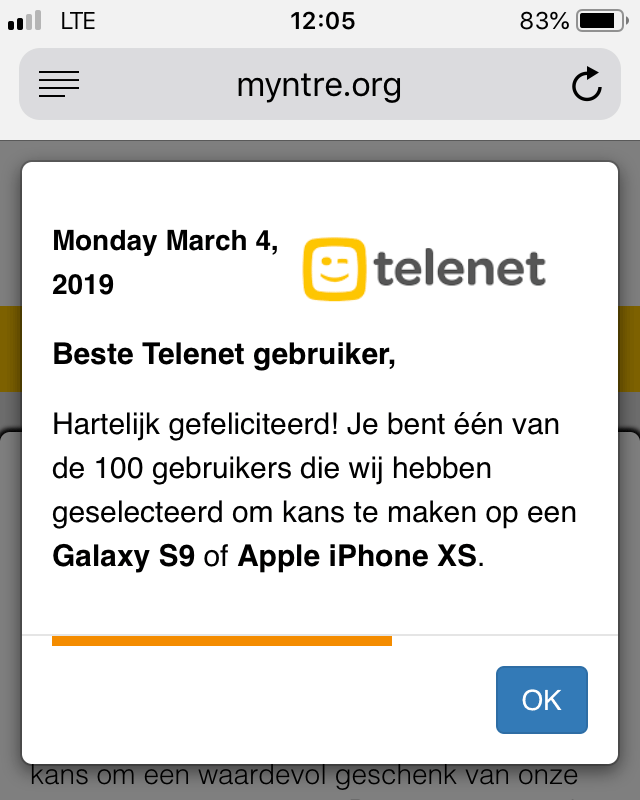 Here's how the attack takes place. First and foremost, the rerouting of online navigation is a consequence of a prior malware infiltration event. The entity to blame for this tampering is a PUA (potentially unwanted application) that skews the way the browsers on an iOS or Mac OS X (macOS) device operate. It is most likely a plugin supporting both mobile and desktop versions of Safari, Chrome, and Firefox. Although those infected usually don't remember having recently authorized any fishy items to enter their digital lives, the breach actually involves user action. This isn't an informed decision, given that the pest slithers into a device alongside some harmless software.
Bundling is the phenomenon that makes such a trickery possible. You may be confident you're installing a neat new media player or app update for free, but the extra offer concealed in the setup client's express (recommended) option will do its filthy job and drag the little electronic intruder inside behind the scenes. Then, the payload adds a troublemaking plugin or extension to Safari or whatever browser is the default one. This nefarious object is coded to twist the custom settings, such as the homepage and new tab, and trigger the browser divert instances to myntre.org iteratively.
Speciale aanbieding
Het virus The myntre.org redirect virus kan jouw Mac meerdere keren opnieuw infecteren, tenzij je al zijn restprogramma's, inclusief de verborgen fragmenten, verwijdert. Daarom is het aanbevolen om Combo Cleaner te downloaden en jouw systeem te scannen op deze koppige bestanden. Op deze manier kun je de opruimtijd van uren tot minuten verkorten. Nu downloaden Ontdek hoe Combo Cleaner werkt. Indien het hulpprogramma schadelijke code detecteert, moet u een licentie kopen om er vanaf te komen.
As stated above, despite the fact that myntre.org is camouflaged as a questionnaire from a Belgian service provider, the scam wave is also making itself felt in the Netherlands and a number of other countries. Once a redirect occurs, the site displays a popup that says in Dutch, "Congratulations! You are one of the 100 users we have selected to win a Galaxy S9 or Apple iPhone XS". By closing this splash ad, the victim sees an encouragement to complete a short survey that won't take more than 30 seconds. There is an indication of the time during which the promo is valid, which may urge some gullible users to rush into answering those questions.
However, in order to claim the gift afterwards, the victim is told to pay $1 for courier delivery via DHL service. Obviously, this payment is only possible in case the person provides their credit card details. This is the main piece of information that the fraudsters are after. The myntre.org redirect and popup virus is a component of a phishing campaign that tries to wheedle out financial information. It goes without saying that handing over those confidential details is a no-go, but one more prerequisite of staying safe is to get rid of the malware on the infected device.
Myntre.org virus manual removal for iOS (iPhone, iPad)
As per the anatomy of this hijack, settings of the web browser that may have gotten hit by the virus should be restored to their default values. The steps for performing this procedure are as follows:
Safari troubleshooting on iPhone / iPad

Go to Settings and select Safari on the menu
Tap the Clear History and Website Data option

Confirm by tapping Clear History and Data. Check if the problem with Safari has been fixed. In the event the iPhone / iPad virus popups are still there, proceed to next step.
When on the Safari Settings screen, tap Advanced. Find the JavaScript entry there and toggle it off. This should solve the problem

Reset Chrome on iPhone / iPad

Open Chrome browser, go to Settings and select the Privacy entry. Then, tap Clear Browsing Data

As the menu expands, make sure the following options are checked: Browsing History; Cookies, Site Data; and Cached Images and Files. Now, tap Clear Browsing Data and confirm before exiting. The popup and redirect activity should now stop in Chrome.
Myntre.org virus manual removal for Mac
The steps listed below will walk you through the removal of this malicious application. Be sure to follow the instructions in the order specified.
Open up the Utilities folder as shown below

Locate the Activity Monitor icon on the screen and double-click on it

Under Activity Monitor, find an item that appears suspicious, select it and click Quit Process
A dialog should pop up, asking if you are sure you would like to quit the troublemaking process. Select the Force Quit option
Click the Go button again, but this time select Applications on the list. Find the same dodgy entry on the interface that clearly doesn't belong there, right-click on it and select Move to Trash. If user password is required, go ahead and enter it

Now go to Apple Menu and pick the System Preferences option

Select Accounts and click the Login Items button. The system will come up with the list of the items that launch when the box is started up. Locate the potentially unwanted app there and click on the "-" button
Use automatic tool to uninstall Myntre.org virus from your Mac
De Mac-onderhouds- en beveiligingsapp Combo Cleaner is een alles-in-een oplossing voor het opsporen en verwijderen van The myntre.org redirect virus-virus. Deze techniek heeft aanzienlijke voordelen ten opzichte van handmatig opruimen, omdat het hulpprogramma elk uur een update van de virusdefinitie krijgt en zelfs de nieuwste Mac-infecties nauwkeurig kan opsporen.
Bovendien vindt de automatische oplossing de kernbestanden van de malware diep in de systeemstructuur, wat anders een uitdaging zou kunnen zijn om zelf te vinden. Hier is een stap-voor-stap handleiding om The myntre.org redirect virus te verwijderen met behulp van Combo Cleaner:
Download het Combo Cleaner installatieprogramma. Als je klaar bent, dubbelklik je op het bestand combocleaner.dmg en volg je de aanwijzingen om het programma op je Mac te installeren.

Door het downloaden van alle toepassingen die op deze website worden aanbevolen, ga je akkoord met onze Algemene Voorwaarden en het Privacybeleid. De gratis scanner controleert of je Mac is geïnfecteerd. Om van malware af te komen, moet je de Premium-versie van Combo Cleaner aanschaffen.

Open de app vanaf je Launchpad en laat deze de update van de database met malware uitvoeren om te checken of deze de nieuwste bedreigingen kan detecteren.
Klik op de knop Combo-Scannen starten om je Mac te controleren op schadelijke activiteiten en prestatieproblemen.

Bekijk de scanresultaten. Als in het rapport staat "No Threats" (geen bedreigingen), dan ben je op de goede weg met het handmatig schoonmaken en kun je veilig verder gaan met het opruimen van de webbrowser die door de nawerkingen van de malware-aanval kan blijven werken (zie de instructies hierboven).

Als Combo Cleaner kwaadaardige code heeft ontdekt, dan klik je op de knop Geselecteerde items verwijderen en laat je het hulpprogramma The myntre.org redirect virus-bedreiging verwijderen, samen met eventuele andere virussen, PUP's (mogelijk ongewenste programma's) of ongewenste bestanden die niet op je Mac thuishoren.

Als je ervoor hebt gezorgd dat het kwaadaardige programma is verwijderd, kan het probleem op browserniveau nog steeds op je takenlijst staan. Als het probleem zich voordoet in de voorkeursbrowser, kun je het vorige gedeelte van deze handleiding gebruiken om weer probleemloos op het web te kunnen surfen.