Remove Offers4U ads from Mac OS X (Safari, Chrome, Firefox removal)
Benefit from the contents of this article to remove Offers4U adware and hence impede the respective annoying ads from popping up on random sites being visited.
Catching a nasty digital parasite is as simple as ABC but addressing the problem typically poses complications that make users go beyond the commonplace techniques. As far as the app called Offers4U is concerned, the contamination is similarly trivial both for Windows and Mac OS X – all it takes is to install something free-of-charge and harmless that's affiliated with the pest. The phenomenon of malware bundling isn't restricted to platform therefore going to Mac apps download portals, even popular ones, is a potentially unsafe adventure. The payload for Offers4U was found to be part of various types of utilities, including SaferSurf which secures you from malware on the Internet, the PassWidget app, different media players, etc. To find out which app is to blame for the delivery of unwanted software, it suffices to read the inscription at the bottom of Offer4U ads, for instance "brought by PassWidget, powered by Offers4U". It's noteworthy that such drive-by promotion is often based on a vague scheme where the bad item might be concealed in the setup process, so do not rest too many hopes on noticing the adware while it's getting inside.

The allegedly good intensions of the Offers4U browser add-on appear questionable when it comes to the changes in Internet surfing. It displays best prices and coupons when you are looking for stuff to buy, but the fashion in which this is done gets on people's nerves. Large price comparison sections get embedded on top of the other website content, making the user click on the X button off and on to close the unwanted objects. Another effect that stems from this activity is the obvious tracking of your search preferences, which is a concern to many as well.
This extension has broad compatibility, so it affects Safari, Chrome and Firefox on Mac OS X. The ads themselves contain a link for uninstall instructions, where users are suggested to install a specially tailored tool. However, this solution is no use to Mac users because it's an '.exe' file. So the fix implies some smart countermeasures for eradicating the bug from all web browsers that are infected.
Offers4U manual removal for Mac
To begin with, settings for the web browser that got hit by Offers4U virus should be restored to their default values. The overview of steps for this procedure is as follows:
1. Reset Safari
• Open the browser and go to Safari menu. Select Reset Safari in the drop-down list
• Make sure all the boxes are ticked on the interface and hit Reset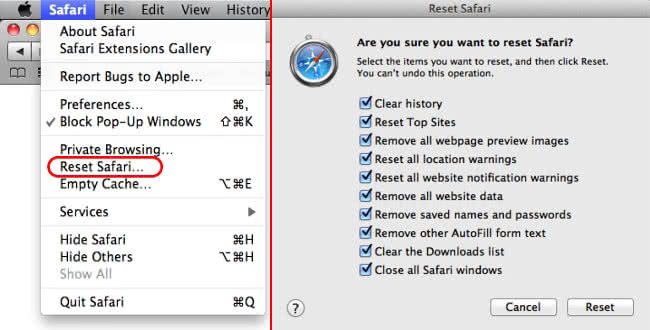 2. Reset Google Chrome
• Open Chrome and click the Customize and Control Google Chrome menu icon
• Select Options for a new window to appear
• Select Under the Hood tab, then click Reset to defaults button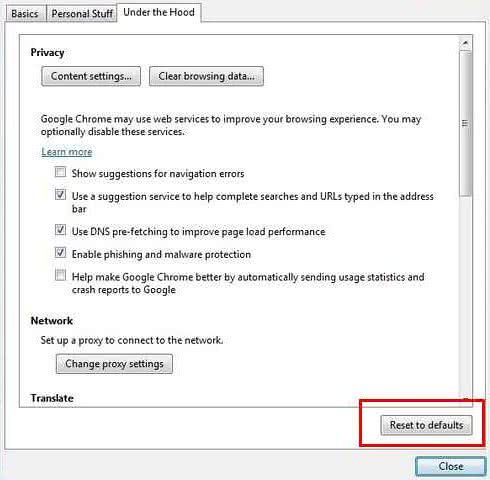 3. Reset Mozilla Firefox
• Open Firefox and select Help – Troubleshooting Information
• On the page that opened, click the Reset Firefox button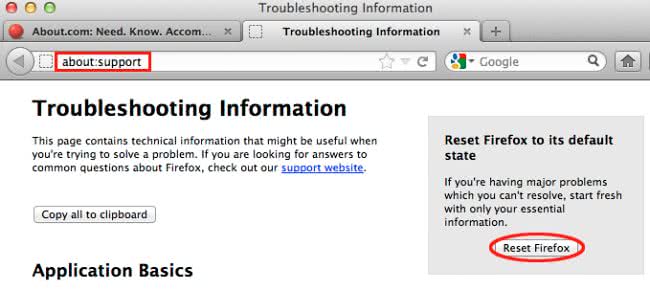 Get rid of Offers4U virus using Freshmac automatic removal tool
When confronted with malicious code like the Offers4U adware on Mac, you can neutralize its toxic impact by leveraging a specially crafted system utility. The Freshmac application (read review) is a perfect match for this purpose as it delivers essential security features along with must-have modules for Mac optimization.
This tool cleans unneeded applications and persistent malware in one click. It also protects your privacy by eliminating tracking cookies, frees up disk space, and manages startup apps to decrease boot time. On top of that, it boasts 24/7 tech support. The following steps will walk you through automatic removal of the Offers4U infection.
1. Download Freshmac installer onto your machine. Double-click the Freshmac.pkg file to trigger the installer window, select the destination disk and click Continue. The system will display a dialog asking for your password to authorize the setup. Type the password and click Install Software.

2. Once the installation has been completed, Freshmac will automatically start a scan consisting of 5 steps. It scans cache, logs, unused languages, trash, and checks the Mac for privacy issues.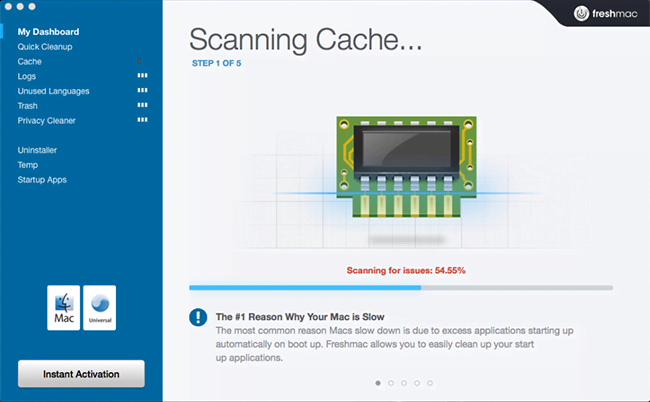 3. The scan report will then display your current system health status and the number of issues detected for each of the above categories. Click the Fix Safely button to remove junk files and address privacy issues spotted during the scan.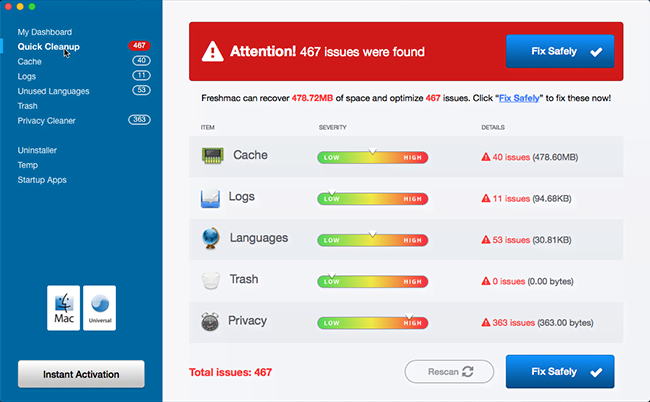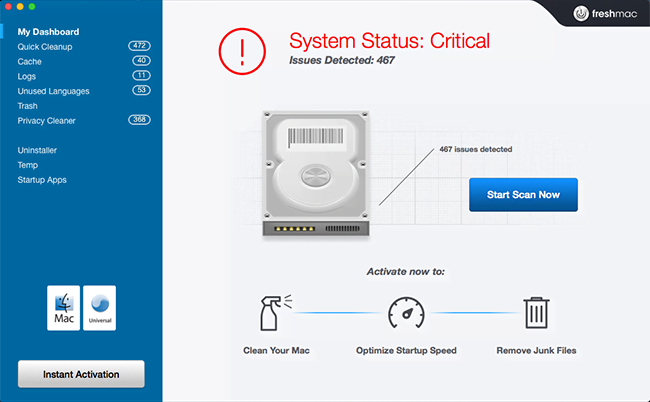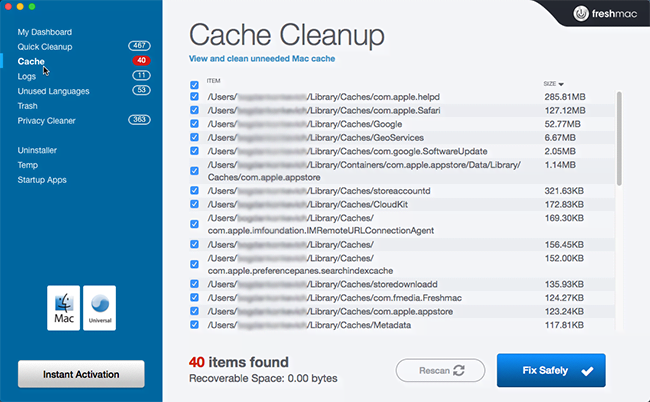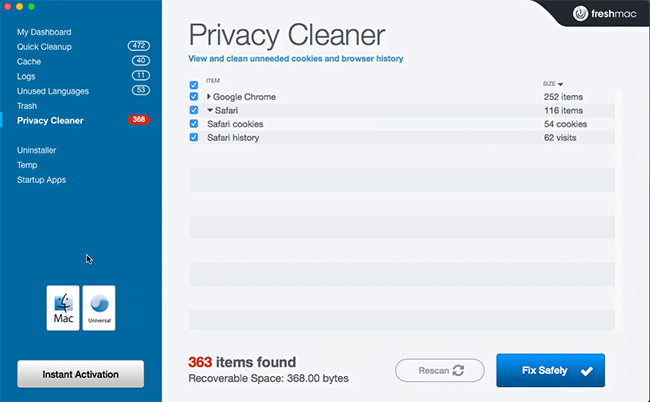 4. Check whether the Offers4U virus has been fixed. If the lock screen is still there, go to the Uninstaller option on Freshmac GUI. Locate an entry that appears suspicious, select it and click Fix Safely button to force-uninstall the unwanted application.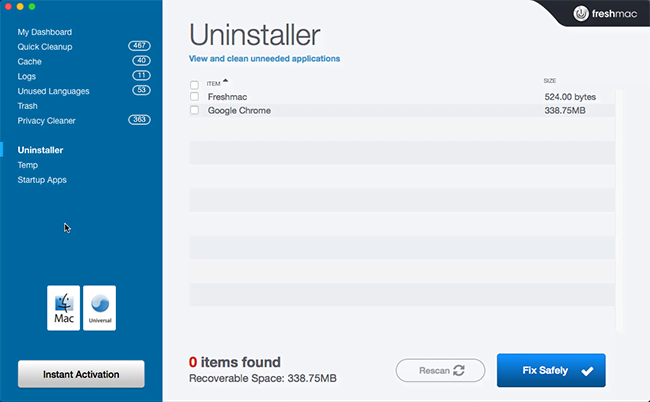 5. Go to Temp and Startup Apps panes on the interface and have all redundant or suspicious items eliminated as well. The Offers4U ads fraud shouldn't be causing any further trouble.
←

Return