Learn essential verdicts about the usability, efficiency, support and features of SurfEasy VPN app by reviewing the impartial evaluation of this product.
The functionality of SurfEasy app exceeds the traditional perception of virtual private network software. Naturally, it delivers such conventional features as server switching and anonymous browsing, but there are way more lures that both the advanced and the average users will certainly find useful. Alongside the mandatory VPN-specific capabilities, this amazingly intuitive product accommodates automatic Wi-Fi security, data encryption, Internet tracking prevention, and options to unblock restricted online content. The total plan includes protection of up to 5 mobile devices and desktop machines, unlimited bandwidth, and the ability to choose from 13 regions at this point. A free 7-day trial is available with an identical set of features. With the starter VPN plan, customers get 500MB of secure traffic per month.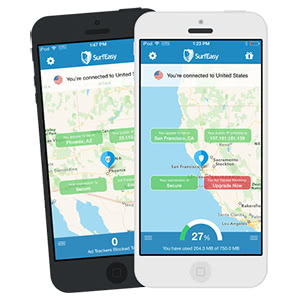 SurfEasy is cross-platform, which means that it can be installed and run on iOS, Mac OS X, Android and Windows. As it's been mentioned above, several devices can be tied up to one account, so users shouldn't be short of protection with all their gadgets both at home and while traveling.
Despite its sophistication, the app is a no-brainer when it comes to installation and controls. All it takes to get started is set up an account on the vendor's official page, download the program and enjoy the benefits of safeguarded web surfing. The tool's default configuration, which automatically establishes an optimized connection, can be easily modified by disconnecting from the current server and picking a different one from a drop-down. Again, the number of accessible servers is currently a little over 10, but it's growing.
One of the key things about SurfEasy is that the publisher takes users' privacy seriously – they do not store and maintain logs of customer data. So, on the one hand, you are protected from ad tracking, Wi-Fi sniffing and spying on the open Internet; on the other, the vendor doesn't track you either. In addition to this, all traffic is processed with 256-bit encryption before it's sent out, making any forms of snooping and man-in-the-middle attacks technically unfeasible. Using SurfEasy, overall, seems like a win-win deal, so let's delve a bit deeper into the app's technical characteristics and the feature set to get a better idea of how good it is.
Technical Requirements
Operating System:
• Mac OS X 10.7 or later
• iOS 6 or later
• Android 4.0 or later
• Windows XP, Vista, 7, 8
Features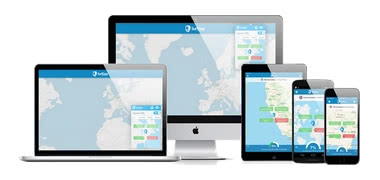 The scope of SurfEasy app's ability to protect its customers on the Internet is primarily measured by the efficiency of tracking prevention and data inaccessibility provision on unsecured or poorly secured networks. Additional functionalities, such as server emulation and connection speed, are the criteria that should also be taken into consideration when selecting a VPN service provider.
• Wi-Fi security makes one's day in the circumstances of connecting to wireless hotspots in public places. When going online from airports, coffee shops and the like, you run the risk of personal data being accessed by potential attackers, and the device is exposed to malware. Criminals can thus sniff passwords, monitor web activity and determine the person's location. In order to avert this assault, SurfEasy leverages bank-grade encryption of the user's Internet session components, including the IP address, credentials and web surfing history. The 256-bit encryption does the trick flawlessly.
• Privacy protection feature delivered by this product is twofold. It is common knowledge that big data companies build their targeted ad campaigns based on information mined from analyzing users' preferences and browsing patterns. The worst-case scenario is when cyber fraudsters lay their hands on these data. SurfEasy guards its clients against privacy breach by directing their web traffic via a secure tunnel, which makes Internet browsing a highly anonymous experience.
• No-log network means SurfEasy does not keep track of user data transmitted via their network. Even internally, the company claims to store no logs containing one's application usage patterns. For instance, they do not collect information about the assigned IP addresses and the visited web pages. Some exceptions include billing-specific details, such as bandwidth usage, as well as the information required for troubleshooting.
• Identity protection is implemented through obfuscating one's PID (personally-identifiable data). Potentially fingerprintable details, such as the user's whereabouts, IP address and personal credentials, therefore, won't be exposed to companies or people who can subsequently take advantage of them in the worst way.
• SurfEasy has got up to 5 devices secured, so several concurrent connections are possible within a single account. This way, multiple gadgets and computers on the home network can use the privacy and security features all at the same time.
• Accessing blocked websites is simple with this software. Some web services partially restrict access to their content, making it inaccessible for people based on the country and Internet service provider. SurfEasy users who fall under this category, as well as those who travel to those places, can manually connect to a trustworthy server and hence enjoy the content that would otherwise not be available.
Support

SurfEasy support team is at the customers' service within specified hours, so it's not a 24/7 deal. Users can reach the company's tech employees 8am to 8pm (EST) Monday to Friday, and 9am to 5pm (EST) on Saturday and Sunday. The channels include telephone and email, with no live chat available. Additionally, clients can visit support.surfeasy.com, select the product based on their operating system, and read the FAQs as well as how-to's to address the common issues. The representatives have proven to be polite, responsive and helpful.
Conclusion
On the face of it, SurfEasy appears to be a product that stands sentinel over one's online privacy and security with flawless effectiveness. It is easy to install and use, with hardly any pitfalls along the way. The Wi-Fi security feature is a special treat because users no longer need to worry about their online sessions being broken into when public hotspots are accessed, which is a frequent encounter these days. The application employs strong encryption to protect data as it is being transmitted back and forth on up to 5 devices, so hackers and advertising companies aren't going to obtain any sensitive information. Clients can use unlimited bandwidth, except the starter VPN plan that provides 500MB monthly.
Download NowIn the meanwhile, it would be great if more support channels were provided. Also, the speed of Internet connection, as it's routed through SurfEasy servers, might be higher. Regardless of these minor shortcomings, the product makes a splendid instrument for safe web surfing and avoiding malware that's distributed through untrusted networks.